G-Stomper demonstration video: Basic beat creation, effect usage.
(Device: Samsung Galaxy Tab 10.1)
G-Stomper is a highly optimized Drum Machine/Groovebox for doing electronic live performances on your Android device.
https://play.google.com/store/apps/details?id=com.planeth.gstomperdemo
https://play.google.com/store/apps/details?id=com.planeth.gstomper
Official Website:
http://www.planet-h.com/gstomper/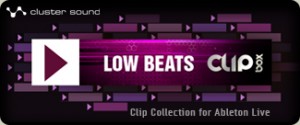 Cluster Sounds has announced Low Beats Clipbox, a clip collection for Ableton Live.
Low Beats Clipbox is a powerful and ultra-flexible collection of sliced clips for Ableton Live, specifically designed for electronic and tech-based music productions. The library consists of 195 Clips, 240 deep samples organized in 6 drum Kits with dedicated macro controls and 12 extra synthesizers created by looping and tuning percussive elements. This Live Pack is basically dedicated to electronic low beats but thanks to the powerful effect modules you can easily create unusual Snares, Hats, Kicks, Glitches and several pseudo-drum elements.

Sliced Loops : The included Clips has been extracted from 195 WAV loops carefully selected from Cluster Sound catalog. Each Clip consists of an Instrument Rack, created by slicing and key mapping the original WAV file, bundled with a MIDI loop that triggers each slice. This design allows to instantly create new patterns by simply editing the MIDI notes and to drastically change the track tempo with no artifacts.

Instrument Racks : Each Instrument Rack consists of the dry loop coupled with two parallel layers dedicated to the dynamic effects including Resynthesis, AM/FM Oscillators, Resonators, Noisers, Pitch Shifters, Reverse and Filter Shapers. Additionally, the 3 layers share the Pitch and the Decay controls and a very versatile FX module that allows to add sub harmonic frequencies, Delay, Reverbs and Metal effects. Thanks to this huge amount of parameters the original loop can be easily twisted and altered beyond recognition.
Low Beats Clipbox features
Size : 330 Mb.
195 Live Clips.
6 Drum Kit Instruments.
12 Synth Instruments.
240 WAV Drum Samples.
3.500 WAV Slices.

Time again for a review here at Steelberry Clones – this time we have taken a closer look at Nucleus SoundLabs' new Reason Refill called Celluloide Beats.
To begin with Celluloide Beats consists of around 50 (x8) or so Combinator patches and associated sounds recreated as REX-files. Due to the way they are built they may easily be run in anything from 60/70 BPMs up to 270 > or so BPMs – it will still sound great. To get an overview of what you are getting I would loosely categorize it as multi-sampled drums, beats and percussions into a massively unique and powerful mix of rhythms and sounds that would easily fit into dubstep, electro, house, techno type music, but I would not limit it to that since there are several intriguing ambient type sounds with a real sci-fi / cinematic approach to them.
A good thing with the CMBs are that they are very easy to work with, partly because each CMB is more or less a full mix in itself with limited need for further mixing and mastering, and partly because they are using fairly common rhythms meaning that the tempo and the sequenced beats are not overly experimental. Each Combinator patch in a Celluloid Beats contains 8 loops – 1 original loop and 7 creative loop remixes. This is achieved, according to Nucleus, by using the Slice Edit Mode on Dr. OctoRex to change filtering, decay, volume and more on a per-step basis for each loop. Going farther than that, unique FX are added to each patch which are used to effect specific loop slices – so each slice in a loop can have a different distortion, filtering or delay. The resulting loop remixes sound incredibly complex, but they certainly aren't complicated to use.
To purchase the product use the link below:
Click here to view more details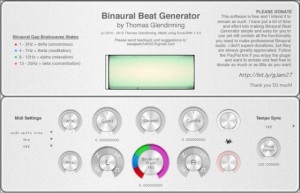 Thomas Glendinning has released Binaural Beat Generator, a free Mac application, available in VST and AU plugin formats, that lets you explore binaural beats.
Binaural beats are a psychoacoustic effect that occurs when you listen to sounds of two slightly different pitches through headphones. For example, if a 300 Hz tone is played in one ear and 310 Hz in the other, then a binaural beat of the difference, 10 Hz, is heard.
Some ascribe physiological and psychological effects to binaural beats, calling them 'digital drugs'.
Binaural Beat Generator is a free and open source app, downloadable from SourceForge.
http://ohdratdigital.com The Teenage Engineering OP-1 is a synth, sampler, and virtual four track tape recorder all in a chassis that looks akin to a classic home synth instrument – the Casio VL Tone looks like it might have been a big design inspiration. In our epic review we go through our likes and dislikes about the instrument, show you some sounds, and show off a beat we made by performing it live.
The beats and production workstation gets demoed
Here's the pitch:
The Beat Thang Mobile Music Production Studio comes with everything you need to make your own original Hip Hop, Dance, Pop, Dubstep, Industrial or Electronic music productions.
Loaded with over 3,000 original, professionally mastered sounds, a sampler with waveform editing, built-in effects, chromatic keypads, and a fully portable rugged design, the Beat Thang simplifies professional music production down to its core by providing you with all the tools you need to make high-quality, radio-ready, club-friendly music right out of the box.
Developed by musicians for musicians, the Beat Thang reimagines the production experience in a way that lets any music enthusiast, beginner or pro, make music the way its meant to be made – in the moment. Everything about the Beat Thang interface has been streamlined, saving you valuable time while never compromising on features or functionality.
Create original songs in a matter of minutes with access to the sounds that the world's top producers have been using and keeping secret for years. Use the Beat Thang's sampler to record your own sounds, or import your own sample library to increase the size of your musical toolbox. Integrate the Beat Thang into your professional studio setup or digital audio workstation with Beat Thang Virtual companion software. Use the hardware as a controller for Beat Thang Virtual, as a standalone device, or unplug and take your fully portable Beat Thang into the streets where inspiration really happens.
Never before have musicians been offered so many ways to produce professional music with one device. If you're a veteran, the Beat Thang has the versatility and uncompromising quality you demand. If you're new to the game, the Beat Thang offers unprecedented ease of use and portability.
Beat Thang Promo Feat. Dallas Austin
Here's a nice tutorial featuring the recently released Arturia Spark, now in version 1.4:
Combining the power of analog synthesis, physical modelling and samples, through the intuitive workflow of a hardware drum machine, Spark is a highly creative beat production center.
Spark will save you time when looking for the right drum kit, will get you hooked by its amazing simplicity, and will surprise you by its sonic possibilities.
With a complete library including vintage drum machines, electronic analog kits, acoustic & physical drums, Spark is your weapon of choice to create unique grooves whether you are producing in the studio or performing on stage.
MAIN FEATURES:
New Hardware shortcuts (1.4 version)
Advanced MIDI Out Function (1.4 version)
Slicer Latch Mode (1.4 version)
Pristine quality sound engines including : TAE® Analog synthesis, Multi layered sampling delivered by reference third-party companies, Physical modelling
More than 1200 Instruments / 80 Kits (reloaded 1.4 version):

Vintage drum machines : Analog emulations of the TR-808, TR-909, TR-606, Simmons SDS-V, and Eprom based LinnDrum, Drumtraks, DMX, Drumulator and more*.
Electronic kits covering the most popular modern music styles : Electro House, Techno, Hip Hop, RnB… as well as experimental fields thanks to the physical modelling engine.
Acoustic drum kits mixing physical modelling and samples for high audio realism.

16 key – 64 step sequencer
8 velocity & pressure sensitive pads
Touch sensitive FX Pad with Repeat, Tape, Reverse, Strobe, Pan, Mix, Bit Crusher, 3 mode Filter and Roller
Advanced Loop mode with divide and move functions
Real-time automation on all parameters
16 track mixer with 14 high quality effects : Multiband Compressor, Reverb, Bit crusher, Multiband EQ, Chorus, Delay, Distortion, Phaser, Plate reverb, Destroyer, Flanger, Space pan, Limiter, Sub generator
Song Mode with up to 64 patterns by song
Shuffle and Shift modes to humanize grooves
High precision rotary encoders
Aluminum enclosure
Works as a universal MIDI controller towards any third-party software
"I roused myself from a Turkey-induced-coma to bring you this timely review, so please forgive all the "uhh"s. Beat Shuffler is a beat juggling app for the iPad that makes loop mashing pretty fun and easy. "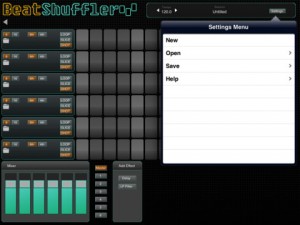 Beatshuffler is a music app that slices loops and allows you to trigger those slices, always on time. It is a great beat sketching tool where almost everything sounds interesting, since the slice triggering always falls on the beat. At its core, it is inspired by the mlrv app, for the Monome and other grid devices.
It features:
– 6 tracks for loops.
– Ability to import WAV and MP3 files.
– iOS File Sharing import for exchanging files with the app.
– A mixer.
– A master channel with effects.
– A separate channel for each of the tracks, with effects.
– Available effects: Delay and Low Pass Filter.
Among the upcoming features are Audio Clipboard support, to import loops from other apps and an expanded loop library.
Playing with a Sliced Amen Break!
Alkex Instruments' Ball Beats is a 6 track 8 step midi sequencer using balls as it's trigger.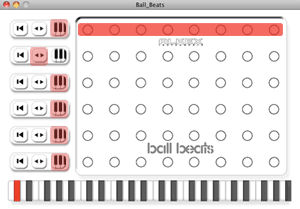 8 Step Sequencer
6 Multimode Channels
Built in USB i/o interface
Sync to Midi Timecode
Includes 50 1/2″ Steel Balls
Compact size (6″x8″x1″)
< Included configuration software (pc/mac/linux)
Each of the 6 tracks has 3 modes:
Note Trigger Mode:
Plays a note when a ball is scanned
Reset Mode:
Resets to step 1 when a ball is scanned
Reverse Mode:
Set the loop in the opposite direction (ping pong)
Gross beat is perfect for real-time or rendered gating, glitch, repeat, scratching and stutter performances. Gross Beat stores audio in a 2-bar rolling buffer under the control of 36 user definable time and volume envelopes, giving you unlimited creative control.
More info – http://www.image-line.com/documents/grossbeat.html
Gross Beat is a time manipulation effect designed for repetition and scratching effects.
Download the demo at the link above.
Thanks to Ed Chamberlain – http://soundcloud.com/ed-chamberlain for the Scratch Demo and nucleon – http://www.electroconductor.com/ for the Performance and Gating demo seen in this video