Would you like to edit clean transients in a flexible, non-destructive way? In this video tutorial, Mo Volans teaches you how to use .REX files in Propellerhead's ReCycle to do just that. You'll also learn how to graphically edit your loops in Reason's Dr.Octo Rex.

Time again for a review here at Steelberry Clones – this time we have taken a closer look at Nucleus SoundLabs' new Reason Refill called Celluloide Beats.
To begin with Celluloide Beats consists of around 50 (x8) or so Combinator patches and associated sounds recreated as REX-files. Due to the way they are built they may easily be run in anything from 60/70 BPMs up to 270 > or so BPMs – it will still sound great. To get an overview of what you are getting I would loosely categorize it as multi-sampled drums, beats and percussions into a massively unique and powerful mix of rhythms and sounds that would easily fit into dubstep, electro, house, techno type music, but I would not limit it to that since there are several intriguing ambient type sounds with a real sci-fi / cinematic approach to them.
A good thing with the CMBs are that they are very easy to work with, partly because each CMB is more or less a full mix in itself with limited need for further mixing and mastering, and partly because they are using fairly common rhythms meaning that the tempo and the sequenced beats are not overly experimental. Each Combinator patch in a Celluloid Beats contains 8 loops – 1 original loop and 7 creative loop remixes. This is achieved, according to Nucleus, by using the Slice Edit Mode on Dr. OctoRex to change filtering, decay, volume and more on a per-step basis for each loop. Going farther than that, unique FX are added to each patch which are used to effect specific loop slices – so each slice in a loop can have a different distortion, filtering or delay. The resulting loop remixes sound incredibly complex, but they certainly aren't complicated to use.
To purchase the product use the link below:
Click here to view more details
ReCycle 2.2 is a free update that brings is 64-bit compatibility, is Mac OS X Lion compatible, and has a new look and some workflow improvements.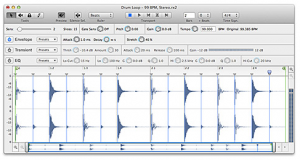 ReCycle 2.2 Fix List
The program is now compatible with 64 bit operating systems.
ReCyle 2.2 is also a true Cocoa program under Mac OS and fully compatible with Mac OS X 10.7 Lion.
The main window has been graphically redesigned, including new zooming and scrolling. Scrolling is smoother and you can now zoom in further. Some redundant controls have been removed and others added.
When exporting AIFF and Wave files, Record/Reason-style tempo information is now included in the file. Also, when importing audio files created in Record or Reason, the tempo information in those files is used for setting tempo and length in ReCycle.
The Waveform now indicates graphically what sound will be played back, by dimming silent sections.
You can now use the Q, W, E and R keys to select tools.
The Preference dialog has been streamlined and updated.
Open Recent (documents) is now a sub-menu on Mac OS.
The status bar has been removed.
We have removed support for the Sound Designer II, Mixman and SampleCell formats since these are all outdated.
The authorization system and copy protection has been changed, reducing the risk of having to reauthorize the program.
Installation under Mac OS is now drag and drop (no installer).
Buffalo Drum Loops and Hits sample library from Bolder Sounds for Native Instruments Kontakt 3+, Spectrasonics Stylus RMX and REX format. Part 1 features a midi file created by Bo Clausen which demonstrates the powerful Loop Engine created in for NI Kontakt.
Tonescape has released Animato – a free sample library, featuring over 1,000 samples and loops, in .wav and .rex formats.
Here's what they have to say about the free sample library:
This pack was carefully crafted in my studio during a period of about four months.
The goal was to deliver some quality loops, drums, fx and vocals for a variety of genres incl. Dubstep, Drum'n'bass, Psytrance and Psydub. It is perfectly applicable to other genres too off course.
Features:
407 MB content including Alien, Field recording, Fx, Loops, Moog, Percussion, Tonal, Vocals.
Tools used to create the sounds include: Moog Voyager, Doepfer Dark Energy, Eventide H7600, NI Deep Freq (used extensively for modulated sounds).
All samples are 100% royalty free to use in commercial and non-commercial work.
Animato is available as a free download from ToneScape.
Reason maestro Peff is back with a new video:
Video overview of using the OHM64 with Reason 5 to create a live pa setup to switch loop slots and crossfade between sources and effects. It's not really music composition, but more like Loop Jockeying.
Controls are mapped via standard remote override mapping, however this setup requires a bit of remote codec hacking to alter the behavior of the function keys and top 4 rows of buttons.
http://propellerheads.se
http://lividinstruments.com/hardware_…
It's time to take a look at some ways to work creatively with REX files in Record. Record allows you to work with REX files in new, cool ways – in this tutorial, we learn a few of them.
Propellerhead Software has a Christmas gift for Reason users:
We'd like to celebrate the end of a great year for us by giving the gift of rockin' out to the Reason user community. We proudly present the Dr. Octo Rex Guitar Collection!
The Dr. Octo Rex Guitar Collection is a free library of acoustic and electric guitar loops for Reason 5.
Patches are organized by style and song key, using the multiple loop capable Dr. Octo Rex, making it easy to lay down a guitar track using natural chord progressions.
The included playing styles cover anything from open strumming to single string riffs and punk power chords.
Pricing and Availability
Dr. Octo Rex Guitar Collection is a free download for fans that "Like" Propellerhead Software on Facebook.
Link:
Bluezone Corporation release Austral Drum and Bass ( 18.95 € )
http://www.bluezone-corporation.com/catalogue/details/70/6/products/austral-drum-and-bass.html
Bluezone Corporation is proud to present Austral Drum and Bass, a hot new Drum and Bass sample pack for immediate download. This new sound library is packed with Drum & Bass loops, Basslines, Synth Loops, Drum Loops, Drum One-Shots, Sound FX and Atmospheric Sounds, with ambient touch and textured loops. Available in WAV, AIFF and REX2 formats.
Fresh out of the Bluezone Studios, Austral Drum and Bass is a new collection offering a wide range of genres. Loaded with everything from aggressive hits to ambient pads, this  Drum n Bass / Jungle Sample pack is perfect for any setup. With a mix of styles including Breaks, DNB and Ambient, Austral Drum and Bass opens up a world of new possibilities with its 252 loops and samples. Produced with numerous analog and digital synths, the sounds have been recorded and crafted to give them incredible depth and atmosphere. For original compositions as well as soundtracks, Austral Drum and Bass is the reference sound library youíll turn to again and again, for all types of music composition.
This ultimate new pack is great with a wide range of styles such as Breaks, Dubstep, music for video games, TV series, Soundtrack, Hardstyle, Experimental and more.
Austral Drum and Bass Contents:
ï Drum Loops
ï Synth Loops
ï Basslines
ï Key Loops
ï Sound Effects
ï Soundscapes / Atmospheres
ï Drum Hits / One-Shots
ï Synth Samples
Technical Specifications:
ï 266 MB Data / 563 Files
ï Formats : WAV / AIFF / REX2
ï Recorded at 160 bpm
ï Instant Download
ï Royalty-Free with no extra cost
ï Ready to use in commercial production
Toontrack continues to deliver high quality demos on their Beatstation product, if you are a Beatstation user, please let us know what you think of it. I did a review of it some time back as well
The latest instalment of Toontrack's Beatstation video series which explores how to use SDX and EZX expansion packs within Beatstation to enhance the already-huge bank of sound files.
Combining drums, bass and lead instruments with drag and drop, REX and MIDI support, Beatstation is your companion for quickly getting a full beat up and running or for diving into the smallest details of what you want your sound to be, to be able to realize your music, your expression. Just take WAV or MP3 files from any source to create unique and inspiring combinations.
You can combine and edit individual slices from your favourite REX files or create playable instruments from a single sound. All this can be done just with a few clicks of the mouse, making Beatstation a hugely powerful yet easy to use virtual instrument.
http://www.timespace.com/product/BEAT…