iKaossilator Jungle Jam
The "iKaossilator" app was ranked the number one selling app* in the music section of the App Store internationally, and now it's been updated to Version 2.1! With the new ability to import audio loops, it's a great companion for the Kaossilator 2. While retaining its accessibility for musicians and non-musicians alike, as well as its ability to create tracks at the touch of a finger, iKaossilator has evolved to a new level that goes beyond the realm of synthesizers.
iKaossilator Version 2.1 Highlights

Audio Loop Import

Seamless operation in tandem with the Kaossilator 2


Support for "AudioPaste"
WerkBench for the phone is here!
Just a quick jam to show off our newest release with the help of one of our favorite musical toys: the Korg Monotron.  WerkBench for iPhone is a streamlined sampling step sequencer based on our quirky and powerful iPad app.  It is simple and does its job very well. Press a button and make a sound.
WerkBench features:
–"Fancy Controls" (pitch, lowpass filters, envelopes, and more!)
–Edit pitch and level independently for every step!
–Funky lo-fi tape echo for spacey effects.
–Save and load loops or whole sets of 4 patterns.
–Export loops and recordings via Audio Copy, iTunes file sharing, and email.
–Custom scales (never play a wrong note!)
In the app store around the world on Friday the 14th:
https://itunes.apple.com/us/app/werkbench-for-iphone/id585758206?ls=1&mt=8
More info:
http://www.bolasol.com/werkbench
Checking out some iPhone stuff from KORG, details below (in Googlish from Japanese):
If Korg teamed up with the rock band "Unicorn"! The customized to your specifications unicorn, iKaossilator Unicorn is the synthesizer application "(eye over oscillator) iKaossilator" can be played by anyone just scratched the screen of the coveted iPhone iPhone app fan. Recorded the sound loops and the single "WAO!", Was selected from version "Feel So Moon" remix theme song of "The Brothers" Space anime, you can join the play as a sixth member, and Tamio Okuda and Yoshiharu Abe to control the performance of every one of the unicorn, we enjoy playing with feeling remix synth for beginners.
https://itunes.apple.com/us/app/samploid/id562625622?mt=8
Samploid is a midi enabled sampler for the iPhone enabling you to transform any sound into a playable instrument.
Features:
-Multiple play modes ( forward reverse and ping-pong),
-Portamento
-Motion controlled ring-mod FX
-Midi
-Export via itunes shared folder
-Ability to set start, end and loop markers (also via midi)
-Transposable Root key
Here's the basic description of the app:
Make your Glitch sound in real-time from your Microphone or Song File!
Glitch1 re-builds your music and audio dynamically with innovative 6 FXs.
Glitch1 Ver.1.0 includes 6 effects
-CRUSHER (Low-SamplingRate Effect)
-SHORT DELAY (10-40ms Delay)
-BEAT REPEAT
-GATER
-TAPE STOP (Tape Stop/Vinyl Break Effect)
-AUTO PAN
And 3 Global effects.
-LIMITER (Hard-knee limiter)
-DELAY (1/4 , 1/8 dot)
-STEREO (Stereo Enhancer)
On ver.1.1, Glitch1 will support Audio Copy/Paste.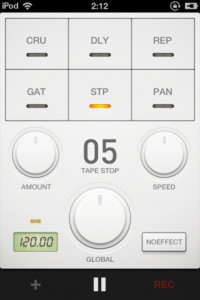 http://ios-music.homewoke.net
It corresponded to AudioCopy with the latest update. You can use this in earnest.
Figure updates below:
That's a nice little update, here's what's new:
AudioCopy—enabling pasting of Figure audio directly into AudioPaste or Pasteboard compatible apps on iOS
WIST (Wireless Sync-Start Technology)—simultaneously start two iOS devices with compatible apps
Additional new atonal / chromatic scale mode
Performance pads now have a grid
A test run for the iConnect midi interface using Tenori-On and TouchOSC on the iPhone to control Tinysizer.
One layer of the Tenori-On controls a bass sequence using one of Tinysizer oscillators. TouchOSC provides a virtual joystick controlling Tinysizer's second oscillator. The joystick needs more work (rescaling) because its really too sensitive at present.
Drum sounds are a custom set I made from the DrumDokta module by Din Sync. No other sound sources involved.
Best on good headphones or speakers.
Description of the synth below:
Mission: To more fully understand the colors that surround us we must engage an additional sense.
A Pollisynth takes a picture of something, and then translates that picture into a unique sound-wave. As stated above, in order to fully understand the colors that surround us we must engage an additional sense. A Pollisynth can be the gateway to your mindbrain, and can give you a good time doing it.
Remember that the spark to take a picture begins in the MIND, and funny enough, ends in the MIND once a song is made. There are a lot of ways to play with a Pollisynth – two people taking a picture of the same thing and then playing it, a gang of kids taking pictures of SLUSHIES and then making a harmonized song out of the soundwaves…
By logging into Facebook with Pollisynth you can post your sound-waves to your timeline as Presets. Your Facebook friends will be able to see and try out these Presets with their own Pollisynth and listen to your imagery. You can also re-download Presets you have uploaded and use Facebook as a Pollisynth sound bank online. For those who have reservations about Facebook, SMS and Email can be used to share images from your photo library that you know to generate worthy sounds. This works because the sounds are not random but entirely derived from the image, so rescanning an image will always result in the same sound so long as it hasn't been manipulated. Your photo library will always serve as your offline sound bank.
Pollisynth was first developed by Thomas Ruby in 1987. After having passed away in 2006, Salisbury's son, Jamie, continued his father's work. As a company we stand by the Pollisynth and we stand by the Rubaic principles of Oneness, Honor, and Good Times.