TRAKTOR DJ, the pro DJ app for iOS, is now available for iPhone and iPod Touch. More info and videos: http://www.native-instruments.com/tra…
Deliver devastating DJ sets using familiar iPhone gestures, with beautiful waveforms at your fingertips. Set up beat grids, cue points and BPM tags on your iPhone to sync with your TRAKTOR PRO setup. Perfectly adapted to the iPhone's compact screen estate, TRAKTOR DJ for iPhone puts professional DJing in the palm of your hand.
TRAKTOR DJ for iPhone is available now at the iTunes App Store for only $4.99 / 4.49 €.
http://ow.ly/kzEzo
The iPad version is available for only $19.99 / 17.99 €.
http://ow.ly/kzEGz
Tracks by Modeselektor – Pretentious Friends (Instrumental version), Berlin (Instrumental version)
iKaossilator Jungle Jam
The "iKaossilator" app was ranked the number one selling app* in the music section of the App Store internationally, and now it's been updated to Version 2.1! With the new ability to import audio loops, it's a great companion for the Kaossilator 2. While retaining its accessibility for musicians and non-musicians alike, as well as its ability to create tracks at the touch of a finger, iKaossilator has evolved to a new level that goes beyond the realm of synthesizers.
iKaossilator Version 2.1 Highlights

Audio Loop Import

Seamless operation in tandem with the Kaossilator 2


Support for "AudioPaste"
WerkBench for the phone is here!
Just a quick jam to show off our newest release with the help of one of our favorite musical toys: the Korg Monotron.  WerkBench for iPhone is a streamlined sampling step sequencer based on our quirky and powerful iPad app.  It is simple and does its job very well. Press a button and make a sound.
WerkBench features:
–"Fancy Controls" (pitch, lowpass filters, envelopes, and more!)
–Edit pitch and level independently for every step!
–Funky lo-fi tape echo for spacey effects.
–Save and load loops or whole sets of 4 patterns.
–Export loops and recordings via Audio Copy, iTunes file sharing, and email.
–Custom scales (never play a wrong note!)
In the app store around the world on Friday the 14th:
https://itunes.apple.com/us/app/werkbench-for-iphone/id585758206?ls=1&mt=8
More info:
http://www.bolasol.com/werkbench
Checking out some iPhone stuff from KORG, details below (in Googlish from Japanese):
If Korg teamed up with the rock band "Unicorn"! The customized to your specifications unicorn, iKaossilator Unicorn is the synthesizer application "(eye over oscillator) iKaossilator" can be played by anyone just scratched the screen of the coveted iPhone iPhone app fan. Recorded the sound loops and the single "WAO!", Was selected from version "Feel So Moon" remix theme song of "The Brothers" Space anime, you can join the play as a sixth member, and Tamio Okuda and Yoshiharu Abe to control the performance of every one of the unicorn, we enjoy playing with feeling remix synth for beginners.
https://itunes.apple.com/us/app/samploid/id562625622?mt=8
Samploid is a midi enabled sampler for the iPhone enabling you to transform any sound into a playable instrument.
Features:
-Multiple play modes ( forward reverse and ping-pong),
-Portamento
-Motion controlled ring-mod FX
-Midi
-Export via itunes shared folder
-Ability to set start, end and loop markers (also via midi)
-Transposable Root key
Here's the basic description of the app:
Make your Glitch sound in real-time from your Microphone or Song File!
Glitch1 re-builds your music and audio dynamically with innovative 6 FXs.
Glitch1 Ver.1.0 includes 6 effects
-CRUSHER (Low-SamplingRate Effect)
-SHORT DELAY (10-40ms Delay)
-BEAT REPEAT
-GATER
-TAPE STOP (Tape Stop/Vinyl Break Effect)
-AUTO PAN
And 3 Global effects.
-LIMITER (Hard-knee limiter)
-DELAY (1/4 , 1/8 dot)
-STEREO (Stereo Enhancer)
On ver.1.1, Glitch1 will support Audio Copy/Paste.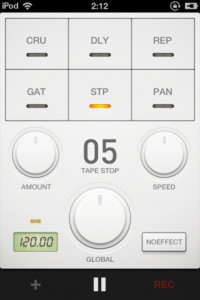 http://ios-music.homewoke.net
It corresponded to AudioCopy with the latest update. You can use this in earnest.
Figure updates below:
That's a nice little update, here's what's new:
AudioCopy—enabling pasting of Figure audio directly into AudioPaste or Pasteboard compatible apps on iOS
WIST (Wireless Sync-Start Technology)—simultaneously start two iOS devices with compatible apps
Additional new atonal / chromatic scale mode
Performance pads now have a grid
A test run for the iConnect midi interface using Tenori-On and TouchOSC on the iPhone to control Tinysizer.
One layer of the Tenori-On controls a bass sequence using one of Tinysizer oscillators. TouchOSC provides a virtual joystick controlling Tinysizer's second oscillator. The joystick needs more work (rescaling) because its really too sensitive at present.
Drum sounds are a custom set I made from the DrumDokta module by Din Sync. No other sound sources involved.
Best on good headphones or speakers.