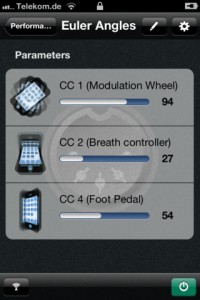 Florian Schwehn has released MIDI In Motion – an app that turns an iPhone into a motion controller for MIDI capable hardware and software instruments.
With MIDI In Motion, up to four assignable parameters can be controlled by your device's spacial attitude.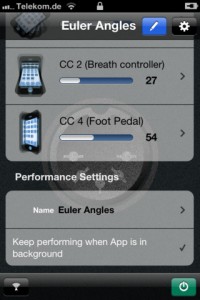 Features:
MIDI data can be sent over Wi-Fi network or to special hardware devices like iRig MIDI
freely adjustable sphere of action
two different performance types, more coming
connections to MIDI services can be restored automatically
perform while the app is in background or even when the screen is locked
stable attitude tracking over long time intervals
MIDI In Motion is available now in the App Store for $4.99.
A closer look at the Cassini synth, below you can find the details of this polyphonic iPhone instrument
Polyphonic Synthesizer for iPhone/iPod touch
3 OSCs + 2 Filters + AMP + 9 EGs + 6 LFOs + 3band EQ + Saturators + 2 Delays + Arpeggiator
* 3 Oscillators plus 1 Sub-Osc
– Sawtooth, Pulse(PWM), Triangle, Sine, Noise, FM
– Waveshape Modulation
– Oscillator Sync
– Ring Modulation
* 2 Filters
– LP24, LP18, LP12, LP6, BP, HP
* AMP
– Overdrive
– 3 Band EQ
– Auto Pan
* 9 Envelope Generators
– DAHDSR (Delay, Attack, Hold, Decay, Sustain, Release)
– Velocity, Keyboard Tracking
* 6 LFOs
– Sawtooth, Pulse, Triangle, Random, 16 Step Sequence
– Waveshape Modulation
– Envelope(AD/AR)
* Modulation Delay
– Delay Time: 1-2000ms / Tempo Sync
– Delay Time Modulation
* Filtered Stereo Delay
– Resonant Filter (LP, BP, HP)
– Filter Modulation
* Programable Polyphonic Arpeggiator
* Scale/Chord Remapper
* CoreMIDI (input)
* Virtual MIDI-IN & Background Audio
* Scrollable keyboard (Horizontal scrolling at the bottom edge of the keyboard)
* Recorder
– Audio Copy (Compatible with INTUA BeatMaker, Apple GarageBand and so on.)
– Export wav file via iTunes File Sharing
– The recording time is limited to 3 minutes.
Further information at http://iphone.icegear.net/cassini/
Coming soon to iPhone!
LIKE us on Facebook to get notified when it drops!
http://www.facebook.com/TheStrangeAgency
Juggle beats, chop, screw, shuffle, dice and slice with the second iteration of our critically acclaimed Slice series. ExtraSlice is the future of the DJ experience.
AriVibes is here being used to play with the sounds of a table. The sound is picked up by the iPhone's built-in microphone, and all the effects are made by the app. The app is on the App Store, and is currently free. Get it here: http://bit.ly/getarivibes
(please leave a review!)
* Finger drumming by Derek Chai (http://soundcloud.com/del-the-bass)
* Video by Avi Ashkenazi (http://superavi.com/)
* Recorded at the Music Tech Festival (http://musictechfest.org/)
Learn more: http://www.AriVibes.com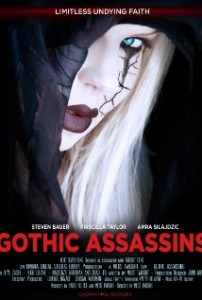 4Pockets Audio, creator of Aurora Sound Studio & Meteor Multi-Track Recorder, reports that a new movie, Gothic Assassins, features a soundtrack created using iPads and iPhones:
The new Milos Twilight movie Gothic Assassins due for release shortly has a soundtrack entirely composed on Apple iPad's and iPhones. Whilst many might have branded Milos as mad when they first heard his concept for creating his soundtrack check out some of these tracks to see just what he has accomplished.
Milos used a range of apps including Meteor Multitrack Recorder, Aurora Sound Studio HD and StompBox.
Music Iphone App demo of Dubstep Universe. Tilt the phone to change the direction of a sound, dubstep style. This is the updated version with more tracks, fx and wobble. Get it at the link below.
http://itunes.apple.com/au/app/dubstep-universe/id498407474?mt=8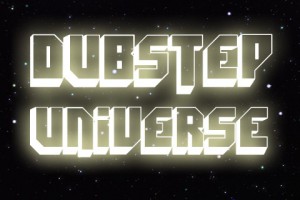 Blast through the universe at the speed of dubstep! Span a vast sea of stars with wobbles and sound effects that will take your dubstep production to the next level!
Featuring the one-of-a-kind Wobbleometer. Modulate your wobble base by just titling your phone. Tilt up for a tightly coiled high pitched bass or tilt it down for one of the slow grimy wobbles that started it all!
Turn on the ALL NEW Super Bass feature to rattle the walls! Also try out the glitch feature to really change up the rhythm of your song.
Feature Highlights
★ Universal Binary means one purchase and you own Dubstep Universe for your iPhone, iPad, and iPod touch!
★ Simple user-interface lets anyone become a professional sounding Dubstep DJ in just minutes!
★ High-Definition audio samples will make your party go wild!
★ The first ever Wobbleometer puts sound modulation at your fingertips! Just tilt and make it wobble!
★ Traverse the universe endlessly with a background of stars that moves with your music!
★ Glitch and Super Bass features bring the house down!
Speaking of silly things for your smartphone in terms of music making, check this one out:
Download Ocarina 2 FREE: http://bit.ly/O2RainbowYT
GoddessLynz shows us how Ocarina can be played beautifully with your nose! Awesome expressivity of the nostrils!
Blow into your phone, play the notes, feel the magic as Ocarina 2 responds to your breath, touch and movement. Turn your phone into an ancient flute-like instrument with Ocarina 2, and play the songs you love. Ocarina 2 brings all the magic from the classic Ocarina – one of Apple's All-Time Top 20 Apps – and more!
The sequel to the original, Ocarina 2 now includes a completely new song mode. Easily play and learn your favorite songs as scores light up to guide your fingers. You control the notes, speed and tempo, allowing your expressivity to shine.
___________________________
"If everyone had the Ocarina app there would be no more wars" – David Pogue
"One of the most original entertainment programs to emerge from the App Store" – Wall Street Journal
"Ocarina is one of the most magical programs I've ever seen" – NY Times
___________________________
From classical to pop, video game themes to traditional songs, there is something for everyone! New and free songs released weekly. Choose from songs including:
* Over the Rainbow – Harold Arlen
* The Good, The Bad, and The Ugly — Ennio Morricone
* Theme from Zelda — Koji Kondo
* Clair de Lune — Debussy
* You and Me — 2008 Olympics Theme
* Ave Maria — Bach / Gounod
* X-Files Theme — Mark Snow
* Mario Brothers Theme — Koji Kondo
* Apologize — One Republic
* Baby — Justin Bieber
* Bad Romance — Lady Gaga
* Clocks — Coldplay
And much, much more!
Want a song that's not available? Suggest songs on Smule's Facebook or Google+ page: www.facebook.com/smule and http://gplus.to/smule
Play your Ocarina in the new "whistle mode" (we find it particularly fun to play "X-Files" and "The Good, the Bad, and the Ugly").
Make progress towards mastery and achievements such as:
"Iron-Lung" (25,000 breath points)
Breath points accumulate as you blow into your Ocarina
Or, attain status such as "Ocarina Jedi" by mastering 100 songs
Hear people playing around the world:
Listen in on Ocarina players all over the world by visiting the interactive Smule globe
Love & comment on your favorite performances
Share your favorite performances through Facebook or e-mail
Watch some great Ocarina performances on YouTube: www.youtube.com/smule.
DM1 the most popular Drum Machine for iPad is now available for iPhone. Here are all the data you need:
Easy and fast to use, loaded with 64 superb electronic drum kits and beautiful hyper-realistic graphics, DM1 has been designed for a lot of instant fun. As electronic musicians ourselves, we, at Fingerlab, have developed DM1 with the intention of delivering the perfect mix between fun playability and powerful sonic capacities. We always keep in mind the importance of a beautiful design with the right balance of powerful abilities while avoiding clumsy, overbusy interfaces.  Check our 64 electronic drum kits. 19 classic vintage drum kits plus 45 in-house produced electronic kits, edited and mastered at Fingerlab professional studio.
DM1 offers 5 main sections:
1 – THE STEP SEQUENCER frees your imagination with a smart use of the multi-touch screen. Just turn on and off steps in your sequence with the tip of your fingers to create cool beats, or unexpected rhythms!
2 – THE DRUM PADS simply lets you play and record the beat that tickles your fingers. No need to be a first-class drummer, automatic quantize does the work for you.
3 – THE MIXER for quick and subtle sound mixing of your drum kits. Featuring settings for volume, pitch, pan, sample length, custom drum kit element for each channel, mute and solo mode.
4 – THE FX TRACKPADS a creative duo of FX trackpads to distort, modulate and transform your beats. The effects include: Overdrive, Delay, Phaser, Texturizer, Robotizer, Resonant Filter & Compressor.
5 – THE SONG COMPOSER allows you to quickly make a song with the beat patterns you have created. Just drag and drop the patterns onto the timeline. Fast and easy.
Specifications:
✔ Graphic design by Jonas Eriksson
✔ Smart ergonomy for fast creativity and fun
✔ 64 vintage and produced drum kits, mastered at in-house Fingerlab Sound Studios
✔ Step Sequencer with multi-touch matrix
✔ Mixer page with pitch, length and level rotary controls, pan controls, and custom drum kit per channel
✔ 9 Big Drum pads, quantized recording and pitch-bend ribbon
✔ 7 FX Trackpads for real-time sonic destruction
✔ 16 or 32 Steps per patterns
✔ The Randomizer tool
✔ Extra fast drum kit loading
✔ Playable pattern selection for extra creativity
✔ Mode song with intuitive editing
✔ High-quality export to email, iTunes shared folder or AudioCopy
✔ Audio background mode
✔ WIST synchronisation technology by Korg for syncing 2 iPads/iPhones together
http://www.fingerlab.net/website/Fingerlab/DM1.html
To download Drum Machine Legends from iTunes go to:
http://itunes.apple.com/us/app/drum-machine-legends/id526646477?ls=1&mt=8
or visit:
http://www.onegloveapps.com
Directed By: Bryan O'Connell
Music produced by Oligee using DML
Drum Machine Legends brings you six kits from the most legendary drum machines of all time. The Lin Drum, SP1200, TR 808, Obrhm DX, MPC 60 and the TR 707.
DML is easy to use for full production with sounds that One Glove Apps has handpicked and processed to get the most out of their original machines. Quantize your beats, mix, choose tempo and layer sounds from different kits. One Glove has also added some new original sounds for the sampler kits (MPC and SP1200). Save your beats, share, and email as wav files. It's simple to set your loop length, tempo and quantize your beats. Just open up Drum Machine Legends and begin producing now
Music iPhone/iPad app demo of Wobbl Dubstep imachine. 9 pre assigned bass wobbles and 6 loops.
Turn on a loop and wobble! Very simple and hopefully a future update will add more variation. Importing loops would be good too!

Download the app from the itunes store:
http://itunes.apple.com/app/wobbl-dubstep-imachine/id501749933?mt=8