A closer look at the Cassini synth, below you can find the details of this polyphonic iPhone instrument
Polyphonic Synthesizer for iPhone/iPod touch
3 OSCs + 2 Filters + AMP + 9 EGs + 6 LFOs + 3band EQ + Saturators + 2 Delays + Arpeggiator
* 3 Oscillators plus 1 Sub-Osc
– Sawtooth, Pulse(PWM), Triangle, Sine, Noise, FM
– Waveshape Modulation
– Oscillator Sync
– Ring Modulation
* 2 Filters
– LP24, LP18, LP12, LP6, BP, HP
* AMP
– Overdrive
– 3 Band EQ
– Auto Pan
* 9 Envelope Generators
– DAHDSR (Delay, Attack, Hold, Decay, Sustain, Release)
– Velocity, Keyboard Tracking
* 6 LFOs
– Sawtooth, Pulse, Triangle, Random, 16 Step Sequence
– Waveshape Modulation
– Envelope(AD/AR)
* Modulation Delay
– Delay Time: 1-2000ms / Tempo Sync
– Delay Time Modulation
* Filtered Stereo Delay
– Resonant Filter (LP, BP, HP)
– Filter Modulation
* Programable Polyphonic Arpeggiator
* Scale/Chord Remapper
* CoreMIDI (input)
* Virtual MIDI-IN & Background Audio
* Scrollable keyboard (Horizontal scrolling at the bottom edge of the keyboard)
* Recorder
– Audio Copy (Compatible with INTUA BeatMaker, Apple GarageBand and so on.)
– Export wav file via iTunes File Sharing
– The recording time is limited to 3 minutes.
Further information at http://iphone.icegear.net/cassini/
http://ios-music.homewoke.net/
Very pretty, dark-based is sound. You can play alone is iPhone. However, I think that I can use effects such as compressor Once you have the processing and recording.
The dirtiest, filthiest, dubstep wobble keyboard and sampler ever!

Make wobbles bass sounds, dubstep loops and throw in some drops and fx at the touch of a few fingers by sliding, touching and tapping the screen; no musical knowledge is required.

This easy to use app is perfect for dub steppers, bass heads and music producers, musicians and non-musicians alike.

Making dubstep has never been so easy and enjoyable!

Features:
◆ Studio quality samples, created by professional musicians and producers.
◆ Over 300 wobble bass variatons, 10 drum loops and 10 extra FX.
◆ Colour assigned buttons, for clear and straightforward use.
◆ Pitch resample all of the built in samples.
◆ 12 fully editable sample pads
◆ 1 octave keyboard (13 keys) with pitch shifting spanning 5 octaves.
◆ 3 different wobble synthesizers
◆ ADSR

☐ Sample Pads
Select a sample for each pad and customise its volume, pitch, and loop duration. Layer up to 12 looping or touch triggered pads at once.

☐ Wobble Synth
Choose from 3 different wobble bass synth types. Select the central octave with the octave + or – buttons, and pitch shift up to three notes at once in real time with the pitch shift wheel. Use the LFO buttons to change the wobble speed and make intuitive wobble bass riffs!
☐ ADSR
Use the rotating potometers to alter the attack, decay, release and sustain of your wobble synth to get the perfect sound to fit your creation.

This is the ultimate compact dubstep keyboard and sampler. So what are you waiting for, start making some wobbles!
Mixtikl is an app that lets you uniquely combine, tweak, perform & play up to 12 tracks of any combination of top quality generative music & audio or MIDI loops together with live FX. And, with Mixtikl 4, you can also now customise all the core parameters in Noatikl generative content, including note patterns (e.g. arps etc.). You can tweet your mixes* ("mixtikls") for others to listen to, and they might even remix and/or retweet them!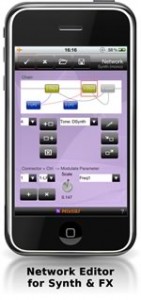 In this video:
An introduction to Partikl sound editing. How to make your own sounds for Mixtikl. Covers using the Noatikl seed pak, simple subtractive synthesis and using an LFO to do basic waveshaping.
(Apologies for audio the sync problems. Some problem with the encoding process)
Here's another addition to iPhone / iPod touch, the author of the beautiful, minimal iPhoneSynth has created a drum machine inspired by Roland's classic TR-909. Basic features, but it could be fun to hash out a drum pattern for your next tune on the subway: IR-909 is a drum machine for the iPhone inspired by the Roland TR-909. IR-909 features a 16-step sequencer, 4 patterns, 8 different drum sounds and the ability to adjust tempo(BPM) and shuffle amount.
iPhone Applications at roventskij.net