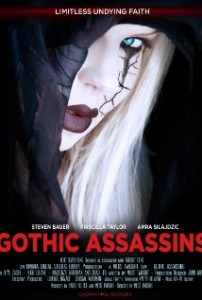 4Pockets Audio, creator of Aurora Sound Studio & Meteor Multi-Track Recorder, reports that a new movie, Gothic Assassins, features a soundtrack created using iPads and iPhones:
The new Milos Twilight movie Gothic Assassins due for release shortly has a soundtrack entirely composed on Apple iPad's and iPhones. Whilst many might have branded Milos as mad when they first heard his concept for creating his soundtrack check out some of these tracks to see just what he has accomplished.
Milos used a range of apps including Meteor Multitrack Recorder, Aurora Sound Studio HD and StompBox.
Nice talks with the sound team of Director Ridley Scott's latest science fiction film "Prometheus" including Supervising Sound Editors Mark Stoeckinger and Victor Ennis, Sound Re-recording Mixers Ron Bartlett and Doug Hemphill, Sound Designers Ann Scibelli and Alan Rankin, and Sound Effects Researcher Charlie Campagna.
Ridley Scott, director of 'Alien' and 'Blade Runner,' returns to the genre he helped define. With PROMETHEUS, he creates a groundbreaking mythology, in which a team of explorers discover a clue to the origins of mankind on Earth, leading them on a thrilling journey to the darkest corners of the universe. There, they must fight a terrifying battle to save the future of the human race.
Locate a theater to experience Prometheus in Dolby Surround 7.1 at dolby.com
For more exclusive videos check out SoundWorksCollection.com
The groundbreaking technical and directorial abilities of Director James Cameron can be experienced in his breathtaking visual world of Pandora in "Avatar". This never before seen world is filled with landscapes, creatures, and civilizations that have also never been heard before by audiences.
Bringing to life the sounds of Pandora include the talent of Skywalker Sound's Supervising Sound Editor, Sound Re-recording Mixer, and Sound Designer Chris Boyes in this SoundWorks Collection sound for film exclusive profile.
Ben Burtt, he's the sound designer who worked on huge films such as Star Wars, E.T. The Extra-Terrestrial, and Indiana Jones to name a few.
[youtube=http://www.youtube.com/watch?v=7ZRPHp3UxvA]
If a robot falls on a deserted planet, does it still make noise? According to sound designer extraordinaire Ben Burtt, the talent behind the stars of Disney·Pixar's "WALL·E," it most certainly does. And you'd be surprised at how many years of research and development it takes to make every squeak, creak, click, and clank seem so real.
"The assignment was inventing original voices and all the sounds associated with the main characters … mechanisms, movements, force fields. Since WALL·E doesn't use conventional dialogue, I had to convey the story through the types of sound each character made. By providing the illusion that they had feelings, the audience would care about them," Ben explains. With a visual start from preliminary paintings and sketches, he …