Introducing Chroma, a unique sequenced monosynth for Reaktor featuring sound and sequence morphing and multiple control methods – use your mouse, a MIDI controller, Konkreet Performer, TouchOSC or Lemur.
available now at http://www.reaktortips.com/2012/12/chroma-and-gris-gris-sequenced-monster.html
Chroma is a performance oriented monosequencer and VA carefully tuned for ergonomic ease of use and glitch free operation in standalone and plugin mode. Slur features in Chroma match up with legato and glide features in the Gris-Gris synth to create a slinky sinuous note articulation.
Sequences can be created and controlled via mouse, MIDI, Konkreet Performer, TouchOSC and Lemur. Since there is now full OSC support in the Reaktor plugin version, you can do everything with Chroma in your preferred DAW that you can do stand-alone. A dream come true!
TouchOSC and Lemur templates are included in the package but there's something special about Konkreet Performer that sets things on fire when it's paired with Chroma and Gris Gris, a certain magic in the way it morphs and distorts sound. It is my firmly held opinion that not nearly enough people use KP and if you want something really special and unusual on your iPad you should rush right over to  Konkreet Labs or head straight for the App Store and buy a license.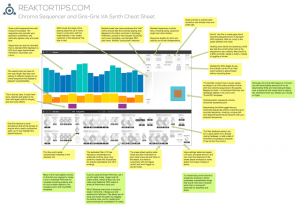 Chroma is 24.99 USD and can be purchased and downloaded immediately. Remember, Chroma is a Reaktor ensemble and requires a full installation of Reaktor 5.8.0, not just Reaktor player.
A test run for the iConnect midi interface using Tenori-On and TouchOSC on the iPhone to control Tinysizer.
One layer of the Tenori-On controls a bass sequence using one of Tinysizer oscillators. TouchOSC provides a virtual joystick controlling Tinysizer's second oscillator. The joystick needs more work (rescaling) because its really too sensitive at present.
Drum sounds are a custom set I made from the DrumDokta module by Din Sync. No other sound sources involved.
Best on good headphones or speakers.
AudioCubes in action:
We created an FM synthesizer for the AudioCubes (http://www.percussa.com) in max/msp. This application allows you to make sounds with the AudioCubes without needing any additional applications or hardware. The software consists of several oscillators which can be connected to each other to create an FM synthesizer.
To change the parameters of these oscillators, we've made a template in TouchOSC. In this video, I'm running TouchOSC on my iPod Touch to easily changes these parameters. Through this TouchOSC template I can also change the colors of each of these 4 AudioCubes.
More info about our Touch OSC template and setup here: http://www.percussa.com/2012/06/08/touchosc-and-ipod-touch-control-audiocubes…
Also, if you'd like to see a demo of our FM synthesizer application for AudioCubes, go to this video: http://www.youtube.com/watch?v=m1sazw00pNA
Pasto is a multi-touch 32 step sequencer suite built in Ableton, TouchOSC and OSCulator.
more info, audio examples and downloads:
http://abelflaubert.com.ar
Serge modular controlled from an iPAD running TouchOSC.
Wholetone scale with 4 x sliders controlling FM pitch / FM amount / filter cutoff / envelope scaling.
www.ianboddy.com
About Serge: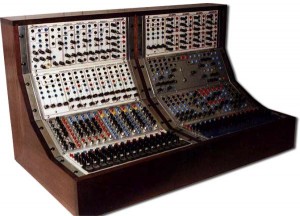 The Serge synthesizers are the creation of French electronic/synth designer Serge Tcherepnin. They are analog modular systems that began production in 1974, and continue to be produced to this day. The Serge concept was that a powerful, musical and great sounding analog modular system could, unlike the Buchlas, Moogs and ARPs of the time, be smaller, more compact and most importantly: cost less, making them far more accessible to musicians looking to jump into the bold new world of electronic music and sound design.
Although Serge was French, the modular systems that bore his name were orignally designed and produced in Los Angeles, CA. Initially designed in 1974 (in Serge's home), mass production of the systems began in 1975 and continued until 1986. There was a rough period between 1986 to 1993 where modules were still produced to special order (slowly), but full production resumed again in 1993 after Serge's circuit designs were sold to Rex Probe (an early collaborator) who went on to found Sound Transform Systems, who continue to produce many of the original Serge modules, plus a few new one's of their own design.
Influences of the Buchla can be seen in Serge systems, such as touch sensitive keyboards & sequencers, random voltage generators, function generators, and matrix mixers. Yet the Serge has many unique designs of its own such as the Wave Multiplier module and the use of banana plugs in lieu of traditional patch cords. Its filters are unqiue sounding but it may be the Wave Multiplier module that truly sets a Serge apart as it is a totally unique synthesizer section that sits between the Oscillator and Filter sections and allowed for external audio or control voltage signals to be used to modulate the timbre of the oscillator's tones.
Originally, Serge systems were custom built to order. Like any modular system a buyer would pick and choose individual modules they want and assemble them into a cabinet. However, to reduce the price tag and make them more accessible to musicians not interested in building a modular synth from scratch, Sound Transform Systems sells Serge systems in pre-configured systems: Shop Panels and the M-Class.
http://youtu.be/zF4LdVdHT5A
A short dubstep mini-mix, demonstrating the "iFighter" template for TouchOSC / Traktor / iPad. The template (created by SloanY) is based on the DJ Tech Tools 'Instant Gratification' mapping for MIDI Fighter, with a few extras thrown in. Download the template for free here: http://digitaldjtools.net/news/traktor-touchosc-template-for-ipad-ifighter/
You can buy TouchOSC for iPad / iPhone for £2.99 from the App Store: http://goo.gl/xL714
Watch the original video by Ean Golden on the Instant Gratification mapping for MIDI Fighter here: http://www.youtube.com/watch?v=QrNqFXnI_Pg
Music:
Stupid Fly – "Twinkle" (Available from Beatport: http://goo.gl/lCTzi)
D-Jahsta – "Evil Freddy" VIP (Originally a free download from Soundcloud: http://goo.gl/fs206)
Feed Me – "Strange Behaviour" (Available from Beatport: http://goo.gl/ArbVP)
Stupid Fly – "Douchebag" (Available from Beatport: http://goo.gl/lCTzi)
Well I guess it was just a matter of time since this would appear, especially considering the KONG entering the Reason suite of apps
Retouch Control offers TouchOSC templates to control Propellerhead's Record and Reason.
Sneak peek preview at Retouch's iPad templates for controlling Propellerhead's Record and Reason via TouchOSC