Introducing Chroma, a unique sequenced monosynth for Reaktor featuring sound and sequence morphing and multiple control methods – use your mouse, a MIDI controller, Konkreet Performer, TouchOSC or Lemur.
available now at http://www.reaktortips.com/2012/12/chroma-and-gris-gris-sequenced-monster.html
Chroma is a performance oriented monosequencer and VA carefully tuned for ergonomic ease of use and glitch free operation in standalone and plugin mode. Slur features in Chroma match up with legato and glide features in the Gris-Gris synth to create a slinky sinuous note articulation.
Sequences can be created and controlled via mouse, MIDI, Konkreet Performer, TouchOSC and Lemur. Since there is now full OSC support in the Reaktor plugin version, you can do everything with Chroma in your preferred DAW that you can do stand-alone. A dream come true!
TouchOSC and Lemur templates are included in the package but there's something special about Konkreet Performer that sets things on fire when it's paired with Chroma and Gris Gris, a certain magic in the way it morphs and distorts sound. It is my firmly held opinion that not nearly enough people use KP and if you want something really special and unusual on your iPad you should rush right over to  Konkreet Labs or head straight for the App Store and buy a license.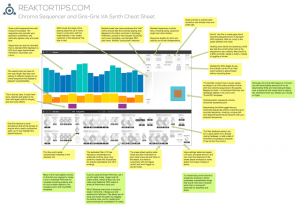 Chroma is 24.99 USD and can be purchased and downloaded immediately. Remember, Chroma is a Reaktor ensemble and requires a full installation of Reaktor 5.8.0, not just Reaktor player.
Lemur app on iPad controlling Konkreet Lab's custom MeeBlip hardware synth via iConnectMIDI interface for iOS.
Konkreet Labs: http://konkreetlabs.com
iConnect MIDI: http://www.iconnectivity.com
MeeBlip: http://meeblip.noisepages.com
With the groundbreaking Lemur controller Jazzmutant have revolutionised the way in which performers can now interact with light, video and sound. The Lemur offers an unrivalled package of intuitive features beneath a futuristic multitouch-sensitive surface, and as result has won fans across the globe including the groundbreaking musicians Richie Hawtin, Björk and Ryuichi Sakamoto.
With the new free version 2 firmware update Jazzmutant are taking the Lemur to another level of control, flexibility and intuitive operation. A host of new object features allows users to really interact with sound and manipulate it in real time like never before. Workflow improvements, scripting additions and other new features allow the controller to be used seamlessly with leading software applications. Ableton Live users, in particular, will benefit from some of the new features.
The KONKREET PERFORMER Version 1.2 release is now available via the Apple App Store. Here's what they have to say about it:
We've added something special: INERTIA control, enabling smooth morphing, from fast and responsive to ultra slow gradual transitions.
Inertia will give you new behaviour when:
– dragging the object pulls the nodes according to inertia
– using snapshots or jump mode sets a target to which the object then morphs according to inertia
Inertia Features:
– Variable Inertia Setting: for smooth morphing transitions in your music
– A value of zero disables inertia
– Around 30 is the equivalent of the old "easing" speed in version 1.0.6
– 100 is the maximum inertia, for super slow movement.
– Control Inertia from Preferences Screen or directly via the Ribbon (for real-time changes during performance)
– Gestures (rotate/pinch) can be used seamlessly without interrupting the morphing movement
Additionally new to V1.2:
– Snapshot Enhancement: Snapshot buttons now respond to touches dragged across them for really fast changes
More information on konkreetlabs.com
Twisted KP converts OSC from Konkreet Labs Performer to control voltage which is then routed a Doepfer modular rack. Gate mode in KP allows for control voltage messages to be sent only sent on touch.
TWISTED KP:
http://twistedtools.com/shop/reaktor/twisted-kp/
KONKREET LABS PERFORMER FOR iPAD
http://konkreetlabs.com
THE FOLLOWING EURORACK MODULES WERE USED:
Livewire AFG, Doepfer A-105 VCF and A-188BBD and A-180 Mult
CV AUDIO INTERFACE:
Control voltage output made possible by using MOTU 828MKII interface. Please make sure that you have a similarly capable dc-coupled audio interface if you plan on using control voltage with TWISTED KP.
Background information:
The Boite Diabolique is a Reaktor sampler instrument I've worked on for a long time without ever really getting anywhere with it, partly because it had too complex an interface. Once I saw Konkreet Performer I realised that it might offer a new way to approach the instrument and this is kind of a first marker of progress at a simplified KP-controlled interface.
I'm not sure the way I have things mapped really makes sense. It actually turns out to be quite a hard problem and I think it will take some more time & effort to get it right.
But maybe it will be of interest anyway.
An experiment using an iPad and the Konkreet Performer app to control dubstep wobble / LFO sounds and drum effects in Traktor 2. Konkreet uses multi-touch technology to the full. Instead of traditional faders and knobs, use multi-touch and gestures to manipulate PERFORMER's beautiful shapes to dynamically control your computer's software instruments in real-time.
In the studio, it allows the artist to approach their sound-design routine from a new, inspiring angle: to reconnect to their software instruments and Digital Audio Workstations by using Performer's revolutionary interface and arriving at sounds and progressions impossible with traditional controllers.
More info:
Download the Traktor 2 and OSCulator template files for free at http://digitaldjtools.net/news/traktor-mapping-for-konkreet-performer-wobbula…