2 Complete new sound-banks for Korg PolySix.
The PolySix is a classic and Korg did a great job of porting it to the PolySix software version.
The PolySix stands as one of the most authentic hardware
emulations ever made which so many recent synths attempt to emulate.
The presets heard in this video are from the new collection called, "Cold Fusion".
These presets are designed to bring out the classic hardware sound from the original Korg PolySix.
Included in this collection are:
Classic style Apegs
Extremely Fat basses
Vintage and very warm pads.
Unique synth FX reminiscent of the electronic period that the PolySix was released in.
Leads
More
The Korg PolySix software version is one of those, "best kept secrets".
This is partly due to the fact that it was initially released with so few presets.
VintageSynthPads.com has released this collection with the original Korg PolySix hardware in mind.
The presets are very analog, warm and fat, not to mention affordable.
Be sure to check them out.
Sound effect 11 from the iMS-20 SFX/iPolysix series.
Effects 11-20 will include the iPolysix so stay tuned.
effect info:continuous,no sequencing/automating.
Quick demonstration of a few ways to sync the Volca Beats to my modular:
1. Using arpeggio notes of the Korg Microstation to trigger the Volca Beats (trigger in) via a midi to cv convertor (Kilpatrick in this case)
2. Midi clock in the Volca Beats (midi through on the Kilpatrick)
3. Using trigger out of the sequencer (clock out works also)
Korg have announced that the KR Mini portable rhythm machine is now on its way to a retail store near you. The KR mini – an easy, simple and compact rhythm machine with a built-in speaker and optional battery power for play-anywhere convenience. It's a great companion for practicing and performing with guitar, bass, keyboards, winds, or any type of instrument
Designed for guitarists, bassists, pianists or any musician looking for easy rhythm accompaniment, the KR mini features nostalgic looks and a simple design focused on easy, push-button control. The KR mini is also lightweight, can run on batteries and has a built-in speaker, allowing it to provide a backing rhythm pattern anywhere at any time. With a total of 60 diverse rhythm patterns across the genres, the compact KR Mini is ready to accompany any performance.
Key Features
Easy-to-use design; just select a rhythm pattern and press the play button
Chain function lets you arrange your favorite rhythm patterns and fill-ins to create complete songs
Optional foot switches gives you hands-free control over fill-in/start/stop
Tap the 16 pads for finger drumming or recording your own rhythms
Built-in speaker with 2W output for jamming anywhere without the need for an additional monitor
Headphone/speaker jack for quiet practice or connection to a mixer or monitoring system
Two-way power; use the optional AC adaptor or batteries (AA alkaline batteries x 3)
Op-1 connected to an iMac and sending MIDI for Volca Keys and EMW Modular Synth with Ableton Live. Endless sequencer is a lot of fun, Volca Keys is a great partner for the op-1 and the little EMW Modular sounds awesome.
Magneticring rips the new Korg MS-20 Mini with Fairlight CVI.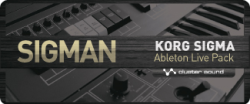 Cluster Sound has released Sigman, a multi-sample Live Pack based on the vintage Korg Sigma. Sigman is a multi-sample Live Pack primarily designed for raw analog basses & leads.
THE SOURCE
In the late 70′s Korg experimented with a machine for players looking for a simpler alternative to knobby synthesizers. The result was the Sigma, a bi-timbric semi-preset synth with rocker-tabs, micro knobs and two X-Y joystic controls. The Korg Sigma is based on 19 VCOs grouped in two discrete sections (Synthe and Instrument) that can be cross-modulated and filtered with a LP/HP Filter. Each VCO is equipped with a single dedicated control including Korg35 filter circuits for shaping the sounds.
THE PACK
Sigman is based on 30 multi-sample recordings obtained by sampling the VCO presets and custom cross-modulated sounds. Sigman delivers 90 inspiring and meticulously crafted Live Racks with dedicated macro controls, part of which simulate the ring-modulator, the joystic filter and the single VCO knobs of the original Sigma.
BRUNO ENDER LEE – "Klangspiel" – performed live, December 7. 2013
Korg MS-20 Mini (sequence with Doepfer MAQ 16/3), MiniMoog Voyager OS, Roland Juno-106, Synthesizers.com Studio-88, Analogue Solutions Vostok, Korg MS2000
MAKE SOMETHING THAT MAKES MUSIC
littleBits and Korg have demystified a traditional analog synthesizer, making it super easy for novices and experts alike to create music.
LEARN MORE:
English: http://littlebits.cc/
Japanese:http://jp.littlebits.com/
Martyn Ware, founding member of the Human League and Heaven 17, as well as the British Electric Foundation and Illustrious, demonstrates the Roland System 100 and the Korg 700S. These are the original instruments that he and Ian Craig Marsh wrote and performed the original version of Being Boiled on.
This was the climax to a 45 minute talk given by Martyn, accompanied by the great Peter Howell of the BBC Radiophonic Workshop, at the Queen Elizabeth Hall, Southbank Centre, London, on the night of November 30th 2013. It preceded a performance by the BBC Concert Orchestra in the main hall, as part of their "The Rest is Noise" season. They performed works by Andrew Poppy, Michael Nyman and commissions by Anne Dudley, which saw the orchestra take on reinterpretations, or "remixes" of Art of Noise's "Into Battle" as well as a new work, Rhythm of a Decade, a mash up of themes from the decade, accompanied by a narration from Paul Morley.
All the other original members of the Art of Noise were present in the audience (Trevor Horn, JJ Jeczalik, Gary Langan), billed by them as a one off 30th anniversary reunion