Korg has introduced the SDD-3000 Pedal, a new delay pedal, based on the classic 80′s SDD-3000.
The SDD-3000 PEDAL packs all of the SDD-3000?s functionality into a convenient pedal unit. Featuring a pre-amp with ample headroom, a filter circuit that modifies the feedback sound, and modulation waveforms that allow a diverse array of delay effects, it covers all of the SDD-3000′s important elements.
In addition to specifications that will satisfy SDD-3000 users, it provides many new functions such as eight delay types, long delay times up to 4,000 milliseconds, selectable modulation waveforms, stereo input/output, and MIDI compatibility. The user interface has also been updated for dramatically improved ease of use.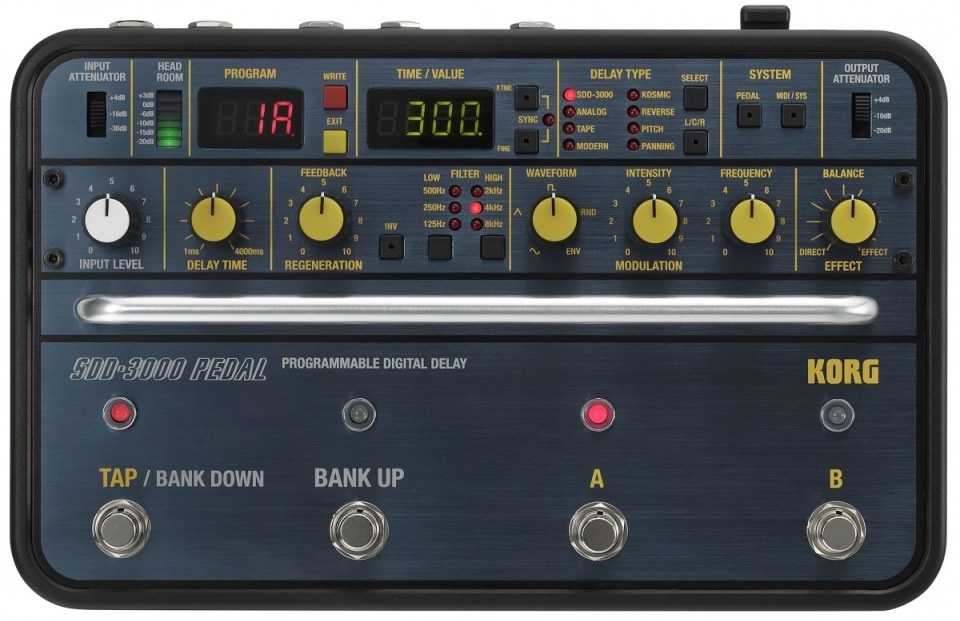 Features:
All features of the SDD-3000 digital delay, packed into a pedal unit.
Eight distinct delay types including SDD-3000, Analog, Tape, Modern, Kosmic, Reverse, Pitch and Panning.
The preamp that defined the sound of the SDD-3000 is faithfully reproduced.
Selectable filters that alter the sound of the delay repeats.
Choose from five types of modulation waveforms that modulate the delay time. You can also create waveforms that interpolate between two types, and make fine adjustments to the waveform.
Use flanging, chorus, vibrato, doubling, and Doppler effects.
A wide range of delay times is available, from 1 millisecond to long delays with a maximum of 4,000 milliseconds.
Sync mode lets you specify the delay time in terms of 11 different note values ranging from whole notes to 32nd notes.
A total of 80 programs (40 banks x 2 channels) can be saved.
LCR function lets you create multi-tap delay effects.
MIDI connectors are provided, allowing you to trigger program changes from an external device, or to transmit program data as a bulk dump to and from other units.
Seamless bypass and program changes allow you to retain the reverberant sound when switching sounds.
Reliable true bypass design.
An optional expression pedal can be used to control multiple effect parameters simultaneously.
The SDD-3000 Pedal is available now, with a street price of around US $400. See the Korg site for more info. 
Background video info (Googlish):
The purchase …
http://www.nintendo.co.jp/3ds/eshop/j …
http://www.detune.co.jp/korg_dsn12_jp …
Nintendo 3DS download software analog synthesizer KORG DSN-12. For those of you "I bought, but if I do …" and "? Can be any play on earth", series video Sano electromagnetic Inc. DETUNE is a producer director to convey the fun, the first times are.
KORG DSN-12 series for the first time
https://www.youtube.com/playlist?list …
ご購入は…
http://www.nintendo.co.jp/3ds/eshop/j…
http://www.detune.co.jp/korg_dsn12_jp…
ニンテンドー3DSダウンロード用アナログシンセサイザーソフトKORG DSN-12。「買ってみたけどどうしたらいいのか・・・」「いったいどんな遊び方が­できるの?」という方のために、プロデューサーディレクターである株式会社DETUN­Eの佐野電磁がその楽しさをお伝えするシリーズ動画、第1回です。
はじめての KORG DSN-12 シリーズ
https://www.youtube.com/playlist?list…
Jordan Rudess, solo artist and keyboardist for Dream Theater, reveals his latest source of inspiration: Korg's TinyPIANO. The TinyPIANO is a digital toy piano with 25 velocity-sensitive mini keys, 25 beautiful sounds, a library of 50 songs, optional battery power, and a tough wooden body available in four colors. For more information about the TinyPIANO, please visit www.korg.com/tinypiano.
Like/Follow us:
https://www.facebook.com/korgusa
https://www.twitter.com/korgusa
http://instagram.com/korgofficial
Roland TR-909 Roland vs Korg Electribe "Spirits"; live electronic music jam with drum machines.
Shock-HRz, captures a live performance, Tactical Shadow. 
Technical details below. 
Simone Ciacci a.k.a. "Storm 3003″:
Access Virus TI
Elektron Analog Four
Korg Kaoss Pad 3
Korg Kaossilator Pro
Gabriele Marini a.k.a. "ReD":
Akai Miniak
Yamaha RM1X
Korg Volca Bass
Francesco Salvatici a.k.a. "4TeK":
Korg Electribe MX
Korg Mini-KP
Korg Monotron
Korg Monotron Duo
Another composition using the Korg EMX alone (well, some of its sounds
went through the eventide space).
OP-1/VolcaBass/ReBirth Jam using Belkin Rockstar Headphone Splitter as a Passive Mixer. Well worth £10!
Used:
Korg Microkorg
Korg Microsampler
First jam using the Yamaha Tenori-on as a MIDI sequencer. The iPad (running Cubasis) and the iRig MIDI are working only as MIDI router and interface.
Primeira jam usando o Yamaha Tenori-on como sequenciador MIDI. O iPad (rodando o Cubasis) e a iRig MIDI estão funcionando somente como roteador e interface MIDI.
Adriano Clemente explains some production techniques and performs on the KORG taktile.
The KORG taktile / TRITON taktile are USB/MIDI controllers equipped with the same great-feeling, semi-weighted keyboard found on Korg's KingKorg and Krome. Taktiles are loaded with functions that make them fun to use. Of course, the taktile also delivers the functionality expected from a MIDI controller. It provides all of the basic controls such as sliders, switches, and transport controls, all to make Interfacing with your favorite DAWs and plug-ins a seamless experience.
In addition, TRITON taktile adds 512 sounds from the legendary KORG TRITON – KORG's best-selling Music Workstation. From your desktop to live stage performances, TRITON taktile is a USB MIDI controller that can be trusted in any performance situation.
For more information on the KORG taktile, head over tohttp://www.korg.com