This is probably KORG's best drum machine and though it has a heap of features that most drum machines don't have, it doesn't reach the heights or quality of a Roland TR-707 or Yamaha RX5. The claps are dreadful and on-board ram is almost non-existent for anything serious. As you can see from the demo songs, it is still a capable machine with careful programming. I think I like one kick. Nice effects though and almost worth the effort to learn this beast. Has 4 multi outs and 2 MIDI outs and a LOAD of other features. Love it or loathe it! Better than a Yamaha RX7 (nah!) or just piping the Alesis HR16 for build quality.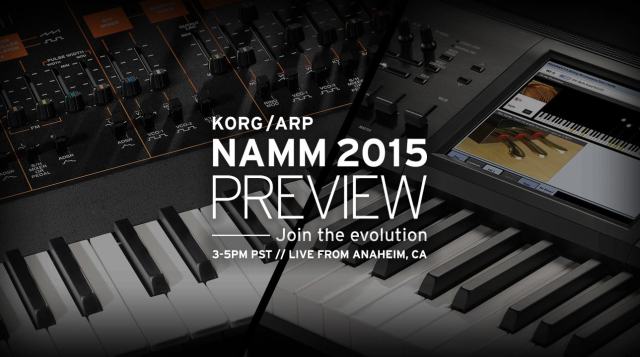 Korg today shared this teaser on Facebook for a Korg/ARP NAMM Preview:
Korg invites you to be a part of our exclusive Pre-NAMM show experience.
We will be unveiling the industry's most highly anticipated products with artist performances and featured guest speakers.
This video demonstrates the features of the new Korg Electribe music production station.
The new Electribe features sixteen back-lit Trigger pads, an X/Y Touch pad, and is more mobile than ever, because it can run on battery power (an optional AC adapter is available).
volca arranged by BakaOscillator.
volca でYMOの東風を試みる。
Headphones highly recomended
An afternoon improvisation.
Gear used: Waldorf Blofeld and MicroQ, Arturia Microbrute through Eventide H9, Elektron Machinedrum, Akai mpc500 as main sequencer, Korg Ms2000, Clavia Nord Modular G2 and DSI Tetr4. Hardwire DL7 and RV8 were used on the Tetra.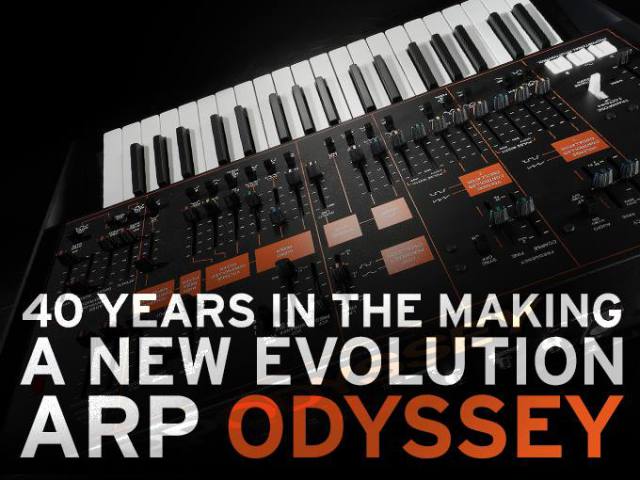 Korg has shared this teaser image for the new ARP Odyssey, saying only "Be prepared for a new evolution 1-22-15″. Jan 22 is the opening of the 2015 NAMM Show, so we can assume that the new Korg ARP Odyssey will make its official debut at the event.
Korg announced plans in February that it plans to reissue the ARP Odyssey. At the time, Korg also announced that ARP co-founder David Friend was joining Korg as their chief advisor on the Odyssey.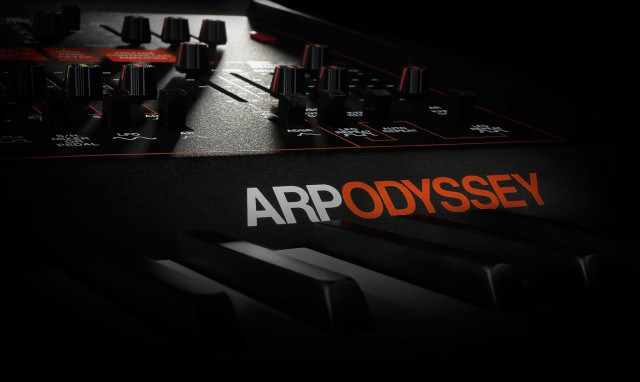 With Behringer also getting into the game, as announced some days ago, we may have an interesting NAMM show ahead of us

Background video description:
This is what we've been waiting for – ELECTRIBE 2 arrives in the USA! Here is my unboxing and the first part of my review – more video soon. Subscribe, ask questions and make requests.
All music featured in this video is my original composition, played with the synthesizer I am reviewing.
Here I take you on a sound ride with the Korg Sigma, a beautiful and powerful synth of Korg released in 1979.The Korg Sigma is here driven by a sequence from the Analogue Solutions Oberkorn.
The Sigma is an interesting bi-timbric synthesizer consisting of two sections: a genuine analog "Synthe" and a Preset "Instrument" section. All together, there are 19 presets on it that give a variety of sounds. There are 11 presets for the "Instrument" section which include fuzz guitar, electric bass, clavi, string, flute, double reed, trumpet, hammered percussion, etc. And there are 8 presets for the "Synthe" section that give variable waveforms (square, pulse, sawtooth) in different pitch ranges (from 32′ to 4′). Each preset has its own rotary control to vary its sounds. The Sigma is also unique for its ability to combine the synth and instrument sections for a nicer, layered synth sound or effect. While the synth section is nice, the instrumental sounds (tuba, trumpet, strings, guitar, etc.) are pretty darn bad, and only get interesting when mixed with the "Synthe" section sounds.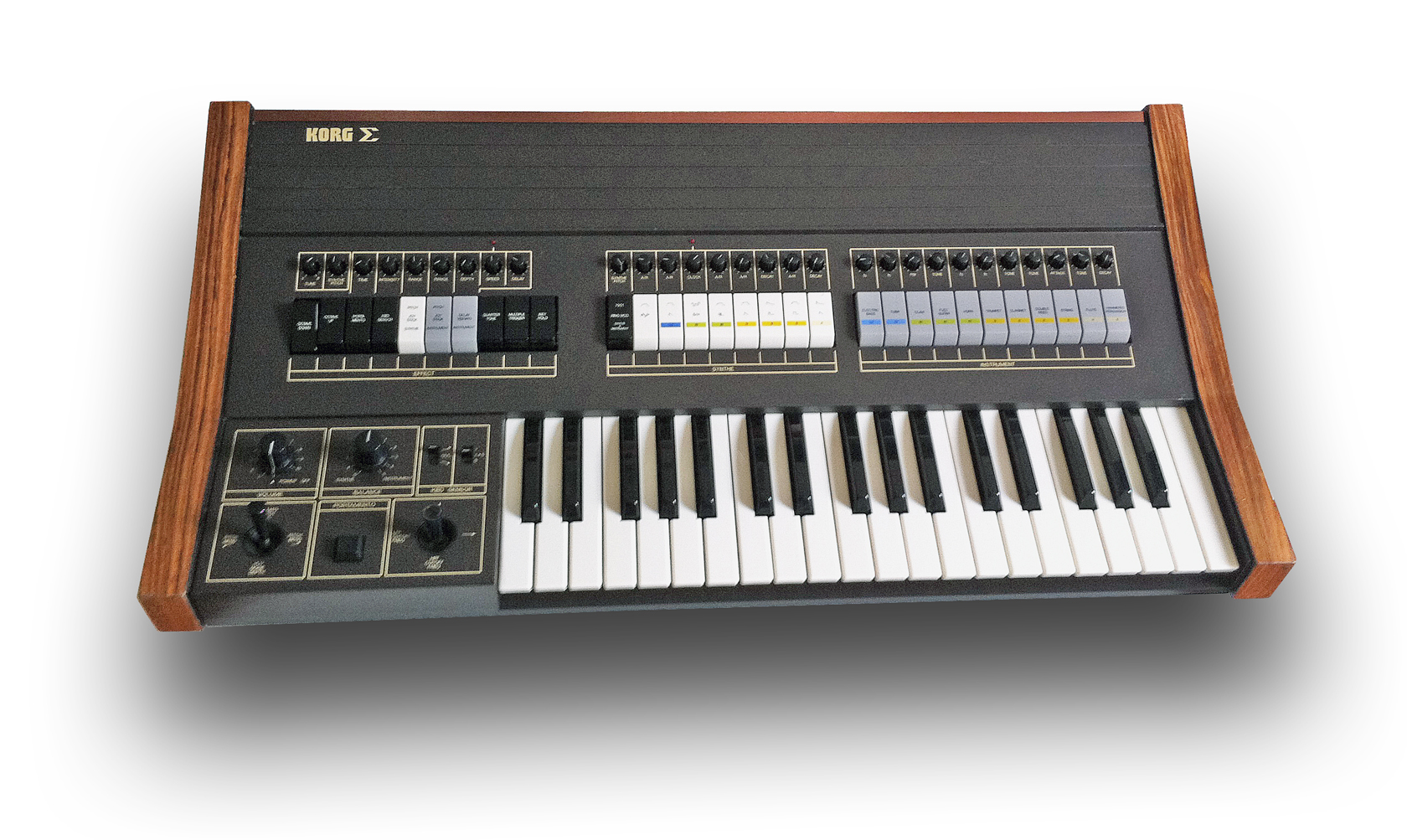 Cool joysticks add multi-dimensional control. Use one to control pitch, noise and vibrato and use the second joystick to edit the low-pass and hi-pass voltage controlled filters! There is also an "Effect" section which is for Vibrato, Portamento, Sample and Hold, Noise, Key Hold, Multiple Trigger and Ring Modulator (each with it's own rotary control to vary it's sound). Even though it has a switch labelled "Ring Mod," it's actually a cross-mod. It lets you cross modulate between the instrument and Synth sections.
Ultimately, however, a basic design, limited edit-ability and a pure lack of memory and MIDI leave the Sigma far behind on the evolutionary scale (although it does let you play a quarter-tone scale). The Sigma has a metal music stand that slides out the back to hold your sheet music suggesting it may have been aimed at hobbyists
Vintage synthesizer demo track featuring the Korg Polysix
supported by UVI: http://bit.ly/retrosound-uvi
all synthesizer sounds: KORG Polysix Analog Synthesizer (1982)
drums: KORG KR-55B (1982)
recording: multi-tracking without midi
fx: reverb and delay
Arturia Minibrute – arpeggio and improvised melody
Volca Keys – pads and bass
A simple arp made from a sequence on the Minibrute, then random notes from a chord played by hand over the top. Pad sections were made with the Volca Keys in polyphonic mode, using a midi keyboard to play it.
More Minibrute SE here: https://www.youtube.com/watch?v=1Sxa6…