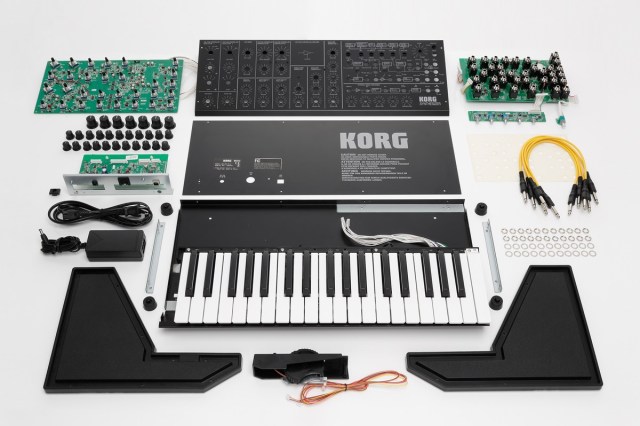 Korg MS-20 Synth Kit – a limited edition MS-20 Kit is a kit that lets you create a real, full-size MS-20 by assembling the parts yourself.
The MS-20 Kit is a true-analog, 1:1 scale reissue of the MS-20, with both filters built in (the more aggressive early production filter and more mellow late production one). Every details has been replicated, right down to the packaging, which includes a letter from the original MS-20 engineers and the President of Korg, Inc.
Just like the MS-20 mini, development of the MS-20 Kit was led by the original engineers themselves, who spared no effort to perfectly replicate the circuitry of the original unit. When it was necessary to substitute a part, the engineers made the decision based on their own ears, ensuring that the exact sound of the original unit has been reproduced.  According to Korg, the sound of the MS-20 kit has a 'somewhat bright and extreme quality' to it, because its sound is that of an original MS-20 in mint condition at the time it went on sale, before any of the components aged.
The MS-20 Kit comes dissembled, and can be put together with simple tools (some included), providing the user with a bit of the experience that often went hand-in-hand with ownership of vintage modular analog gear.
No soldering or understanding of circuit diagrams required. The updated MS-20 also features the same modern connectivity (MIDI and USB MIDI) as the mini.
The MS-20 Kit is a being released as a limited edition product.
Features:
A full-size, true analog MS-20
Build yourself with simple tools
Early and late filters at the flip of an internal switch
¼" patch cables
Limited edition
The Korg MS-20 kit is expected to have a street price of about $1,400 and to be available in March.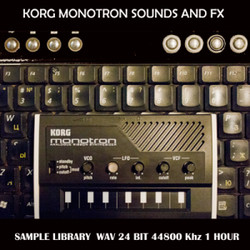 Softrave announced Korg Monotron Sounds and FX, a collection of analog synth samples and effects from the Monotron synthesizer by Korg.
This library represents 1 hours of recording mono 24 bit 44800 Khz flow of noise effects weird bleeps basses and fx

I did not make any loops, special melodies sample banks or any improvements. You are welcome to do that by yourself in a way it fits your sampler or DAW. I think you can find at least 1000 really cool analog sounds , loops & special effects in this recording
The sample pack is available to purchase for $9.99 USD / 7.39 EUR.
This machine, normally associated with beats, can transmit MIDI notes from each of the drum triggers. I tuned the first seven triggers to the Eb scale, with the further three notes on the lower octave.
The accent control functions in the same way, allowing you to vary it`s relative level.
Second half of the video has the synth output going into the ER-1, allowing the use of `Motion Sequence` and `Tempo Delay` effects.
FIRE JAM
Live performance by Ciacci Simone a.k.a. "Storm 3003″
Select HD for a better experience!
Equipment for this video:
- Elektron Analog Four
- Korg Volca Beats
Check Out = "DARK JAM":
http://youtu.be/7QDQoxOXmwA
2 Complete new sound-banks for Korg PolySix.
The PolySix is a classic and Korg did a great job of porting it to the PolySix software version.
The PolySix stands as one of the most authentic hardware
emulations ever made which so many recent synths attempt to emulate.
The presets heard in this video are from the new collection called, "Cold Fusion".
These presets are designed to bring out the classic hardware sound from the original Korg PolySix.
Included in this collection are:
Classic style Apegs
Extremely Fat basses
Vintage and very warm pads.
Unique synth FX reminiscent of the electronic period that the PolySix was released in.
Leads
More
The Korg PolySix software version is one of those, "best kept secrets".
This is partly due to the fact that it was initially released with so few presets.
VintageSynthPads.com has released this collection with the original Korg PolySix hardware in mind.
The presets are very analog, warm and fat, not to mention affordable.
Be sure to check them out.
Sound effect 11 from the iMS-20 SFX/iPolysix series.
Effects 11-20 will include the iPolysix so stay tuned.
effect info:continuous,no sequencing/automating.
Quick demonstration of a few ways to sync the Volca Beats to my modular:
1. Using arpeggio notes of the Korg Microstation to trigger the Volca Beats (trigger in) via a midi to cv convertor (Kilpatrick in this case)
2. Midi clock in the Volca Beats (midi through on the Kilpatrick)
3. Using trigger out of the sequencer (clock out works also)
Korg have announced that the KR Mini portable rhythm machine is now on its way to a retail store near you. The KR mini – an easy, simple and compact rhythm machine with a built-in speaker and optional battery power for play-anywhere convenience. It's a great companion for practicing and performing with guitar, bass, keyboards, winds, or any type of instrument
Designed for guitarists, bassists, pianists or any musician looking for easy rhythm accompaniment, the KR mini features nostalgic looks and a simple design focused on easy, push-button control. The KR mini is also lightweight, can run on batteries and has a built-in speaker, allowing it to provide a backing rhythm pattern anywhere at any time. With a total of 60 diverse rhythm patterns across the genres, the compact KR Mini is ready to accompany any performance.
Key Features
Easy-to-use design; just select a rhythm pattern and press the play button
Chain function lets you arrange your favorite rhythm patterns and fill-ins to create complete songs
Optional foot switches gives you hands-free control over fill-in/start/stop
Tap the 16 pads for finger drumming or recording your own rhythms
Built-in speaker with 2W output for jamming anywhere without the need for an additional monitor
Headphone/speaker jack for quiet practice or connection to a mixer or monitoring system
Two-way power; use the optional AC adaptor or batteries (AA alkaline batteries x 3)
Op-1 connected to an iMac and sending MIDI for Volca Keys and EMW Modular Synth with Ableton Live. Endless sequencer is a lot of fun, Volca Keys is a great partner for the op-1 and the little EMW Modular sounds awesome.
Magneticring rips the new Korg MS-20 Mini with Fairlight CVI.