Polyrhythmic sequences modulated by sequenced arpeggios with transposes at random intervals.
Elektron Octatrack controls the Jomox Xbase999 and Korg MS2000 via MIDI and clocks the Elektron Analog Four. Slight reverb from the T-rex Room-mate over the Xbase's signal.
This is the second in a series of videos featuring three young, energetic musicians who have produced their work using only the KORG electribe.
This video showcases Pop Tune music maker Hercelot bringing the sounds in his head to life utilizing his creativity, and the power and versatility of the KORG electribe. Check out this entertainer at work.
Hercelot's stream on SoundCloud
https://soundcloud.com/hercelot
Gaz WIlliams takes a look at the first digital Volca. 4MB sample Ram (playback) and the usual Volca sequencing facilities.
Details about the video:
Here is a video of the Korg Poly 61. I programmed some new sounds into the memory bank and set up a loop on the tape recorder. You can edit the 2 digital VCOs, the filter and VCA which share an envelope, and send an LFO to the filter, pitch and VCA. Thats pretty much it, but the results of combining these few parameters are really satisfying, especially when dealing with first-generation analog/digital hybrid electronic circuits

The second bit of the video was shot at Tate Modern, where they have a really good 60s/70s minimalist show on at the moment. There was an arresting yellow Anthony Caro that caught my eye
The Korg MS-20 mini is an analog synth, the reincarnation of the classic MS-20. The iMS-20 is the iPad version of the same machine.
If you just try to use the same settings on both, the first thought will be "The iMS-20 simply can't sound like the real thing". But in fact, they have different behavior for the same settings on the filter and envelope modules. Don't expect to make the same sounds using the same settings on both!
With some work and listening carefully you can make the iPad app to sound much closer than before.
Here is another example, now using the filter with resonance and a big release time.
Patch images for MS-20 mini and iMS-20 for iPad: https://dl.dropboxusercontent.com/u/1…
A truly portable electronic setup consisted of a PO-14 from teenage engineering, a monotron Delay from Korg and a talking translator by an unknow brand bought in a fleamarket
Gears inside the restaurant:
Roland SH101(blue),TR808,
ARP Odyssey,2600,Quadra,
Korg Mono/Poly,
Gakken SX150
and Denki-Soba Hell Synth
*Special thanks to:
Denki Soba, Risa, Keizo Suzuki from Osaka, Japan.
Copyright: E.D. Music Co.
Loptus live: Logan Piano Strings Synthesizer, Korg Sigma, Korg Lambda in my studio.
At the 2015 NAMM Show, Korg introduced their new version of the ARP Odyssey.
As part of this presentation, ARP's David Friend shared his memories of creating the ARP Odyssey.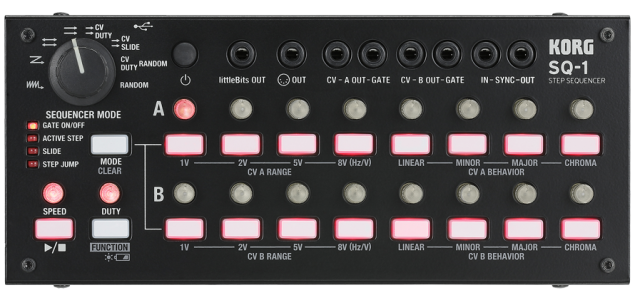 Korg has introduced the SQ-1 step sequencer, an updated take on the classic Korg SQ-10 step sequencer.
The Korg SQ-1 is a compact step sequencer with 2 x 8 steps. Its wealth of connection jacks allows it to be connected to the MS-20 and a variety of other synthesizers.
Both vintage analog synths and the latest compact synths can be controlled from the SQ-1.
Specifications:
Sequencer Mode – ALTERNATE, ORDER, PARALLEL TURN, PARALLEL ORDER, CV/DUTY, CV/SLIDE, CV/DUTY RADOM, RANDOM
Step Mode – GATE ON/OFF, ACTIVE STEP, SLIDE, STEP JUMP
Sequence Step Resolution – quarter notes, eighth notes, sixteenth notes
CV OUT Pitch – Linear, Minor, Major, Chromatic
CV OUT Voltage – 1V, 2V, 5V (Oct) 8V (Hz/V)
GATE OUT Polarity: + (positive polarity), – (negative polarity)
SYNC IN/OUT Polarity + (rise), – (fall)
Connectors

littleBits OUT jack (mini monaural phone jack)
OUT (MIDI OUT) jack (mini stereo phone jack)
CV – A OUT – GATE jack (mini monaural phone jack, CV OUT : Output Level 1V, 2V, 5V, 8[Hz/V], GATE OUT: output level 10V)
 CV – BOUT – GATE jack (mini monaural phone jack, CV OUT : Output Level 1V, 2V, 5V, 8[Hz/V], GATE OUT: Output Level 10V)
– IN – SYNC – OUT jack (mini monaural phone jack, SYNC IN: Max Input Level 20V,

SYNC OUT: Output Level 5V)
USB jack (type B, USB MIDI)
Power Supply – Two AA batteries (alkaline batteries recommended), or USB power
Battery Life – approximately 5 hours (when using alkaline batteries)
Dimension (W x D x H) – 93 x 84 x 63 mm/7.60″ x 3.31″ × 2.48″
Weight – 641 g/1.41 lbs.
Included Items – Two AA batteries for checking operation, mini plug – DIN cable
Options – Patch cable MS-CABLE-18
Pricing and availability for the Korg SQ-1 are to be announced.