J74 Volca Control – an $8 package that provides you with three editors and control surfaces for each of the members of the Korg Volca series: the Volca Keys, Volca Bass and Volca Beats.
The tools let you control, store and modulate all Volca native MIDI parameters, while adding a bunch of new features for synthesis and performance, such as: filter KeyTracking (both VKeys and VBass), Chorus-like effects (VKeys), additional tempo sync LFO (VKeys), Pitch Tuning and modulation modes (VBass), 3x note Polyphony emulation on VBass, MIDI velocity emulation on VBeats, LFO auto-tuning modulation (VBass and VKeys) and Solo/Mute controls on VBeats.
All devices also offer presets storage (load, save, recall), a X/Y Panel for modulation of two parameters simultaneously and a parameter randomizer.
The devices come in the format of Standalone desktop applications for Mac and PC (integrating via MIDI communication to controllers and DAWs, with no additional license required) and in Ableton's Live Max for Live format (integrating directly in Ableton Live, in this case a Max for Live license is required).
Supported versions:
Standalone tested on MAC OSX 10.7, 10.8, 10.9 and Windows 7 and 8
Ableton Live 9 / M4L versions require Live 9.0.6 or higher + Max 6.1.x
Ableton Live 8 / M4L versions require Live 8.3 or higher + Max 5.1.9
The J74 Volca Control package can be purchased for US $8 and comes in the form of Standalone (both Mac and Windows) and as Ableton Live / Max for Live plug-ins. The package includes all formats and control surfaces. More info here >>
Feature set:
Volca units standard functionality mapped via MIDI:
VKeys: VCO (OSC) Modes, Detune, Portamento, Pitch Envelope
VKeys: LFO Rate, modulation intensity for both Cutoff and Pitch
VKeys: VCF Cutoff and Envelope amount
VKeys: Envelope (EG) Attack, Decay/Relase, Sustain
VKeys: Delay Time
VKeys: Delay Feedback
VKeys: VCA Volume
VBass: VCO (OSC) Pitch tuning for OSC 1, 2 and 3
VBass: LFO Rate, modulation intensity for VCF Cutoff
VBass: VCF Envelope amount (on Cutoff)
VBass: Envelope (EG) Attack and Decay/Relase
VBass: VCA Volume
VBeats: Part Level (Kick, Snare, LoTom, HiTom, ClosedHats, OpenHats, Claps, Agogo, Crash)
VBeats: PCM Speed (Claps, Agogo, Crash)
VBeats: Tom's Decay
VBeats: ClosedHats Decay
VBeats: OpenHats Decay
VBeats: Hats Grain
VBeats: Stutter Time
VBeats: Stutter Depth
Additional features given by the VKeys, VBass and VBeats software:
VKeys: Delay Modulation for Chorus-like effects
VKeys: KeyTracking on VCF Cutoff
VKeys: Additional LFO (LFO2) which is software-based and tempo synchronized
VBass: OSC Pitch Tuning modes (unison, octave, third, fourth, fifth, major-chord, minor-chord and three auto-detune options)
VBass: 3 note Polyphony emulation (paraphony), as OSC Pitch Tuning mode "poly"
VBass: KeyTracking on EG/Cutoff level
VBeats: MIDI velocity dynamics (emulates MIDI velocity support)
VBeats: MIDI controllable pads with velocity emulation
VBeats: Solo/Mute mixing controls
All devices: X/Y Panel for modulation of two parameters simultaneously
All devices: Parameter Randomizer
All devices: Presets storage (load, save, recall)
What the VKeys, VBass and VBeats do NOT control:
VKeys: VCF Peak (not hardware/MIDI implemented by Korg)
VBass: VCF Cutoff (not hardware/MIDI implemented by Korg)
VBass: VCF Peak (not hardware/MIDI implemented by Korg)
VBeats: Kick click/pitch/decay (not hardware/MIDI implemented by Korg)
VBeats: Snare snappy/pitch/decay (not hardware/MIDI implemented by Korg)
VBeats: Tom's Hi/Lo pitches (not hardware/MIDI implemented by Korg)
All devices: Any FUNC[tion] setting on the units (not hardware/MIDI implemented by Korg)
All in Japanese unfortunately, but still a nice insight into this tiny modular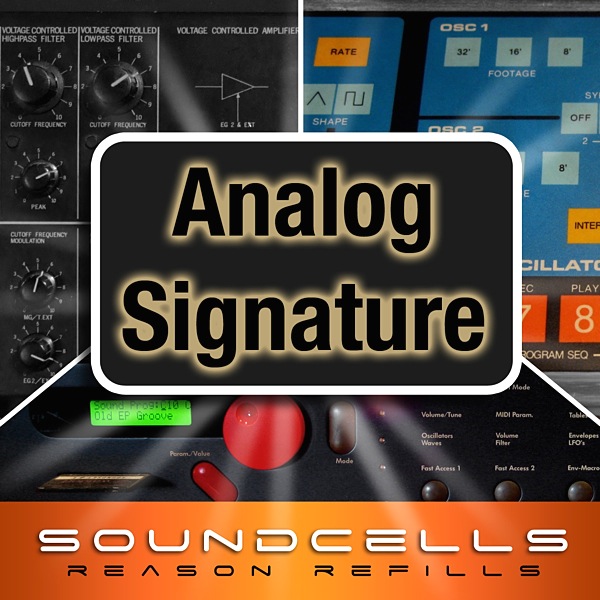 With version 4 of Analog Signature a new member is added to the family: the ROLAND Jupiter 6!
Moog Source, Korg MS20, the Waldorf Microwave 1, the Waldorf Pulse 1, and – from version 4 onwards – the Roland Jupiter 6 have been accurately sampled in such a way that their charming inaccuracies are still there in this perfect Reason environment in which Soundcells took their chance to add polyphony and velocity. A good balance of retro 1970′ s and 80′ s analog / digital sounds with modern programming makes this ReFill versatile for current styles of music as well as retro …
Analog Signature v4 Contents:
• 540 combinator patches.
• 276 NNXT patches containing the basic patches which were used to build the combinators.
• 1792 samples, 44 khz / 24bit.
• Samples coming from five classic synthesizer.
• 10 demo tracks in Reason format included.
The Klark-Teknik DN27A 1/3rd octave graphic equaliser is the successor of the widely acclaimed DN27. It is a totally professional unit which combines the ease of use and reliability of its predecessor with many new features and improvements, to give uncompromising performance and maximum possible flexibility.
Considerable experience in the field of equalization coupled with a philosophy of continual research and development, has enabled the realisation of a product which meets the design criterion; simply the best.
Use of the highest quality materials and components is maintained throughout: Precision, ground air-gap ferrite cores and custom-wound coils are combined to produce the inductors required in each filter; the faders are oil-damped for smooth, positive operation.
The construction is completely dependable and robust, every unit being thoroughly tested both electronically and subjectively before leaving the factory.
More vintage flavors:
Waldorf Pulse 2 +++ Vintage Treats +++ Klark-Teknik DN27 +++ Urei Model 537
Korg M01 is a  music workstation for the Nintendo DS based on the classic Korg M1.
The  Korg M1, released in 1988, sold for over $2,000. Korg M01 is designed to emulate the Korg M1 – at least many of its features and sounds – as a $60 app that runs on a $130 handheld computer.
Background video description:
A remix of a friend of mine. Korg M01 is an awesome piece of software. For some reason, I'm actually overwhelmed by all the extra polyphony in Korg M01D. I experienced the same thing when I first tried out Dual Mode in Korg DS-10 Plus! I'll get used to it soon. Please enjoy the music and montage! =)
Listen to the original by Bermuda:
https://soundcloud.com/bermuda-music/…
Using EG1 for the LPF, frequency, and PWM CV at the same time.
In this demo we go through some of the features of the Future Retro MondoVox with Korg's most recent line of analog monosynths. The Mondovox turns these 3 MIDI capable monophonic synthesizers into a 3-voice, 8 oscillator polyphonic synthesizer with 4 independent filters!
The Mondovox takes polyphonic MIDI data and translates it to so that each voice is on its own MIDI channel. This allows for new ways to engage a spread of monophonic synthesizers or anything with MIDI! This can include multi-timbral, polyphonic, or virtual synthesizers.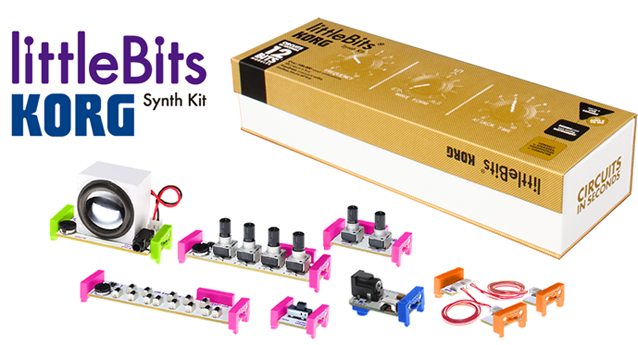 Korg has teamed up with the littleBits and created a kind of modular system set with which you could create a modular synth/instrument. With the original littleBits Exploration Kit Series anyone and everyone can use the modules to create circuits and explore the world of electronics.
The littleBits Synth Kit is a scalable and easily customizable modular synthesizer system for anyone who's interested in building their own little 'analog' system. Without knowledge of music or electronic circuit design, you now can easily assembly a synthesizer.
The whole system is really based on the littleBits Exploration Kit, however the intention is that it will and can be used for live sound and recording. The Synth Kit will be available in Japan first. If this kit will be available worldwide is not been confirmed.
The synth kit offers a variety of modules:
Power
Oscillator
Random
Keyboard
Micro Sequencer
Envelope
Filter (MS-20 style)
Delay
Mix
Split
Speaker
For now the littleBits Korg Synth Kit is expected to be released in Japan in December 2013. Pricing is expected to be around the price of ¥ 16,000. No official announcement has been released however.
This video will provide instructional information on how to use the Envelope Generator onboard the Korg MS-20 mini.
For more information on the KORG MS-20 mini, head over to http://www.korg.com/ms20mini
This video will provide instructional information on how to use the Oscillators that are onboard the Korg MS-20 mini.
Playing Moog Etherwave with KORG Volca beats/bass/keys.