Background video description:
Here's another live jam with my baseline setup Korg Volca Bass, Korg Volca Sample and Arturia Microbrute. This time, they get accompanied by the MFB 522 drumcomputer and David Smith Instruments Mopho.
As with all my other jams, I only used the internal sequencers which are synchronized with the Master Midi clock from the Electribe ER-1. Some reverb and delay is added on most of the sounds (Alesis Quadraverb 2, Alesis Midiverb 3 and Lexicon MX200).
If you liked this one, you might want to check out my other Volca-Microbrute jams in this playlist:
https://www.youtube.com/playlist?list…
Thanks for watching and cheers!
Composed by BakaOscillator.
Use, CASIO PT-80, Nintendo DSi LL and ,KORG DS-10+.
邦題 : 隼
The PT-80 consists of a 2 octave monophonic keyboard with the sounds: piano, harpsichord, organ, violin, flute, clarinet, trumpet and celeste. The small keys on the left side is an auto chord section that is synchronized to the rhytm section. The rhytms are: Rock, disco, 16-beat, 2-beat swing, 4-beat swing, samba, bossanova, beguine, slow-rock, march, tango, waltz.
The rhythms are good and a useful thing is the ability to make fill-ins. If you, for instance, have choosen a disco rhythm and it is running, then press the disco button again and the fill-in comes.
Another feature of this model is the changeable ROM-pack that contains 4 melodies. These melodies can be played by the instrument alone or as a two way act: The instrument supplies the accompaniment, you do the melody.
Analog Downtempo Groove. Live Hardware.
Like and subscribe for more live hardware music.
Gear used:
Moog Sub 37 (three new patches)
Roland TR8 (7X7)
Volca Keys
Arturia Microbrute CV to Korg Monotribe
Mooer Reecho – Delay
EH Small Tone – Phaser
More videos at http://youtu.be/J2dOmjz3r6k
Background video description:
Korg Triton Extreme "Star Wars United"
Sampler & Sequence Synthesizer Demo
by Rik Marston
NO PROFITS EARNED OR GAINED FROM THIS VIDEO
JUST FOR DEMONSTRATION OF WHAT THIS SYNTHESIZER
CAN DO!
This is a VERY basic audio demo I did when I used to work for
the Pro Audio Department / Keyboards at the Guitar Center
in Tempe, Arizona. I was in competition with all of the Yamaha
Motif sellers & I was the only Korg guy at the time.
I made a quick demo using a Star Wars Multisample
I created from "Return Of The Jedi".
After that the Tritons were flying out of the store!!
Just about everybody likes Star Wars!!!
Anyway, this video is for audio demonstration with
some footage from the film to cover the visuals,
NO PROFITS EARNED OR GAINED FROM THIS VIDEO
JUST FOR DEMONSTRATION OF WHAT THIS SYNTHESIZER
CAN DO!
ALL VIDEO PROPERTY OF LUCASFILM, GEORGE LUCAS
& NOW DISNEY.
Korg's M1 digital synthesizer is back in the iM1 synth app. You get all of the original preset sounds from the original M1, plus sounds from Korg's T1 as well. Additional sound libraries are available via in-app purchases.
Vintage synthesizer featuring the classic MAXI-KORG
supported by UVI: http://bit.ly/retrosound-uvi
KORG MAXI-KORG 800DV Dual-Channel Analog Synthesizer
Made in Japan 1974
2 separate Mini-Korg 700S inside one keyboard with all controls
One vco per voice + sub-osc., ring-modulator, 2 envelopes, lfo
The traveler filter is fantastic and sounds unique.
Used by Vangelis, Kitaro, Soft Cell and more.
Korg Volca Bass
by Aflecht in July 2015
All sounds come from Korg Volca Bass, except the drums. Ableton Live was used for sequencing, editing and mixing. Native Instruments Battery was used for drums.
Only delay and EQ was used on any of the sounds.
Background video description:
MOOG LITTLE PHATTY "Toxic" GREEN Edition
ROLAND JUNO-106 "The HOLY SYNTH"
THRU KORG KRONOS Insert Effects Delay & Reverb
***Watch in HD***
First we have the Moog Little Phatty TOXIC thru
the Korg Kronos insert effects….
I use the JUNO-106 as a midi controller in this part.
Then we layer the two analog synths via MIDI thru
the Korg Kronos insert effects!!! Sa-WEEEEET!
I also am controlling the Moog with the JUNO-106.
Keeping the pad sound "Moogy" with the JUNO-106,
the layer is totally Wakeman… I LOVE it!!
Not trying to show off any playing skills,
just having fun on a rainy day!
Always a good thing to do on a rainy day!!!
Thanks for watching!!
Please subscribe!
More synthesizer videos coming soon!
Rik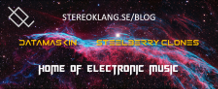 Factory demo songs from the Korg MS2000 virtual analog synthesizer recorded direct with no additional effects.
Song List:
1. Grooven Dugan (0:03)
2. Neon Lamp (0:51)
3. Pink Doll 2001 (2:58)
4. Joker (4:32)
5. Tube (6:20)
6. Past Memory (7:33)
7. Fragmented (8:57)
8. Pineapple (9:38)
9. Next Wave (11:11)
10. Jingle "MS2K" (12:29)
The MS2000 is a turn-of-the-millennium virtual analog synthesizer that is 4-note polyphonic. Its design focuses on real-time controls with lots of knobs. The same synth engine was used in the MicroKorg, which has a much-reduced interface that is less suited to real-time control.
It included a vocoder at a time when hardware vocoders were rare, expensive, and inconvenient. The revised MS2000B version has a darker case and a built-in XLR microphone input to make the vocoder engine easier to use.
For more information and manuals for this and other synthesizers, visithttp://soundprogramming.net/synthesiz…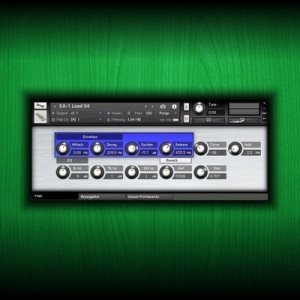 Samplescience has announced the release of EA-K, an instrument collection for Native Instruments Kontakt 5, featuring the sound of the Korg EA-1.
Want slick leads and deep sub bass? It's all here in this compact Kontakt 5 instruments collection.

Have the total control with EA-K scripted interface! Controls included: ADSR, 3 bands EQ, arpeggiator, union, portamento, and Reverb.

Although EA-K is best suited for minimal techno production, famous artists such as Throbbing Gristle, Orbital, Daft Punk, Like A Tim, Crystal Distortion and Cirrus have use the EA-1 to create other genre of music.
EA-K features
11 Kontakt 5 instruments.
Universal 24 bit WAV files included.
The library is available from Sampleism for two weeks only, priced at £4.99 GBP.