Background video description:
My second version of the classic Cure song.
I was not satisfied of my first run uploaded some weeks ago….so,
this time some changes on Volca Keys patterns, different bass sound whit FX., different ending.
And finally sound from the mixer.
Main Melody : Korg Volca Keys
Bass line : Arturia Microbrute , through Digitech BP 50 digital FX.
Added flanger and a little reverb
Drums : Korg Volca Beats
no overdubbing, no DAW.
what you hear is what I play.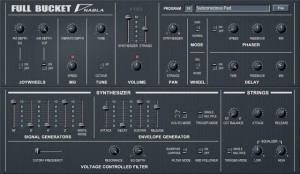 The Nabla is a VST™2.4 software instrument for Microsoft Windows® simulating the KORG Delta DL-50 Strings Synthesizer from 1979. Is is written in native C++ code for high performance and low CPU consumption. The main features are:
Paraphonic Synthesizer and Strings sections
Up to 64 voices polyphony
Synthesizer section:
Four band-limited frequency divider-driven signal generators
Additional noise generator
4-pole zero-delay feedback bandpass/lowpass filter
Strings section:
Two band-limited frequency divider-driven signal generators
2-band equalizer
Ensemble effect
Flexible pitch/filter modulation by LFO or noise
Tweaks (not to be found in the original Delta):
"GOD Mode" to provide true polyphony
Panning for Synthesizer/Strings sections
Built-in phaser and delay effects
Double precision audio processing
All parameters can be controlled by MIDI controllers
Plug-in comes in 32 bit and 64 bit versions
Fully compatible with SM Pro Audio's V-Machine™
On the track "nabla", the Nabla is the only audio source (plus some delay, reverb and slight compression).
Also highly recommended: Vale de Lágrimas and Kilik where crisch'r uses the Nabla extensively!
On the track "nabla" [above], the Nabla is the only audio source (plus some delay, reverb and slight compression).
Also highly recommended: Vale de Lágrimas and Kilik where crisch'r uses the Nabla extensively!
Background video information:
Here's my first cover created with Korg M01D. After figuring out the chords of this song on the piano, I decided to remake it on M01D. Please enjoy! =)
Background Video:
http://www.pond5.com/stock-footage/10…
Soundcloud: http://www.soundcloud.com/anthonyseeha
Steam: http://steamcommunity.com/id/seehanth001
Bandcamp: http://anthonyseeha.bandcamp.com
Miiverse: https://miiverse.nintendo.net/users/s…
Twitter: http://twitter.com/seehanth001
Kaossilator action multiplied
KORG DS-10で久々のクランチー&クリスピーな曲を。
VCFが荒ぶってますが、ワウギターっぽいのをやろうとして右往左往しているだけなの­で、気にしないでくださいw
今までドラムはデフォ使ってたんですが今回初めていじってみました。 前半はウェッティーですが、後半はカリッカリです。
Google translate:
Songs crunchy and crispy after a long time in the KORG DS-10.
VCF will I Susabu, but since only have Uosao and trying to do from like Waugita, w please do not mind
I was using the default drum until now, but I applied for the first time. The first half is U~etti, but the second half is Karikkari.
Take the KORG Gadget master quiz or get in shape with fundamentals.
This is a quick demo of the Korg Volca Beats. Enjoy!


KORG INC. is proud to announce that a faithful recreation of the legendary 1970s analog synthesiser, the ARP Odyssey, is being developed by Korg for release later in 2014.
The ARP Odyssey was released in 1972 by ARP Instruments, Inc. and quickly became famous for its unique rich sound and innovative performance controls. It was a staple for many recording and performing musicians worldwide and was used on countless hit records over many years. The Odyssey was one of the highlights of the ARP company and became a long selling product. With slight updates and improvements it was sold through to 1981.
Korg is also proud to welcome Mr David Friend as our chief advisor on the Odyssey. David Friend established ARP Instruments, Inc. along with Alan Robert Pearlman and is a past president of ARP Instruments, Inc. He was also the lead designer of the original Odyssey in addition to designing or co-designing many other products.
After ARP, Mr Friend became a successful technology entrepreneur. In 2010, he was named Ernst & Young Entrepreneur of the Year in the Emerging Technology category for the New England Region, he has been a lecturer at MIT's Sloan School of Management and is now Chairman & CEO of Carbonite, Inc. He has been a trustee of the New England Conservatory and Berklee College of Music.
In the last few years, KORG INC. has released several top selling analog synthesizers such as the monotrons series, the monotribe, the volca series and the hugely successful MS-20 mini, a faithful fully analog recreation of the 1978 MS-20. With Korg's technology capabilities and planning ability for analog synthesizers, and in collaboration with David Friend, we believe the legendary ARP Odyssey will become a "must have" for an all new generation of music makers.
The ARP Odyssey is scheduled for release in September 2014. – See more at: http://www.korg.com/us/news/2014/0217/#sthash.E2XWNMxZ.dpuf
'thainmlh' explores making Berlin School style synth music using a couple of Korg Monotribe synthesizers and a pair of Electro Harmonix Memory Toy analog delay pedals, background video description below:
A follow up to my video "Korg Monotribe x2 – Berlin School Example" which has had over 50,000 views at this point (much to my surprise…)
Again we use two Korg Monotribe Analog Synthesizers (with built in sequencers) slaved together for 1970′s style Berlin School sequences, This time, it is a "how to" in an attempt to answer the many questions posted to the original video. (This has higher audio quality)
Korg EPS-1 with a delay effect from the Roland DEP-5.
EPS comes from "Electronic Piano & Strings". The fully analog EPS-1 is one of the few touch sensitive string machines. It is a quite long keyboard. It has not only strings – it also has a piano section with several (non mixable) presets. On the piano section you can add a stereo effect (TREMOLO or CHORUS, both with parameters for SPEED and INTENSITY). Both sections have an equalizer.