The best sounds, available to everyone.
Announcing a new high-quality mobile sound module app for iPad!
Maintaining its position at the forefront of mobile music apps, KORG now offers you a new style of performance and production with KORG Module for iPad. Ideal for performance and music production, KORG Module is a high-quality sound module app for iPad that contains a sound library over 1 GB. If you have an external MIDI keyboard and an iPad, you can play studio-quality keyboard and grand piano sounds anywhere. You can also use the sounds of KORG Module for the KORG Gadget music production app.
More Details:
http://www.korg.com/module/
Features:
90 programs
Five modules

Acoustic Piano
Electric Piano
Organ
Clav
Multi

Master Effects

Modulation effect
Ambience effect
Usable simultaneously

MIDI

Play using an external MIDI keyboard
Program change
The damper pedal can be used to switch the rotary speed
Virtual MIDI
MIDI over Bluetooth

Usable in Gadget as five types of Gadget
Set List Functionality

Change programs for each song you perform
View images or PDF scores
Use the internal camera to capture memos, etc.
Edit text to create memos
Load text files
Load and play songs from the library of the Music app
Adjust the playback speed of songs

MIDI Player

Load and play Standard MIDI Files

Audio Recording

Upload to SoundCloud
Upload to Dropbox
Export to Mac/PC via iTunes file sharing

Velocity Curve

Dynamics can be varied by your playing on a MIDI keyboard

Other

Inter-App Audio
Audiobus 2 support
Experimental video clip and soundtrack.
Camera : Zoom Q4 for DSN-12/Canon PowerShot G12 for telephoto shot
Edited with Openshot and Kdenlive on Debian wheezy.
Background video description:
Sharing the satisfaction of assembling my very own synthesizer; the reissue of the 1978 Korg classic monosynth! At the end is a brief audio demo including modular sequencing of the MS-20.
Background video description:
bad news
my KORG new electribe…….initial defectiveness!!!!!
Electribe leaves my home with initial defectiveness.
It was slightly 2-day self-possession.
bad and sad news
開封して2時間くらいでこの動画を撮りました。
撮影後、あれこれ機能を確認していた最中に本体の異常があったので、
購入店に連絡して確認したところ初期不良でした。新しいelectribeは僅か2日­間で我が家から去りました。
electribe2で演奏しました。2回目です。
Please listen with headphones.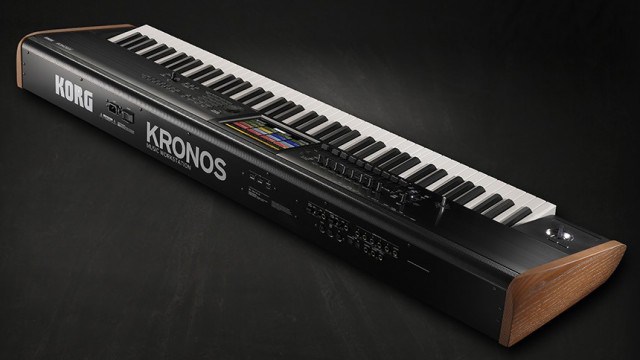 Korg today introduced the new Kronos – the most powerful version of their flagship keyboard music workstation to date;
"The new Kronos features the unrivaled 9-engine structure from previous versions, with numerous improvements to both sound capability and overall functionality," said Korg Brand Manager James Sajeva. "Truly, this is the most powerful synthesizer on the planet."
Sajeva explains what's been updated in the new Kronos: "Our SGX piano engine, already revered for its German and Japanese grands, now also includes a 9GB Berlin grand with dedicated una corda (soft pedal) samples, plus sympathetic string resonance that works on all the SGX pianos" he continued. "It's truly an amazing piano experience. There are new banks of sounds based on famous song titles for our cover players and those looking for 'that' sound for their recordings, plus a 'best of' bank from KaPro, who has created numerous libraries for the Kronos line."
Other new features include system-wide Touch/Drag via the Kronos' color TouchView screen; allowing the user to edit onscreen parameters faster than ever.
An evolved Set List mode provides the capability to resize their custom text per set list entry, and enter text via either an onscreen QWERTY or external USB ASCII keyboard. Entries can also be color-coded for better organization and visibility, and users can even decide how many set list entries appear on the screen at time, allowing for more (and larger) onscreen text to remind you of lyrics, changes, or other notes.
An improved search function helps users to find the perfect sound faster than ever.
Other improvements include onscreen metering in Combination and Sequencer modes, along with the ability to edit Programs within a Combination to hear the edits in context with other parts.
The improvements don't end with the software, either; the new Kronos also boasts natural wood side panels, easier-to-read silkscreened text and gold-plated audio I/O jacks.
Korg Kronos synth engines:
SGX-2 Premium Piano
EP-1 MDS Electric Piano
CX-3 Tonewheel Organ
HD-1 High Definition PCM Synthesize
MS-20EX & PolySixEX Legacy Analog Modeling
AL-1 High-Fidelity Analog Modeling
MOD-7 Waveshaping VPM Synthesizer
STR-1 Plucked Strings Physical Modeling
Other features include one-cable USB DAW integration for MIDI and Audio, powerful effects processing with up to 16 effects at a time, a 16 MIDI/16 Audio track sequencer, 16-part Combinations, a tremendous assortment of real time controllers, KARMA phrase generating technology, vector control and more.
This is Part 1 of our video manual for the Korg Kronos Music Workstation, focusing on basic navigation.
Send sample data directly from your iPhone to your volca sample!
AudioPocket enables you to program your volca sample memory with audio samples.
In addition to merely importing samples from your computer via iTunes, the free AudioPocket app has a built-in recorder – you can record something to sample as and when you need it, or you can record anything that crops up when you're out and about to put into your Volca Sample later, as long as you have your iPhone with you…
Coming Soon!
More Details about volca sample:
http://www.korg.com/volca_sample/
Sonic got a sneak preview at BPM of the brand new Korg Electribe, although perhaps not in the ideal environment. So we jumped at the chance to have a visit from Ian at Korg UK and James (aka Mista Bishi) to give us a more detailed look at the new unit.
With a King Korg derived synth engine the Electribe features a 24 voice synth engine for 16 parts, each part also has an insert effect and then there's a final Master Effect buss too.
Plenty of filter types and a revamped effect processor gives the Electribe a full ambient sound, at least in the hands of Mista Bishi.
If you want to hear a more complete version of the track James played portions of, here's a link to a vocal version.
https://www.youtube.com/watch?v=fmGde…
KORG PROPHECY Synth Demo, Part 2 of a 2 Part video series on my favorite patches, and a 'walkthrough.' of programming changes. Be sure to watch for a Part 2 of a deeper video series on programming soon to follow.
————————————————————
I will provide a download link, upon request, to the Korg Prophecy Parameter Guide & The MOSS-TRI User's Guide, which is the manual for the Prophecy board for the Korg Trinity "Plus"…not the V3 Z1 MOSS-TRI Board (they are different synths):
The KORG PROPHECY was among the first "Virtual Analog" synthesizers from the mid to late 90s, and is one of my favorite synths due to it's truly extensive architecture. It remains one of the more complex and unique sounding "Physical Modeling" Synthesizers ever made.
volca arranged by BakaOscillator.
Use, KORG volca Bass X2, Betas.
テンポ(分解能)を半分にしてフレーズを簡素化し、なんとか雷電ができないものか試み­る。
Keio (Korg) Mini Pops 7 Drum Machine + Roland RE 101 Space Echo
Keio Giken (former name of KORG in 60's) Mini Pops 7 (1966, aka UNIVOX SR-95) + Roland Space Echo RE-101