Background video description:
Arranged rack improv. MS-20mini for bass (it's still kicking ass), my new addition a Wavestation A/D for Air V
ox chords. A Roland JD800 and a Dave Smith Prophet '08
Artist: MIDERA
Song: The forgotten odyssey
Gear
Synth: Access Virus (Pads), Korg Radias (FX)
Mixer: Onyx 1220i
DAW: Logic pro
Camera: Canon 60D, Rokinon 8mm lens 1:3.5, Fish-eye CS
MFB Tanzbär – Dancing Bear (GER), Analog Modular System Tinysizer (GER), moogerfooger MF-104M analog delay (USA), Korg Monotribe (JAP).
Sequenced and recorded with Ableton Live, a bit of reverb added to Monotribe but no other additional effects.
Demo from the Korg Delta Vintage analog synthesizer/string machine.
Korg's Delta is an analog semi-poly synth/string machine, basically a slimmed down version of the Korg Trident. Though limited in the range of sounds compared with other synths of the same genre, the sheer quality of the sound from this little beastie really does make it something of a marvel. It can be found used for cheap and is worth it for the retro synth strings and fat bass synth tones.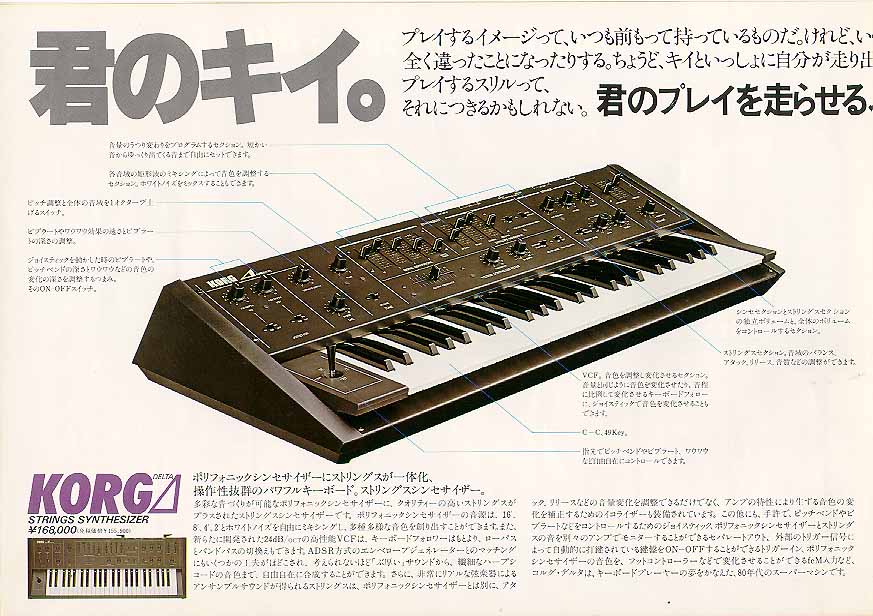 The synth is split into two sections, Strings and Synth, for which there are separate audio outputs along with a combined output for headphones or mixing. Each section has its own controls. The String section has two pitch sliders (16′ and 8′) along with two tone controls (Bass and Treble) and variable Attack and Release controls to modify the sound. The Synth section has four pitch sliders (16′, 8′, 4′ and 2′). There is also a white noise generator along with a very effective 24dB/oct low pass filter (high pass and band pass options are included too) and full ADSR controls. The synth has no memory storage or MIDI, however it does has voltage control and gate ins and outs.
The string sounds are very basic but with its separate outputs and when mixed together with the polysynth you do get that classic 'layered' sound which is useful enough on this synth; and it's fully polyphonic, so you wont be running out of notes! There is a handy joystick to the left of the 49-note keyboard for pitch bending and modulation capabilities. The construction is solid and heavy partly due to the implementation of a wooden base but also because it was designed for heavy usage on the road. Added bonuses: noise modulation, stereo out (strings/synth split), and the ability to combine synth and strings or turn off oscillators in the mixer section.
We take a look at the Korg Volca Bass, a three oscillator analog mini synth. Part of the impressive Volca range that has been rocking the synth world
Dave Smith & Analog four "Analog Home"
Just a programmed sequence with the Tempest master (home)CLOCK. The Poly Evolver, Mopho X4 are following. Slim Phatty doing some ambient leads.
Enjoy and dutch Grtz from the Netherlands !
We got to see a live demo and play with Korg's new amazing series of analogue synths – the Volca, including the Volca keys, bass and beats range.
Designed for guitarists, bassists, pianists or any musician looking for easy rhythm accompaniment, the KR mini features nostalgic looks and a simple design focused on easy, push-button control. The KR mini is also lightweight, can run on batteries and has a built-in speaker, allowing it to provide a backing rhythm pattern anywhere at any time. With a total of 60 diverse rhythm patterns across the genres, the compact KR Mini is ready to accompany any performance.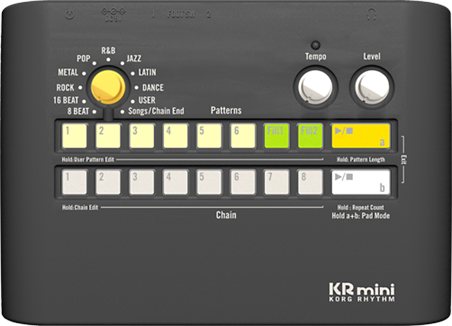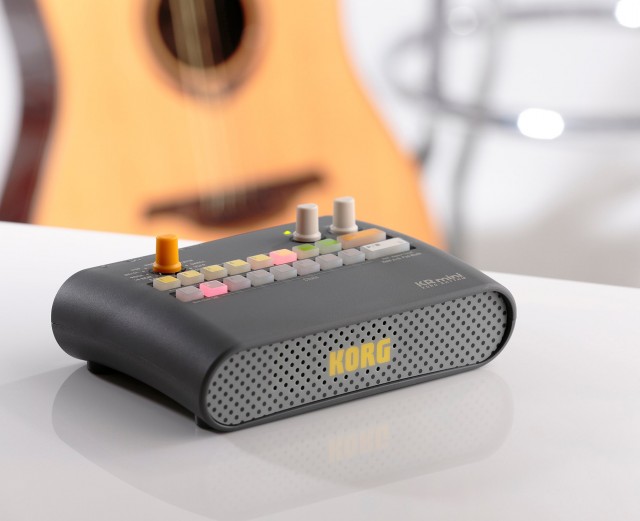 Key Features:
Easy-to-use design; just select a rhythm pattern and press the play button
Chain function lets you arrange your favorite rhythm patterns and fill-ins to create complete songs
Optional foot switches gives you hands-free control over fill-in/start/stop
Tap the 16 pads for finger drumming or recording your own rhythms
Built-in speaker with 2W output for jamming anywhere without the need for an additional monitor
Headphone/speaker jack for quiet practice or connection to a mixer or monitoring system
Two-way power; use the optional AC adaptor or batteries (AA alkaline batteries x 3)
For more information on the KR Mini Rhythm Machine, head over to http://www.Korg.com/KRmini.
Close look at a classic machine
Keyboard wizard Jordan Rudess of Dream Theater explains how he gets his signature lead sound using the Korg Kronos. Lots of useful programming info here, no matter what synth you own!