Keio (Korg) Mini Pops 7 Drum Machine + Roland RE 101 Space Echo
Keio Giken (former name of KORG in 60's) Mini Pops 7 (1966, aka UNIVOX SR-95) + Roland Space Echo RE-101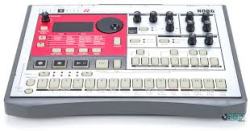 Legowelt has released a free sample library, featuring the 90's-tastic virtual analog sounds of the Korg ER-1 drum machine.
The free sample library includes 150 .wav samples made with the Korg ER-1, including 'Earthshaking Bass drums, crispy snares, audacious claps, sizzling hi hats, warbly FX + lots more!'
"When I was in Japan last month I made a samplepack from my Korg ER1 drumsynthesizer in my hotelroom
The Korg ER1 is a "digital virtual analogue" drumsynthesizer from 1999. This is basically a drum machine with a special synthesizer to make your own drums ounds.
It has a XOX style sequencer and the classic cool late 90s Korg pweieieieieuuuu delay effect."
This track is entirely made with Korg MicroKorg using the presets from the "Analog MicroKorg" sound pack:http://www.albaecstasy.ro/microkorg-m…
Presets are compatible with Korg MS2000.
No additional effects were used, only a compressor on the mix.
Additional video content by the courtesy of http://www.spacetelescope.org
The Beatles Day Tripper
arranged by YMO
KORG DS-10 cover
Here's the first chapter from a series of video that 'gattobus' is going to make about Korg MS-20.
"I'm going to show you some of the most cool and classic tricks you can do by patching cables in the right way 😉
In this episode we talk about paraphony: how to play it duophonic, controlling each VCOs independently, using the keyboard and the trig button."
Paraphonic synthesizers are synths that allow polyphonic control over the oscillators, but not polyphonic synthesis, because the oscillators run through a single, shared synthesis path. It's like throat singing, where a single person sings two different pitches, but only has one throat and mouth, vs multiple people singing, with individual, independent voices.
A little jam with Teenage Engineering OP-1 Synthesizer, a Korg Volca Bass and a Bastl Instruments MicroGranny 2.0 Granular Sampler.
The OP-1 is playing drums and a synth part. Most are on effects send to the MS-70CDR for reverb/space effect. The Volca bass is also running through the Kaoss Pad.
Everything is synced via a Kenton USB Midi Host – so that when play is pressed on the OP-1 the Volca starts too and the Midi clock is also sent to the MicroGranny 2.0 so if I was playing with the knobs it would stay in time.
Another work-in-progress demo of the Dave Smith Instruments Mono Evolver Keyboard, the Moog Sub 37 Tribute Edition synth, and the Korg Wavedrum Global Edition. Recorded into Ableton Live 9 Suite with additional Piano track played using the Ableton Push controller.
Video shot with the Fujifilm X-E1 camera. Edited in Final Cut Pro X. Atomic blast footage is from a public domain film found at the Prelinger Archive.
Audio only version of this song can be found at – https://soundcloud.com/genshi/untitle…
Korg has introduced Cliphit– a new system that lets you turn anything into an electronic drumkit.
Korg says that Cliphit is designed for 'casual playing'. That means some 'pro' features, like MIDI out, are left out.
Instead, Cliphit focuses on fun, letting you clip sensors to just about anything, plug them into the battery-powered sound module and play electronic percussion in a unique way. 
To use Cliphit, you attach the clips, with their internal sensors, to a magazine, desk, or almost any surface, transforming it into a snare, hi-hat, or cymbal. You can also attach these clips to practice pads. And you can use them to play drums or programmed EFX sounds, which include things like dog sounds, cat sounds and hand clapping.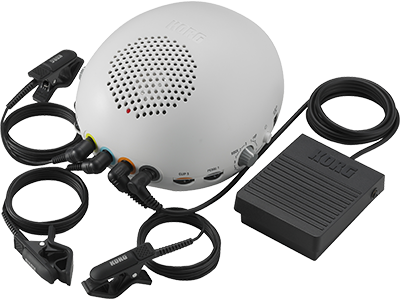 Features:
A high-tech drum kit with three clips that trigger onboard drum samples
Includes one footswitch to control kick sounds, with the ability to add one more for control of hi hat open/close
Eleven kits are provided including hand percussion and sound effects kits
2W output, 3-inch speaker, and bass-reflex design deliver great-sounding tone
Perform sounds by striking the CLIPHIT itself with your hand
AUX IN jack lets you connect external sound sources such as an MP3 player to jam along
Headphone jack for private practice
Compact design
Two-way power supply allows for battery operation

Connections include: CLIP Input x 3, PEDAL Input x 2, AUX IN (Stereo mini jack), DC 9V jack, Headphone (Stereo mini jack)
Official pricing and availability info for the Cliphit is to be announced.
The new electribe Music is a next-generation electronic music production and performance tool. With a combination of powerful analog modeling, a huge collection of samples, and intuitive controls, you'll be creating music faster than ever, and performing with flexibility and expression.
See more informations:
http://www.korg.com/electribe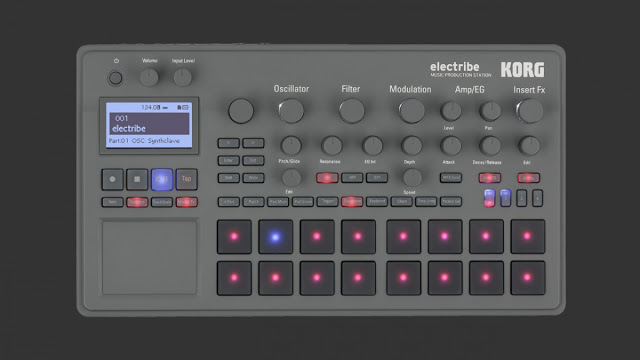 Empowering musicians to compose in a creative and influential way, the new Electribe has evolved to include such features as polyphonic synth playback, sixteen freely-assignable parts, and compatibility with Ableton Live. Featuring sixteen back- lit Trigger pads and an intuitive X/Y Touch pad, the new Electribe is easy enough for a beginner to understand, yet sophisticated enough to satisfy even the most experienced performers. Due to its sleek, compact design and battery power (optional AC adapter available), users can easily compose and play any style of electronic music, no matter where they are. In addition to making some of the world's most popular synthesizers, Korg has a long history of captivating electronic dance musicians. From the revolutionary KAOSS line, to the Legacy virtual instruments, to the original Electribe Music Production Stations, Korg has given producers the tools they need to make music that inspires.

The new Electribe's synthesis includes 409 waveforms, covering analog modeling and sample playback. The advanced analog modeling is distilled from the KingKORG synthesizer, and includes filters that model those of classic analog synthesizers. The synth engine is capable of unison, sync, ring modulation, cross modulation, and much more. The PCM portion provides numerous rhythmic samples, but also includes some multi-samples for keyboard input. Collaborations with Sample Magic, Loopmasters, and Prime Loops are also included in the Electribe.

The Electribe's evolved step sequencer allows the player to create patterns while receiving visual feedback and instantly hearing the set changes. The pads can function as a chromatic keyboard for real-time input, or as a traditional step sequencer. The "Motion Sequence" function records knob and button operations, and plays them back to create smooth or stepped modulation and other effects. The X/Y Touch pad has several functions, such as a Kaossilator-style "Touch Scale," which plays a scale when the player slides a finger across the pad. It can also control effects and modulation sources. Effects such as compression and overdrive are provided for each part, allowing each of the sixteen available parts to have their own sonic signature. Groove templates can also be specified for each part. Live performance is more intuitive than ever, due to the "Pattern Set" function which allows the player to instantly switch patterns by pressing the Trigger pads. 

Based on a partnership with Ableton, the new Electribe features the ability to export Ableton Live clips, enabling a direct link between Electribe production and one of the world's most popular DAWs. In addition to MIDI IN/OUT, Sync IN/OUT jacks are provided, allowing synchronized performances with the Volca series, Monotribe, or MS-20 Mini. This newest edition to the Korg family will certainly impress even the most profound musicians."

Specifications:
Maximum Polyphony 24 voices*1 (Pseudo-polyphonic*2)

Number of parts 16

Sampling Frequency 48.0 kHz

Number of Oscillator Types 409

Number of Filter types 16

Number of Modulation types 72

Memory Capacity 250 patterns

Insert effects 38 types

Master effects 32 types

Sequencer
Up to 64 steps for each part
Up to 24 modulation sequences for each pattern
Last Step can be varied for each part

Trigger Pads 16 (Velocity sensitive is supported)

Connectors

Audio
L/Mono Output (Standard Phone jack)
R Output (Standard Phone jack)
Headphones (Stereo mini jack)
Line Input (Stereo mini jack)

MIDI
In, Out (Use an included MIDI adapter cable)

USB
Type micro B

Sync In, Out (Stereo mini jack)

External storage device SD Card (More than 1GB), SDHC Card (Up to 32GB)

Power Supply
AC Adaptor or AA battery x 6
(Alkaline battery or Nickel metal hydride battery)
Battery Life: Approximately 5 hours
(POWER SAVING: ON, with Nickel-Metal Hydride battery)
Current Consumption is less than 500 mA

Chassis Zinc die cast

Dimensions
(W x D x H)
339 mm x 189 mm x 45 mm / 13.35" x 7.44" x 1.77"

Weight
1.6 kg / 3.53 lbs

Operating temperature
0- +40℃ (non-condensing)

Accessories
AC Adaptor (KA-350) , MIDI adapter cable x 2, Ableton Live 9 Lite (License card included)
*1: The polyphony of the entire pattern varies depending on the Oscillator, Filter, and Insert Fx type.
*2: Independent parameters for each voice have been simplified; four voices share the parameters of one conventional voice.

*All product, company, and standard names are trademarks or registered trademarks of their respective holders.
*Appearance and specifications of products are subject to change without notice.