The new electribe Music is a next-generation electronic music production and performance tool. With a combination of powerful analog modeling, a huge collection of samples, and intuitive controls, you'll be creating music faster than ever, and performing with flexibility and expression.
See more informations:
http://www.korg.com/electribe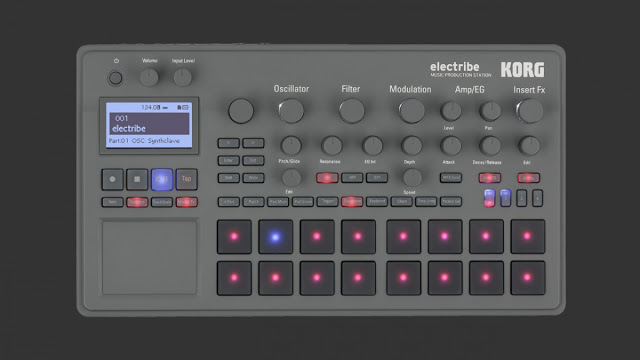 Empowering musicians to compose in a creative and influential way, the new Electribe has evolved to include such features as polyphonic synth playback, sixteen freely-assignable parts, and compatibility with Ableton Live. Featuring sixteen back- lit Trigger pads and an intuitive X/Y Touch pad, the new Electribe is easy enough for a beginner to understand, yet sophisticated enough to satisfy even the most experienced performers. Due to its sleek, compact design and battery power (optional AC adapter available), users can easily compose and play any style of electronic music, no matter where they are. In addition to making some of the world's most popular synthesizers, Korg has a long history of captivating electronic dance musicians. From the revolutionary KAOSS line, to the Legacy virtual instruments, to the original Electribe Music Production Stations, Korg has given producers the tools they need to make music that inspires.

The new Electribe's synthesis includes 409 waveforms, covering analog modeling and sample playback. The advanced analog modeling is distilled from the KingKORG synthesizer, and includes filters that model those of classic analog synthesizers. The synth engine is capable of unison, sync, ring modulation, cross modulation, and much more. The PCM portion provides numerous rhythmic samples, but also includes some multi-samples for keyboard input. Collaborations with Sample Magic, Loopmasters, and Prime Loops are also included in the Electribe.

The Electribe's evolved step sequencer allows the player to create patterns while receiving visual feedback and instantly hearing the set changes. The pads can function as a chromatic keyboard for real-time input, or as a traditional step sequencer. The "Motion Sequence" function records knob and button operations, and plays them back to create smooth or stepped modulation and other effects. The X/Y Touch pad has several functions, such as a Kaossilator-style "Touch Scale," which plays a scale when the player slides a finger across the pad. It can also control effects and modulation sources. Effects such as compression and overdrive are provided for each part, allowing each of the sixteen available parts to have their own sonic signature. Groove templates can also be specified for each part. Live performance is more intuitive than ever, due to the "Pattern Set" function which allows the player to instantly switch patterns by pressing the Trigger pads. 

Based on a partnership with Ableton, the new Electribe features the ability to export Ableton Live clips, enabling a direct link between Electribe production and one of the world's most popular DAWs. In addition to MIDI IN/OUT, Sync IN/OUT jacks are provided, allowing synchronized performances with the Volca series, Monotribe, or MS-20 Mini. This newest edition to the Korg family will certainly impress even the most profound musicians."

Specifications:
Maximum Polyphony 24 voices*1 (Pseudo-polyphonic*2)

Number of parts 16

Sampling Frequency 48.0 kHz

Number of Oscillator Types 409

Number of Filter types 16

Number of Modulation types 72

Memory Capacity 250 patterns

Insert effects 38 types

Master effects 32 types

Sequencer
Up to 64 steps for each part
Up to 24 modulation sequences for each pattern
Last Step can be varied for each part

Trigger Pads 16 (Velocity sensitive is supported)

Connectors

Audio
L/Mono Output (Standard Phone jack)
R Output (Standard Phone jack)
Headphones (Stereo mini jack)
Line Input (Stereo mini jack)

MIDI
In, Out (Use an included MIDI adapter cable)

USB
Type micro B

Sync In, Out (Stereo mini jack)

External storage device SD Card (More than 1GB), SDHC Card (Up to 32GB)

Power Supply
AC Adaptor or AA battery x 6
(Alkaline battery or Nickel metal hydride battery)
Battery Life: Approximately 5 hours
(POWER SAVING: ON, with Nickel-Metal Hydride battery)
Current Consumption is less than 500 mA

Chassis Zinc die cast

Dimensions
(W x D x H)
339 mm x 189 mm x 45 mm / 13.35" x 7.44" x 1.77"

Weight
1.6 kg / 3.53 lbs

Operating temperature
0- +40℃ (non-condensing)

Accessories
AC Adaptor (KA-350) , MIDI adapter cable x 2, Ableton Live 9 Lite (License card included)
*1: The polyphony of the entire pattern varies depending on the Oscillator, Filter, and Insert Fx type.
*2: Independent parameters for each voice have been simplified; four voices share the parameters of one conventional voice.

*All product, company, and standard names are trademarks or registered trademarks of their respective holders.
*Appearance and specifications of products are subject to change without notice.
The volca sample is a sample sequencer that lets you edit and sequence up to 100 sample sounds in real time for powerful live performances. It's a powerful addition to any existing volca setup, or simply on its own. The new volca lets you recapture the excitement of the first generation of samplers, in which any sound — vocals, spoken words, ambient sound, or glitches — becomes material for your creations!
See more informations:
http://www.korg.com/volca_sample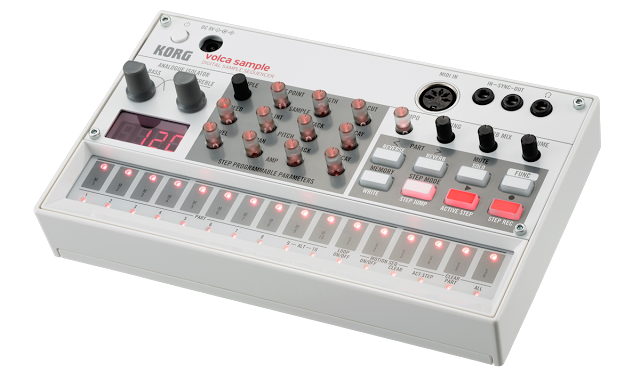 Tweak, Play, and Sequence Samples – volca-Style 

You can perform with just one unit — the volca sample.

The volca sample is a sample sequencer that lets you edit and sequence up to 100 sample sounds in real time for powerful live performances. It's a powerful addition to any existing volca setup, or simply on its own. The new volca lets you recapture the excitement of the first generation of samplers, in which any sound — vocals, spoken words, ambient sound, or glitches — becomes material for your creations!

*Sample input only possible via special iOS app

Intuitive, ultra-powerful volca sequencer 
・ A fun to use sequencer with superb improvisatory potential 
・ Motion sequencer records and plays back up to 11 parameters 
・ Active Step and Step Jump functions let you insert or remove steps 
・ Swing function lets you generate grooves

Sculpt samples with the Analog Isolator 
・ Powerful and great-sounding Analog Isolator 
・ Reverb effect

New functions of the volca sample 
・ Record, manage, and download samples from volca sample's dedicated iOS app 
・ Song mode allows more dynamic performances 
・ Reverse function plays sampled sounds backwards

Convenient functions as found on the entire volca series 
・ Familiar and intuitive panel layout with numerous parameters to edit sounds and sequences 
・ Synchronized playback with other volca units, electribe, or DAW. 
・ MIDI In for sample trigger, sync and parameter changes from any MIDI device 
・ Compact size, battery-powered operation, and built-in speaker for enjoyment anywhere
"ギター用ボーカロイド・エフェクターMIKU STOMP。
http://www.korg.com/jp/products/effects/mikustomp/
※2014年10月下旬発売予定"

Hatsune Miku sings to match the picking of the guitar!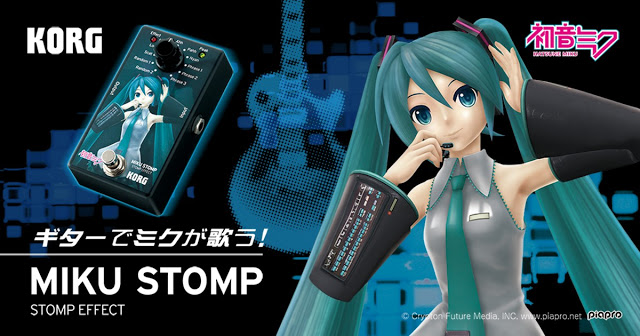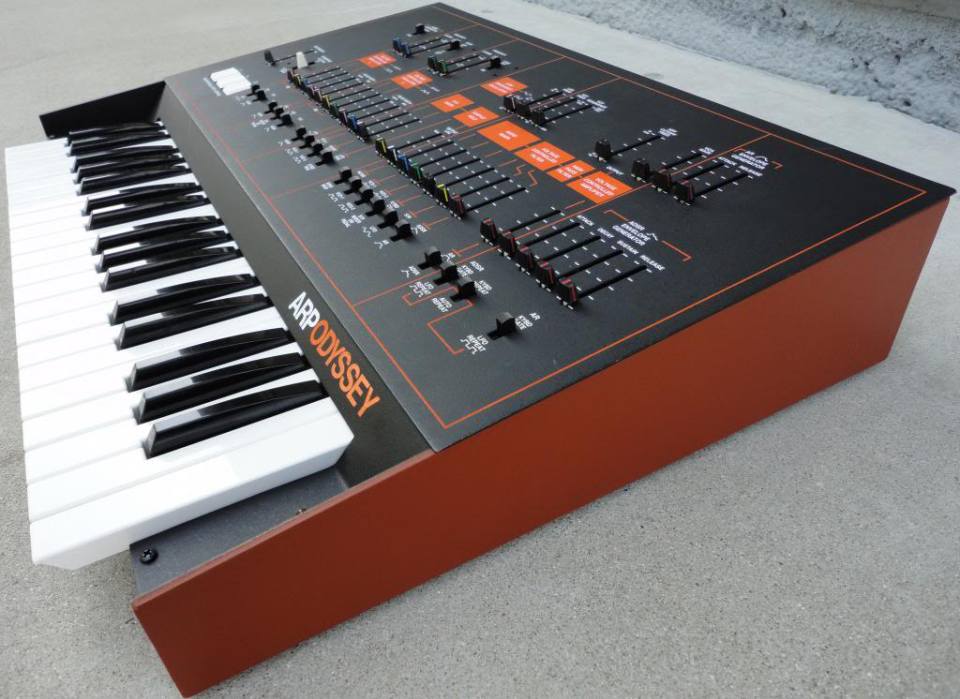 Korg has announced an update for the release date for the reissue of the ARP Odyssey analog synthesizer.
Korg's new schedule has the updated ARP Odyssey shipping in early 2015 The original shipping schedule was September 2014.
"We are sorry for this delay especially since the extraordinary reaction to the initial Odyssey announcement. We are refining the Odyssey to make this product even better.
We appreciate your understanding regarding this delay and thank you for your continued interest in the reissued Odyssey."
More info to follow….
This is a Demonstration and Overview of the "Great" Korg Prophecy. The Korg Prophecy is a fantastic sounding synthesizer with great potential. All you need is a good sound that you know well, and familiarity with this synthesizer's parameters.
Digital does analog! The Prophecy was among one of the first synthesizers to lead a revolution started in the mid-nineties by synthesizer makers to satisfy a growing segment of the market that was lusting after old-school vintage equipment in the pursuit of making electronica-style music, by providing a state-of-the-art retro synthesizer that could sound like a classic analog.
The Prophecy Solo Synthesizer was unveiled in 1995, and was a purely monophonic solo/lead synthesizer. It employed DSP synthesis first developed for the Korg OASYS synthesizer, with algorithms for producing realistic analog timbres, VPM (Variable Phase Modulation) tones similar to FM synthesis, and physically modeled brass, reed, and plucked string instruments. At your finger tips were tons of real-time control over traditional analog editing parameters like filter cutoff and resonance, envelopes and the arpeggiator. It had a pitch wheel, a mod wheel, an expressive dual action ribbon wheel, six effects processors and more!
Karaoke with lyrics
Enjoy!
Original video footage from Jam Sessions' Fabriek Magnifique video.
All sound come from The Korg MS-20 mini. No midi just some tape echo from the virtualizer pro and some triggering with Doepfer Dark Time.
Korg MS-20 mini
Doepfer Dark Time
Virtualizer Pro
runo Ender Lee – "Saturn" – studio recording August 16. 2014
the new album "Saturn" is now available:
http://brunoenderlee.bandcamp.com/alb…
Roland JP-8000 (Pads), Roland Juno-106 (bass), ARP Odyssey, Moog Little Phatty & Analogue Solutions Vostok (fx), Korg MS2000 (leads), Synthesizers.com Studio-88 (leads), MiniMoog Voyager OS (bass), MacBeth M5N & Korg MS-20 mini (sequence with Doepfer MAQ)
composed, arranged & performed by Bruno Ender Lee
2014 Velvet Voyage Productions / all rights reserved
KORG DS-10 only
Vintage synthesizer demo track featuring the classic Polysix
all sounds: KORG Polysix Analog Synthesizer (1982)
drums: KORG KR-55B Analog Drummachine (1982)
recording: multi-tracking without midi
fx: reverb and delay
The PolySix was a milestone because, along with the Roland Juno 6 which appeared almost simultaneously, in 1981 the PolySix was the first opportunity ordinary mortals had to get their hands on a proper programmable polysynth. Up until then, you had to be loaded to afford a Prophet 5, Oberheim OB-Xa, or Roland Jupiter 8.
At first glance it looks like a scaled-down Mono/Poly, but really it's not! In fact it had a lot of great new features such as 32 memory patches, 6 voices of polyphony, cassette backup of memory, even programmable modulation effects and Chorus, Phase, Ensemble!
The Polysix has warm-sounding real analog oscillators, softer and brassy-er sounding than the Juno. Engage the built-in Chorus on a simple single-oscillator sawtooth patch and you were pretty darned close to that expensive Prophet sound. But the big ace in the Polysix's hand was the Ensemble effect. Instant Mellotron-like strings.
Like the Mono/Poly the voices can be played in Unison for a 6-oscillator lead sound that was so big, it was often too big! The advanced arpeggiator can memorize and sequence chords across the keyboard. The PolySix has now been recreated in software as part of the Korg Legacy software bundle!