Just a test with :
2 x Modules Littlebits Korg synth
1 x input module Littlebits
sync with iOS Brute LFO
Korg's Rich Formidoni explains the ins and outs of the drum machine-style step sequencer on the Kross Music Workstation.
We build our own full-size MS20, add a filter selection switch and compare with an original.
I built the MS20 Kit – one of only 1,000 available. Be sure to check out our full review coming soon. Music: Intellijel Atlantis through Behringer X32 with Vintage Room freeze reverb for pads, stereo delay.
The MS-20 Kit is a true-analog, 1:1 scale reissue of the MS-20, with both filters built in (the more aggressive early production filter and more mellow late production one). Every details has been replicated, right down to the packaging, which includes a letter from the original MS-20 engineers and the President of Korg, Inc.
The Korg MS-20 kit has a street price of about $1,400.
Kevin Wyman's humble recreation of the music video
Moonwalking my fingers all over my new Keith McMillen Qunexus. Everything was programmed in Korg Gadget, except the lead. Gadget still doesn't receive pitch bend or mod cc, so I used Sunrizer for the lead. Enjoy!
Demo of the Korg DW-8000, Programmable Digital Waveform Synthesizer from 1985
Take Korg's first digitally controlled analog synth hybrid (DW-6000) two steps higher and you get the more popular DW-8000. Sound is digitally generated from the DWGS (Digital Waveform Generator System) and has been doubled from 8 sampled digital waveforms to 16 simple analog to complex digital waveforms. The DW-8000 has 8 voice polyphony in two modes, or one monophonic mode with all eight voices stacked. The analog VCF resonant filter and VCA both have independent ADBSSR envelopes. Parameters can be altered in real time via a single programmable slider. There are 64 presets that can be reprogrammed by the user.
In comparison to the DW-6000, the DW-8000 expanded to 8 notes polyphony, 16 sampled waveforms, a velocity sensitive keyboard with programmable aftertouch, auto-bend, a simple arpeggiator and a digital delay unit. The Digital Delay was an astonishing goody for the time, offering up to 512ms delay, phasing, flanging, chorusing and other time effects. Both the Arpeggiator, Auto-Bend and Digital Delay make this synth an inspiring and great sounding machine to use for great 303 basslines, techno and house bass and synth sounds and more! The EX-8000 (pictured above) is a rackmount version of the DW-8000. Several 3rd-party developers offered expansion boards for the DW-8000 providing up to 1024 presets, layered sounds, keyboard splits and Sample+Hold for the LFO.
Korg USA's Rich Formidoni experiments with the MS-20 mini analog synthesizer, and shows you how to start it up with no keys.
Here are the patch connections:
Pink noise – ESP Signal In
ESP Band Pass Filter Out – Ext. Signal In
Mod. generator saw/tri out – VCA In
VCA out – Total in
VCA Control Input – Button
VCO 1+2 CV in – Mod wheel
Trig. In and Trig. Out are the hot wires
PanzerLyu has made this  DM cover, video description below:
One of my favourite songs of Depeche Mode, from a great LP "Music for the masses"
Instrumental version.
no DAW , no overdubbing.
Background video description:
My second version of the classic Cure song.
I was not satisfied of my first run uploaded some weeks ago….so,
this time some changes on Volca Keys patterns, different bass sound whit FX., different ending.
And finally sound from the mixer.
Main Melody : Korg Volca Keys
Bass line : Arturia Microbrute , through Digitech BP 50 digital FX.
Added flanger and a little reverb
Drums : Korg Volca Beats
no overdubbing, no DAW.
what you hear is what I play.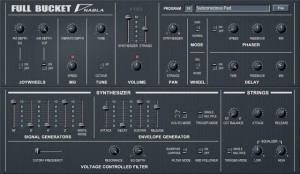 The Nabla is a VST™2.4 software instrument for Microsoft Windows® simulating the KORG Delta DL-50 Strings Synthesizer from 1979. Is is written in native C++ code for high performance and low CPU consumption. The main features are:
Paraphonic Synthesizer and Strings sections
Up to 64 voices polyphony
Synthesizer section:
Four band-limited frequency divider-driven signal generators
Additional noise generator
4-pole zero-delay feedback bandpass/lowpass filter
Strings section:
Two band-limited frequency divider-driven signal generators
2-band equalizer
Ensemble effect
Flexible pitch/filter modulation by LFO or noise
Tweaks (not to be found in the original Delta):
"GOD Mode" to provide true polyphony
Panning for Synthesizer/Strings sections
Built-in phaser and delay effects
Double precision audio processing
All parameters can be controlled by MIDI controllers
Plug-in comes in 32 bit and 64 bit versions
Fully compatible with SM Pro Audio's V-Machine™
On the track "nabla", the Nabla is the only audio source (plus some delay, reverb and slight compression).
Also highly recommended: Vale de Lágrimas and Kilik where crisch'r uses the Nabla extensively!
On the track "nabla" [above], the Nabla is the only audio source (plus some delay, reverb and slight compression).
Also highly recommended: Vale de Lágrimas and Kilik where crisch'r uses the Nabla extensively!