KORG DS-10で久々のクランチー&クリスピーな曲を。
VCFが荒ぶってますが、ワウギターっぽいのをやろうとして右往左往しているだけなの­で、気にしないでくださいw
今までドラムはデフォ使ってたんですが今回初めていじってみました。 前半はウェッティーですが、後半はカリッカリです。
Google translate:
Songs crunchy and crispy after a long time in the KORG DS-10.
VCF will I Susabu, but since only have Uosao and trying to do from like Waugita, w please do not mind
I was using the default drum until now, but I applied for the first time. The first half is U~etti, but the second half is Karikkari.
Take the KORG Gadget master quiz or get in shape with fundamentals.
This is a quick demo of the Korg Volca Beats. Enjoy!


KORG INC. is proud to announce that a faithful recreation of the legendary 1970s analog synthesiser, the ARP Odyssey, is being developed by Korg for release later in 2014.
The ARP Odyssey was released in 1972 by ARP Instruments, Inc. and quickly became famous for its unique rich sound and innovative performance controls. It was a staple for many recording and performing musicians worldwide and was used on countless hit records over many years. The Odyssey was one of the highlights of the ARP company and became a long selling product. With slight updates and improvements it was sold through to 1981.
Korg is also proud to welcome Mr David Friend as our chief advisor on the Odyssey. David Friend established ARP Instruments, Inc. along with Alan Robert Pearlman and is a past president of ARP Instruments, Inc. He was also the lead designer of the original Odyssey in addition to designing or co-designing many other products.
After ARP, Mr Friend became a successful technology entrepreneur. In 2010, he was named Ernst & Young Entrepreneur of the Year in the Emerging Technology category for the New England Region, he has been a lecturer at MIT's Sloan School of Management and is now Chairman & CEO of Carbonite, Inc. He has been a trustee of the New England Conservatory and Berklee College of Music.
In the last few years, KORG INC. has released several top selling analog synthesizers such as the monotrons series, the monotribe, the volca series and the hugely successful MS-20 mini, a faithful fully analog recreation of the 1978 MS-20. With Korg's technology capabilities and planning ability for analog synthesizers, and in collaboration with David Friend, we believe the legendary ARP Odyssey will become a "must have" for an all new generation of music makers.
The ARP Odyssey is scheduled for release in September 2014. – See more at: http://www.korg.com/us/news/2014/0217/#sthash.E2XWNMxZ.dpuf
'thainmlh' explores making Berlin School style synth music using a couple of Korg Monotribe synthesizers and a pair of Electro Harmonix Memory Toy analog delay pedals, background video description below:
A follow up to my video "Korg Monotribe x2 – Berlin School Example" which has had over 50,000 views at this point (much to my surprise…)
Again we use two Korg Monotribe Analog Synthesizers (with built in sequencers) slaved together for 1970′s style Berlin School sequences, This time, it is a "how to" in an attempt to answer the many questions posted to the original video. (This has higher audio quality)
Korg EPS-1 with a delay effect from the Roland DEP-5.
EPS comes from "Electronic Piano & Strings". The fully analog EPS-1 is one of the few touch sensitive string machines. It is a quite long keyboard. It has not only strings – it also has a piano section with several (non mixable) presets. On the piano section you can add a stereo effect (TREMOLO or CHORUS, both with parameters for SPEED and INTENSITY). Both sections have an equalizer.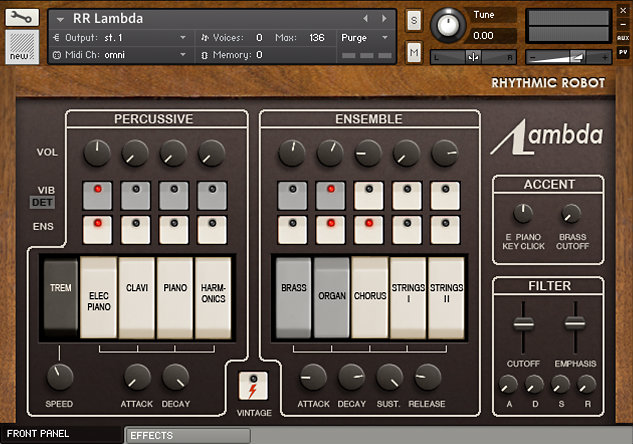 Rhythmic Robot has introduced Lambda, a virtual instrument library for Native Instruments Kontakt featuring the sounds of the Korg Lambda ES50 poly-synthesizer.
The original Lambda, produced in 1979, was a preset-based synthesiser with genuine polyphony, two banks of preset tabs, and some unusual (and musically useful) touches like two filter circuits, one dedicated to the Brass patch; a separate key-click control for the Electric Piano patch; a global filter; and, unusually for its time, a stereo "chorus-phase" effect which output on twin jacks. This stereo effect, plus detunable oscillators in the synth section, gave the Lambda a typically rich, thick analogue sound and made it a coveted classic.

The Rhythmic Robot version builds on the capabilities of the original but allows the user to switch in a "vintage" mode, restricting the software to the hardware's behaviour, for creating authentic patches. The more modern updates to the original include resonance on the global filter circuit, a full ADSR amp envelope, a dedicated AR envelope for the percussive sounds, a battery of additional vintage-style effects, velocity sensitivity and individual level trims for the preset patches – allowing combinations of sound impossible on the original.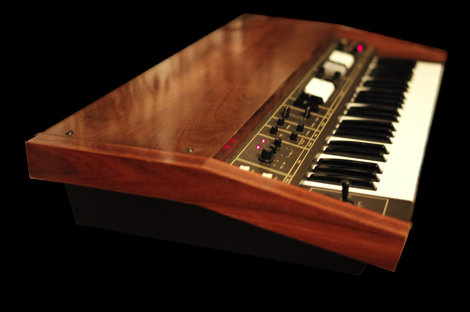 Lambda features
The rich, fluid tone of the Korg Lambda analogue synthesiser.
Vintage Mode: absolute authenticity, restricting controls and features to those present on the original hardware.
Contemporary Mode: advanced flexibility with individual instrument-level control, for sounds not possible on the original.
738 24-bit samples of every Lambda tone and all its variations: 2.4Gb total.
Includes 30 factory presets covering basses, pads, synths and keys.
Individual control over instrument levels allows sound-blending for rich, luxurious sounds.
Stereo Chorus-Phase effect sampled from the original machine: lush, swirling and complex.
A selection of vintage-style effects including Phaser, Leslie speaker, Amp Cab simulator and Reverb.
The library is available to purchase for the introductory price of £29.95 GBP (RRP £34.95 GBP). Requires full version Kontakt version 4.2.3 or higher.
Business suits unboxing the MS-20

1978年発売の名機アナログ・シンセサイザーMS-20が、
2014年、組み立てキットとして復活!
そのMS-20 Kitを、開発者の三枝文夫と西島裕昭が
実際に開封してイチから組み立ててみました!
この動画の後は、皆さまがご自分で組み立てる番です!
是非チャレンジしてみて下さい!
製品の詳細は:
http://www.korg.com/jp/products/dj/ms…
Google translate:
The name of the machine analog synthesizer MS-20 launched in 1978,
2014, revived as assembly kit!
Nishijima is Hiroaki and Saegusa Fumio developers, the MS-20 Kit
I tried to assemble from scratch by opening actually!
After this video, it's time to assemble all of you on your own!
Please try to challenge it!
Clear steps about recording,locating automated parameter,automating
pan and level in mixer,copying 1 bar to 2.
Right from the beginning, KORG Gadget gives you 15 compact synthesizers and drum machines. Each Gadget possesses an irresistible presence and can function as the core of your electronic music productions. The parameters are carefully constructed to take you right to the sound that you want, and they're ideal for producing all forms of electronic music. Even if you don't play a musical instrument, no worries! Each synth offers a keyboard featuring a Scale function that makes it impossible to play wrong notes, combined with a sequencer that supports the function, Just download KORG Gadget to your iPad, and start exploring 15 Gadgets.
Background video description:
Here I take another look at the brand new app from Korg and attempt to unravel some of its hidden or less obvious functionality. You can read more about this app and me at my website www.gazwilliams.me