runo Ender Lee – "Saturn" – studio recording August 16. 2014
the new album "Saturn" is now available:
http://brunoenderlee.bandcamp.com/alb…
Roland JP-8000 (Pads), Roland Juno-106 (bass), ARP Odyssey, Moog Little Phatty & Analogue Solutions Vostok (fx), Korg MS2000 (leads), Synthesizers.com Studio-88 (leads), MiniMoog Voyager OS (bass), MacBeth M5N & Korg MS-20 mini (sequence with Doepfer MAQ)
composed, arranged & performed by Bruno Ender Lee
2014 Velvet Voyage Productions / all rights reserved
KORG DS-10 only
Vintage synthesizer demo track featuring the classic Polysix
all sounds: KORG Polysix Analog Synthesizer (1982)
drums: KORG KR-55B Analog Drummachine (1982)
recording: multi-tracking without midi
fx: reverb and delay
The PolySix was a milestone because, along with the Roland Juno 6 which appeared almost simultaneously, in 1981 the PolySix was the first opportunity ordinary mortals had to get their hands on a proper programmable polysynth. Up until then, you had to be loaded to afford a Prophet 5, Oberheim OB-Xa, or Roland Jupiter 8.
At first glance it looks like a scaled-down Mono/Poly, but really it's not! In fact it had a lot of great new features such as 32 memory patches, 6 voices of polyphony, cassette backup of memory, even programmable modulation effects and Chorus, Phase, Ensemble!
The Polysix has warm-sounding real analog oscillators, softer and brassy-er sounding than the Juno. Engage the built-in Chorus on a simple single-oscillator sawtooth patch and you were pretty darned close to that expensive Prophet sound. But the big ace in the Polysix's hand was the Ensemble effect. Instant Mellotron-like strings.
Like the Mono/Poly the voices can be played in Unison for a 6-oscillator lead sound that was so big, it was often too big! The advanced arpeggiator can memorize and sequence chords across the keyboard. The PolySix has now been recreated in software as part of the Korg Legacy software bundle!
Background video description:
A music I've made for a video game. I try to do sort of "8 bit music" only with my Volca Beats, Keys and my Microbrute.
Hope you'll like it

©Arthur Eloy 2014
App: Korg Gadget
Instrument: London Hypersonic PCM Drum Module
Get awesome sounds on your iPad with Korg Gadget.
—
AppSessions are Jam Sessions powered by iOS Music Apps
—
Follow AppSessions on twitter:https://twitter.com/AppSessionsShow
Korg has introduced the SDD-3000 Pedal, a new delay pedal, based on the classic 80′s SDD-3000.
The SDD-3000 PEDAL packs all of the SDD-3000?s functionality into a convenient pedal unit. Featuring a pre-amp with ample headroom, a filter circuit that modifies the feedback sound, and modulation waveforms that allow a diverse array of delay effects, it covers all of the SDD-3000′s important elements.
In addition to specifications that will satisfy SDD-3000 users, it provides many new functions such as eight delay types, long delay times up to 4,000 milliseconds, selectable modulation waveforms, stereo input/output, and MIDI compatibility. The user interface has also been updated for dramatically improved ease of use.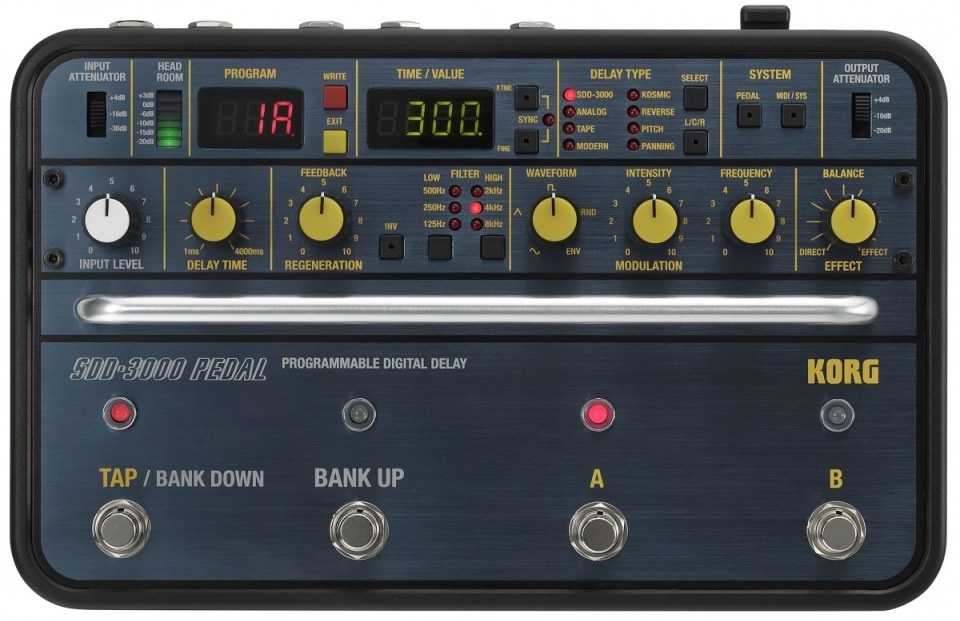 Features:
All features of the SDD-3000 digital delay, packed into a pedal unit.
Eight distinct delay types including SDD-3000, Analog, Tape, Modern, Kosmic, Reverse, Pitch and Panning.
The preamp that defined the sound of the SDD-3000 is faithfully reproduced.
Selectable filters that alter the sound of the delay repeats.
Choose from five types of modulation waveforms that modulate the delay time. You can also create waveforms that interpolate between two types, and make fine adjustments to the waveform.
Use flanging, chorus, vibrato, doubling, and Doppler effects.
A wide range of delay times is available, from 1 millisecond to long delays with a maximum of 4,000 milliseconds.
Sync mode lets you specify the delay time in terms of 11 different note values ranging from whole notes to 32nd notes.
A total of 80 programs (40 banks x 2 channels) can be saved.
LCR function lets you create multi-tap delay effects.
MIDI connectors are provided, allowing you to trigger program changes from an external device, or to transmit program data as a bulk dump to and from other units.
Seamless bypass and program changes allow you to retain the reverberant sound when switching sounds.
Reliable true bypass design.
An optional expression pedal can be used to control multiple effect parameters simultaneously.
The SDD-3000 Pedal is available now, with a street price of around US $400. See the Korg site for more info. 
Background video info (Googlish):
The purchase …
http://www.nintendo.co.jp/3ds/eshop/j …
http://www.detune.co.jp/korg_dsn12_jp …
Nintendo 3DS download software analog synthesizer KORG DSN-12. For those of you "I bought, but if I do …" and "? Can be any play on earth", series video Sano electromagnetic Inc. DETUNE is a producer director to convey the fun, the first times are.
KORG DSN-12 series for the first time
https://www.youtube.com/playlist?list …
ご購入は…
http://www.nintendo.co.jp/3ds/eshop/j…
http://www.detune.co.jp/korg_dsn12_jp…
ニンテンドー3DSダウンロード用アナログシンセサイザーソフトKORG DSN-12。「買ってみたけどどうしたらいいのか・・・」「いったいどんな遊び方が­できるの?」という方のために、プロデューサーディレクターである株式会社DETUN­Eの佐野電磁がその楽しさをお伝えするシリーズ動画、第1回です。
はじめての KORG DSN-12 シリーズ
https://www.youtube.com/playlist?list…
Jordan Rudess, solo artist and keyboardist for Dream Theater, reveals his latest source of inspiration: Korg's TinyPIANO. The TinyPIANO is a digital toy piano with 25 velocity-sensitive mini keys, 25 beautiful sounds, a library of 50 songs, optional battery power, and a tough wooden body available in four colors. For more information about the TinyPIANO, please visit www.korg.com/tinypiano.
Like/Follow us:
https://www.facebook.com/korgusa
https://www.twitter.com/korgusa
http://instagram.com/korgofficial
Roland TR-909 Roland vs Korg Electribe "Spirits"; live electronic music jam with drum machines.
Shock-HRz, captures a live performance, Tactical Shadow. 
Technical details below. 
Simone Ciacci a.k.a. "Storm 3003″:
Access Virus TI
Elektron Analog Four
Korg Kaoss Pad 3
Korg Kaossilator Pro
Gabriele Marini a.k.a. "ReD":
Akai Miniak
Yamaha RM1X
Korg Volca Bass
Francesco Salvatici a.k.a. "4TeK":
Korg Electribe MX
Korg Mini-KP
Korg Monotron
Korg Monotron Duo