Korg have announced that the KR Mini portable rhythm machine is now on its way to a retail store near you. The KR mini – an easy, simple and compact rhythm machine with a built-in speaker and optional battery power for play-anywhere convenience. It's a great companion for practicing and performing with guitar, bass, keyboards, winds, or any type of instrument
Designed for guitarists, bassists, pianists or any musician looking for easy rhythm accompaniment, the KR mini features nostalgic looks and a simple design focused on easy, push-button control. The KR mini is also lightweight, can run on batteries and has a built-in speaker, allowing it to provide a backing rhythm pattern anywhere at any time. With a total of 60 diverse rhythm patterns across the genres, the compact KR Mini is ready to accompany any performance.
Key Features
Easy-to-use design; just select a rhythm pattern and press the play button
Chain function lets you arrange your favorite rhythm patterns and fill-ins to create complete songs
Optional foot switches gives you hands-free control over fill-in/start/stop
Tap the 16 pads for finger drumming or recording your own rhythms
Built-in speaker with 2W output for jamming anywhere without the need for an additional monitor
Headphone/speaker jack for quiet practice or connection to a mixer or monitoring system
Two-way power; use the optional AC adaptor or batteries (AA alkaline batteries x 3)
Op-1 connected to an iMac and sending MIDI for Volca Keys and EMW Modular Synth with Ableton Live. Endless sequencer is a lot of fun, Volca Keys is a great partner for the op-1 and the little EMW Modular sounds awesome.
Magneticring rips the new Korg MS-20 Mini with Fairlight CVI.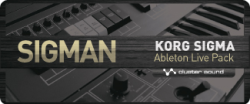 Cluster Sound has released Sigman, a multi-sample Live Pack based on the vintage Korg Sigma. Sigman is a multi-sample Live Pack primarily designed for raw analog basses & leads.
THE SOURCE
In the late 70′s Korg experimented with a machine for players looking for a simpler alternative to knobby synthesizers. The result was the Sigma, a bi-timbric semi-preset synth with rocker-tabs, micro knobs and two X-Y joystic controls. The Korg Sigma is based on 19 VCOs grouped in two discrete sections (Synthe and Instrument) that can be cross-modulated and filtered with a LP/HP Filter. Each VCO is equipped with a single dedicated control including Korg35 filter circuits for shaping the sounds.
THE PACK
Sigman is based on 30 multi-sample recordings obtained by sampling the VCO presets and custom cross-modulated sounds. Sigman delivers 90 inspiring and meticulously crafted Live Racks with dedicated macro controls, part of which simulate the ring-modulator, the joystic filter and the single VCO knobs of the original Sigma.
BRUNO ENDER LEE – "Klangspiel" – performed live, December 7. 2013
Korg MS-20 Mini (sequence with Doepfer MAQ 16/3), MiniMoog Voyager OS, Roland Juno-106, Synthesizers.com Studio-88, Analogue Solutions Vostok, Korg MS2000
MAKE SOMETHING THAT MAKES MUSIC
littleBits and Korg have demystified a traditional analog synthesizer, making it super easy for novices and experts alike to create music.
LEARN MORE:
English: http://littlebits.cc/
Japanese:http://jp.littlebits.com/
Martyn Ware, founding member of the Human League and Heaven 17, as well as the British Electric Foundation and Illustrious, demonstrates the Roland System 100 and the Korg 700S. These are the original instruments that he and Ian Craig Marsh wrote and performed the original version of Being Boiled on.
This was the climax to a 45 minute talk given by Martyn, accompanied by the great Peter Howell of the BBC Radiophonic Workshop, at the Queen Elizabeth Hall, Southbank Centre, London, on the night of November 30th 2013. It preceded a performance by the BBC Concert Orchestra in the main hall, as part of their "The Rest is Noise" season. They performed works by Andrew Poppy, Michael Nyman and commissions by Anne Dudley, which saw the orchestra take on reinterpretations, or "remixes" of Art of Noise's "Into Battle" as well as a new work, Rhythm of a Decade, a mash up of themes from the decade, accompanied by a narration from Paul Morley.
All the other original members of the Art of Noise were present in the audience (Trevor Horn, JJ Jeczalik, Gary Langan), billed by them as a one off 30th anniversary reunion
J74 Volca Control – an $8 package that provides you with three editors and control surfaces for each of the members of the Korg Volca series: the Volca Keys, Volca Bass and Volca Beats.
The tools let you control, store and modulate all Volca native MIDI parameters, while adding a bunch of new features for synthesis and performance, such as: filter KeyTracking (both VKeys and VBass), Chorus-like effects (VKeys), additional tempo sync LFO (VKeys), Pitch Tuning and modulation modes (VBass), 3x note Polyphony emulation on VBass, MIDI velocity emulation on VBeats, LFO auto-tuning modulation (VBass and VKeys) and Solo/Mute controls on VBeats.
All devices also offer presets storage (load, save, recall), a X/Y Panel for modulation of two parameters simultaneously and a parameter randomizer.
The devices come in the format of Standalone desktop applications for Mac and PC (integrating via MIDI communication to controllers and DAWs, with no additional license required) and in Ableton's Live Max for Live format (integrating directly in Ableton Live, in this case a Max for Live license is required).
Supported versions:
Standalone tested on MAC OSX 10.7, 10.8, 10.9 and Windows 7 and 8
Ableton Live 9 / M4L versions require Live 9.0.6 or higher + Max 6.1.x
Ableton Live 8 / M4L versions require Live 8.3 or higher + Max 5.1.9
The J74 Volca Control package can be purchased for US $8 and comes in the form of Standalone (both Mac and Windows) and as Ableton Live / Max for Live plug-ins. The package includes all formats and control surfaces. More info here >>
Feature set:
Volca units standard functionality mapped via MIDI:
VKeys: VCO (OSC) Modes, Detune, Portamento, Pitch Envelope
VKeys: LFO Rate, modulation intensity for both Cutoff and Pitch
VKeys: VCF Cutoff and Envelope amount
VKeys: Envelope (EG) Attack, Decay/Relase, Sustain
VKeys: Delay Time
VKeys: Delay Feedback
VKeys: VCA Volume
VBass: VCO (OSC) Pitch tuning for OSC 1, 2 and 3
VBass: LFO Rate, modulation intensity for VCF Cutoff
VBass: VCF Envelope amount (on Cutoff)
VBass: Envelope (EG) Attack and Decay/Relase
VBass: VCA Volume
VBeats: Part Level (Kick, Snare, LoTom, HiTom, ClosedHats, OpenHats, Claps, Agogo, Crash)
VBeats: PCM Speed (Claps, Agogo, Crash)
VBeats: Tom's Decay
VBeats: ClosedHats Decay
VBeats: OpenHats Decay
VBeats: Hats Grain
VBeats: Stutter Time
VBeats: Stutter Depth
Additional features given by the VKeys, VBass and VBeats software:
VKeys: Delay Modulation for Chorus-like effects
VKeys: KeyTracking on VCF Cutoff
VKeys: Additional LFO (LFO2) which is software-based and tempo synchronized
VBass: OSC Pitch Tuning modes (unison, octave, third, fourth, fifth, major-chord, minor-chord and three auto-detune options)
VBass: 3 note Polyphony emulation (paraphony), as OSC Pitch Tuning mode "poly"
VBass: KeyTracking on EG/Cutoff level
VBeats: MIDI velocity dynamics (emulates MIDI velocity support)
VBeats: MIDI controllable pads with velocity emulation
VBeats: Solo/Mute mixing controls
All devices: X/Y Panel for modulation of two parameters simultaneously
All devices: Parameter Randomizer
All devices: Presets storage (load, save, recall)
What the VKeys, VBass and VBeats do NOT control:
VKeys: VCF Peak (not hardware/MIDI implemented by Korg)
VBass: VCF Cutoff (not hardware/MIDI implemented by Korg)
VBass: VCF Peak (not hardware/MIDI implemented by Korg)
VBeats: Kick click/pitch/decay (not hardware/MIDI implemented by Korg)
VBeats: Snare snappy/pitch/decay (not hardware/MIDI implemented by Korg)
VBeats: Tom's Hi/Lo pitches (not hardware/MIDI implemented by Korg)
All devices: Any FUNC[tion] setting on the units (not hardware/MIDI implemented by Korg)
All in Japanese unfortunately, but still a nice insight into this tiny modular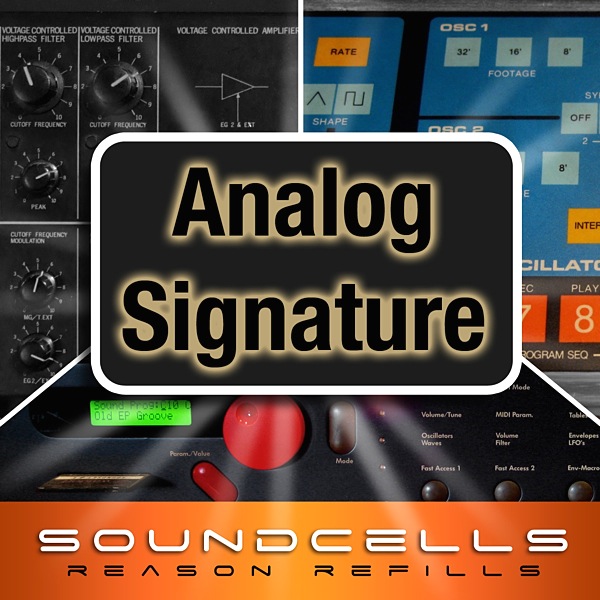 With version 4 of Analog Signature a new member is added to the family: the ROLAND Jupiter 6!
Moog Source, Korg MS20, the Waldorf Microwave 1, the Waldorf Pulse 1, and – from version 4 onwards – the Roland Jupiter 6 have been accurately sampled in such a way that their charming inaccuracies are still there in this perfect Reason environment in which Soundcells took their chance to add polyphony and velocity. A good balance of retro 1970′ s and 80′ s analog / digital sounds with modern programming makes this ReFill versatile for current styles of music as well as retro …
Analog Signature v4 Contents:
• 540 combinator patches.
• 276 NNXT patches containing the basic patches which were used to build the combinators.
• 1792 samples, 44 khz / 24bit.
• Samples coming from five classic synthesizer.
• 10 demo tracks in Reason format included.