Understanding the iPolysix Step Sequencer.
We go over Step Switches,Step Zones,Gate Sliders,the 6 Sequence Modes and More!
The heart of the iPolysix.
Copying Drum Tracks in One Shot!
Here is another hidden charm for iPolysix users that copy drum tracks one at a time..
The original Polysix is a six-voice synth from the early 80s most notable for its affordability and fabulously warm analogue sound. The iPad version again ticks both of those boxes, comprising not one but two synth engines, as well as a six-track drum machine that uses sampled Polysix sounds as source material. And while it might be quite expensive for the App Store, it's excellent value for money in terms of sound, features and the amount of work that's clearly gone into it.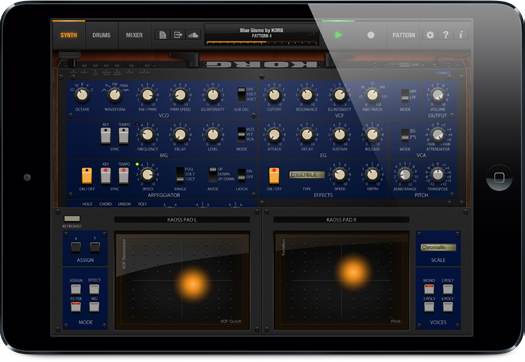 iPolysix is an analog polyphonic synthesizer that's been carefully designed to take full advantage of the 7.9-inch display of the new iPad mini as well as the iPad. Bringing together a sequencer, drum machine, and even a mixer, it transforms your iPad or iPad mini into the ultimate analog synth studio. Pack an amazing set of early-'80s analog equipment into your iPad, and time-travel back to the dawn of polyphonic synthesizers!
❮Highlights❯
● The world-wide best-selling Polysix polyphonic synthesizer, fully replicated on your iPad
● Use the newly developed Polyseq polyphonic step sequencer to control the Polysix
● A music production environment including two Polysix units, a drum machine, and a mixer
● Dual Kaoss Pads with chordal support make it easy for anyone to play analog synth sounds
● Polyshare powered by SoundCloud lets you publish, share, and remix songs with iPolysix users
Background video description:
I normally stop recording upon taking a new step like when Saving or extending the Sequence Step Length..this Tutorial will show a continuous workflow while Recording in Sequence Mode,Automating,extending Step Length,adjusting Gate,changing sounds, Saving while in record and showing useful tips along the way…
Background video description:
An iPad Musician posted he needed help getting out of a musical rut,there was a nice thread of suggestions,that night I played with the iPolysix Arpeggiator and noticed multiple ideas being handed to me on a plate,so I made this video and now I have a new motto: When I am hungry I eat,when I am in a musical rut I let the iPolysix Arpeggiator feed me until I am satisfied..
The Arpeggiator is an Inspiring tool that will never fail bringing ideas to the table.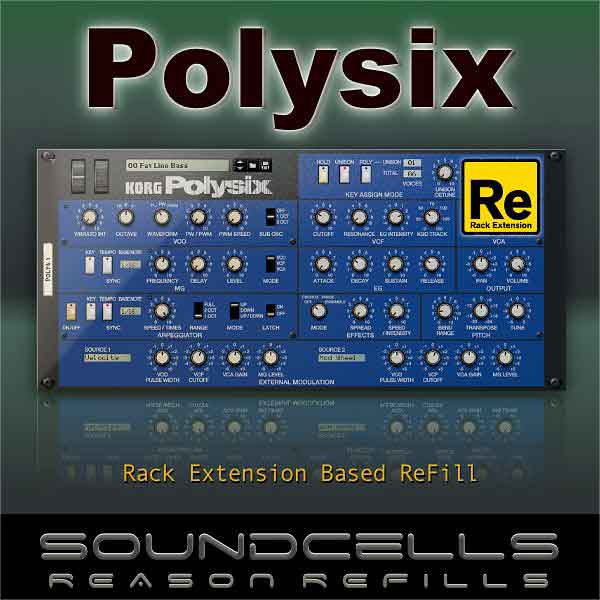 Just released in version 2 is Soundcells' PolysixRE Refill.
Here's the details:
The original Polysix, introduced in 1981, was a big success because of its warm sound character (as well as other features, of course) – and the same applies to the Polysix Rack Extension. Despite this synth`s quite simple architecture, the Polysix is capable of producing wonderful warm sounding pads, very responsive keys, but also super-dry and fat basses. This Polysix-based ReFill is a proof of this, and it is pure fun to use the 85+ combinators. These combinators, based on 60 new Polysix patches (and a handful others for Reason´s own synths) are sitting extremly well in any mix. Using all the modularity Reason has to offer, this ReFill will please you with really nice retro but also many modern sounds. No matter your preference – the patches will always do a great job in your tracks.
Further the modwheel & the combinator buttons and knobs are carefully assigned to allow dramatic and effective changes to the default sounds you´ll be hearing initially.
Version 2 simply offers more of everything: 15 new combinator patches, 15 new Polysix patches and a re-worked folder structure…
PolysixRE v2 Contents:
• 87 combinator patches – from retro to modern.
• 60 Polysix patches containing the basic patches which were used to build combinators.
• Carefully assigned modwheel & combinator button and knobs.
• CPU-friendly and fast loading patches.

Pricing and Availability:
9,90 EUR
The iPolysix for iPad in action, details below:
I played chords and a 41 bar Keyboard solo showing the automation of Cutoff,Resonance and EG intensity.
All sounds came directly from the Korg iPolysix via the iPad.
This episode Gaz takes a look at the beautiful Samplr – a sampling and playback app, plus Borderlands – a granular sample player with a unique interface. Nick checks out Korg's new iPolysix synthesizer
STRINGS + PHASER + DELAY = JARRE
STRINGS = Korg polysix
PHASER = genuine 1974 MXR Phase 90
DELAY = Roland SDE 3000
Trying out the iPolysix App on the iPad, with Ableton, Touchable iPad App and Maschine!
Rutger Muller explores yesterday´s release from KORG – the Polysix for iPad, details below:
Jamming on an iPad 1 with the official demo 'Submarine Drift' track I made for KORG's new iPolysix app.
- App Store: https://itunes.apple.com/app/korg-ipolysix/id579232173
- More of my KORG iOS music: http://www.Soundcloud.com/iNALOG
- KORG iPolysix introduction video: https://www.youtube.com/watch?v=KH6eiiouFjw
More of my works:
- Hypnotic School (dreampop/triphop):
https://www.youtube.com/watch?v=_oMEgwWyD00
- AuxPulse (acid/IDM on Nintendo DS):
https://www.youtube.com/watch?v=aPPPuGTKslI
- DS-10 Dominator (various EDM/acid on Nintendo DS):
https://www.youtube.com/watch?v=kTPFcn7fTsk
- My complete portfolio:
http://www.RutgerMuller.nl