Vintage synthesizer demo track featuring the classic Polysix
supported by UVI: http://bit.ly/retrosound-uvi
all synthesizer sounds: KORG POLYSIX Analog Synthesizer (1982)
drums: LinnDrum (1982)
recording: multi-tracking without midi
fx: reverb and delay
Vintage synthesizer demo track featuring the Korg Polysix
supported by UVI: http://bit.ly/retrosound-uvi
all synthesizer sounds: KORG Polysix Analog Synthesizer (1982)
drums: KORG KR-55B (1982)
recording: multi-tracking without midi
fx: reverb and delay
Vintage synthesizer demo track featuring the classic Polysix
all sounds: KORG Polysix Analog Synthesizer (1982)
drums: KORG KR-55B Analog Drummachine (1982)
recording: multi-tracking without midi
fx: reverb and delay
The PolySix was a milestone because, along with the Roland Juno 6 which appeared almost simultaneously, in 1981 the PolySix was the first opportunity ordinary mortals had to get their hands on a proper programmable polysynth. Up until then, you had to be loaded to afford a Prophet 5, Oberheim OB-Xa, or Roland Jupiter 8.
At first glance it looks like a scaled-down Mono/Poly, but really it's not! In fact it had a lot of great new features such as 32 memory patches, 6 voices of polyphony, cassette backup of memory, even programmable modulation effects and Chorus, Phase, Ensemble!
The Polysix has warm-sounding real analog oscillators, softer and brassy-er sounding than the Juno. Engage the built-in Chorus on a simple single-oscillator sawtooth patch and you were pretty darned close to that expensive Prophet sound. But the big ace in the Polysix's hand was the Ensemble effect. Instant Mellotron-like strings.
Like the Mono/Poly the voices can be played in Unison for a 6-oscillator lead sound that was so big, it was often too big! The advanced arpeggiator can memorize and sequence chords across the keyboard. The PolySix has now been recreated in software as part of the Korg Legacy software bundle!
2 Complete new sound-banks for Korg PolySix.
The PolySix is a classic and Korg did a great job of porting it to the PolySix software version.
The PolySix stands as one of the most authentic hardware
emulations ever made which so many recent synths attempt to emulate.
The presets heard in this video are from the new collection called, "Cold Fusion".
These presets are designed to bring out the classic hardware sound from the original Korg PolySix.
Included in this collection are:
Classic style Apegs
Extremely Fat basses
Vintage and very warm pads.
Unique synth FX reminiscent of the electronic period that the PolySix was released in.
Leads
More
The Korg PolySix software version is one of those, "best kept secrets".
This is partly due to the fact that it was initially released with so few presets.
VintageSynthPads.com has released this collection with the original Korg PolySix hardware in mind.
The presets are very analog, warm and fat, not to mention affordable.
Be sure to check them out.
The synthesizer's main features are six-voice polyphony (with unison and chord memory voice assignment modes), 32 memory slots for patches and cassette port for backing up patches, and an arpeggiator. On its release it was, along with the Roland Juno 6 which was released around the same time, one of the first times a polyphonic analog synthesizer was available at a cost effective price 'for the masses'. It cost about twice as much as the competing Juno 6 but had far more features and 'real' VCOs in place of the Juno's DCOs. It also had on-board patch storage and back up which the cheaper Juno lacked until the upgraded Juno 60 model.
Korg developed the Polysix with an eye on the Sequential Circuits Prophet 5, trying to provide some of the features found on the more expensive synth in a compact, reliable and much cheaper design. While not as powerful, it used SSM2044 4-pole voltage-controlled, giving the Polysix a warm, rounded and organic sound. Although the Polysix only had one oscillator per voice, it also featured built in chorus, phaser and 'ensemble' effects (using a 'bucket brigade' analog delay line design), to provide a fuller sound.
Vintage synthesizer demo track by RetroSound
"Primabella"
all synthesizer sounds: KORG Polysix analog synthesizer (1982)
I use the internal arpeggiator for the bassline. The P-6 bass is in unisono mode.
drums: LinnDrum
recording: multi-tracking without midi
fx: a bit reverb and delay
Updated video from Mee Zanook on the iPolysix:
This iPolysix secret revealed update covers an interesting piece of information I overlooked
in the original video.
This video demonstrates the capabilities of the New England Analog Pyxis Aftertouch System when installed in a Korg Polysix. The Pyxis allows players to modulate pitch, filter, volume, and pulse width using key pressure. This mod makes the Polysix sound like a much more expensive synth!
For more information about this modification, the Pyxis, or to purchase this instrument, please visit their website at www.NewEnglandAnalog.com.
Understanding the iPolysix Step Sequencer.
We go over Step Switches,Step Zones,Gate Sliders,the 6 Sequence Modes and More!
The heart of the iPolysix.
Copying Drum Tracks in One Shot!
Here is another hidden charm for iPolysix users that copy drum tracks one at a time..
The original Polysix is a six-voice synth from the early 80s most notable for its affordability and fabulously warm analogue sound. The iPad version again ticks both of those boxes, comprising not one but two synth engines, as well as a six-track drum machine that uses sampled Polysix sounds as source material. And while it might be quite expensive for the App Store, it's excellent value for money in terms of sound, features and the amount of work that's clearly gone into it.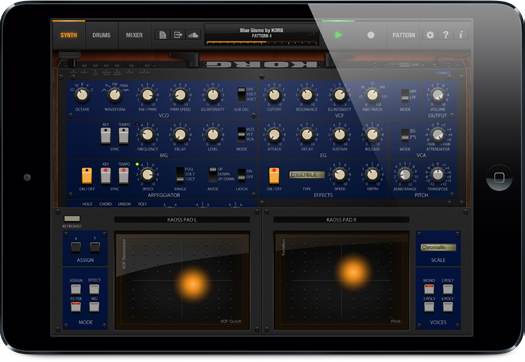 iPolysix is an analog polyphonic synthesizer that's been carefully designed to take full advantage of the 7.9-inch display of the new iPad mini as well as the iPad. Bringing together a sequencer, drum machine, and even a mixer, it transforms your iPad or iPad mini into the ultimate analog synth studio. Pack an amazing set of early-'80s analog equipment into your iPad, and time-travel back to the dawn of polyphonic synthesizers!
❮Highlights❯
● The world-wide best-selling Polysix polyphonic synthesizer, fully replicated on your iPad
● Use the newly developed Polyseq polyphonic step sequencer to control the Polysix
● A music production environment including two Polysix units, a drum machine, and a mixer
● Dual Kaoss Pads with chordal support make it easy for anyone to play analog synth sounds
● Polyshare powered by SoundCloud lets you publish, share, and remix songs with iPolysix users
Background video description:
I normally stop recording upon taking a new step like when Saving or extending the Sequence Step Length..this Tutorial will show a continuous workflow while Recording in Sequence Mode,Automating,extending Step Length,adjusting Gate,changing sounds, Saving while in record and showing useful tips along the way…