January 31, 2016 · Posted in
Uncategorized
·
Comments Off

on KORG minilogue : Unbox and Test drive
Just trying and toying factory preset sounds and sequences of KORG minilogue with no outboard effect, recorded directly from minilogue to Zoom Q4. , I got a tiny beast 😀
January 23, 2016 · Posted in
Uncategorized
·
Comments Off

on Full focus on Korg Minilogue Polyphonic Analog Synthesizer
This is the unboxing of and my initial go at using Korg's brand new Minilogue Polyphonic Synthesizer. This is a four voice analog polysynth with a BBD-style delay. It sounds fantastic and allows you to store 200 patches. It also has a 16 step sequencer storable per patch that allows you to store your melodic ideas and parameter automations to remind you of what you had in mind stylistically for the patch in addition to its tone. This will serve as my main keyboard-style synth in The Galaxy Electric. It's analog, allows for a decent amount of patch storage, and it has a built-in beautiful sounding delay which is typically my go to effect for the kind of synth work I do. I am a fan and found its timing to be very serendipitous.
Great deals on Korg minilogue at Kraft Music:
http://www.kraftmusic.com/brands/korg…
The Korg minilogue polyphonic analog synthesizer at the 2016 Winter NAMM Show.
Rhythmic sequences with Korg Monologue. No external FX.
January 14, 2016 · Posted in
Uncategorized
·
Comments Off

on Check out KORG's new synth in action – Korg minilogue Demo
Korg today officially announced the minilogue – a new four-voice polyphonic analog synth.
The Korg minilogue is a fully programmable four-voice polyphonic analog synthesizer; complete with a 16-step polyphonic note and motion sequencer, arpeggiator, and delay.
It features an easy-to-understand signal flow, featuring two oscillators, noise, a filter with two options for filter slope, dual ADSR envelopes, a LFO and amplifier. 
A new Voice Mode lets users choose how the four available voices are configured; from Polyphonic to Duophonic, and Unison to one note Chords, plus more.
In addition to offering up information on presets and editable parameters, the OLED display also features a real-time oscilloscope, providing visual feedback as you tweak sounds.
The minilogue also is built to be rugged and attractive, with a curved sand-blasted aluminum face panel, a Pyinkado wood back panel, solid, chassis-mounted potentiometers and rubber-coated knobs.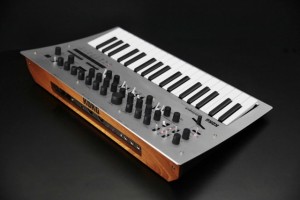 "We are beyond proud of the work our designers, engineers and voicers have put into this instrument," says James Sajeva, Brand Manager for Korg Technology products. "minilogue also brings a new level of affordability to the world of programmable polyphonic analog synthesizers. At $499.99 it is priced like a digital synth, but is armed with superb true analog sound, convenience of programmability, a striking design and quality build."
The Korg minilogue will make its official debut at next week's 2016 Winter NAMM Show. The minilogue will be available in stores on January 21st.