I guess this quote says it all

"WOOW some awesome sounds!"
New video from the folks at Moog where they are chaining 5 Moogs:
The Moog engineers set up a 5 voice Phatty in the Moog Sound Lab. Watch them and Eric Svalgard, Director of the School of Rock, work the 10 oscillators, 5 LFOs and 5 Voltage Controlled Low Pass Filters all under the control of one Little Phatty keyboard.
Minimoog Voyager XL MIDI & CV Controller Features
A quick look at a few of the many MIDI and CV control capabilities of the Minimoog Voyager XL. An XL prototype, Slim Phatty prototype, Moog Voyager, Moogerfoogers, Korg MicroX, Yamaha MU80 and more are used to test some of the XL's more advanced functions.
Rumours on the new Moog has been circling for some days now, but now more information starts to appear, here are some nice pictures of it, along with some brief specifications: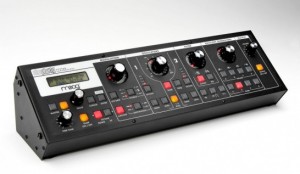 Features of the Slim Phatty include:
Two VCO's
USB MIDI
Arpeggiator
Updated sound bank
Voltage Controlled Moog Ladder Filter
Two ADSR envelopes
Modulation section with LFO with 4 waveforms
MIDI In/Out
CV inputs for Pitch, Gate, Filter, Velocity
Check out the photos and leave your comments


The images come via hispasonic, along with these specifications:
Características de Slim Phatty
Dos osciladores
Fuente de alimentación universal interna
Entrada de audio externo
MIDI por USB
Arpegiador
Banco de sonidos renovado respecto al Little Phatty
Filtro Moog Ladder de 24 dB/octava con control overload y salida VCA
Sección de generador de envolvente con dos generadores ADSR
Sección de modulación con LFO de 4 formas de onda y bus 1×2 con 8 fuentes de modulación posibles y 4 destinos
Control de volumen master, interruptor de salida on/off y salida de cascos
En la parte trasera de Slim Phatty encontramos:
Conector de alimentación (100-250VAC, 50-60 Hz)
Interruptor on/off
Entrada de audio externo (acepta señales de nivel de línea +4dBu)
Entradas Pitch CV (1 V/Oct), Filter CV y Keyboard Gate
MIDI in y MIDI out
Conector USB
Still no official word at the Moog site…..