The music has been made using a Doepfer Dark Energy and a minicase with two VCOs A-110, a mixer A-138 and a multiple A-180.
Wouter van Veldhoven has shared this multi machine video, details below:
This basically put almost every machine in my studio in operation,
Everything is controlled by a doepfer a100 system + some home-brew modules, in combination with some self made step sequencers build
Try out of the custom built 303 Energy which is a sequencer synthesizer based on two Doepfer A-111-5 (Dark Energy) and Acidlab Autobot. It has two theremins to control the filters.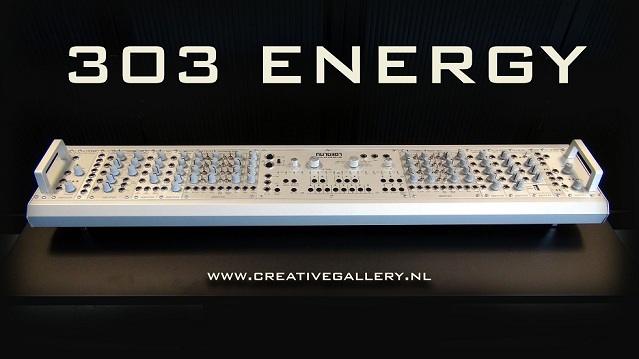 On the left side of the sequencer and first synth there is a theremin controller (A-178) to control the MS-20 filter (A-106-1 extreme) and the Wasp Filter (A-124) On the right side of the sequencer and second synth voice there is also a theremin controller (A-178) to control the 303 filter (A-103) By approaching the antenna's with your hands you can control the filters. Next to the two theremin controllers there is also an A-198 Ribbon control board to connect a ribbon controller. To invert the control signals (for instance VCA up in stead of down) there is a voltage inverter (A-175) next to the right Theremin controller. For now it gets its power through a XLR connector on the left side (+12V, GND, -12V) from a 1200mA external powersupply.
More info on: http://www.creativegallery.nl/index.p…
Background video description:
This is a two step sequence using the ef303.
I am using the doepfer quantizer, the clock sequencer and two envelopes on the filter (adsr and ar) to make it come allive.The ar generator is triggerd by the clocksequencer and the adsr is triggerd by the ef303.
And i also use some delay .
And i jam along on the rouge and juno.
The KOMA BD101 is a complex (short) Analog Delay & Amplitude Modulation unit that can be used for filtering and treating audio signals; the very short delay time closes every "standard" application, but opens a whole landscape of sonic crushing and underclocking distortion. Pretty Wild. The IR sensor is very sensible to strong lights for shooting; so, on this video, its sensibility is not so strong than in the real life.
KOMA BD101 amplitude modulating Doepfer Dark Energy; Dark Time retriggers synth eg and BD101 is AMing signal for a rhythmic interaction; short delay and underclocking of BBD as usual.
The short BBD into BD101 is modulated with LFO triangle/square wave out from Doepfer Dark Energy. A lot of harmonics and – when underclocking takes act – a lot of severe audio changes. Not a standard delay, but a complex sound sculpting machine.
First test of the new DIY case with six Doepfer A-111-5 synthesizer voices.
Two sequensers: Doepfer A-155, Modcan Touch-Sequencer
Two extra filters: A-108, A-106-5.
Controllers: Doepfer A-174-2 Wheels, Intellijel Planar joystick, A-198 Ribbon control
FX: Tiptop Z-DSP with Dragon Fly
Extra LFO: Doepfer A-143-4 Quad LFO (controlable)
Mixers: 3x Doepfer A-138b
Multiples: 2* 4×4 DIY multiples
More info: http://www.creativegallery.nl/index.p…
A continuation of the exploration of the Doepfer A124 Wasp Filter. The Notch, Lowpass, and Highpass portions of the Doepfer A124 Wasp Filter are explored. In the next segment this filter is compared to the Doepfer A121 Multimode Filter. Sound and Video by Raul Pena.
Continuing on from yesterday's video featuring the MFB Urzweg – here's a new video hooking it up with a full blown modular system
MFB Urzwerg Pro is controlling four separate synth channels on Synthesizers.com Modular System. Each row sends CV for oscillators and Gate for Envelope(s); MIDI Out from Urzwerg is transmitting MIDI Clock to Acidlab.de MIAMI Analog Drum Machine. TC Flashback Delay (set at eight dotted lenght) is connected to Aux Send on mixer. Far on the left of picture, the 960 Step Sequencer acts like a "real time preset voltage source" for full four sequences transpose.
MFB Urzwerg Pro step sequencer is controlling Doepfer Dark Energy mk I analog synthesizer. CV 1 goes on pitch, CV 3 goes on Cutoff, CV 4 goes on Amp; Gate 1 goes on EG Gate. LFO 1 Square wave out from Doepfer goes to External Clock on sequencer.
Quick demo of a 6HE eurorack that Youtube alias 'pjoris2′ has put together, details below – and as always the more we get the feeling that you are inside a space station the better

Analogue Solutions SQ8 sequencer 2x
Analogue Systems RS-80 VC-LFO 2x
Doepfer A-110 Standard VCO 2x
Doepfer A-114 Dual Ringmodulator
Doepfer A-106-1 X-Treme Filter
Doepfer A-188-1C BBD 2048 Stages
Doepfer A-156 Dual Quantizer
Doepfer A140 ADSR: 2 stuks
Doepfer 2x84TE 6HE Low-Cost-Case
Doepfer A-138b Mixer exponential
Doepfer A-183-1 dual passive attenuator
Doepfer A-131 VCA (logarithmic)
Doepfer A-132-1 Dual Low cost VCA
Doepfer A-180 multiple: 2x
all audio tracks appears to the Quasimidi Sirius
drums, bass, synth, vocoder
cosmetic²s by
Akai MFC 42 Analog Filter Module
Buchla 281e,292e,225e Low Pass Gate
Doepfer Ribbon Controller R2M
fx: Lexicon PCM 80 & 90
Makie Mixer
Logic amt sequencer