303 ENERGY – Custom built sequencer
Try out of the custom built 303 Energy which is a sequencer synthesizer based on two Doepfer A-111-5 (Dark Energy) and Acidlab Autobot. It has two theremins to control the filters.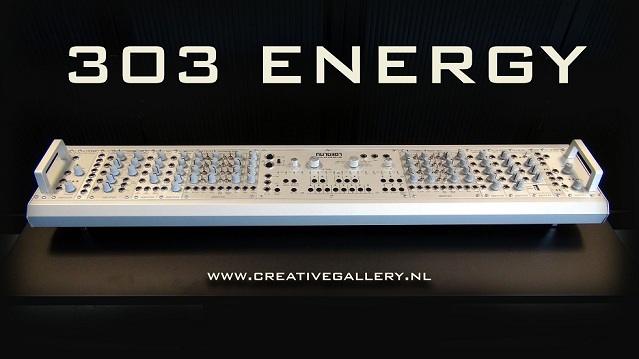 On the left side of the sequencer and first synth there is a theremin controller (A-178) to control the MS-20 filter (A-106-1 extreme) and the Wasp Filter (A-124) On the right side of the sequencer and second synth voice there is also a theremin controller (A-178) to control the 303 filter (A-103) By approaching the antenna's with your hands you can control the filters. Next to the two theremin controllers there is also an A-198 Ribbon control board to connect a ribbon controller. To invert the control signals (for instance VCA up in stead of down) there is a voltage inverter (A-175) next to the right Theremin controller. For now it gets its power through a XLR connector on the left side (+12V, GND, -12V) from a 1200mA external powersupply.
More info on: http://www.creativegallery.nl/index.p…
Comments