Tenori-on MIDI sync to the MFB desktop Filter and the Urzwerg Pro sequencer.
Tenori "drums" are through the MFB Filter & it is sequencing:
1) Moog Minitaur
2) Cwejman S1
3) Moog Slim Phatty
4) Prophet 08
Then the Urzwerg Pro seq. the Polivoks.
No effects were added, but Lots Of EQ!!
MFB Kult, a sample based drumcomputer that collect many samples of famous drummachines from the 80′s
In MFB's own words about the machine:
On the occasion of MFB's 25th anniversary, we are proud to announce something special. Since 1979 four rhythm machines were developed and produced: MFB-301, MFB-501, MFB-512 and MFB-612. In Germany these devices are very popular, since the inexpensive machines contained interesting rhythms for rock musicians. MFB digitized some of these sounds, and a multiple sounds of other far common rhythm machines. All these samples are packed into the memory of the MFB-KULT. The 192 sounds are divided in 16 sets, whereby each set contains 12 sounds. Since not every each rhythm machine had 12 sounds, a set consists of sounds of up to three rhythm machines. On a keyboard each set has one octave, so that a 4 octave keyboard or each MIDI channel has four sound sets.
Sounds from following drummachines and devices are available: Boss 55, Casio PT-68, Casio VL-1, CR-78, CR-8000, Drumtracks, Drumulator, El. Harmonix, Hohner, Korg DDD1, Korg-220, KPR-77, Linn 1, MFB-401, MFB-501, MFB-512, MFB-612, Pearl SC-40, Rhythm Ace, Simmons Clap, Simmons SDS, TR-606, TR-727, TR-808, TR-909 and Vermona.
With each sound the volume and the panorama can be programmed. Beyond that the Attack time and the release time can be programmed for each sound. Since the sounds cannot be longer than the original sample, with longer release the compression is increased. The sounds can be played naturally also individually over the tracer. The sound can be stopped with an automatic controller .
Additionally an integrated Sequencer is available, which can play some rhythms of the MFB-501. The speed is adjustable. The MFB-KULT has an stereo output. Additionally there is the MIDI IN. As current supply a plug power pack is provided.
In this video:
Elektron Analog Four Demo
Sounds = Analog Four
Beats = MFB Tanzbär
MFB Tanzbär – Dancing Bear (GER), Analog Modular System Tinysizer (GER), moogerfooger MF-104M analog delay (USA), Korg Monotribe (JAP).
Sequenced and recorded with Ableton Live, a bit of reverb added to Monotribe but no other additional effects.
Nice overview of a very powerful drum machine from MFB, details below:
Due to a high demand: I uploaded a basic tutorial how to use the MFB Dancing Bear. I hope this tutorial is self explaining. I just added a few comments via YouTube. This demo gives also the opportunity to hear all sounds isolated from each other. Could not cover all functions in this short video, please look at the manual for more info: http://www.mfberlin.de/Manual/Manual_…
The Tanzbär is used in the Jam mode. I prefer this mode over the manual- and step mode. Please look at my other videos to see how the CV control is working.
If you like it, don't forget to rate the video and to subscribe to my channel
This time the Dancing Bear is sequencing the Tinysizer!
Tinysizer ANYWARE-INSTRUMENTS ANALOG MODULAR MINI SYNTHESIZER is a fantastic complete mini analog modular synthesizer system.
The MFB Tanzbär analogue drum-computer has a tight step-sequencer and 16 instruments.
Recorded in Ableton Live – no additional effects.
Taking a closer look at Tanzbär, video description below:
My second MFB Dancing Bear session: Headphones or good speakers are recommended. Enjoy!
Facebook: https://www.facebook.com/martin.kern….
MFB's Tanzbär drum-computer offers fourteen analogue percussion instruments as well as a synthesizer for bass- and melodic voices.
Its integrated step-sequencer allows flashlight-programming and storage of up to 144 patterns. All parameters can be recorded per step! Because of its ability to control and call up all functions on the fly, while the unit is running, Tanzbär is ideally suited for live performances.
Tanzbär features
Analogue drum-computer with tight step-sequencer and 16 instruments.
Immediate control, integration of MIDI and CV/Gate.
Different step-lengths per instrument.
Programmable accent- and pitch-bend-functions.
144 patterns with A/B-variations, fill-function to chain various patterns.
3 CV- and 2 Gate channels.
Roll- and flam-recording.
Individual and global swing-quantization.
Recording of control-value per step.
12 individual outputs, stereo output.
MIDI- and clock-sync, MIDI-dump.
Microshift-function via MIDI (future update).
Metal chassis with wood side panels.
Tanzbär is available to purchase for MSRP 840 EUR.
Tanzbär just received!!! First test !
MFB Tanzbär + xoxbox + disto + reverb. all analog.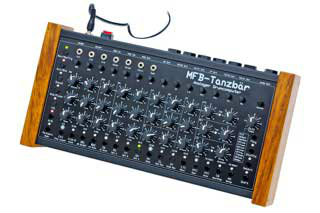 Specialist analogue synthesiser and innovative musical hardware distributor ALEX4 Distribution has announced that partner manufacturer MFB is now shipping its eagerly-awaited Tanzbär Analoger Drumcomputer. Here's what they have to say about it…
"Having first created an eye- and ear-opening rhythmical stir on ALEX4 Distribution's well-visited stand at Musikmesse 2013 (where it apparently attracted the third-highest search rate on YouTube), Berlin-based electronic musical instrument manufacturer MFB's Tanzbär Analoger Drumcomputer takes the nostalgic sound of an analogue percussive past and transports it kicking and screaming to the performance-orientated present as a powerful new analogue sound. Perfectly packaged with innovative functions from contemporary sequencers and workstations, it's perfect for adventurous beat- making musical activists here, there, and everywhere!
Despite already having been a hit in its initial prototype form in Frankfurt, MFB engineers and programmers Manfred Fricke and Sebastien Preller have seen fit to add another synth voice to the hand-built production version so that it now features 16 high-quality analogue drum instruments. These include two bass drums, snare drum, rim shot, cymbal, hi-hat, and clap, plus low-tom, mid-tom, and hi-tom. These can all be thoroughly tweaked via dedicated knobs for spontaneous, hands-on control of various performance parameters like Decay, Tune, and more besides, making for an even more attractive analogue percussion proposition housed in an upmarket metal casing with eye-catching wooden end panels. Bringing up the rear, six full-size individual output jacks maximise mixing and processing flexibility for even more creative handling.
The tight step sequencer central to the Tanzbär Analoger Drumcomputer allows different step lengths per drum instrument with programmable accent and pitch-bend functionality, roll and flam recording, individual and global swing quantisation, and also per step recording of control values. Surely anyone recognising the value of intricate beat-making needs look no further? Furthermore, up to 144 patterns with A/B variations can be programmed and stored.
Yet those creative capabilities of the Tanzbär Analoger Drumcomputer extend beyond the scope of purely programming beats — intricate or otherwise. Thanks to inbuilt MIDI and CV connectivity it can also act as a perfectly serviceable sequencer with rock-solid rousing rhythmical results. Hitch up a MIDI- or CV/Gate-equipped synth, see where your musical muse takes you, and press Play!
With a diminutive desktop footprint, the Tanzbär Analoger Drumcomputer works well in any hybrid modern and/or vintage live performance or studio setup. And with an MSRP of only €840.00 EUR, what's not to like? So why not become a slave to the analogue rhythm with the production-ready Tanzbär Analoger Drumcomputer, shipping now!"
Pricing and Availability:
€840.00 EUR