More goodies showcased at MusikMesse 2013, this time live from the MFB booth
Audio demos of their new products the Dominion synth and the Tanzbär drum machine
The Dominion 1 features three oscillators, three LFOs and three envelopes. It has a 3-octave keyboard and comes with its own arpeggiator/sequencer. Other features include an extended FM mode, double oscillator sync, an analogue and digital ring modulator and a discrete SED filter module with 12 modes.
The keyboard supports aftertouch and you also get two ribbon controllers, a velocity matrix and a patchbay.
The Tanzbär, meanwhile, is a 16-sound drum machine that sports a "super-tight" 16-step sequencer with accent and pitchbend. You can store 144 patterns and there's a Fill and Chain function. There are two CV/Gate channels, roll/flam recording and various swing options.
* Analog Drumcomputer with tight Step-Sequencer and 16 Instrument
* Controllable via Midi and CV/Gate
* Per Instrument indipendant Step lenght
* Programmable Accent and Pitch Bend
* 144 Patterns with A/B and Fills
* 3CV/2Gate channels
* Roll and Flam Recording
* Individual and global Swing Quantize
* Potis können per Step aufgezeichnet werden
* 12 separate and one stereo output
* Midi and Clock Synchronization, Midi Dump
* Microshift via Midi (planned update)
* Wood cheeks and Metall case
* Indicative price: 840,- Euro
Novation appears to have a bass synth in the making, teasers pics from thier Facebook site yesterday below:
Or perhaps a a two oscillator mono synth
MFB has introduced the Tanzbär Drumcomputer – a new analog drum machine.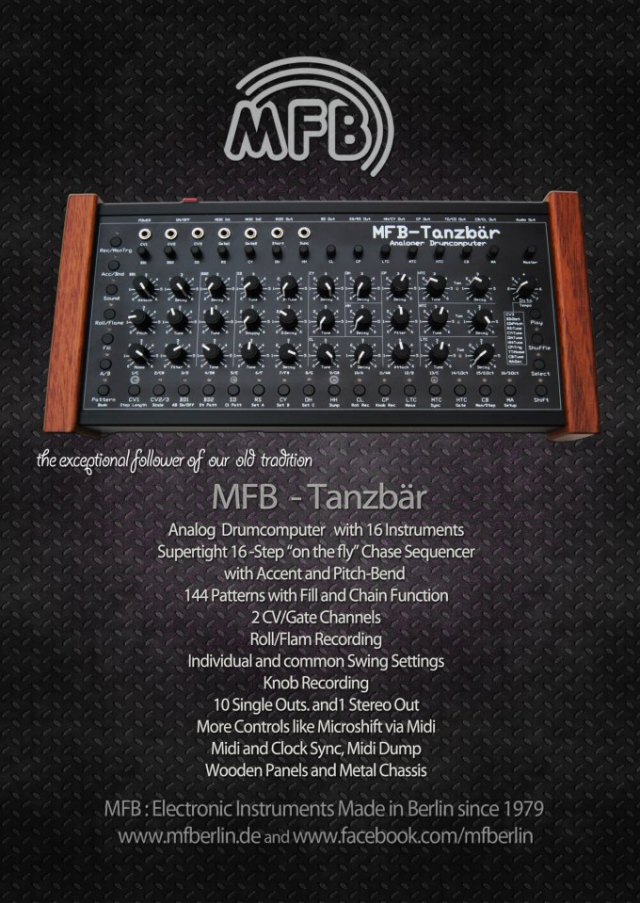 Audio demo below:
MFB Drum Computer Session 2 by Yapacc on Mixcloud
And finally a new electronic instrument from Dualo: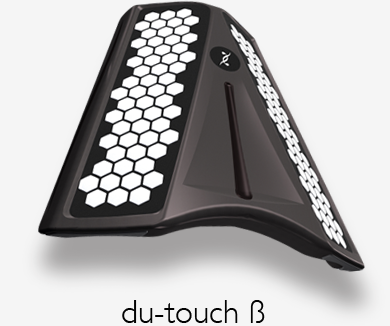 Dualo, a start-up company etablished in 2011 by two musicians and engineers, has designed a musical instrument based on a innovative and intuitive keyboard: the du-touch ß.
This original key layout, which is closer to harmony, is an alternative to the layout encountered in a piano, and is called the dualo keyboard.The manner in which the keys have been laid out has been validated by several musicians, and is designed to provide an opportunity to learn, to read and to play music faster than traditional instruments.
In Decembre 2012, after two years of extensive research and development, Dualo has released a limited edition of his first instrument, dualo du-touch ß, already sold-out. Several famous artists decided to support our project, including Cyril Atef (-M-, Bumcello, …), Fixi (Java) and Khalid K.
In view of the enthusiastic reception for our instrument, Dualo is now launching a crowd-funding campaign on KissKissBankBank.com to finance the professional edition, which will be delivered from Decembre 2013.
Our first instrument, "dualo du-touch ß" is designed for amateurs and professionals.
innovative : it's the first instrument in the world which use a layout of keys based on the dualo principle
compact, portable and featuring a wide tessitura : light, designed to come with you everywhere, 5 octaves for 29cm high
standalone : battery-powered, built-in synthesizer, built-in multi- effect processor, built-in multitrack looper ; audio line out and amplified audio headphones out
versatile : thanks to the built-in features which allows to play with a wide palette of sounds and to organize them in songs
original and allowing a wide stage presence : fitted with gesture and movement sensors offering a new generation of musical gesture, a new feel and a new phrasing
intuitive and instructive : thanks to the dualo principle and to the built-in help system : screen, light display
Background description:
"In this demo, I use a Walkman as the source for the Doepfer A-148 Sample and Hold module. The output is sent into the 1v/Oct CV input of the Kraftzwerg Triple Oscillator. Notice the subtlety of the random notes compared to using white noise. Hope you enjoy it!"
"Lost Harmonic Identity" never died.
This ist the first track after a while that belongs to LHI.
Starring:
Drums: MFB Schagzwerg, Korg Monotribe, Makenoise Optomix
Drunk guitar: WMD Syncrodyne with Makenoise René
1st pad: Cyclonix Cyclebox
"Dissonant" pad: Intellijel Rubicon
more @ http://www.klirrfaktor.com
Background information on this video featuring the awesome Kraftwerg synth
Welcome to the first part of my new series called Kraftzwerg Speak. All the sounds you'll be hearing in this series are created exclusively on the MFB Kraftzwerg semi-modular analog monophonic synthesizer. This series will be all about creating unique and interesting sounds. If you want to hear music produced by this synth, check out my Kraftzwerg Trance series.
The Berlin synthesizer maker MFB is updating their smallest semi-modular synth Microzwerg putting it into a new box with wooden cheeks. There are no details if there are any other changes yet. To be released in September. Dark Energy II is getting a multi-mode filter like Microzwerg and Microzwerg II is getting wooden cheeks! It appears to be a winning concept on the entry level modular. It appears to be a hot analog autumn.
* semi-modular analogue synthesizer
* dual oscillator, dual multimode-filter
* separate inputs/outputs for both filters
* 18 patch connections in signal chain
* two LFOs with "One Shot"-function
* CV/Gate and MIDI control
* MSRP: 430, – Euro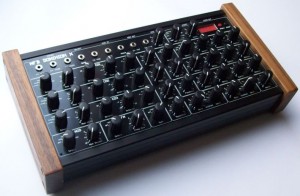 DOMINION X is MFB's latest synthesizer. It combines analogue synthesis, programmability and modular patching. With advanced circuits, increased functionality and a new design, DOMINION X is the first of MFB's next generation musical instruments.
DOMINION X offers three oscillators for maximum flexibility. Each waveform can be varied in symmetry. Besides altering the pulse width of a rectangle, you may also continuously turn a saw tooth into a triangle and a triangle into a sine. All oscillators also offer ring modulation. In addition, VCO 2 and VCO 3 can be synced to VCO1. Finally, VCO3 can modulate the frequency of VCO 1 and VCO 2. The analogue oscillator circuit is processor-controlled for stable tuning. To complete the available sound sources, noise or an external audio input can be added to the VCOs in DOMINION X's mixer section.
The filter offers six operation modes. Available are three low pass variations with 12, 18 and 24 dB/oct. slopes. Also available are high pass-, band pass and a notch filter with slopes of 12 dB/oct. respectively 6 dB/oct. Variable filter modulations are possible via an invertible envelope, keyboard tracking, LFO, VCO, different MIDI controllers as well as by the use o the CV-input.
The two ADSR-type envelops are internally routed to the VCF- and VCA-sections. In addition, envelope 1 can also modulate the VCO section. LFOs 1 and 2 offer six waveform shapes including sample & hold. They may be switched to one-shot-modes to emulation simple envelopes. A third sine-LFO works in combination with a keyboard's modulation wheel and can dynamically address the VCO, VCF and VCA sections.
Modulations are assigned by the use of selector switches, located at the destinations. This allows easily setting and re-routing internal modulation paths – ideally for your live-performance.
To integrate external modulators, control- and audio sources, DOMINION X offers nine inputs. Therefore, oscillators, filter, VCA, CV/Gate and mixer can be easily combined with other analogue synthesizers such as MFB's MEGAZWERG, analogue sequencers such as MFB's URZWERG PRO or modular synthesizer systems.
An additional selector switch allows assignment of velocity for up to eleven modulation destinations.
DOMINION X offers 128 programmable patches for your personal sound creations. To support sound programming without an attached keyboard, different demo sequences are available. To use DOMINION X as a filter box for external audio sources, the VCA can be opened permanently. Finally, there is an insert available to integrate an effect or distortion unit into the signal path.
A very very very short run on the patches memorized in the RAM-B bank of the small, but very effective, MFB Dominion-X Synthesizer
The small, but highly effective, MFB Dominion-X synth under CV/Gate control from Synthesizers.com 960 Step Sequencer. Out of sight, a plain MIDI keyboard for (occasional) key changes. Row 1 of seq goes on VCO 1, Row 2 goes on VCO 2&3, Row 3 goes on VCF.
Fiddling with control panel while playing the MFB Dominion-X synthesizer
The MFB Dominion-X synthesizer has some interesting capabilities of waveform shaping and its filter (developed by Carstein Schippmann) has some great modes