Background video description:
Just having fun with the MFB Dual LFO, Make Noise Function, and Intellijel Korgasmatron. Noise source is MFB LFO set to S&H at audio rate. Enjoy the noise!
Continuing on from yesterday's video featuring the MFB Urzweg – here's a new video hooking it up with a full blown modular system
MFB Urzwerg Pro is controlling four separate synth channels on Synthesizers.com Modular System. Each row sends CV for oscillators and Gate for Envelope(s); MIDI Out from Urzwerg is transmitting MIDI Clock to Acidlab.de MIAMI Analog Drum Machine. TC Flashback Delay (set at eight dotted lenght) is connected to Aux Send on mixer. Far on the left of picture, the 960 Step Sequencer acts like a "real time preset voltage source" for full four sequences transpose.
MFB Urzwerg Pro step sequencer is controlling Doepfer Dark Energy mk I analog synthesizer. CV 1 goes on pitch, CV 3 goes on Cutoff, CV 4 goes on Amp; Gate 1 goes on EG Gate. LFO 1 Square wave out from Doepfer goes to External Clock on sequencer.
MFB Urzwerg Pro step sequencer can act as a MIDI sequencer on four separate MIDI Channels; on this video, Urzwerg Pro is controlli four separate parts of KORG Z1 modeling synthesizer.
The MFB Kraftzwerg is the star in this rendition of the Legend of Zelda title theme.
More goodies showcased at MusikMesse 2013, this time live from the MFB booth
Audio demos of their new products the Dominion synth and the Tanzbär drum machine
The Dominion 1 features three oscillators, three LFOs and three envelopes. It has a 3-octave keyboard and comes with its own arpeggiator/sequencer. Other features include an extended FM mode, double oscillator sync, an analogue and digital ring modulator and a discrete SED filter module with 12 modes.
The keyboard supports aftertouch and you also get two ribbon controllers, a velocity matrix and a patchbay.
The Tanzbär, meanwhile, is a 16-sound drum machine that sports a "super-tight" 16-step sequencer with accent and pitchbend. You can store 144 patterns and there's a Fill and Chain function. There are two CV/Gate channels, roll/flam recording and various swing options.
* Analog Drumcomputer with tight Step-Sequencer and 16 Instrument
* Controllable via Midi and CV/Gate
* Per Instrument indipendant Step lenght
* Programmable Accent and Pitch Bend
* 144 Patterns with A/B and Fills
* 3CV/2Gate channels
* Roll and Flam Recording
* Individual and global Swing Quantize
* Potis können per Step aufgezeichnet werden
* 12 separate and one stereo output
* Midi and Clock Synchronization, Midi Dump
* Microshift via Midi (planned update)
* Wood cheeks and Metall case
* Indicative price: 840,- Euro
Novation appears to have a bass synth in the making, teasers pics from thier Facebook site yesterday below:
Or perhaps a a two oscillator mono synth
MFB has introduced the Tanzbär Drumcomputer – a new analog drum machine.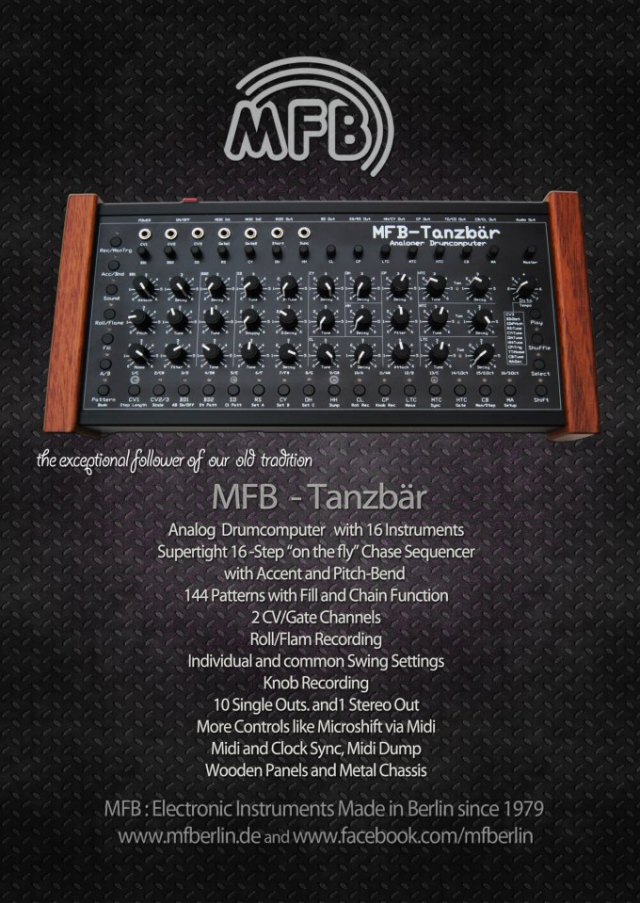 Audio demo below:
MFB Drum Computer Session 2 by Yapacc on Mixcloud
And finally a new electronic instrument from Dualo: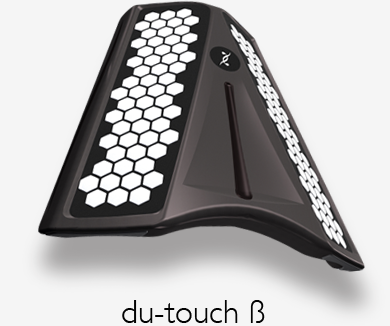 Dualo, a start-up company etablished in 2011 by two musicians and engineers, has designed a musical instrument based on a innovative and intuitive keyboard: the du-touch ß.
This original key layout, which is closer to harmony, is an alternative to the layout encountered in a piano, and is called the dualo keyboard.The manner in which the keys have been laid out has been validated by several musicians, and is designed to provide an opportunity to learn, to read and to play music faster than traditional instruments.
In Decembre 2012, after two years of extensive research and development, Dualo has released a limited edition of his first instrument, dualo du-touch ß, already sold-out. Several famous artists decided to support our project, including Cyril Atef (-M-, Bumcello, …), Fixi (Java) and Khalid K.
In view of the enthusiastic reception for our instrument, Dualo is now launching a crowd-funding campaign on KissKissBankBank.com to finance the professional edition, which will be delivered from Decembre 2013.
Our first instrument, "dualo du-touch ß" is designed for amateurs and professionals.
innovative : it's the first instrument in the world which use a layout of keys based on the dualo principle
compact, portable and featuring a wide tessitura : light, designed to come with you everywhere, 5 octaves for 29cm high
standalone : battery-powered, built-in synthesizer, built-in multi- effect processor, built-in multitrack looper ; audio line out and amplified audio headphones out
versatile : thanks to the built-in features which allows to play with a wide palette of sounds and to organize them in songs
original and allowing a wide stage presence : fitted with gesture and movement sensors offering a new generation of musical gesture, a new feel and a new phrasing
intuitive and instructive : thanks to the dualo principle and to the built-in help system : screen, light display
Background description:
"In this demo, I use a Walkman as the source for the Doepfer A-148 Sample and Hold module. The output is sent into the 1v/Oct CV input of the Kraftzwerg Triple Oscillator. Notice the subtlety of the random notes compared to using white noise. Hope you enjoy it!"
"Lost Harmonic Identity" never died.
This ist the first track after a while that belongs to LHI.
Starring:
Drums: MFB Schagzwerg, Korg Monotribe, Makenoise Optomix
Drunk guitar: WMD Syncrodyne with Makenoise René
1st pad: Cyclonix Cyclebox
"Dissonant" pad: Intellijel Rubicon
more @ http://www.klirrfaktor.com
Background information on this video featuring the awesome Kraftwerg synth
Welcome to the first part of my new series called Kraftzwerg Speak. All the sounds you'll be hearing in this series are created exclusively on the MFB Kraftzwerg semi-modular analog monophonic synthesizer. This series will be all about creating unique and interesting sounds. If you want to hear music produced by this synth, check out my Kraftzwerg Trance series.