Nord Lead A1 – analog modeling synthesizer
Produced by UK distributor Sound Technology Ltd
http://www.soundtech.co.uk/nord
All music was created using solely Nord Lead A1(no added effects or instruments).
Music by Rob Wallace.
For detailed product information and specifications, visit
http://www.nordkeyboards.com/products…
Follow us on Facebook, Twitter and Instagram @nordkeyboards
)
)
Two videos from the MusikMesse 2014
Introducing the Nord Lead A1R rack mountable tabletop version of the Nord Lead A1 analog modeling synthesizer!
Be the first to check it out at Booth B90, Hall 5.1 at the Frankfurt Musikmesse March 12-15th 2014!
nordkeyboards.com/a1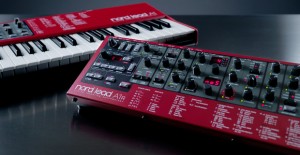 ANALOG MODELING
The Lead A1 and A1r are equipped with an all new analog modeling sound engine. As the original inventors of virtual analog, this is our next-generation analog modeling, capable of reproducing the character and nuances of the vintage synths of your dreams with breathtaking accuracy. 24-voice polyphonic and four part multi-timbral, the Lead A1 and Lead A1r are flexible choices for either stage or studio, delivering a stunningly rich and versatile palette of sounds.
THE NEED FOR SPEED
The Lead A1 and A1R also introduce an innovative new front-panel user interface designed by Clavia to make programming quick and easy, while retaining hands on flexibility.
"We've been thinking about and honing this interface for a number of years in response to what we hear from many professional players regarding the ever-increasing time pressures in creating sounds for stage or studio." says Hans Nordelius, CEO and head designer at Clavia.
One of the main features of the new interface is the Oscillator section, where Oscillator configuration shortcuts allow patches to be created and edited far quicker than is usually possible for synthesis of this complexity. The new waveform engine generates 47 different waveforms from classic analog to digital harmonic and inharmonic waves.
Using a single LFO and simplified Modulation Envelope with intuitive controls on the front panel, it is also very quick to experiment with modulations, always with a clear overview of the structure of the patch.
FILTERS
The on-board filters include Low Pass, High Pass and Band Pass, along with new stunningly accurate modeled Ladder M and Ladder TB filters introduced in the Lead 4.
EFFECTS
The A1's effects section introduces two new impressive vintage Chorus and Ensemble models.  Delay, Reverb, Drive, Phaser and Flanger complete the effects line-up, all with independent settings for each of the four slots.
Nord's acclaimed Morph function via Velocity or the Mod Wheel (Mod Wheel Morph via MIDI cc on A1R) is also included, allowing multiple parameters to be morphed in real time and with exceptionally easy control.
Additional functions include an independent arpeggiator for each of the four slots, Master Clock sync of the LFO, delay and Arpeggiator, MIDI over USB, and four independent outputs.  The Lead A1 and A1R are compatible with the Nord Sound Manager software patch librarian.
Like all Nord products, the Lead A1 and A1R are handmade in Sweden with meticulous attention to detail and quality control.
AVAILABILITY
Nord Lead A1: April 2014 priced at 1459€
Nord Lead A1R: June 2014 priced at 1259€
For more information please visit www.nordkeyboards.com/a1.
Here's a presentation of the new Nord Lead A1 at the NAMM Show 2014.
Enjoy
NAMM 2014: Nord Lead A1 – First look New VA on behind closed doors
About the synth:
Producing stand-out sounds for live or for the studio, the Lead A1 is ideal for all musical genres. Thanks to its carefully thought-out user interface, the Lead A1 encourages experimentation, allows for far speedier programming than would otherwise be possible, and ultimately delivers sensational sonic results. At the heart of the Lead A1 is our new analog modeling engine. Taking our virtual analog synthesis to a new level, this modeling recreates a total analog signal path with uncanny realism, and is capable of immense sonic variety. With 24-voice polyphony and four simultaneous synthesizer parts, the Lead A1 is a true synthesizer powerhouse that goes far beyond the current trend for limited capability analog reissues. Fundamental to the design of the Lead A1 is a brand new simple yet sophisticated front panel interface. The design is in fact the result of requests from professional players – even the most experienced programmers – who need to create the perfect sound as quickly as possible for today's live or studio time demands. The Lead A1 allows easy patch creation and experimentation thanks to a new and unique oscillator section, pre-programmed modulation matrix, and simplified ADR envelopes. Dive in and create incredible patches far quicker than would normally be possible with a synthesizer of such power.
Oscillators
Unique Oscillator concept
8 Oscillator Configurations
Pitch, Detune, Shape, Sync, AM, Noise, Dual Osc, FM
Traditional Analog and Digital Waveforms
Modulation
LFO with 5 waveforms
Mod Envelope
LFO as additional ModEnv
Filter
12, 24 dB low-pass filters
High-pass and Band-pass filters
Transistor and diode ladder filter simulations
of Mini and TB-303