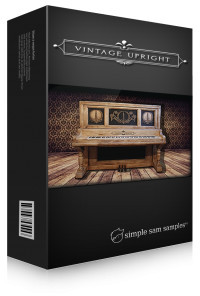 Simple Sam Samples has launched Vintage Upright, a virtual piano instrument for Native Instruments Kontakt.
Vintage Upright is a beautiful "character" piano, subtly out-of-tune, bursting with realism, and filling a gap between the pristinely sampled pianos on the market and novelty "junk" pianos.

Its haunting tone shines beautifully as a solo instrument or in the mix, and lends extraordinary character to any style of music including jazz, rock, blues, pop, ragtime, and film applications.
Vintage Upright features
More than 3000 samples in 24 Bit.
All 88 keys individually sampled in 10 dynamic levels.
Two microphone perspectives (Close and Room).
Multi-velocity adjustable mechanical noises (pedal, hammer, release).
Authentically modeled una corda (soft pedal) samples.
Sympathetic String Resonance with real overtones.
True repedaling and Pedal "catch".
User controllable microphone/recording noise.
Adjustable stereo width and controllable reverb.
The library is available to purchase for the introductory price of $29.99 USD (regular $49.99 USD). Requires the full retail version of Kontakt 5.1 or later (Kontakt 4 version coming soon).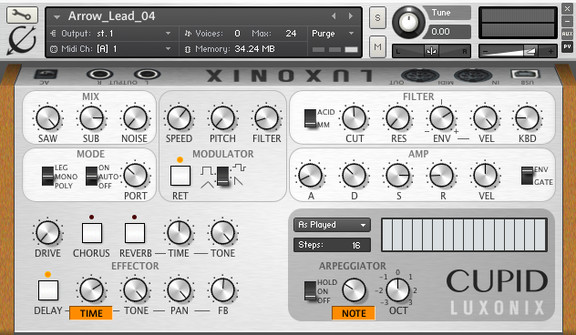 Luxonix has launched Cupid, a virtual analog synthesizer instrument for Native Instruments Kontakt.
Cupid is a sample library for Kontakt of a virtual analog synth. Cupid has easy to use user interface on one screen without a complex menu diving. So you can direct handling and quick sound making.

For good sound quality, we mapped perfectly looped high resolution 24-bit waves into all chromatic key map. So Cupid plays equal sound quality by each keys all octaves.
Cupid features
Easy to use user interface on one screen without complex menu diving.
Mapped high resolution 24-bit waves into all chromatic key map.
Can mix with three waveforms level – Saw, Sub oscillator, Noise.
Uniquely designed Sub oscillator wave.
Very wide value and extreme pitch range Modulator.
Switchable two low-pass filters.
Easy to control arpeggiator, unison and effectors.
166 .NKI / 85 .NKM Kontakt instrument presets for Kontakt 5.
186 samples, 24-bit / 44.1 kHz .NCW format samples (Lossless compression).
About 53 MB installed.
Cupid for Kontakt is available to purchase for the introductory price of $29.90 USD until December 31st, 2013 (regular $39.90 USD).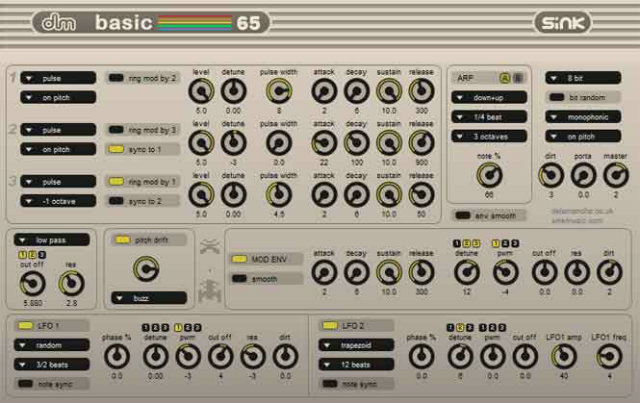 de la Mancha is continuing to put synths that were previously available for purchase online as free downloads. The latest is a monophonic synth, basic 65, inspired by the classic 80s home computer, the Commodore 64 and its legendary SID chip. Building on the waveforms and signal path of this famous chip, basic 65 adds further features and options to take things a step further. Here's more details:
The double arpeggiator allows complex versions of that retro 8-bit game sound and the modulation options inspire experimentation via the mod envelope and 2 comprehensive LFOs. Pulse width modulation, ring modulation and oscillator detune/sync are key ingredients in the signature sound. Throw in some pitch drift, bit drift, a sprinkle of dirt and randomisation and you have a wide range of lofi, chiptune, retro-tastic sounds at your disposal.
This version is the update to the popular basic 64, redesigned from scratch, with many improvements, new features and all new presets. basic 65 was co-developed with sink, who also made the amazing presets.
Features
Monophonic synth in VST format for Windows based hosts
3 oscillators with pulse, saw, triangle and noise waveforms
Pulse width can be modulated by envelope or both LFOs
Each oscillator can be sync'd to another and/or ring modulated by another
Each oscillator has its own ADSR envelope and can be routed to filter individually
Resonant filter with low pass, high pass, band pass and notch modes
2 tempo-sync Arpeggiators in series for complex arp sounds
Arp tempo, range and note length can be adjusted
Modulation envelope can control pulse width and pitch of individual oscillators as well as filter and dirt
2 tempo-sync LFOs with wide range of waveforms, including random
Both LFOs can control pulse width and pitch of individual oscillators
One LFO also controls filter and dirt, the other can modulate the depth and speed of the first LFO
Envelopes are non-linear and can be retriggered from zero or smoothed on each new note
Pitch drift models instability with variable depth and frequency
Options for 4, 6, 8, 12 or 16 bit audio with randomising feature
Developed with SE 1.1, so no problems with multiple instances
128 presets by sink covering arps, leads, bass, drums and lofi sounds
Pricing and Availability:
basic65 VSTi for Windows used to be a payware plugin, but is now free to download. However, if you like and use any de la Mancha plugins, please consider donating to Cancer Research UK in order to help care for and find a cure for cancer sufferers.
Just going through some of the sounds in the Arp 2600 V2 Bank.
Going through yet more of the Arp 2600 V2 patches.
Analog Laboratory is an extremely powerful software synthesizer solution.
First of all, Analog Laboratory offers 4300 legendary classic synthesizer sounds from Arturia's vintage analog recreations: Mini V, Prophet V, CS-80, Jupiter-8, ARP, Prophet VS,Moog Modular V, Wurlitzer and Oberheim SEM V.
But Analog Laboratory goes further by offering a unique interface to tweak them all as well as the ability to edit each of them in depth, in the original synthesizer*.
With the addition of 200 scenes organized by genres, including drum loops, advanced arpeggiation melodies and ways to allocate sounds to different parts of your keyboard, Analog Laboratory is likely to become your favorite synth workstation, constantly feeding your creativity with inspiring ideas.
Grab it now at http://sound-guru.com. A trailer and short demo of The Mangle, a new granular synthesizer plugin for AU on Mac and (soon) VST on Windows.
Key Features:
Animated granular display – Visualize your grain stream. Individual grains move across the waveform in real time. Amplitude, pitch and envelope are also represented.
Drag & drop modulation – Creating new modulations is easy – just drag the modulator to its target, then set the amount with in-place markers showing changes.
Resizable vector interface – The Mangle's interface is rendered dynamically as vectors – resize it with no loss in quality. Handy for live performance.
Dual sequencers – The Mangle is also great for making rhythmic patterns. A pair of sequencers can be used to modulate any parameter.
Multiband waveform display – Quickly and easily see where high, mid and low frequencies are in your audio, for clearer sound setup and tweaking.
Multi-timbral – Each instance of the plugin has 8 full 'slots' each with their own audio & parameters. Map them to any MIDI range for multi-timbral patches.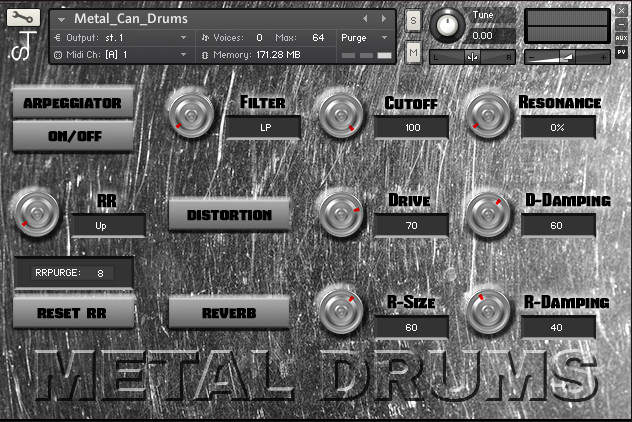 Syntone has announced Metal Can Drums, a virtual instrument library for Native Instruments Kontakt.
Metal is an interesting material. On the one hand, you can hit it to create a sharp attack and barely any release. But on the other hand, you can tap it and get a long, rattly sound.

That is the concept for the Metal Can Drums library: to provide a set of metal drums that give you the best of both worlds. The library comes with 8 round robin, 7-8 velocity layers, 33 different types of hits from 4 different types of cans and custom scripting, including a custom-made arpeggiator.
Metal Can Drums features
8 round robin, 7-8 velocity layers.
33 different types of hits from 4 different types of cans.
Custom-scripting, including an arpeggiator.
48kHz/24-bit quality.
1.35GB (572MB compressed).
Requires Kontakt 4.2.4+ full version.
The library is available to purchase for the introductory price of $20 AUD until December 9th, 2013 (regular $40 AUD).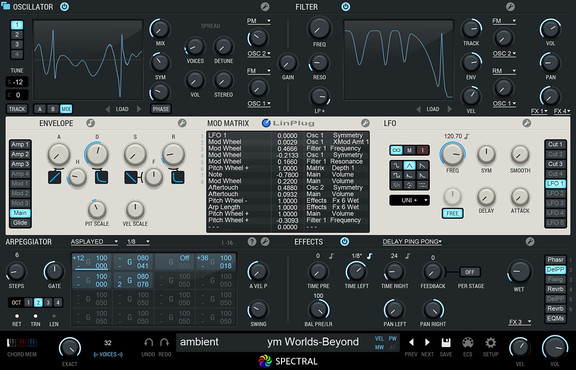 LinPlug has announced the release of Spectral, a new synthesizer instrument plugin for Windows and Mac.
If you are familiar with subtractive synthesis, you will feel right at home with the Spectral, because you can choose an oscillator waveform, choose a filter shape and go on from there.

But Spectral delivers far more options than you would expect from the well sorted user interface. Both Oscillator Waveform and Filter Shape can be edited in depth. The unique audio engine is capable of delivering many sounds never heard before.
Spectral features
Four Oscillator and Filter modules with powerful yet detailed harmonics and filter band editing and modification functions.
Extensive Oscillator and Filter audio rate cross-modulations..
Versatile Arpeggiator with in depth editing of every step, including length, transpose, voice number and Glide.
Each Oscillator and Filter with own dedicated envelope to control its volume or frequency respectively.
Additional 3 freely assignable Modulation Envelopes..
Five LFOs with various waveforms, up to 320 Hz, tempo-sync, poly-, mono- and one-shot-mode, unipolar and bipolar options, integrated delay-attack-envelope, phase, symmetry and smoothing adjustable.
15 slot Modulation Matrix with 35 sources and more than 100 destinations including all important parameters.
Fully recognizes Velocity, Aftertouch, Pitch Bend , Modulation-Wheel and various other MIDI controllers.
A sophisticated effects section containing 15 Effects including various Delays, Chorus, Phaser, Filter, Reverb, Flanger, Gator, Stereo Enhancer, Parametric EQ and Crusher.
Glide / Portamento featuring mono/polyphonic operation, constant Time / Rate operation, Auto-Bend Modes and detailed options on where Glide takes place.
32-voice polyphony (CPU and sound program dependent) and adjustable voice limit.
Supports AU and VST hosts on Mac OS X and Windows PC.
Scaleable user interface on PC.
Comes with 850 presets to get you started.
Spectral is available to purchase for the introductory price of $99 USD until December 31st, 2013 (regular $149 USD).
Try Parsec now: http://shop.propellerheads.se/product…
Download the .reason song file (requires Reason 7): http://cdn.propellerheads.se/products…
The Parsec Spectral Synthesizer is a sound designers dream. With two independent sound engines, up to 1024 oscillators per voice, a wide range of sound sculpting tools, built-in effects and free modulation routing, Parsec is capable of an incredibly wide range of sounds.
In this tutorial, product specialist Mattias shows you how to create a beautiful bell sound from scratch. If you want to go deeper with Parsec, this video is for you.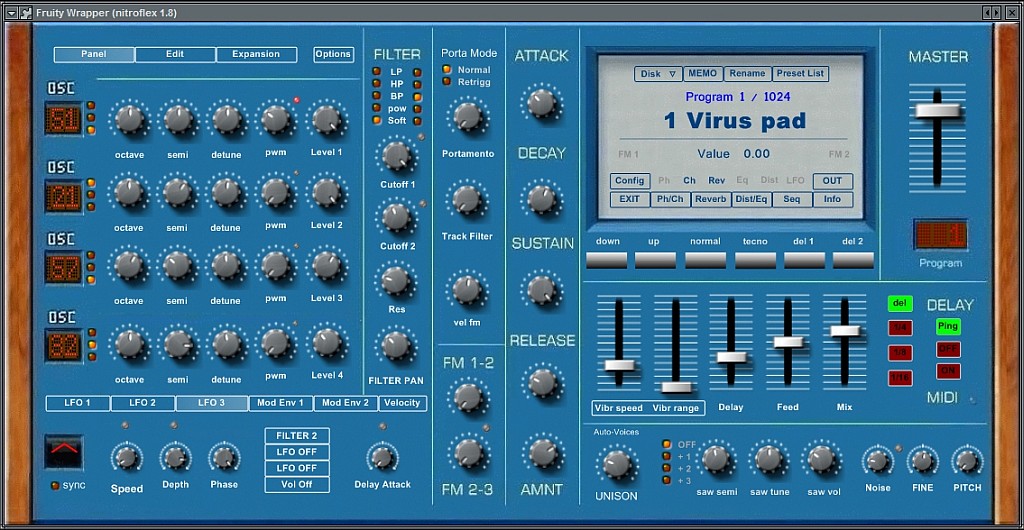 Synthblitz has released version 1.8 of the Nitroflex synthesizer instrument for Windows.
Nitroflex is a powerful, feature packed virtual synthesizer that is well suited for professional music producers, enabling them to create unique waveforms.

The new version introduces 2 new LFOs, 300 new presets for a total of 1024, and other new features.
Changes in Nitroflex v1.8
300 new presets for a total of 1024.
2 new LFOs for a total of 3 LFOs.
Added in "edit" panel "single cycle waveform from disc".
Fixed "waveform random generator".
Adding controls for multiplication and subtraction (in edit panel).
New "Output" for create 3d sound.
New "Options menu" in the principal panel.
New Vibrato setting (vibrato attack,delay,speed,range,velocity and more).
The main panel has been modified to simplify access to functions.
Solved the problem in Cubase (preset recall).
Added new LP filter.
Added 80 new waveform files in the folder.
interpolation and normalization of each waveform before and after the mathematical operations.
Nitroflex is available to purchase for 49 EUR.
Quick groove sound check of custom & stock sounds on Korg's R3 Virtual Analog Synthesizer
The R3 is marketed as a "Synthesizer/Vocoder", and the included gooseneck mic lets you take full advantage of its 16-band vocoding capabilities right out of the box. Simply enter Vocoder mode for access to all of the vocoder's variables that work with an internal or external carrier signal. It also lets you record up to sixteen 7.5-second Formant Motion sequences, allowing you to play saved phrases—albeit at a fixed tempo—through the vocoder without external input. Whether you're looking to channel the spirits of sci-fi robots, make a guitar do backing vocals or are in need of some unconventional choral accompaniment, the R3's pro-grade vocoder earns its place in both the mix and the title.
Each of the 128 editable patches can contain up to two timbres, sharing the somewhat meager polyphony between them. These can be layered or divided across the keyboard and can be assigned to individual MIDI channels. Each of these two timbres contain all the capabilities listed, so despite being well suited for mono and lead styles it's possible to get surprisingly complex, evolving pads which belie its 8-note polyphony. This is best displayed when using each timbre's modulation sequence, which lets you record a variable's knob changes and can yield complex changes in a single key press. There's also a 6-mode arpeggiator with a toggle button and latch control to further animate the sound.
Every timbre consists of two LFOs, two oscillators, a wave-shaper with sub-oscillator options, two insert effects, and three envelope generators for filter, amp, and one for assignment using the Virtual Patch system. This feature lets you define up to six additional routings, giving the unit a fitting touch of modular dynamics which can add subtle dynamics or make sounds spiral off into mayhem. Unfortunately the routings are limited, but most of the logical sources and destinations are included. The two oscillators cover a wide range of traditional analog waveforms with some useful extras (osc1 includes 64 DWGS preset waveforms and the vowel-like Formant wave) and allow a number of interactions between them: ring mod, VPM and unison, among others. External signals can also be processed through the filters, gates and effects. All of this is wrapped up with one master effect and a variable 2-band EQ with some other fine-tuning mods to polish the finished sound.
All of this programming demands an intuitive interface, and although it involves some menu-diving, this is handled by selecting the category with a rotary encoder and then editing individual variables with the 4 main pots. Though it isn't "per-knob" editing, each pot is encircled by a slick-looking LED halo which shows the value regardless of the knob's current position. Each knob also has its own small LCD screen which can show the variable or its value by hitting the shift key. This combination along with the Original Value light takes much of the drudgery and guesswork out of building your own patches, but it's recommended to load up the included software editor since some sub-variable and effects tweaks can seem cryptic at first.