Giles Reaves: Space Music Improv on the Synapse Antidote Synthesizer.
"Testing my new Nikon D600, and the new Synthesizer from Synapse Audio: Antidote (for Reason 6.5). I created the patch from scratch in real time, as shown in the video. To keep in the "space music" theme, I used my night time time lapse footage from a recent trip through Southern Utah and Northern Arizona (including shots at Arcosanti, AZ)."
Consisting of HALion Sonic, Padshop Pro, Retrologue, Hypnotic Dance, Triebwerk and Dark Planet, the Absolute VST Instrument Collection offers thousands of sounds, advanced technology and state-of-the-art sound design for contemporary music production, composing and live performance. Absolute combines exceptional quality and premium value at a fantastic price.
Key features
• 6 high-quality VST instruments comprising thousands of presets
• HALion Sonic is Steinberg's premier VST workstation, featuring the latest sampling and synthesis technologies, a world-class library and an intelligent user interface that excels in the studio as well as on stage.
• Padshop Pro introduces a new way of granular sound design. Get yourself ready for out-of-this-world atmospheres and far-out effects.
• Zero Gravity is the exceptional expansion pack for Padshop Pro and comes with 250 new presets and a fully loaded new SoftGrain Wave ROM.
• Retrologue offers old-school analog synth sounds and biting sonic blocks and is ideal for creating fat and funky lead and bass sounds.
• Hypnotic Dance is a treasure trove for electronic music producers with solid bass lines, cutting leads and beautifully textured pads.
• Triebwerk is the go-to choice for club-worthy dance sounds including soaring synths, four-to-the-floor drum kits and queasy vocals.
• Dark Planet is best-suited for cinematic scores and musical excursions, comprising creepy sounds, shattering loops and eerie instruments.
• VST 3, VST 2 and AU host compatibility.
• Cross-platform 32/64-bit for Windows and Mac OS X Intel.
• Steinberg USB-eLicenser included.
More info
www.steinberg.net
More info here – http://www.image-line.com/documents/news.php?entry_id=1348098765&title=fl…
Features include:
Audio tracks – Import WAV/MP3/AAC/AudioPaste & iPod library.
Wave editor – Cut, trim, normalize, reverse, fade in/out
Multi-tracking – Up to 8 track simultaneous recording
FL Studio Mobile HD – Now a Universal App
iPad retina display – Supported
Dropbox – Export to Dropbox. Import from Dropbox App.
Library – Amped Guitar & Bass pack in the shop
ZIP – Export improved to include all custom instruments, audio recordings and the project
NOTE: To load an FL Mobile 2 projects in FL Studio for Windows you will need FL Studio 10.8 or higher. In addition to use the Amped expansion you will need to delete the existing FL Mobile Samples folder, from the Shared Data folder (C:\Program Files\Image-Line\Shared\Data\FL Mobile Samples) then re-download it from the content library.
Where's ANDROID will it EVER happen?! Yes. see here…
http://www.youtube.com/watch?v=6kPX5xTPRKU&feature=plcp
Mode Machines App is used as a MIDI controller with virtual instruments.
Coming soon!
D16 Group has announced the availability of LuSH-101 (formerly known as SHIOITOR), the long awaited authentic sounding virtual synthesizer for Windows and Mac.
LuSH-101 is a synthesizer created from modules that can be found in many modern virtual synthesizers, all combined into a single compact and logically intuitive design. This basic simplicity combined with its multilayer architecture turns it into an easy-to-use but extremely powerful instrument that can be programmed and tweaked quickly.

The multilayer architecture guarantees that both the sound design possibilities and number of unique situations in which LuSH-101 can be used are virtually limitless. Any combination of keyboard splits, layers, and multitimbrality is possible with just a single instance of LuSH-101. Each layer working as an independent synthesizer with its own polyphony, parameters, enhanced arpeggiator, and a palette of eight insert effects.

LuSH-101 comes complete with a powerful built in mixer, complete with layer-independent parametric equalizers, compressors and three send effects: reverb, delay and chorus.

Innovative oscillator algorithms developed by D16 Group make LuSH-101 sound exactly like a sampled hardware analog synth. Filters with constant resonance across the entire frequency domain has natural warmth and character.

A generous factory library contains more than 1600 presets of every type, while intuitively designed preset browser keeps everything organized and easy to locate.
LuSH-101 for Windows and Mac (32 & 64bit VST/AU) is available to purchase for 149 EUR/$199 USD/£119 GBP incl. taxes (if applicable). LuSH-101 is now also included in the Total Bundle. Discounts are available to registered product owners from their User Area at the D16 Group website.
Full tutorial of the UES SweepMachine, designed specifically for creating long dramatic noise sweeps. 4 presets and 3 noise generators included. UES SweepMachine is the only tool ever dedicated to create noise sweep. As for all the Electro Suite instruments, it's ultra easy to use: just trigger a MIDI note, select one of the four presets, set the number of bars you want for the sweep duration and that's it ! Three noise generators are available including a Sub Noise and a Metal one.
► Tutorials UES DirtyMONO
Overview : http://youtu.be/E5DtKRV0pu4
Phraser Section : http://youtu.be/EVg-SxTACIc
FX Section : http://youtu.be/ICCYDKnSTgo
Envelope Section : http://youtu.be/W0FsbGBQvnw
► Tutorials UES DrumShaper
Overview : http://youtu.be/3wrOF6GR72s
Bass Drum : http://youtu.be/KT0LEbMPde4
Snare Drum : http://youtu.be/iDZm3APMI7E
Clap : http://youtu.be/eF45erWUUBc
HiHat : http://youtu.be/zw72RC1Dgxs
Pattern : http://youtu.be/IU2Gw2k2sJU
► Tutorial UES MissionControl : http://youtu.be/YfGjECJxPkA
❐ UVI Official Website : http://www.uvi.net
GET ELECTRO SUITE
❐ Download : http://bit.ly/electro-suite_download
❐ Buy DVD : http://bit.ly/electro-suite_DVD
❐ Further info : http://bit.ly/uvi-electro-suite
Details on the Unique synth as stated by Sugar Bytes themselves:
Unique Synthesizer

The name says it all
The Unique synthesizer specializes in state-of-the-art vowel sounds and mighty, mighty analog keyboard sounds. With Unique, it takes just a rightclick on a control and complex parameter rides with internal and external controllers become a joyride. And that's what they should be, after all.
The soul of Unique: Oscillators
The source of the Unique's truly unique sounds are its direct and powerful sounding oscillators. The Triple Saw and the Triple FM algorithms cover such a wide range of sounds, we spent extra hours to make all this available by using just a few controls. The noise oscillator with built-in filter can be used in a tonal mode, the right choice for the vowel filter.
The passion of Unique: Filters and their modulators
The actual intention behind this project also became its outstanding feature: the Vowel Filter mode. The oscillator sound can be transformed to vowel formants in many different ways. The juicy filters can also be used in classic mode, so Unique is fitted for standard situations as well. Each of the five filters (with internal analog signal processing) again has five individual modulators for creating oustanding Vowel and Filter movements. The modulators can be triggered in many different ways: for example with the lowest note played, the first note played or even with the sequencer clock or the arpeggiator. Yet another stunning Unique feature: The internal LFO´s have fade algorithms for rate and intensity.
The sex of Unique: Controllers and Effects
The internal controllers section contains a recordable XY field and is very easy to manage with just a rightclick on any control. Feedbacks go from 'the Controllers section rocks!' to 'the Controllers section just blows me away!' The effects section contains two chained multi effects, each of them with six effect algorithms. So once you've built your sound, there's tons of sound polish.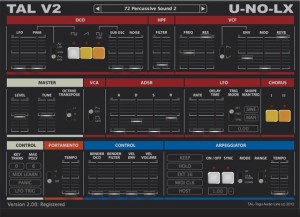 Togu Audio Line has announced the release of TAL-U-NO-LX V2, an updated version of the virtual synthesizer instrument modeled after the Roland Juno 60.
We released version 2.0 of TAL-U-NO-LX. This version includes an improved filter that is more accurate and warmer, especially at extreme values with a lot resonance. Old presets are compatible with this version. We released it as a new version that can run parallel to the old plugin.

The chorus was callibrated too. This version includes some more non-linear components and needs a bit more CPU, but we think the improved sound is worth it. This update is free for all TAL-U-NO-LX users!
Changes in U-NO-LUX v2.0
Improved filter sound.
Improved and new calibrated chorus.
Portability mode. Also reads presets that are saved in the plugin sub folder: "/TAL-U-NO-LX/presets/".
The U-NO-LX plug-in for Windows and Mac (VST/AU) is now available for the reduced price of $40 USD for an unlimited time.
In this Video Neil takes a detailed look at the advanced features of the Arturia Mini V, An expanded software emulation of the classic MiniMoog Vintage Synthesizer.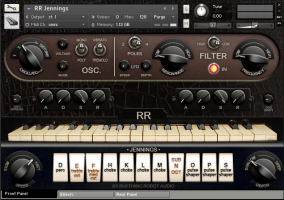 Rhythmic Robot Audio has released Jennings, a Kontakt software version of an early all-valve synthesizer designed in 1946.
The original Jennings Univox was played by The Beatles during their early sets at the Cavern in Liverpool, and by the Tornadoes, who used it to create the signature synth sound of their 1962 synth-pop hit Telstar.
It was designed by Tom Jennings who went on to form Vox amplifiers, and comprised a valve-based oscillator which could be run through a series of wave shapers, filters and EQs controlled by tab switches on its front panel, capable of creating over 2000 variations on the basic waveform. Vibrato added movement to the sound, while a knee lever controlling volume allowed the player to manage swells and tremolo wobbles in real time. The sound was output through a dedicated speaker cabinet into which the keyboard packed for transportation, making it a real alternative to other more cumbersome valve-based synthesisers like the Hammond Novachord for gigging bands.
The Jennings Univox was similar to the Clavioline, another valve-based portable synth, but differed in its use of a sawtooth variant as its source waveform where the Clavioline used a square-wave variant. It is this valve-based sawtooth, rich in harmonic overtones and minor valve instabilities, that gave the Univox its uniquely warm analogue sound.
The Rhythmic Robot software version of Jennings starts with a meticulous recreation of the original instrument based around 24-bit, 20-second chromatic samples of a professionally restored Univox and using a combination of multiple sample sets and convolved IR maps to simulate the behaviour of all of the Univox's control tabs. Key click samples and a full sample set of the "Sub Octave" tab can be trimmed in level relative to the main wave forms, allowing more comprehensive balancing of the Univox's tone.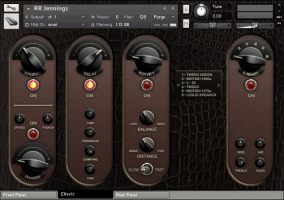 For musicians wanting to explore the start of the synth era with complete authenticity, a "compliance mode" can be enabled to allow the user quickly and easily to dial in patches which conform exactly to the standards of the 1946 original. Patches designed in "compliance mode" sound indistinguishable from the original hardware Univox. However, for anyone wanting to go beyond the limitations of the original, Jennings extends the capabilities of the Univox considerably, adding polyphony, dual oscillators (drawing on different sample sets for a richer tone), a multi-mode resonant filter with LFO, precise control over envelopes (including attack curves) and a comprehensive effects section incorporating Chorus, Phaser, Echo, Rotary Speaker simulation and Amp Cab modelling.
Accessing these effects and additional controls allows the user to create patches using a familiar subtractive synthesis model, but drawing on Jennings's front-panel tabs to create a base palette of over 2000 "oscillators". Any tab combination can be used as the starting point for a patch and then doubled up, detuned, filtered, effected and so forth. The result of this versatility is that Jennings is capable of creating both authentic, 1946-accurate tones in "compliance mode", and modern synthetic patches with a signature valve character, all from one clearly laid-out graphic UI.
Jennings is available now from www.rhythmicrobot.com priced at £59.95.
Features:
24-bit, 20-second samples of a professionally-restored Jennings Univox.
All-valve waveforms.
Convolved IR maps and multiple sample sets combine to recreate all front-panel tabs.
One or two oscillators, with detune and Osc Spread control for stereo width.
Multi-mode resonant filter switchable between 2-pole (12dB/octave) and 4-pole (24dB/octave), high or low pass.
Filter and Amplitude envelopes; Amplitude envelope with specific attack-curve control (for "sucky" or "snappy" attacks).
Filter LFO and switchable Amplitude (tremolo) / Pitch (vibrato) LFO, with adjustable ramp time.
Full effects section with Chorus, Phaser, Delay, Rotary Speaker and Amp Cab simulator.
Stereo Widening in combination with Osc Spread maps keys across the stereo sound field.
"Compliance Mode" makes creating authentic 1946-style patches simple.
Jennings requires Kontakt version 4.2.3 or later (including Kontakt 5). Not compatible with Kontakt player.
(Via KVR)