Here's just one of the many interesting new products introduced at the AES show over the weekend. It's the Slate Digital Virtual Mix Rack, an emulation of a 500 series rack starting off with 4 modules: a Neve-style EQ, an SSL style EQ, a VCA compressor and an FET compressor.
Slate Digital is pleased to announce a preview of the VIRTUAL MIX RACK plugin. The VMR is a modular channel strip that comes bundled with the most authentic recreations of classic analog EQ's and Compressors. Check out www.slatedigital.com for more information.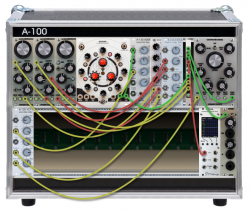 ModularGrid – a site that lets you design modular synthesizers, based on existing modular modules –  has introduced a new feature. TrueGrid is a web-based modular synthesizer which lets you create, listen and share modular synth patches. You can create your own patches by dragging cables from module outputs (green) to module inputs (blue) sockets.
So far only Google Chrome is supported
Testing sounds (stock and non stock), modulations, filters and general ooomphh on Korg's virtual analog synthesizer.
Recorded in 24bit/48Khz uncompressed wave – enjoy!
Details about the Korg R3:
Occupying the middle ground in Korg's MMT lineup between the flagship Radias and the ultra-portable microKorg XL, the R3 delivers sophisticated virtual analog power in a compact yet sturdy package. Its 37 full-sized, velocity-sensitive keys and four assignable knobs make it a lightweight yet flexible performance instrument for shaping classic modeled sounds with a synthesis engine in the spirit of the MS2000.
The R3 is marketed as a "Synthesizer/Vocoder", and the included gooseneck mic lets you take full advantage of its 16-band vocoding capabilities right out of the box. Simply enter Vocoder mode for access to all of the vocoder's variables that work with an internal or external carrier signal. It also lets you record up to sixteen 7.5-second Formant Motion sequences, allowing you to play saved phrases—albeit at a fixed tempo—through the vocoder without external input. Whether you're looking to channel the spirits of sci-fi robots, make a guitar do backing vocals or are in need of some unconventional choral accompaniment, the R3's pro-grade vocoder earns its place in both the mix and the title.
Each of the 128 editable patches can contain up to two timbres, sharing the somewhat meager polyphony between them. These can be layered or divided across the keyboard and can be assigned to individual MIDI channels. Each of these two timbres contain all the capabilities listed, so despite being well suited for mono and lead styles it's possible to get surprisingly complex, evolving pads which belie its 8-note polyphony. This is best displayed when using each timbre's modulation sequence, which lets you record a variable's knob changes and can yield complex changes in a single key press. There's also a 6-mode arpeggiator with a toggle button and latch control to further animate the sound.
Every timbre consists of two LFOs, two oscillators, a wave-shaper with sub-oscillator options, two insert effects, and three envelope generators for filter, amp, and one for assignment using the Virtual Patch system. This feature lets you define up to six additional routings, giving the unit a fitting touch of modular dynamics which can add subtle dynamics or make sounds spiral off into mayhem. Unfortunately the routings are limited, but most of the logical sources and destinations are included. The two oscillators cover a wide range of traditional analog waveforms with some useful extras (osc1 includes 64 DWGS preset waveforms and the vowel-like Formant wave) and allow a number of interactions between them: ring mod, VPM and unison, among others. External signals can also be processed through the filters, gates and effects. All of this is wrapped up with one master effect and a variable 2-band EQ with some other fine-tuning mods to polish the finished sound.
All of this programming demands an intuitive interface, and although it involves some menu-diving, this is handled by selecting the category with a rotary encoder and then editing individual variables with the 4 main pots. Though it isn't "per-knob" editing, each pot is encircled by a slick-looking LED halo which shows the value regardless of the knob's current position. Each knob also has its own small LCD screen which can show the variable or its value by hitting the shift key. This combination along with the Original Value light takes much of the drudgery and guesswork out of building your own patches, but it's recommended to load up the included software editor since some sub-variable and effects tweaks can seem cryptic at first.
Overall, the R3 is a fun, good quality, affordable synth for anyone who enjoys sculpting sounds using traditional subtractive synthesis, and offers enough complex features and character to earn its place in the mix. Great to program and built with portability in mind, the R3 has what it takes to rock the stage!
French audio developers UVI have announced the immediate availability of Mello, a free software recreation of the iconic tape-based Mellotron.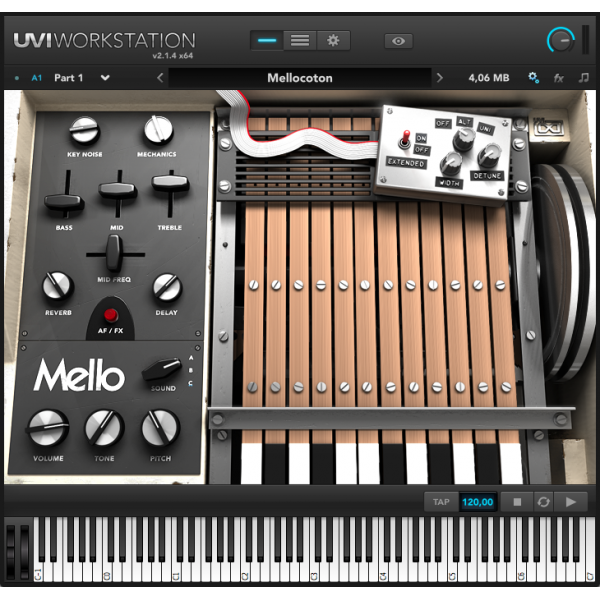 The Mellotron was made famous by John Lennon, and in the spirit of the Lennons' ongoing humanitarian effort, UVI are pledging to match donations made by its customers to the Japanese Red Cross to help survivors of the Fukushima earthquake over the next three months, during which time Mello (normally $99) will be available for free.
For those unfamiliar with the Mellotron, it was one of the earliest samplers and used tape to capture the desired sounds. When a key was pressed, the Mellotron would pull a section of tape through a magnetic play head to produce a sound. Originally built in 1963, the Mellotron became popular throughout the '60s and 70s with bands and artists such as The Beatles, Pink Floyd and David Bowie, and although they fell out of fashion for a time, they have been used more recently in big tracks from Radiohead and Vampire Weekend.
UVI have multisampled dozens of original tapes to create the most faithful recreation of the original intstrument. Being a sampler, the Mellotron had a whole range of available sounds and Mello provides 28. These are: Brass, CelestaAndVoice, Cello1, Cello2, ChoirFemale, ChoirMale, ChoirTron, ChurchOrgan1, ChurchOrgan2, ChurchOrgan3, Clarinet, Flute1, Flute2, Guit12Str, GuitElectricA, GuitElectricB, GuitSpanish, Harp, Oboe, Piano, Sax, Strings1, Strings2, Strings3, Strings4, Vibraphone1, Vibraphone2, and Viola.
Free iLok from UVIUVI's Mello requires an iLok, which UVI are also doing a great deal on. If you buy an iLok from their web site you'll receive a coupon for the value of the iLok plus shipping ($78), which can then be redeemed against any future purchase from the UVI store.
For more information on the iLok deal, go here: http://www.uvi.net/en/store/ilok-smart-key.html
For more about Mello, go here: http://www.uvi.net/en/vintage-corner/mello.html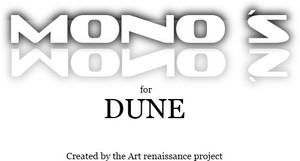 The Art Renaissance Project has announced the release of MoNo's, a new full soundset for the DUNE virtual synthesizer instrument by Synapse Audio.
128 brand new presets. This time we offer just lead sounds to start jamming at once.

Sometimes things have to be easy. Sometimes we love the things simple. And this time you will have this with this soundset. Course this time it is all MONO.

You would not believe how a mono DUNE sound can rock you. Have it easy, and now have it MONO:)
The soundset is available to purchase for the introductory price of 18 EUR for 1 week (regular 21 EUR). A free demo bank with 40 patches is available to download.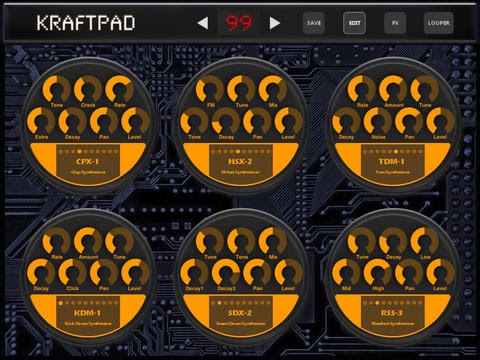 Kraftpad is a Virtual Analog Drum Synthesizer which is capable of creating your own electronic drum sounds by offering 10 different kinds of dedicated synthesizers to easily create each drum sound.
Main Features
– Virtual Analog Drum Synthesizer (no samples used)
– 10 Different kinds of dedicated synthesizers to easily create each drum sound
– Kick, Snare, Rimshot, Clap, Hi-hat, Tom, Conga, Claves, Cowbell, Cymbal
– 6 Pads (6 Voices)
– 99 User editable & storable programs
– Master Reverb FX
– Real-time Looper for Live Performance
– Wave file export for iTunes File Sharing
– Exported files can be re-loaded to Looper for overdubbing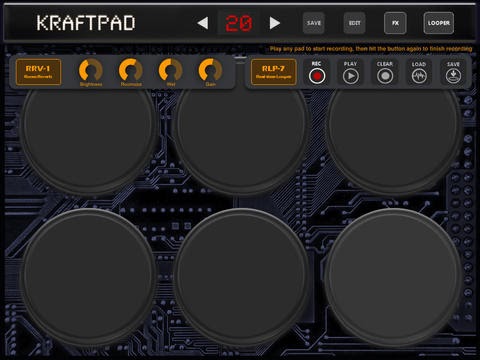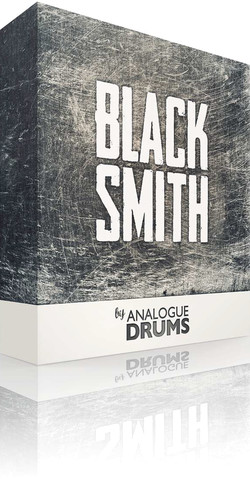 Analogue Drums has launched BlackSmith, a virtual drum instrument for Native Instruments Kontakt.
BlackSmith is a modern metal workhorse with an aggressive yet toneful sound. This kit will lay an unshakable foundation for any metal track, or any other genre where a tight punchy articulate kit is called for.

BlackSmith gives you several mic layers to blend to your taste, easily taking the sound of the kit from clean and tight to spacious or dirty with the push of a fader. Three swappable snare variations help fit the kit to your track.

The kit we sampled is a top-of-the-line Sonor SQ2 Acrylic set, with three snare options, and classic Zildjian A Custom cymbals. The kit was sampled in Melbourne's Sing Sing South studio, a medium sized tracking room.
BlackSmith features
Multi-sampling: each kit component contains up to 7 velocity layers for expressive detail and dynamics, and 6x round-robin hits for every single zone for realistic performances.
Mic layers: 6x individually controllable mic layers: Close mics, Overheads, Room mics, Smash mic, Kick Sub, and Snare-Bottom
eKit mode switch to 'eKit' mode when using a Roland V-Drum kit, or leave set to 'Keyboard mode' for direct MIDI sequencing. The layout is General MIDI (GM) compatible.
Output routing: stereo and multi-channel output versions provided.
Sensitivity control: increase the sensitivity of the kit for more intricate and subtle performances or leave it set to full dynamic range for heavier tracks.
Presets: for quickly accessing different sounds.
Trigger maps: for sound replacement: kick, snare, toms – each with separated mic layers
BlackSmith is available to purchase for $29 USD. Requires Kontakt 4.2+ full retail version.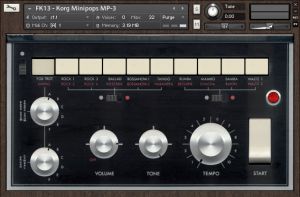 Forgotten Keys has released FK13, a virtual Korg Mini-Pops 3 (AKA Univox SR-55) analogue drum machine.
The FK13 features isolated multi-samples of each drum sound and re-creations of all the internal rhythm patterns. These patterns can be combined with each other like the original. The volume, panning, tuning and mute status of each sound can be adjusted, and the MIDI input and audio output routing can be customised. The interface is designed to have an authentic layout.
Price: £3.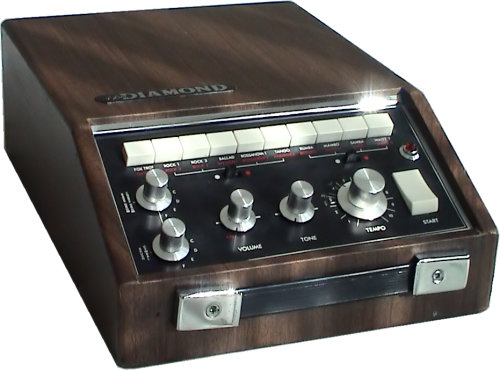 The Korg Mini-Pops 3 (also sold as Univox SR-55 and Aria Diamond) should not be confused with the drum machine used by Jean-Michel Jarre on his Oxygene album as you often see misstated in online auction adverts. For that, you need the Mini-Pops 7. No, the MP-3 will not create the famous Jarre rhythm but it will create some nice retro analogue sounds and rhythms. Of the nine sounds available most are similar to the MP-7 with perhaps the exception of the bass drum and cymbals. Indeed, the drum sounds are created using inductor coils, or tuned resonant tanks as they are often called just as on the MP-7.
Rhythm-wise, there are twenty named rhythms but the foxtrot/swing rhythm requires more explanation. It has 36 variations of its own due to the two knobs below it that select between six drum and six cymbal variations. The other rhythms are divided into two groups, each with its own upper/lower selector switch, so more combinations are available than on the MP-7¹. As usual, rhythms can be combined.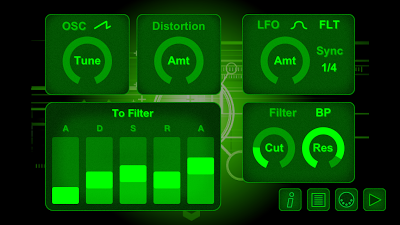 Destro is another monophonic virtual analog synthesizer and goes on where AnaMini ends. Once again a monophonic virtual analog synth, Destro features one VCO, two LFOs, a noise generator, a VCF and a VCA. On top of the synthesizer, Destro also provides a programmable step sequencer so you can create your own patterns and songs. Furthermore, Destro adds a noise generator and foldback distortion unit, as well as a 3-part drum synthesizer module!

Features (Synthesizer)
One main oscillator (VCO) with selectable wave type (saw, square, noise and sine) and scalable within the range of -1 and +1 octaves.
Two low frequency oscillators (LFO) with selectable wave type (saw, square, noise and sine) and selectable frequency/rate and depth. LFO1 modulates VCO1 frequency while LFO2 modulates VCF cutoff frequency. LFO's synchronise to MIDI/sequencer tempo at 1/32, 1/16, 1/8, 1/4, 1/2, 1, 2, 4, 8 or 16 notes.
One VCA with fully customizable ADSR(A) envelope.
One 24dB/octave VCF with three filter types (Low Pass, High Pass and Band Pass), selectable cutoff frequency and resonance and a fully customisable ADSR(A) envelope.
One noise generator with fully customisable ADSR(A) envelope.
Foldback distortion unit with adjustable threshold.
5 factory presets.
10 custom presets.
Features (Sequencer)
4 beats-per-pattern, 4 steps per beat step sequencer.
Adjustable tempo from 20-200BPM.
Adjustable swing.
Supports note on, note off and legato commands.
Supports MIDI Clock IN synchronisation
5 factory patterns.
10 custom patterns.
Features (drum synthesizer)
Bass drum, snare drum and hihat parts, using the same synthesizer technology as the main synthesizer.
Each part has its own track in the sequencer.
Note: first content update will follow soon and will contain the following features:
3-Octave keyboard/ribbon controller
AudioBus support
Audio record and export function
Anaphobia Destro is priced at $1.99.
For full details visit: http://bit.ly/YI0HgY
Garritan Instant Orchestra is about instantly producing orchestral music very quickly and easily. Our goal is to provide an instantly playable orchestral library with many pre-packaged orchestral sounds.
This library was designed to be an effective shortcut to reach your musical goals. Consider it as a Swiss army knife for musicians – a clean, simple, multi-purpose orchestral tool that will allow you to do many things in an instant. Moreover, it is affordable and fulfills our mission of simplifying and democratizing making music and orchestrating.
Instant Orchestra is for those who do not want to spend time building orchestrations with one instrument or section at a time. It provides pre- packaged groups of instruments, combined sections, orchestral effects, and mood-based presets. Instant Orchestra is designed for those who know little about orchestration or do not have the time to build them. The idea is to provide a large variety of lush, playable orchestrations with the least time and effort.
This is mostly to show what is available and what IO is about. It does not even touch the amount of patches one can use. Often I just randomly hit the notes with the mouse in some cases. I did not want to make a composition, just simply show some stuff from each folder including big multis that are presets to give instant gratification.
I hope this clears up any misconceptions. It is a swiss army knife for orchestra.