UVI has released Digital Synsations, a new virtual vintage synths collection inspired by four 90s classic keyboards – the Yamaha SY77, the Korg M1, the Roland D50 and the Ensoniq VFX.
❐ Buy Digital Synsations : http://bit.ly/digital-synsations
❐ UVI Official Website : http://www.uvi.net
❐ UVI Official Blog : http://blog.uvi.net
A brand-new massive library inspired by four 90s classic keyboards — the Yamaha SY77, the Korg M1, the Roland D50 and the Ensoniq VFX : UVI Digital Synsations
Digital Synsations includes over 500 patches expertly programmed on a fully restored Yamaha SY77, Korg M1, Roland D50 and Ensoniq VFX' used by many of the greats including Depeche Mode, The Cure, Pet Shop Boys, Vangelis, Brian Eno, Toto, 808 State, Jean Michael Jarre and more.
We deeply multi-sampled these custom patches using top-shelf equipment and edited them to perfection before sending them off for professional mastering. These sonics became the foundation for our new hybrid instrument and combined with the UVI Engine give you the true character of these classic synths with all of the peculiarities and programming by products intact. Not only that but you get them in an extremely easy to use and fast to edit environment complete with all the features you expect from a modern virtual instrument.
If you're looking for a new take on the 90's sound, or just some new classic synth inspiration then look no further.
———————————————————————————
* UVI is not affiliated, endorsed or sponsored by the Yamaha Corporation, the Korg Corporation, the Roland Corporation or the Ensoniq Corp. All trademarks are held by their respective owners.
** iLok required
Sneak peek at Native Instruments' newest software synthesizer, Monark: a re-creation of classic analog monosynths like the iconic Minimoog Model D.
Matt Cellitti has been working with Monark for awhile and made this sneak preview video for us giving a brief tour of how this synth is laid out and how to use it. He also demos some of the presets to give an idea of the kind of sounds this new/old instrument is capable of.
For more info: http://blog.dubspot.com/monark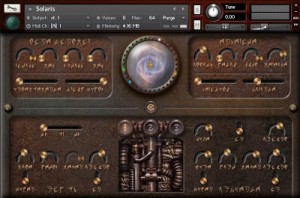 A new instrument from Hollow Sun
"If you have even the vaguest interest in anything cosmological, you will no doubt be aware that NASA and other international space agencies have been sending probes out into the deepest recesses of our solar system and, with the aid of telescopes as well, have been recording the radio waves emitted by our universe and converting them to audio. The music of the spheres as was once referred to in the middle ages … or the Sounds Of The Universe … or SOTU.
It's intriguing and beguiling stuff – long evolving soundscapes that rumble and warble and bleep and phase and swirl, the kind of thing you might expect from an exquisite album of abstract electronica or 'chill out' music. I did contact NASA to license these recordings but they weren't keen. Well… bollocks to them because…
It's all a con, a cunning ruse – there's a race of impish aliens out there who have a machine that generates these sounds which they broadcast around the cosmos to confuse us earthlings …
And we have laid our hands on it and recreated it for Kontakt 4…"
Heat – Music Synthesizer App for Android, available in the Google Play Store:
https://play.google.com/store/apps/de…
A virtual analogue subtractive synthesizer with online Preset Browser, everyone can share sounds directly from within the app. The synthesizer has full VST integration, use the Heat Android App as a controller for your VST plugin, design patches while on the way and use them later in a VST sequencer of your choice.
Everything you hear is recorded straight from the line out of a Google Nexus 7 Android 4.2 tablet.
For more info visit http://heatvst.com
Design sounds while on the way, store sounds on your local Android Device or use the Collaborative Preset Manager to store your sounds online, making them available to everyone.
Control the VST plugin from your Android device in realtime
See parameter automations from your sequencer in realtime on your Android device
Use the Collaborative Preset Manager on your Android Device to select from a big variety of sounds, made from other users all over the world. Select sounds on your Android Device, while connected, they are immediately loaded by your VST plugin.
Use the integrated keyboard of your Android Device to send midi events to your sequencer
Subtractor, the original Reason synth, still packs a punch! In this tutorial we'll learn the basics of this virtual analog classic by creating a synth bass from scratch. Regardless if you own Reason, Reason Essentials or if you're just trying out the demo, this should get you started creating your own sounds with Subtractor!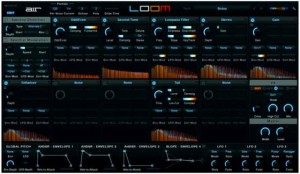 AIR Music Technology has expanded their virtual instrument offerings with the Vacuum Pro Polyphonic Analog Tube Synthesizer and Loom Modular Additive Synthesizer. They tell us that both programs are compatible with 32- or 64-bit Mac or Windows systems, and both support the new AAX plug-in format, as well as traditional VST, AU, and RTAS formats. Here's their press release with all the details…
Vacuum Pro is a polyphonic analog tube synthesizer that travels light-years beyond the original monophonic Vacuum, first developed by the AIR team as part of the Pro Tools® Creative Collection from Avid®. The new Vacuum Pro is polyphonic, offering up to 160 oscillators plus substantial improvements in both horsepower and features. Loom is an entirely new modular additive synthesizer. While both of these new synthesizers offer an amazing amount of detailed control, each also provides programming aids and shortcuts to create custom user-created sounds quickly. Each contains 250 presets created by the AIR team. The Eco (economy) mode reduces the draw on the host processor, with minimal effect on the final sound.

"We offer the customer the best of both worlds," said Samara Winterfeld, Principal Product Manager, AIR Music Technology, "The organic sound of a vintage/analog synths, combined with the flexibility/capability of a virtual instrument."
Vacuum Pro
Polyphonic Analog Tube Synthesizer
The Vacuum part of the name Vacuum Pro relates to the six tube circuits that lend a particularly analog flavor to each of the main synthesis modules–oscillators, filters, mixer, etc. Vacuum Pro combines this vintage, organic sound with the versatility of up-to-date virtual instrument control. The interface is populated by single-function knobs, delivering a vintage feel that reflects the rich analog flavor of the instrument. Modulation effects, delay, and a classic arpeggiator add motion and depth to the sound.
Vacuum Pro sounds are created using one or two parts. When creating parts, the Smart Sound Randomizer allows new values to be created instantly for any or all selected modules. This makes it easy to keep an interesting oscillator sound, for example, while quickly trying out new filter settings. In addition, the Parts Lock feature allows the current settings of any modules (both parts) to be retained when changing sounds, providing a fast way to combine elements from different patches. Best of all, the Easy Sound Design Page reduces the dozens of front panel knobs down to eight, grouping related controls together for rapid results.
Loom
Modular Additive Synthesizer
Loom weaves together a unique sonic spectrum, offering between 128 and 512 individual additive harmonics. Using an innovative modular approach, Loom has made additive synthesis both powerful and easy to control. Loom provides 30 sound modules, each with a distinct function–moving filter, octaver, repeater, second tone, etc. Up to 10 of these modules can be connected in a string. Spectral modulation, extensive envelope control, and multiple LFOs deliver deep control. Onboard effects provide the finishing elements for each sound.
The Smart Morph Page is where Loom really comes to life. In addition to real-time knobs offering sound, dynamic, modulation, and effect control, this simplified editing page also opens up the extensive morphing capabilities of the Loom additive sound engine and effects. Four assignable quadrants on an X-Y display provide incredible morphing control. Custom morphing paths can be plotted using points and segments. These morphing paths can then be automated, placed under MIDI control, and even synced to the tempo of the host program, creating a morphing pattern that takes 8 or 16 bars to complete, as one example. Intuitive color-coding makes the Loom graphical user interface easy to understand
More information: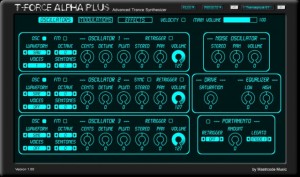 Alpha Plus is a free 'advanced trance synthesizer' for Windows.
It's a three-oscillator subtractive/FM synth with built-in delay and reverb.
Details and audio demos for Alpha Plus below:
Features:
Synthesis: Subtractive/FM.
3 Multiwave Oscillators with voice control (adjustable from 1 to 8 voices per osc), adjustable stereo width and panning, with Sine, Saw, Ramp (reversed Saw), Triangle, Pulse (square with PWM) waveforms and retrigger option for each oscillator (with "retrigger off" the oscillator is in free running mode, the oscillator starts with random phase positions everytime played a note, with "retrigger on" the oscillator's phase starts from position 0 everytime played a note.
1 Noise Oscillator with adjustable stereo width and volume.
1 Resonance Four Pole State Variable Filter, switchable between Low Pass, High Pass, Bandpass and switchable 12/24 dB slope, Resonance can be driven up to self oscillation.
1 ADSR Filter Envelope.
1 ADSR Amp Envelope.
2 ADSR Mod Envelopes.
2 host syncable LFOs.
Adjustable Drive function for Saturation/Distortion.
two band Low Freq/High Freq Equalizer.
Bitcrusher.
Portamento.
32 step Envelope Controlled Trance Gate.
Velocity control (on/off).
Dual Delay, switchable between Stereo mode and Ping-pong mode (right and left channels have their own tempo settings).
Stereo Reverb.
integrated Sidechain FX, optional with internal bpm synced triggering or external triggering via MIDI In (triggered by MIDI Note On, on MIDI channel 2). Note: see the manual of Your DAW for informations how to route a second MIDI Track to a VST/VSTi, because some DAW's have different ways of MIDI routing.
all functions fully automatable.
Anthony Distefano's Absynth version of Eno's "An Ending (Ascent)" from Apollo: Atmospheres and Soundtracks. This was all done using Absynth's envelopes.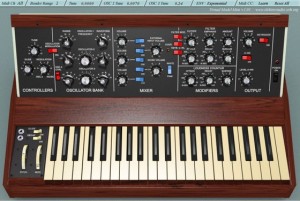 Elektrostudio has released the Virtual Model Mini, a virtual synthesizer instrument for Windows.
Virtual Model Mini features
Polyphony: Monophonic.
Timbrality: Monotimbral.
Oscillator: 3 VCOs, white/pink noise.
LFO: Oscillator 3 can function as LFO.
Synthesis type: Analog Subtractive.
Filter: 24dB/oct, 4-pole lowpass filter, resonance, ADS envelope generator, key tracking.
Attenuator: ADS envelope generator.
Effects: Frequency modulation using oscillator 3/noise.
External Signal: Feedback mode in VSTI version.
The Virtual Model Mini is available as a freeware VST instrument plug-in for Windows.
My Colorado based electro friend Mark Mosher explores Absynth 5, details below: