December 22, 2012 · Posted in
Uncategorized
·
Comments Off

on PreBrute Worlds First MiniBrute Based Kontakt Synth
So right before Xmas Arturia's MiniBrute goes virtual for Kontakt, details below:
Programmed pre-sets for PreBrute are listed below for each demo
Festive Introductory Offer- 25% Saving at checkout until 07/01/13
http://www.precioussound.com/prebrute
DEMO – Downtown (Part 1)
Percussions: Synthetic Percussions (JW)
Percussions: Junkyard Orchestra (JW)
Percussions: Flabby Kicks 3 (JW)
Keys: Cyberphone (JW)
Bass: Fretless Smoothie (JW)
DEMO: Serenade
Bass: Serenade Bass (PS)
Pad: Serenade Pad (PS)
Lead: Serenade Lead (PS)
Drums: Maschine PreSid Kit Serenade
DEMO – Solitude
Keys: Grand Piano (Solitude) (JW) (two instances for panning purposes)
Pads: Retro Strings (Solitude) (JW)
Pads: Space Pad (Solitude) (JW)
Demo: Runner
Pad: Runner Pad Modulate Lp Master Filter (PS)
Pad2: Runner Pad Map Hp Master Filter (PS)
Bass: Runner Bass (PS)
Lead: Runner Lead (PS)
Drums: Maschine PreSid Kit Runner
DEMO – Downtown (Part 2)
Percussions: Res Toms (JW)
Percussions: Industry Snares (JW)
Percussions: Dance Kicks 2 (JW)
Percussions: Glitch 1 (JW)
Keys: Cyberphone (JW) (modified with a longer attack)
Bass: Fretless Smoothie (JW) (with modified cutoff)
Demo: Sunshine
Pad: Sunshine Pad (PS)
Stabs: Sunshine Chord Delay Stabs (PS)
Bass: Sunshine Bass (PS)
Lead: Sunshine Lead (PS)
Drums: Maschine PreSid Kit Sunshine
DEMO: For Clifford…
keys: Mr Wait's Bourbon (JW)
lead: Manik Moon (JW)
Demo: Breakdown
Stabs: Breakdown Delay Chord Stabs (PS)
Stabs: Breakdown Accordion Like Chord Stabs (PS)
Bass: Breakdown Bass (PS)
Drums: Drum break used
Demos composed by Jonathan Watridge and Precious Sound
JW= Jonathan Watridge
PS=Precious Sound
Specifications:
• 2.16GB Kontakt 5 Library
– 7612 24bit samples
– 0.92GB Ram usage for first instance 200mb per instance after per project
• Equipment used
– Arturia MiniBrute
– AMS 1073lb (Class A)
– API 512C (Class AB)
– Type 1 cassette through a Tascam 122 MKIII
• 20 Waveforms sampled from MiniBrute
– 4 Flavours Per Osc (Raw/1073/512C/Tape)
– 80 Possible waveform choices per Osc
• 4 Oscillators
– Independent Amp ADSR / Filter ADSR
– 2 Switchable Envelopes per Osc Amp Adsr (Normal/Punch)
– Inv Phase per Osc
– Sample start adjustment per Osc
• Octave function
– Shift +/- 3 octaves per Osc (natively plays samples does not tune sample)
• Copy paste
– One Osc's settings to another Osc
• 2 LFOs per Osc
– Adjustable Speed, Depth and Sync
– Shape: Sine, Triangle, Rectangle, Sawtooth, and Random
– Destination: Filter Cutoff, Filter Resonance, Osc Volume, Osc Pan, Osc Tune and Osc Fine Tune
• 7 FX per Osc
– Lo-fi / Distortion / Flanger / Phaser / Chorus / Saturation / Limiter
• 6 selectable Filters per Osc
– LP / HP / BP / Notch / Phase / Vow
– Adjustable Key track and Velocity amount
• Global Dual LP/HP Filter
– Global filters can be linked to behave like a BP Filter
• Global summing mixer
– Global Insert effects Width / Distortion / Tape Saturation / Eq / Limiter
– Global send effects Phaser / Flanger / Chorus / Ir Reverb / Delay
– Unison (up to 8 voice)
– Global Amp ADSR with a softer curve
• Onboard Preset system
– load and save presets via the global panel
– All sounds heard in all demo's are available in the preset folder
– 45 presets to help get you started
• Intuitive design
– Large LED info Panel for a visual aide when setting up the synth
• Raw tones modulated within our engine
• Non-Intrusive Protection
– Sales are automated and you will recieve download links
– .NKI file (Instrument file) will be sent to your email address seperatly.
– Serial numbers are displayed on the global section of the instrument.
– our samples are not watermarked
– no file sent to you contains any personal information simply a serial number.
– PreBrute Kontakt £39.99 Inc VAT / $49.99 (Valid VAT numbers can be entered at checkout)
December 22, 2012 · Posted in
Uncategorized
·
Comments Off

on Checking out the new version of Animoog (V2)
Moog Music has updated their Animoog app to version 2.0. This major update to the iOS synthesizer is free for existing Animoog users and includes many user requested features and product enhancements, including: accelerometer integration which gives Animoog owners the ability to tilt their iPad in any direction as an interactive 3D modulation source; note hold and scale lock, and tools for advanced users like, Load/Save MIDI CC maps, Audiocopy/Audiopaste integration and support for the new Audiobus platform.
"Also, as a holiday gift, Animoog V2 features apowerful 4 Track Recorder, which gives Animoog users the ability to record audio from within Animoog or import audio tracks directly from their iTunes library. Users can then split, loop, copy, paste, and share individual clips, or mix down entire songs and upload them directly to SoundCloud, all from within the Animoog's universe." – moogmusic.com
For more info: moogmusic.com/news/animoog-v2-4-track
December 16, 2012 · Posted in
Uncategorized
·
Comments Off

on Klaus Schulze inspired modular synth – KX POLYMOD
KX-Polymod is a free modular synth for Windows, inspired by Klaus Schulze, who the developer calls "my electronic music reference.
Features:
Stereo routing.
Up to 6 voices.
15*12 Matrix controlled by 5*5 Sub matrix, include 4 Kxmod sources!
5 Vcos with 5 waveforms, include the TriSaw, with Phase modulation and Sync (Vco1 only).
Oscillators 100% compatible with the Kx-Modulad's waveforms (med, 498k).
1 Stereo SF2 player (16 and 24 bits).
1 SF2 drum set (24 bits, 12 samples, 3.3 Mo).
4 Keyboard traking (-10 to 10) for the Vcos and the Vcfs.
1 Ring Modulator with EQ.
1 Noise Generator with EQ.
1 Monophonic LFO with ADSR.
2 Mulitmode VCFs (20) with oversampled processes.
4 Polyphonic EGs with curves for each segment, velocity and Kbd controls.
1 X Y joystick controller.
1 Sample & Hold.
10 host sync clocks.
1 compressor.
1 oversampled Distortion.
1 Soft Vintage EQ.
2 Delays with sync, multimode filter and modulation oscillator with sync.
1 Scope with 10 ms of buffer size.
1 Frequency display.
1 Note pad.
Full Midi learn.
Internal Fxp and Fxb management.
128 KX's presets, very 70′s!
KX-Polymod is a free download here >>
Background video description:
Sometime I like to do some improvisation like K. Schulze,
just because this author is my electronic music reference.
I give my apologies for the listeners because
this is not really always correctly played!
It's just some ideas, a moment, not really solid …
All tracks are done with the Kx-PolyMod, also the drum tracks with its SF2 player.
The way to do this kind of music is always to start with a simple sequence.
I transpose all tracks with the bender, it is limited but I can do that when I feel it.
I used the Kx-MidiFilter to create a bender track.
I used few Kx-synth-x16 voices to do the background sequence (x16)
and one track of the X16 sequencer is used to control drums
with a plate reverb does with the Mverb.
Some sample and hold fx chord tracks are synchronized with the tempo.
The lead is an imaginary Moog lead like KS's albums of 70's.
December 14, 2012 · Posted in
Uncategorized
·
Comments Off

on Inside Neo Soul Keys – Virtual Electric Piano powered by HALion
Jamal Hartwell gives you the grand tour of the features to be wowed in Neo Soul Keys Virtual Electric Piano by Steinberg. (Part 1 of 2)
Combining faithful recordings of vintage keys with state-of-the-art technology employed in Steinberg's engines and effects, Neo-Soul Keys proves to be the ultimate electric piano experience.
http://www.steinberg.net/en/products/vst/neo_soul_keys/start.html
Feature overview:
Faithful sampling of original Mark I suitcase piano
Elaborate interface for direct access and intuitive workflows
VST Amp simulation with 6 different classic amp types
Premium effect section: tube distortion, chorus, flanger & more
Vintage modeled vibrato with intensity and speed control
Realistic sounds & authentic bass, mid and treble boost
Adjustable velocity curves for individual playing behavior
Bark samples for classic grit sounds for authentic vintage sounds
December 12, 2012 · Posted in
Uncategorized
·
Comments Off

on Propellerheads announces the PX7 FM Synthesizer – Rack Extension
For more information: http://shop.propellerheads.se/product/px7-fm-synthesizer/
The PX7 FM Synthesizer is a six operator FM synth for the Reason rack. As a faithful recreation of the popular DX series keyboards, it provides a wealth of new sounds, ranging from classic 80's bass and brass to modern textures, leads and growls.
Propellerhead has announced the immediate availability of PX7 FM Synthesizer, a new six operator FM synth for Propellerhead's Rack Extension format. As a recreation of the popular DX series keyboards, PX7 provides a wealth of new sounds to the Reason rack, ranging from classic 80's bass and brass to modern textures, leads and growls.
Propellerhead has improved on the original too, with macro controls for easy tweaking of sounds and stereo panning as notable new introductions. PX7 is fully integrated with the Reason rack, allowing users to create layered sounds, combining it with effects, and even control operator levels through CV.
Included with the Rack Extension is a set of new patches for PX7 and Reason's Combinator, from "talking" bass sounds to evolving pads. Additionally, the PX7 FM Synthesizer is patch-compatible with the Yamaha DX7, and includes hundreds of patches originally created for the DX7. Propellerhead also provides an online patch converter that takes patches in Yamaha DX7 format and converts them to PX7 patches, giving users immediate access to tens of thousands of presets for PX7 covering all styles of music.
Features:
Six operator classic FM synthesis for the Reason rack
32 selectable algorithms
Advanced envelope generator
Includes tons of classic and vintage presets, ranging from 80's bass to keys and brass
Comes with a set of new, exclusive patches for modern music productions
PX7 does not require a full understanding of FM synthesis–the macro controls make tweaking sounds fast, easy and fun.
Propellerhead's online patch converter lets you convert any Yamaha DX7 patch to PX7 format.
CV control of operator levels lets you apply modulation from any device in the Reason rack.
Combine two PX7 synths with the Combinator to easily create layered sounds that never was possible with the hardware it's based on
Pricing and Availability:
PX7 FM Synthesizer is available for immediate purchase in the Propellerhead Shop, at a price of USD $99/EUR €79. Reason and Reason Essentials users can download a free, fully functional trial version for 30 days to try PX7 FM Synthesizer in their music.
More information
December 11, 2012 · Posted in
Uncategorized
·
Comments Off

on StudioLogic Sledge 8 Voice Virtual Analog Poly
Sonic takes a look at the new 8 voice virtual analog synthesizer – the result of a collaboration between Studio Logic and Waldorf. What makes it rather unusual is the fact that rather than have few knobs and a lot of menus, it has a large format classic synthesizer panel with one knob per function
Details on the Sledge:
For many synthesizer enthusiasts, it is the particular interaction of the sound engine and user interface that makes a great instrument. A quick look at Sledge shows you the generous set of controls available to interact directly with the sound engine.  When you touch the knobs and switches of the front panel, you will instantly be aware of the meticulous attention to detail our engineers have refined, during many decades building the best electronic keyboards.
You will experience the logical set-up of the synthesizer modules, mirroring the signal flow of a classic analogue synthesizer.  But what really distinguishes any synthesizer is its sound.  Fortunately, our friends at Waldorf Music have happily shared their experience and know-how on this crucial part of the Sledge Synthesizer.
So we implanted the DSP heart of the latest Waldorf modelling technology into Sledge. The result: enough power to put the foundations of your studio seriously at risk!  And plenty of detail, to create the richest analogue pads you could ever want.  Besides the classic analogue synthesizer waveforms, you will find a complete set of Wavetables, derived directly from the mother of all digital synthesizers, the PPG Wave.
The sum of three fat oscillators, plus a Noise generator, are fed into Sledge's powerful multimode filter with selectable 24 / 12 dB slope.  The highly recognizable Waldorf filter algorithms enable a wide variety of sounds, from smooth to harsh, from fat to distinct, from pure HiFi to badass brutal. Ultra-fast, accurate envelope generators deliver ballsy punch.  Two LFOs plus 1 extra Wheel-LFO are on board to offer huge, yet easy to understand, modulation capabilities.  And two built-in Effect units deliver sophisticated synthesizer effects, such as Chorus, Phaser and Flanger, as well as a rich Reverb or an analogue style Delay.
And the best part – if you are familiar with the operation of a classic analogue synthesizer, you won't have to spend any of your precious time reading the manual.  There are no double or multiple functions on any of the knobs or pushbuttons.  All synthesizer parameters are clearly and ergonomically arranged in front of your eyes and directly accessible under your fingertips.  This makes sound design a blast, and takes you back to the pure user experience which you'll soon realise you've been missing.
Specifications:
• 32 Pots
• 3 chicken head rotary switches (7 positions)
• 1 rotary encoder with push function
• 2 x 16 digits backlit LCD
• High Quality Pitch and Mod Wheel
• up to 256 Sounds
• fast and efficient sound selection via numeric keypad
• 2 fast LFOs per voice, each with adjustable Speed and Depth
• 1 extra modulation routing for Mod Wheel, with adjustable Speed and Depth
– Shape: Sawtooth, Rectangular, Triangle, Sine, Sample & Hold, Ramp
– Destination: Osc 1, Osc2, Ocs3, PWM / Wave / FM, Volume, Filter Cutoff
• 8 Voices polyphony
• Monophonic mode with single or multiple trigger
• 3 Oscillators per voice
– Range from 64′ to 1′ each
– Shapes: Sawtooth, Square, Triangle, Sine, Pulse (with Pulse Width Modulation)
– Oscillator 1 with 66 Original PPG Wavetables
• Frequency Modulation of sine and triangle
• Oscillator Hardsync (Osc 2 to Osc 3)
• Noise Generator with selectable white and pink noise
• Mixer with Volume and On/Off switch for each Oscillator and Noise
• 1 Multi Mode Filter per voice
– 24 / 12dB
– Lowpass
– Highpass
– Bandpass
– Resonance up to Self-Oscillation and beyond
– Adjustable Keytrack and Drive
• 2 fast Envelopes per voice (filter / amplifier)
• Powerful Arpeggiator
– Latch mode
– syncable to MIDI Clock
– Direction Up, Down, Alternate
– Range up to 10 Octaves
• 2 simultaneuous Effects
– Effect 1: Chorus / Phaser / Flanger
– Effect 2: Reverb / Delay
• sturdy, lightweight enclosure (less than 10 KG)
• high quality, 5 octaves Fatar TP 9 keyboard
November 12, 2012 · Posted in
Uncategorized
·
Comments Off

on WOPR – new polyphonic virtual analog synthesizer with unique evolving modulation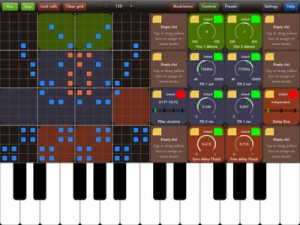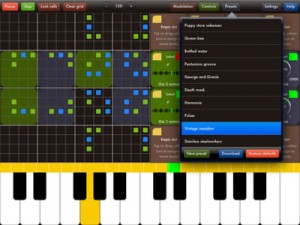 WOPR is a polyphonic, stereo virtual analog synthesizer with totally unique evolving modulation driven by vintage 1970s cellular automata. It's made for iPad 2 or later only. WOPR is a performance instrument, a stand-alone instrument in the same spirit as the Korg Monotron.
It's brilliantly playable: the full-width Wribbon keyboard lets you play pitch-perfect notes every time, then bend them like a guitar god to convey your inner pain to the screaming masses.
It's performance-friendly: you can create customized control panels for comfortable access to parameters. That's much better than contorting your fingers to fit some tiny panel layout.
WOPR is a seriously powerful analog, but what sets it apart is its modulation grid: you paint a pattern of cells into a grid, set the tempo, hit 'run' and let the cellular automata evolve your pattern. You link areas of the grid to any of the synth's parameters and your patches come to life, rhythmically pulsating as the patterns shift with each beat. Constrain parameters to ranges for tight control over rhythmic modulation, or set them free to dynamically breed new patches.
Being a virtual analogue synthesizer, we'd be remiss if we didn't include some allusion to the past. Here it is: the modulation grid is a bona fide 1970s invention called Conway's Game of Life. Look it up, marvel at the infinite variety of patterns, geek out on the math, then put them to work twisting knobs in WOPR.
The core synth engine justifies its powerful modulation. WOPR has:
– 2 pannable oscillators with sine, saw, square and triangle waves. Each oscillator has an incredible range: 32′ to 1′, with +/- 500 cent detune (a perfect fourth either way). There's also a white noise generator.
– 3 ADSR envelopes, 2 assignable between osc 1 & 2 and the third dedicated to the noise source.
– 2 fruity, resonant 24Db/octave low pass filters, assignable to osc 1 & 2 or to the left and right stereo channels.
– 2 delays, a free-running delay with fine control over low intervals, and a tempo-synced delay running from 32nds to two whole beats. Delays are independent, or can be assigned to feed eachother in any sequence. Howls, rings and reverbs are easy to create; so are good, old-fashioned solid, rhythmic delays.
– 2 octave, full-width Wribbon keyboard: play piano like a guitar, bending individual notes or entire chords. All without losing fixed-key pitch accuracy when you don't want to bend. Best of all the whole width of your iPad 2 is there for performance.
– 6 voice polyphony. If that's not enough (maybe you have tiny fingers), it comes with the best note stealing algorithm on the iPad.
– Modulation matrix: use this to link controls to the Game of Life, or simply use it to define a custom control panel for easy performance.
WOPR is version 1.0.0. It doesn't yet have these features, but they're being worked on:
– Audio copy/paste (it's coming soon.)
– A giant preset library. (More are available for free download within the app.)
WOPR's architecture might change a bit too. It's young and has a lot of growing up to do. Right now Omnivore is experimenting with stereo BPF & LPF filters that you can insert into various places in the signal pipeline. We're looking at ways to drive a wavetable library from the grid, too. Feedback is welcome, so please send your requests to feedback@omnivoresoft.com.
Finally, what does WOPR stand for? Anything you like. Wave Oscillator Piano Replacement? Wickedly Optimized for Phat Response? Who knows. All we can say is that it's the synth David Lightman would choose…
November 10, 2012 · Posted in
Uncategorized
·
Comments Off

on Full-Modular Synthesizer 'Kamioooka' Demo – VST for Windows
Polyphonic Full-Modular Synthesizer with Patch-cable system, "Kamioooka"
VST Instrument 32/64bits for Windows freeware.
Participated in KVR Developer Challenge 2012.
http://www.kvraudio.com/kvr-developer-challenge/2012/
November 9, 2012 · Posted in
Uncategorized
·
Comments Off

on Eurypharynx – new 4-voice virtual analog synth for the iPad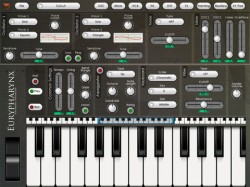 Developer Sobal Corp has introduced Eurypharynx, a 4-voice virtual analog synth for the iPad.
Key Features:
In each OSC, you can select two waveforms and also morph them.
Flexible patching operation is available with Matrix Patching.
Alter numerous parameters sequentially with Modulation Sequencer.
Intuitive performance is available with XY Pad Control.
It is possible to save up to 256 patches.
It's CoreMIDI compatible and $1.99, so check out the details and let us know what you think of it!
Specifications:
4-Voice Polyphony
OSC x 2 / NG x 1
OSC Modulation
Ring Modulation
OSC Sync
Glide
Filter x 1
EG x 2
LFO x 2
Arpeggiator Type x 6
Matrix Patching
Modulation Sequencer
XY Pad Control x 2
FX
Keyboard (Scale) x 35
Real-Time Recording
Others:

Wireless Sync-Start Technology (WIST) is supported.
AudioCopy is supported.
CoreMIDI is supported.
Eurypharynx is available now in the App Store for $1.99.
November 6, 2012 · Posted in
Uncategorized
·
Comments Off

on Synapse Audio releases Antidote – new synth for the Reason Rack Extension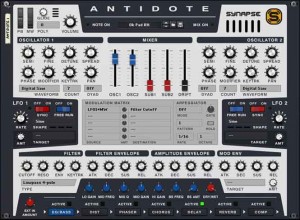 Synapse Audio has released Antidote, a new Rack Extension for Propellerhead Reason. Here's how they describe it in their own words:
Antidote is an exclusive virtual-analog synthesizer, which combines highest audio quality, flexibility and a fast work flow in an easy-to-use plug in. Antidote has been specifically developed to complement Reason, and to integrate well into its environment. It can be used both as an instrument, and as a powerful multi-effect unit.
Antidote comes with two stereo oscillator banks, each emitting a stack of high quality oscillator waveforms. The oscillators pass through the filter stage, which employ the latest zero-delay feedback designs. Envelopes and LFOs further shape the sound, and the powerful modulation matrix, which can modulate almost any sound parameter, adds the necessary depth to realize complex sounds.
The output of the synthesis stage finally passes through a big effect chain with Distortion, EQ, Phaser, Chorus, Delay, Reverb, Compressor and a unique Bass enhancement effect, which models the bass frequency response of some vintage analog gear.
Antidote ships with 300 Presets and 10 Combinator patches, covering a wide range of music genres.
Pricing and Availability:
Antidote is available at an introductory price of €79 until December 31st, 2012 (the regular price will be €119).
More information: