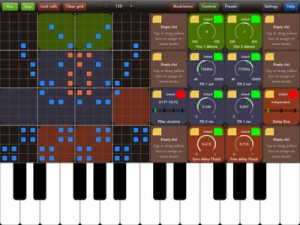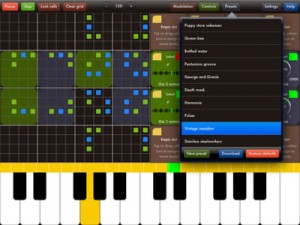 WOPR is a polyphonic, stereo virtual analog synthesizer with totally unique evolving modulation driven by vintage 1970s cellular automata. It's made for iPad 2 or later only. WOPR is a performance instrument, a stand-alone instrument in the same spirit as the Korg Monotron.
It's brilliantly playable: the full-width Wribbon keyboard lets you play pitch-perfect notes every time, then bend them like a guitar god to convey your inner pain to the screaming masses.
It's performance-friendly: you can create customized control panels for comfortable access to parameters. That's much better than contorting your fingers to fit some tiny panel layout.
WOPR is a seriously powerful analog, but what sets it apart is its modulation grid: you paint a pattern of cells into a grid, set the tempo, hit 'run' and let the cellular automata evolve your pattern. You link areas of the grid to any of the synth's parameters and your patches come to life, rhythmically pulsating as the patterns shift with each beat. Constrain parameters to ranges for tight control over rhythmic modulation, or set them free to dynamically breed new patches.
Being a virtual analogue synthesizer, we'd be remiss if we didn't include some allusion to the past. Here it is: the modulation grid is a bona fide 1970s invention called Conway's Game of Life. Look it up, marvel at the infinite variety of patterns, geek out on the math, then put them to work twisting knobs in WOPR.
The core synth engine justifies its powerful modulation. WOPR has:
- 2 pannable oscillators with sine, saw, square and triangle waves. Each oscillator has an incredible range: 32′ to 1′, with +/- 500 cent detune (a perfect fourth either way). There's also a white noise generator.
- 3 ADSR envelopes, 2 assignable between osc 1 & 2 and the third dedicated to the noise source.
- 2 fruity, resonant 24Db/octave low pass filters, assignable to osc 1 & 2 or to the left and right stereo channels.
- 2 delays, a free-running delay with fine control over low intervals, and a tempo-synced delay running from 32nds to two whole beats. Delays are independent, or can be assigned to feed eachother in any sequence. Howls, rings and reverbs are easy to create; so are good, old-fashioned solid, rhythmic delays.
- 2 octave, full-width Wribbon keyboard: play piano like a guitar, bending individual notes or entire chords. All without losing fixed-key pitch accuracy when you don't want to bend. Best of all the whole width of your iPad 2 is there for performance.
- 6 voice polyphony. If that's not enough (maybe you have tiny fingers), it comes with the best note stealing algorithm on the iPad.
- Modulation matrix: use this to link controls to the Game of Life, or simply use it to define a custom control panel for easy performance.
WOPR is version 1.0.0. It doesn't yet have these features, but they're being worked on:
- Audio copy/paste (it's coming soon.)
- A giant preset library. (More are available for free download within the app.)
WOPR's architecture might change a bit too. It's young and has a lot of growing up to do. Right now Omnivore is experimenting with stereo BPF & LPF filters that you can insert into various places in the signal pipeline. We're looking at ways to drive a wavetable library from the grid, too. Feedback is welcome, so please send your requests to feedback@omnivoresoft.com.
Finally, what does WOPR stand for? Anything you like. Wave Oscillator Piano Replacement? Wickedly Optimized for Phat Response? Who knows. All we can say is that it's the synth David Lightman would choose…
Polyphonic Full-Modular Synthesizer with Patch-cable system, "Kamioooka"
VST Instrument 32/64bits for Windows freeware.
Participated in KVR Developer Challenge 2012.
http://www.kvraudio.com/kvr-developer-challenge/2012/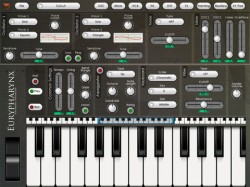 Developer Sobal Corp has introduced Eurypharynx, a 4-voice virtual analog synth for the iPad.
Key Features:
In each OSC, you can select two waveforms and also morph them.
Flexible patching operation is available with Matrix Patching.
Alter numerous parameters sequentially with Modulation Sequencer.
Intuitive performance is available with XY Pad Control.
It is possible to save up to 256 patches.
It's CoreMIDI compatible and $1.99, so check out the details and let us know what you think of it!
Specifications:
4-Voice Polyphony
OSC x 2 / NG x 1
OSC Modulation
Ring Modulation
OSC Sync
Glide
Filter x 1
EG x 2
LFO x 2
Arpeggiator Type x 6
Matrix Patching
Modulation Sequencer
XY Pad Control x 2
FX
Keyboard (Scale) x 35
Real-Time Recording
Others:

Wireless Sync-Start Technology (WIST) is supported.
AudioCopy is supported.
CoreMIDI is supported.
Eurypharynx is available now in the App Store for $1.99.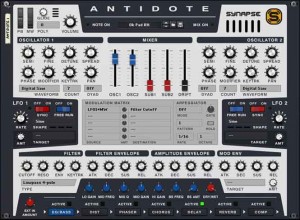 Synapse Audio has released Antidote, a new Rack Extension for Propellerhead Reason. Here's how they describe it in their own words:
Antidote is an exclusive virtual-analog synthesizer, which combines highest audio quality, flexibility and a fast work flow in an easy-to-use plug in. Antidote has been specifically developed to complement Reason, and to integrate well into its environment. It can be used both as an instrument, and as a powerful multi-effect unit.
Antidote comes with two stereo oscillator banks, each emitting a stack of high quality oscillator waveforms. The oscillators pass through the filter stage, which employ the latest zero-delay feedback designs. Envelopes and LFOs further shape the sound, and the powerful modulation matrix, which can modulate almost any sound parameter, adds the necessary depth to realize complex sounds.
The output of the synthesis stage finally passes through a big effect chain with Distortion, EQ, Phaser, Chorus, Delay, Reverb, Compressor and a unique Bass enhancement effect, which models the bass frequency response of some vintage analog gear.
Antidote ships with 300 Presets and 10 Combinator patches, covering a wide range of music genres.
Pricing and Availability:
Antidote is available at an introductory price of €79 until December 31st, 2012 (the regular price will be €119).
More information:
Giles Reaves: Space Music Improv on the Synapse Antidote Synthesizer.
"Testing my new Nikon D600, and the new Synthesizer from Synapse Audio: Antidote (for Reason 6.5). I created the patch from scratch in real time, as shown in the video. To keep in the "space music" theme, I used my night time time lapse footage from a recent trip through Southern Utah and Northern Arizona (including shots at Arcosanti, AZ)."
Consisting of HALion Sonic, Padshop Pro, Retrologue, Hypnotic Dance, Triebwerk and Dark Planet, the Absolute VST Instrument Collection offers thousands of sounds, advanced technology and state-of-the-art sound design for contemporary music production, composing and live performance. Absolute combines exceptional quality and premium value at a fantastic price.
Key features
• 6 high-quality VST instruments comprising thousands of presets
• HALion Sonic is Steinberg's premier VST workstation, featuring the latest sampling and synthesis technologies, a world-class library and an intelligent user interface that excels in the studio as well as on stage.
• Padshop Pro introduces a new way of granular sound design. Get yourself ready for out-of-this-world atmospheres and far-out effects.
• Zero Gravity is the exceptional expansion pack for Padshop Pro and comes with 250 new presets and a fully loaded new SoftGrain Wave ROM.
• Retrologue offers old-school analog synth sounds and biting sonic blocks and is ideal for creating fat and funky lead and bass sounds.
• Hypnotic Dance is a treasure trove for electronic music producers with solid bass lines, cutting leads and beautifully textured pads.
• Triebwerk is the go-to choice for club-worthy dance sounds including soaring synths, four-to-the-floor drum kits and queasy vocals.
• Dark Planet is best-suited for cinematic scores and musical excursions, comprising creepy sounds, shattering loops and eerie instruments.
• VST 3, VST 2 and AU host compatibility.
• Cross-platform 32/64-bit for Windows and Mac OS X Intel.
• Steinberg USB-eLicenser included.
More info
www.steinberg.net
More info here – http://www.image-line.com/documents/news.php?entry_id=1348098765&title=fl…
Features include:
Audio tracks – Import WAV/MP3/AAC/AudioPaste & iPod library.
Wave editor – Cut, trim, normalize, reverse, fade in/out
Multi-tracking – Up to 8 track simultaneous recording
FL Studio Mobile HD – Now a Universal App
iPad retina display – Supported
Dropbox – Export to Dropbox. Import from Dropbox App.
Library – Amped Guitar & Bass pack in the shop
ZIP – Export improved to include all custom instruments, audio recordings and the project
NOTE: To load an FL Mobile 2 projects in FL Studio for Windows you will need FL Studio 10.8 or higher. In addition to use the Amped expansion you will need to delete the existing FL Mobile Samples folder, from the Shared Data folder (C:\Program Files\Image-Line\Shared\Data\FL Mobile Samples) then re-download it from the content library.
Where's ANDROID will it EVER happen?! Yes. see here…
http://www.youtube.com/watch?v=6kPX5xTPRKU&feature=plcp
Mode Machines App is used as a MIDI controller with virtual instruments.
Coming soon!
D16 Group has announced the availability of LuSH-101 (formerly known as SHIOITOR), the long awaited authentic sounding virtual synthesizer for Windows and Mac.
LuSH-101 is a synthesizer created from modules that can be found in many modern virtual synthesizers, all combined into a single compact and logically intuitive design. This basic simplicity combined with its multilayer architecture turns it into an easy-to-use but extremely powerful instrument that can be programmed and tweaked quickly.

The multilayer architecture guarantees that both the sound design possibilities and number of unique situations in which LuSH-101 can be used are virtually limitless. Any combination of keyboard splits, layers, and multitimbrality is possible with just a single instance of LuSH-101. Each layer working as an independent synthesizer with its own polyphony, parameters, enhanced arpeggiator, and a palette of eight insert effects.

LuSH-101 comes complete with a powerful built in mixer, complete with layer-independent parametric equalizers, compressors and three send effects: reverb, delay and chorus.

Innovative oscillator algorithms developed by D16 Group make LuSH-101 sound exactly like a sampled hardware analog synth. Filters with constant resonance across the entire frequency domain has natural warmth and character.

A generous factory library contains more than 1600 presets of every type, while intuitively designed preset browser keeps everything organized and easy to locate.
LuSH-101 for Windows and Mac (32 & 64bit VST/AU) is available to purchase for 149 EUR/$199 USD/£119 GBP incl. taxes (if applicable). LuSH-101 is now also included in the Total Bundle. Discounts are available to registered product owners from their User Area at the D16 Group website.
Full tutorial of the UES SweepMachine, designed specifically for creating long dramatic noise sweeps. 4 presets and 3 noise generators included. UES SweepMachine is the only tool ever dedicated to create noise sweep. As for all the Electro Suite instruments, it's ultra easy to use: just trigger a MIDI note, select one of the four presets, set the number of bars you want for the sweep duration and that's it ! Three noise generators are available including a Sub Noise and a Metal one.
► Tutorials UES DirtyMONO
Overview : http://youtu.be/E5DtKRV0pu4
Phraser Section : http://youtu.be/EVg-SxTACIc
FX Section : http://youtu.be/ICCYDKnSTgo
Envelope Section : http://youtu.be/W0FsbGBQvnw
► Tutorials UES DrumShaper
Overview : http://youtu.be/3wrOF6GR72s
Bass Drum : http://youtu.be/KT0LEbMPde4
Snare Drum : http://youtu.be/iDZm3APMI7E
Clap : http://youtu.be/eF45erWUUBc
HiHat : http://youtu.be/zw72RC1Dgxs
Pattern : http://youtu.be/IU2Gw2k2sJU
► Tutorial UES MissionControl : http://youtu.be/YfGjECJxPkA
❐ UVI Official Website : http://www.uvi.net
GET ELECTRO SUITE
❐ Download : http://bit.ly/electro-suite_download
❐ Buy DVD : http://bit.ly/electro-suite_DVD
❐ Further info : http://bit.ly/uvi-electro-suite