Full tutorial of the UES SweepMachine, designed specifically for creating long dramatic noise sweeps. 4 presets and 3 noise generators included. UES SweepMachine is the only tool ever dedicated to create noise sweep. As for all the Electro Suite instruments, it's ultra easy to use: just trigger a MIDI note, select one of the four presets, set the number of bars you want for the sweep duration and that's it ! Three noise generators are available including a Sub Noise and a Metal one.
► Tutorials UES DirtyMONO
Overview : http://youtu.be/E5DtKRV0pu4
Phraser Section : http://youtu.be/EVg-SxTACIc
FX Section : http://youtu.be/ICCYDKnSTgo
Envelope Section : http://youtu.be/W0FsbGBQvnw
► Tutorials UES DrumShaper
Overview : http://youtu.be/3wrOF6GR72s
Bass Drum : http://youtu.be/KT0LEbMPde4
Snare Drum : http://youtu.be/iDZm3APMI7E
Clap : http://youtu.be/eF45erWUUBc
HiHat : http://youtu.be/zw72RC1Dgxs
Pattern : http://youtu.be/IU2Gw2k2sJU
► Tutorial UES MissionControl : http://youtu.be/YfGjECJxPkA
❐ UVI Official Website : http://www.uvi.net
GET ELECTRO SUITE
❐ Download : http://bit.ly/electro-suite_download
❐ Buy DVD : http://bit.ly/electro-suite_DVD
❐ Further info : http://bit.ly/uvi-electro-suite
Details on the Unique synth as stated by Sugar Bytes themselves:
Unique Synthesizer

The name says it all
The Unique synthesizer specializes in state-of-the-art vowel sounds and mighty, mighty analog keyboard sounds. With Unique, it takes just a rightclick on a control and complex parameter rides with internal and external controllers become a joyride. And that's what they should be, after all.
The soul of Unique: Oscillators
The source of the Unique's truly unique sounds are its direct and powerful sounding oscillators. The Triple Saw and the Triple FM algorithms cover such a wide range of sounds, we spent extra hours to make all this available by using just a few controls. The noise oscillator with built-in filter can be used in a tonal mode, the right choice for the vowel filter.
The passion of Unique: Filters and their modulators
The actual intention behind this project also became its outstanding feature: the Vowel Filter mode. The oscillator sound can be transformed to vowel formants in many different ways. The juicy filters can also be used in classic mode, so Unique is fitted for standard situations as well. Each of the five filters (with internal analog signal processing) again has five individual modulators for creating oustanding Vowel and Filter movements. The modulators can be triggered in many different ways: for example with the lowest note played, the first note played or even with the sequencer clock or the arpeggiator. Yet another stunning Unique feature: The internal LFO´s have fade algorithms for rate and intensity.
The sex of Unique: Controllers and Effects
The internal controllers section contains a recordable XY field and is very easy to manage with just a rightclick on any control. Feedbacks go from 'the Controllers section rocks!' to 'the Controllers section just blows me away!' The effects section contains two chained multi effects, each of them with six effect algorithms. So once you've built your sound, there's tons of sound polish.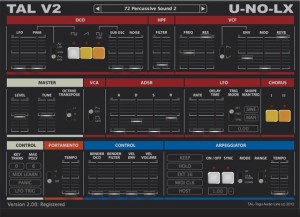 Togu Audio Line has announced the release of TAL-U-NO-LX V2, an updated version of the virtual synthesizer instrument modeled after the Roland Juno 60.
We released version 2.0 of TAL-U-NO-LX. This version includes an improved filter that is more accurate and warmer, especially at extreme values with a lot resonance. Old presets are compatible with this version. We released it as a new version that can run parallel to the old plugin.

The chorus was callibrated too. This version includes some more non-linear components and needs a bit more CPU, but we think the improved sound is worth it. This update is free for all TAL-U-NO-LX users!
Changes in U-NO-LUX v2.0
Improved filter sound.
Improved and new calibrated chorus.
Portability mode. Also reads presets that are saved in the plugin sub folder: "/TAL-U-NO-LX/presets/".
The U-NO-LX plug-in for Windows and Mac (VST/AU) is now available for the reduced price of $40 USD for an unlimited time.
In this Video Neil takes a detailed look at the advanced features of the Arturia Mini V, An expanded software emulation of the classic MiniMoog Vintage Synthesizer.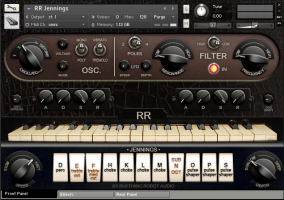 Rhythmic Robot Audio has released Jennings, a Kontakt software version of an early all-valve synthesizer designed in 1946.
The original Jennings Univox was played by The Beatles during their early sets at the Cavern in Liverpool, and by the Tornadoes, who used it to create the signature synth sound of their 1962 synth-pop hit Telstar.
It was designed by Tom Jennings who went on to form Vox amplifiers, and comprised a valve-based oscillator which could be run through a series of wave shapers, filters and EQs controlled by tab switches on its front panel, capable of creating over 2000 variations on the basic waveform. Vibrato added movement to the sound, while a knee lever controlling volume allowed the player to manage swells and tremolo wobbles in real time. The sound was output through a dedicated speaker cabinet into which the keyboard packed for transportation, making it a real alternative to other more cumbersome valve-based synthesisers like the Hammond Novachord for gigging bands.
The Jennings Univox was similar to the Clavioline, another valve-based portable synth, but differed in its use of a sawtooth variant as its source waveform where the Clavioline used a square-wave variant. It is this valve-based sawtooth, rich in harmonic overtones and minor valve instabilities, that gave the Univox its uniquely warm analogue sound.
The Rhythmic Robot software version of Jennings starts with a meticulous recreation of the original instrument based around 24-bit, 20-second chromatic samples of a professionally restored Univox and using a combination of multiple sample sets and convolved IR maps to simulate the behaviour of all of the Univox's control tabs. Key click samples and a full sample set of the "Sub Octave" tab can be trimmed in level relative to the main wave forms, allowing more comprehensive balancing of the Univox's tone.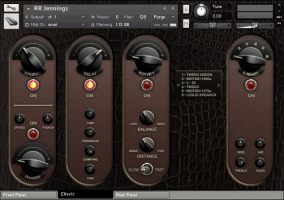 For musicians wanting to explore the start of the synth era with complete authenticity, a "compliance mode" can be enabled to allow the user quickly and easily to dial in patches which conform exactly to the standards of the 1946 original. Patches designed in "compliance mode" sound indistinguishable from the original hardware Univox. However, for anyone wanting to go beyond the limitations of the original, Jennings extends the capabilities of the Univox considerably, adding polyphony, dual oscillators (drawing on different sample sets for a richer tone), a multi-mode resonant filter with LFO, precise control over envelopes (including attack curves) and a comprehensive effects section incorporating Chorus, Phaser, Echo, Rotary Speaker simulation and Amp Cab modelling.
Accessing these effects and additional controls allows the user to create patches using a familiar subtractive synthesis model, but drawing on Jennings's front-panel tabs to create a base palette of over 2000 "oscillators". Any tab combination can be used as the starting point for a patch and then doubled up, detuned, filtered, effected and so forth. The result of this versatility is that Jennings is capable of creating both authentic, 1946-accurate tones in "compliance mode", and modern synthetic patches with a signature valve character, all from one clearly laid-out graphic UI.
Jennings is available now from www.rhythmicrobot.com priced at £59.95.
Features:
24-bit, 20-second samples of a professionally-restored Jennings Univox.
All-valve waveforms.
Convolved IR maps and multiple sample sets combine to recreate all front-panel tabs.
One or two oscillators, with detune and Osc Spread control for stereo width.
Multi-mode resonant filter switchable between 2-pole (12dB/octave) and 4-pole (24dB/octave), high or low pass.
Filter and Amplitude envelopes; Amplitude envelope with specific attack-curve control (for "sucky" or "snappy" attacks).
Filter LFO and switchable Amplitude (tremolo) / Pitch (vibrato) LFO, with adjustable ramp time.
Full effects section with Chorus, Phaser, Delay, Rotary Speaker and Amp Cab simulator.
Stereo Widening in combination with Osc Spread maps keys across the stereo sound field.
"Compliance Mode" makes creating authentic 1946-style patches simple.
Jennings requires Kontakt version 4.2.3 or later (including Kontakt 5). Not compatible with Kontakt player.
(Via KVR)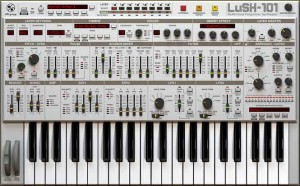 The D16 Group has announced the imminent release of their newest virtual analog synth, LuSH-101. Here's what they have to say about it…
Prepare to have your notions of what a plugin should be capable of forever redefined! Extremely powerful multilayer architecture, a palette of the finest insert effects (each selectable per layer), and an extensive mixer with compression, EQ and send effects all add up to a truly modern synthesizer with vintage playability–and all in the absolute highest sound quality possible at every point along the signal path!
LuSH-101 is a synthesizer created from modules that can be found in many modern virtual synthesizers, all combined into a single compact and logically intuitive design. However, this basic simplicity combined with its multilayer architecture turns it into an easy-to-use but extremely powerful instrument that can be programmed and tweaked quickly, almost effortlessly leveraging its maximum potential.
The multilayer architecture guarantees that both the sound design possibilities and number of unique situations in which LuSH-101 can be used are virtually limitless. Layered sounds can be created simply by assigning the layers to the same MIDI channel; the results can sound as massive as anything imaginable! Assigning the layers to different keyboard zones allows you to create even the most sophisticated splits. Of course, you can always assign the various layers to different MIDI channels for 8-part multitimbral usage. And, virtually any combination of splits, layers, and multitimbrality is possible with just a single instance of LuSH. With each layer working as an independent synthesizer with its own polyphony, parameters, enhanced arpeggiator, and a palette of only the finest insert effects, LuSH-101 can push your creativity to unprecedented levels!
Pricing and Availability:
Pricing and release date will be announced soon.
More information:
Demonstrating one of the three DR-OM instruments included in Fluxama's DR-OM App for iOS. Works on iPhone 4, iPhone 4S, iPad 2, & New iPad. Developed by Shawn Wallace, Shawn Greenlee, and Elliot Clapp.
DR-OM is a virtual synthesizer that simulates the hackable yard sale treasure of the same name. Dozens of DR-OM units have been adapted from a rare, limited science lab function generator that started turning up in flea markets in the 70s. DIY synth enthusiasts discovered the device was easily hackable, and closely-guarded photocopies of the modded schematics have been handed around the community for years. The directions show how to rewire the generator into a nice little synth with two mixable Low Frequency Oscillators and a Voltage-Controlled Filter.
Mix and match different microphone perspectives, add professional effects and advanced envelopes to create truly unique sounds. Two years in the making, Addictive Keys is the ultimate blend of engineering, innovative design and creative expression. The standalone version is perfect for spontaneous jamming and live performances and the plug-in version support all major DAW hosts.
Description:
Addictive Keys is a powerful tool for musicians, producers and songwriters, setting a new standard for virtual keyboard instruments.
Please visit www.xlnaudio.com for more info.
Music: "Another Day" written and performed by Marching Band
www.marchingband.se
All sounds including drums and vocal are from KarmaFX. No external FX used except light limiting on the master. KarmaFX Synth Modular is an advanced and highly flexible Simulated Analog Modular Synthesizer and Effect Unit. Its amazing visual- and highly intuitive user interface lets you modulate just about any knob or slider by any control signal – making the soundscape possibilities almost endless. The internal high-frequency digital simulation of analog voltage levels produces a sound quality that rivals even expensive hardware synthesizers. A comprehensive User's Manual and tons of bundled patches make it easy to get started producing your own unique sounds.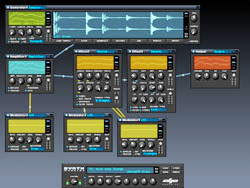 KarmaFX Synth Modular: Advanced Simulated Analog Modular Synthesizer and Effect Unit.
Full Modular patching of synth Components and Controls.
Internal high-frequency digital simulation of analog voltage levels.
Oscillator with phase, Detune and Pulsewidth that generates standard synth waveforms.
Dual Oscillator with Detune, Hardsync and Ring modulation.
Sampler, 16/24/32 bit Mono/Stereo multi sample player that imports WAV/SF2/SFZ files.
Multisample editing with Key/Velocity-ranges and Loop-Points.
Additive and Pad module with waveform and Harmonic Magnitude/Phase editors.
User defined waveforms and built-in presets of up to 1024 harmonics.
2/4 Pole Multimode Filters with Cutoff, Resonance (LP, HP, BP and BS filtertypes),
SVF, Zolzer, Moog, 303like, Formant, Comb, Allpass, Parametric and Shelving Filters.
10-band digital and 31-band simulated analog Graphic Equalizers.
Amplifier and Stereo module with Panning, Volume and Velocity control.
Two channel Mixer with Ring modulation and Bit operations.
Delay, Reverb, Phaser, Chorus/Flange, Pitchshift, BitShuffler and Distortion effects.
Soft-knee Compressor with Peak/RMS detection and optional Sidechain.
10 Octave/12 Note Pitch control with Detune, Portamento and Pitchbend support.
Controllers for Frequency Modulation (FM) and fast frequency sweeps.
Up to 16 channel Unison controller with Detune and Stereo pan spread.
32 step, 4 octave Pattern controller with Hold, Loop, Legato and Arpeggiator.
Bipolar/Unipolar LFO with Tempo Sync, HFO with FM option.
ADSR and Multipoint Envelopes with Linear, Exponential, Hermite and Cubic curves.
Step Sequencer, Envelope follower, Sample & Hold and Decay modules.
Output module with Panning, DC removal, Volume and Clip control.
Noise generator, filtered Pink, White and Brown Noise with Frequency Sync control.
Input generator so synth can function as an Insert effect.
Full stereo support (selected modules can run in mono to save CPU cycles).
Patches are built up of Generators, Filters, Amplifiers, Controllers, Effects and Modulators.
Up to 49 simultaneously running modules (8 modules per group and 1 output module).
Instant visual feedback on all controls. Frequency, Time/Amplitude, Modulation, etc.
Optionally see knobs and sliders animate as they are modulated.
Choose between Mono, Legato, or up to 16-voice true Polyphony.
MIDI modulator modules for MIDI Controller, Velocity, Aftertouch and Pitchbend input.
128 user-assignable Automation controls with MIDI Learn.
Fully skinnable GUI: Optional skins are bundled with the installation.
7 banks of pre-made KarmaFX patches + userbanks. (More than 1300+ patches total).
'gstormelectro' continues to provide us with good tutorials on the Alesis Andromeda, in this one he checks out the oscillators:
http://gstormelectronica.blogspot.com/
In this video I will examine the OSCILLATOR and PRE-FILTER MIX sound modules in more detail. I will introduce and explain topics for Oscillator FM, Filter FM, SYNC, Ring Modulation and Filter Feedback. And I will also show how to program a couple of basic patches along the way.
CONTENTS
0:10 Introduction
0:35 Tune Page
1:32 Wave Page
2:39 ENV1 Page
3:13 Patch: Classic Or Deviant Sync
4:56 OSC2FM Page
7:57 NZEXT Page
8:48 Modulations + Control Routes
9:49 Patch: Mod-Wheel PWM
11:23 Pre-Filter Mix: Ring Mod + Filter Feedback
12:14 Closing
Join me for my next video which will cover the Filters in more depth, including examples of Filter FM and Filter Feedback. Thanks for watching!