FK13 – new virtual Korg Mini-Pops 3 drum machine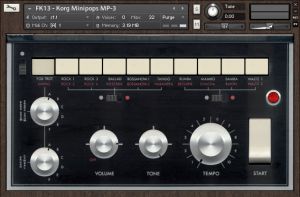 Forgotten Keys has released FK13, a virtual Korg Mini-Pops 3 (AKA Univox SR-55) analogue drum machine.
The FK13 features isolated multi-samples of each drum sound and re-creations of all the internal rhythm patterns. These patterns can be combined with each other like the original. The volume, panning, tuning and mute status of each sound can be adjusted, and the MIDI input and audio output routing can be customised. The interface is designed to have an authentic layout.
Price: £3.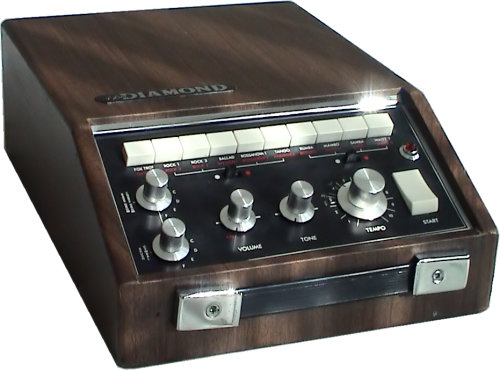 The Korg Mini-Pops 3 (also sold as Univox SR-55 and Aria Diamond) should not be confused with the drum machine used by Jean-Michel Jarre on his Oxygene album as you often see misstated in online auction adverts. For that, you need the Mini-Pops 7. No, the MP-3 will not create the famous Jarre rhythm but it will create some nice retro analogue sounds and rhythms. Of the nine sounds available most are similar to the MP-7 with perhaps the exception of the bass drum and cymbals. Indeed, the drum sounds are created using inductor coils, or tuned resonant tanks as they are often called just as on the MP-7.
Rhythm-wise, there are twenty named rhythms but the foxtrot/swing rhythm requires more explanation. It has 36 variations of its own due to the two knobs below it that select between six drum and six cymbal variations. The other rhythms are divided into two groups, each with its own upper/lower selector switch, so more combinations are available than on the MP-7¹. As usual, rhythms can be combined.
Comments