Anaphobia Destro 1.0 arrives!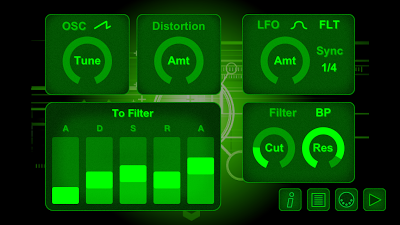 Destro is another monophonic virtual analog synthesizer and goes on where AnaMini ends. Once again a monophonic virtual analog synth, Destro features one VCO, two LFOs, a noise generator, a VCF and a VCA. On top of the synthesizer, Destro also provides a programmable step sequencer so you can create your own patterns and songs. Furthermore, Destro adds a noise generator and foldback distortion unit, as well as a 3-part drum synthesizer module!

Features (Synthesizer)
One main oscillator (VCO) with selectable wave type (saw, square, noise and sine) and scalable within the range of -1 and +1 octaves.
Two low frequency oscillators (LFO) with selectable wave type (saw, square, noise and sine) and selectable frequency/rate and depth. LFO1 modulates VCO1 frequency while LFO2 modulates VCF cutoff frequency. LFO's synchronise to MIDI/sequencer tempo at 1/32, 1/16, 1/8, 1/4, 1/2, 1, 2, 4, 8 or 16 notes.
One VCA with fully customizable ADSR(A) envelope.
One 24dB/octave VCF with three filter types (Low Pass, High Pass and Band Pass), selectable cutoff frequency and resonance and a fully customisable ADSR(A) envelope.
One noise generator with fully customisable ADSR(A) envelope.
Foldback distortion unit with adjustable threshold.
5 factory presets.
10 custom presets.
Features (Sequencer)
4 beats-per-pattern, 4 steps per beat step sequencer.
Adjustable tempo from 20-200BPM.
Adjustable swing.
Supports note on, note off and legato commands.
Supports MIDI Clock IN synchronisation
5 factory patterns.
10 custom patterns.
Features (drum synthesizer)
Bass drum, snare drum and hihat parts, using the same synthesizer technology as the main synthesizer.
Each part has its own track in the sequencer.
Note: first content update will follow soon and will contain the following features:
3-Octave keyboard/ribbon controller
AudioBus support
Audio record and export function
Anaphobia Destro is priced at $1.99.
Comments