Teaser: iVCS – virtual version of the EMS VCS3 synthesizer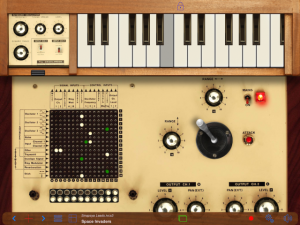 The original VCS3 is a very rare monophonic synthesizer, introduced in 1969. It offers a 3 VCO/VCF/VCA/ subtractive synth architecture, and includes a flexible patching matrix and some interesting control options, including a joystick.
iVCS comes from Densitygs, creators of Density asynchronous granular synthesizer for Mac & Win, Pulsaret microsound granular synth for Mac & Win, and iPulsaret and iDensity for iOS.
Specifications and pricing/availability details are to be announced.
Description:
The VCS3 has three oscillators (in reality, the first 2 oscillators are normal oscillators and the 3rd an LFO or Low Frequency Oscillator), a noise generator, two input amplifiers, a ring modulator, a 18dB/octave (pre-1974) or 24dB/octave (after 1974) voltage controlled low pass filter (VCF),[citation needed] a trapezoid envelope generator, joy-stick controller, voltage controlled spring reverb unit and 2 stereo output amplifiers. Unlike most modular synthesiser systems which use cables to link components together, the VCS3 uses a distinctive patch board matrix into which pins are inserted in order to connect its components together.
Keyboards controller
Although the VCS3 is often used for generating sound effects due to lack of built-in keyboard, there were external keyboard controllers for melodic play. The DK1 in 1969 was an early velocity sensitive monophonic keyboard for VCS3 with an extra VCO and VCA. Later it was extended for duophonic play, as DK2, in 1972.] Also in 1972, Synthi AKS was released, and its digital sequencer with a touch-sensitive flat keyboard, KS sequencer, and its mechanical keyboard version, DKS, were also released.
Related models
The VCS3's basic design was reused by EMS in many other of their own products,[citation needed] most notably in the EMS Synthi 100 (1971), and the Synthi A (1971) and AKS (1972) (essentially a VCS3 housed in a plastic briefcase). The AKS also has a sequencer built into the keyboard in the lid.
Also an earlier agent of EMS in the United States, Ionic Industries in the Morristown, New Jersey, have released portable-keyboard version of VCS3 clone. The Ionic Performer in 1973 was designed based on VCS3's circuit, replaced patch board matrix with over hundred of push-buttons, and added built-in keyboard and effects units.
Comments