Have you ever wondered what your children will sound like when they grow up? This fun, easy-to-use iPhone, iPad and iPod* App lets you explore the possibilities.
So easy to use:
• Record speaking or singing (tap mic to start, tap again to stop)
• Adjust for bigger or smaller (swipe or pinch)
• Listen to how it sounds (tap speaker)
• Send the adjusted voice with a message to friends via E-Mail.
Once you have a sound you like, you can send it to your friends. Swap recordings, and see who sounds the most grown-up or the most awesome.
You can also hear what grown-ups might have sounded like a few years ago. Just remember that having fun is half the fun!
NOTE:
• iGrowUP requires an Internet connection and E-Mail account to send your recordings to others.
* iPod Touch 2G and 3G require an external microphone, such as an Apple headset with mic. iPod Touch 1G does not support microphone input and cannot be used with iGrowUP.
demo music for the fairlight xxl reason refill
driving by night in sweden
music and refill by bitley
About the Refill:
Around 3,000 individual patches for Reason 5 and upwards. Everything from Fairlight II+ including additional edits, new patches, new samples and Kong drum sets. This refill sets an exceptional standard, delivering all of the sounds you always dreamed of right into your Reason rack. Machines costing several thousand dollars are sort of melted into this refill. Install it and compete instantly with the finest synthesizers available today, yesterday and tomorrow.
"Der Kalte Krieg" is the name of Welle:Erdball new album featuring covers of songs during the Cold War era. We wanted to know more of what has happened with the band since the DVD Zeitsturm was released and really understand what this Homo Futura project is all about. Honey and Freuline Plastique took some time to chat with us and transmit the latest buzz from the Funkhausstudio.
Why did you start Homo Futura and what is it that you can do there that you cannot do in Welle:Erdball?
In the begining it was "Das Präparat" that started as an official Welle:Erdball side project. However, when we split up there were still some shows to do, so we did them anyway with a different set up (F.Nstein & Plastique). This worked out really fine and was a lot of fun. So we decided to keep going and it was really fun to create a new band, new image, new stage show etc.
Official video of "homo~futura – Links-Rechts"
The Zeitmaschine played an important role in the DVD you released last year. Do you see yourself as time travellers when it comes to your music and the band image?
We're traveling through time constantly – just take a look at your watch! Apart from that, music is definately a good way to travel through time with your mind.
You once said (some 10 years ago) that Welle:Erdball had a long way to go before reaching the goal of Welle:Erdball – The goal was to sound like Welle:Erdball. Have you reached that goal now and how is it shown in your music and visuals?
I think we are really close with the new album "Der Kalte Krieg". But we haven't really reached our goal yet. It might sound hard to believe, but since the start of Welle: Erdball, all the concepts and partly the names of the broadcasts and songs were already set. And we still have to accomplish a couple of things on this list.
So it won't be over for a long time.
Could we expect a radio show by Welle:Erdball including only Gainsbourg song? We feel that the work of Serge matches the Welle concept very well. We're sure he would approve of you bringing his work to a younger generation.
Probably not. We're not a "cover band" although we appreciate Gainsbourg's work a lot.
But actually the upcoming release "Der Kalte Krieg" will contain only cover versions of favorite songs from different artists about the cold war and others.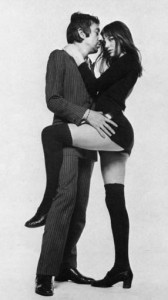 Serge Gainsbourg was a French singer-songwriter, actor and director. Gainsbourg's extremely varied musical style and individuality make him difficult to categorize. His legacy has been firmly established, and he is often regarded as one of the world's most influential popular musicians.
You have a lot of political and social ambitions with your songs, ranging from the criticism of gaming consoles to the man-machine integration. What areas are your main concerns today and why, and would you agree on the theories of a technological Singularity that has been put forward by e.g Kurzweil?
It is hard to comment on this. Since the opinion of Welle: Erdball not always is the personal opinion. I find it important that you first have an opinion at all and that there is a message in the music and in the lyrics. Not: "Come on, let's have a party tonight!" :). And we see it as our duty to have a social commitment but we are no judges, who tell the audience what to think.It is only important that you form your own opinion or that there is a chance to do so."
What is it that you like about the 50′s sound?
Well we're using 50s asthetics since the beginning and we're all big fans of this aera. The sound of the 50s and the subculture behind it was one of the first "punk" movements in music history.
Probably the most charming way of going against the mainstream.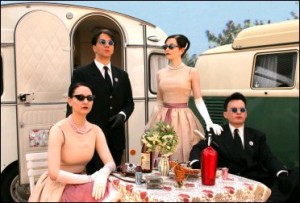 You describe yourself as hard working, keeping you self busy 28 hours a day. Is that just the German spirit and work morale showing or do you have an artistic fire burning inside?
I don't know if it is the German mentality, maybe a little…But under any circumstances is it the Welle: Erdball-mentality.
Read the full interview here >>
Sampling is now part of the Fairlight app for iPhone and iPad. In this video Peter Vogel, who pioneered sampling technology in the late seventies, demonstrates sampling with the app with the assistance of some kitchen utensils.
In this second video preview of the new Fairlight CMI-30A, Peter Vogel demonstrates the sampling page. This video includes what is probably the most expensive method of generatng a sawtooth wave known to mankind.
A bit of trivia: the sounds sampled in the making of this demo are used in the sting at the start and end of the video. Listen on big speakers.
The new CMI is unique in that it produces the classic "Fairlight sound" that defined music of the eighties as well as the modern Fairlight sound — that of uncompromising signal purity.

Both these extremes are made possible by the extraordinary processing power of the Crystal Core engine which lies at the heart of the system.

The Crystal Core media processor(CC-1) was developed by Fairlight.AU as the engine for its range of top-end digital audio workstations. The CC-1 uses FPGA (field-programmable gate array) to achieve performance far in excess of what can be achieved using even the fastest digital signal processor of conventional design.
Mail Order Monsters performing the song Fairlight, live in studio at WKTV.
"We play exclusively through the 'SID' chip, taken directly from Commodore 64 computers and placed in a new hand built circuitry that allows greater flexibility, and compatibility with modern MIDI equipment. We utilize over 20 chips in our performances."
http://www.mailordermonsters64.com
First peek at the CMI-30A. Peter Vogel presents a first look at the 30th Anniversary edition of the classic Fairlight sampler.
The Fairlight CMI-30A features the retro look of the original, but offers current technology to more much more power than was possible in the 80′s.
See the links below for more information.
Pricing and Availability
The Fairlight CMI-30A is priced at A$20,000  (Australian dollars) plus GST if delivered within Australia. A 50% deposit is required as part of the agreement. Deliver is expected to be within 90 days.
Links:
Introducing the new Fairlight XXL refill for Reason 5.
Bitley has introduced Fairlight CMI Legacy XXL for Reason 5 or Reason 5 & Record 1.5. It offers about 3,000 individual patches..

Features:

All sounds from II+ – demos and info here
3,04 Gb of files unpacked
About 3,000 patches for all Reason instruments

The Fairlight CMI Legacy XXL Refill is priced at 100€ (100 Euros).
Presentation at The Conservatory of Recording Arts and Sciences with Jeff Harris demonstrating the Fairlight CMI as used on the movie TRON.
The Fairlight CMI was a development of an earlier synthesizer called the Qasar M8, an attempt to create sound by modeling all of the parameters of a waveform in real time. Unfortunately, this was beyond the available processing power of the day, and the results were disappointing. In an attempt to make something of it, Vogel and Ryrie decided to see what it would do with a naturally recorded sound wave as a starting point. To their surprise the effect was remarkable, and the digital sampler was born. In casting about for a name, Ryrie and Vogel settled upon Fairlight, the name of a hydrofoil (named in turn after Fairlight, New South Wales) that sped each day past Ryrie's grandmother's large house in Point Piper, New South Wales, underneath which Ryrie had a workroom.
By 1979, the Fairlight CMI Series I was being demonstrated in Australia, the UK and the US, the latter country covered by Bruce Springsteen's concert sound engineer Bruce Jackson, once Ryrie's neighbour in Point Piper. At this time the sound quality was not quite up to professional standards, having only 24 kHz sampling, and it was not until the Series II of 1982 that this was rectified. In 1983 MIDI was added with the Series IIx, and in 1985 support for full CD quality sampling (16 bit/44.1 kHz) was available with the Series III.
The Fairlight ran its own operating system known as QDOS (a modified version of the Motorola MDOS operating system) and had a menu-driven GUI. The basic system used a number of Motorola 6800 processors, with separate cards dealing with specific parts of the system, such as the display drive and the keyboard interface. The main device for interacting with the machine apart from the keyboard was a light pen, which could be used to select options presented on a monochrome green-screen.
Fairlight CMI used on the movie "TRON"