June 19, 2012 · Posted in
Uncategorized
·
Comments Off

on Fairlight CMI series 3 explained – Setting up voices + audio routing
A simple explanatory video about the first setup for using the Fairlight CMI series 3. Because there were no video's or other explanatory material about using this infernal machine i thought it would be helpful for newbie users.
The video covers the setup and loading sounds for playback and mixdown.
It also covers the configuration of the 24 channel router / mixer and assigning monophonic or polyphonic output busses.
At the end is a demo from an external sequencer (the magic Atari TT030 with Cubase 3.0 Atari) and the loading of a pre-programmed instrument line-up
May 8, 2012 · Posted in
Uncategorized
·
Comments Off

on Cierra | Don't Cry | Fairlight Platinum ReFill
Here's a cool video featuring Cierra and the Fairlight Refill:
Sneak preview! Michael Moog has produced a brand new track for the 17 year old TMG Recording artist Cierra Ramirez exclusively using the Bitley™ Fairlight Platinum ReFill for Reason 6. He contacted us about it and gave us exclusive rights to publish a sneak preview of the video in order to be able to spread the word on the refill, which he adores. This video is not listed publicly on YouTube.
Cierra Ramirez will be starring in the Lionsgate feature movie (motion picture) Girl In Progress with Eva Mendez going up on cinemas May 11, 2012. The track (and this video) will be official sometime after this.
The track is a response to Echoes Of Silence by The Weekend.
Michael Moog will possibly be providing a RPS version of the track which will be provided to all Fairlight Platinum license owners. Michael Moog is also currently producing the 90s pop act No Mercy and the Fairlight Platinum ReFill is being used there as well.
Directed by: Michael Moog. Director of Photography: Eric Roundtree. Lightning / Grip: Calvin Gaines. Edited by Eric Roundtree, Siji and Timmy Temper. Published by Temper Music Group. Song copyrighted by The Weekend, 2012. Preview published by Bitley with exclusive, written permission.
The Fairlight Platinum ReFill is available from the Bitley website, http://bitley.laconicsounds.net
April 13, 2012 · Posted in
Uncategorized
·
Comments Off

on Fairlight Releases Dream v4, New EVO Editions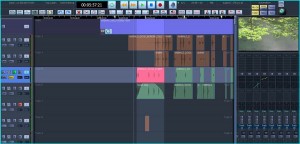 NAB is on next week in Las Vegas, and Fairlight will be showing the new versions of both its Dream software range and EVO post/production consoles.
Solo – the new mouse-based editing software for Fairlight's Dream platform
Dream v4 will be shipped with all new Fairlight systems from June this year and provided to existing customers covered by Fairlight's software support contract.
Version 4 reportedly contains many new features, options, and enhancements along with over 100 improvements suggested by Fairlight customers. Key features include:
•    Sound Design Software (SDS) – an integrated sampler designed for Post Production
•    Mouse-based editing enhancements
•    Dedicated single-screen GUI design for compact installations
•    Speed increase and new features; for the Audiobase sound FX database
•    Improved dynamics attack range, plus side-chains and MaxLinking across groups
•    Customizable Surround Formats including AudioWorks-3D
•    More VCA groups with more features
•    Audition sound from Windows Explorer, directly on the project timeline
•    In context replacement of audio in P2 files
•    Mixer UI updates
•    Import of selected mix automation data from other projects
•    Support for remote control via tablet apps.
Fairlight's Version 4 Dream software will be on view at NAB 2012 on a 5-bay EVO console at the Fairlight booth, SL14305. Fairlight also announced today they will be releasing a range of new options for the flagship EVO series of post production consoles.
The most significant addition here is a music keyboard bay "harking back to the roots of Fairlight in sound sampling," explains Fairlight CTO, Tino Fibaek.
Mechanically, the EVO changes are ergonomic improvements and modifications to allow a greater degree of user installation customization, including:
•    A chassis-less configuration, for mounting in customer's own furniture.
•    Variable monitor viewing angles – screens can moved in a 20 degree range
•    Speaker and utility shelves mounted at the rear of the console
•    Multiple variations in console raking and elevation
The mechanical changes now support a range of new electronic options including:
•    A music keyboard bay accommodating either 25 or 61 notes integrated with the new Dream II v4 Sound Design and Sampling software.
•    An optional video sub-panel for use in applications such as metering and monitoring
•    A sophisticated Ethernet based GPI/O system, either in-console or externally mounted.
For more information on the Dream software and EVO post-production systems, visit au.fairlight.com.
April 7, 2012 · Posted in
Uncategorized
·
Comments Off

on It's chiptime again: Mail Order Monsters – Fairlight
"Mail Order Monsters performing the song Fairlight, live in studio at WKTV. We play exclusively through the 'SID' chip, taken directly from Commodore 64 computers and placed in a new hand built circuitry that allows greater flexibility, and compatibility with modern MIDI equipment. We utilize over 20 chips in our performances."
http://www.mailordermonsters64.com
March 18, 2012 · Posted in
Uncategorized
·
Comments Off

on Vince Clarke 1984 with Fairlight Sampler (Audio)
Very rare tape recording of Vince using the Fairlight Computer back in 1984.
This is an audio recording that was done for Electronic Soundmaker and Computer Music magazine. I found the original magazine and tape in my loft. I thought you'd like to here it so I've converted it into a digital format. Now go make a cup of tea or get a beer, sit back and enjoy this blast from the past.
Via Bonnline
March 1, 2012 · Posted in
Uncategorized
·
Comments Off

on Peter Vogel and Thomas Dolby on the Impact of the Fairlight CMI
A one hour interview focusing on the classic Fairlight CMI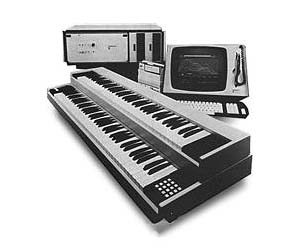 The Australian Fairlight Computer Music Instrument (CMI) is a vintage but state-of-the-art Synthesizer/Sampler workstation. An incredible sampler with 28 megabytes or more of memory! One or two full 73 note velocity sensitive keyboards! Complete synthesis and editing of digitally sampled sounds. Three different on-board SMPTE Sequencers and storage to various disk mediums. The processor itself is housed in a 24″ module. It was also the first digital sampler to hit the market back in 1979 and has endured throughout the eighties and nineties.
From 1979 to 1985 several versions of the Fairlight were produced, with the Series III being the last of them. Each new series added updates to the Fairlight as technology developed through the early eighties. The Fairlight 1 and 2 had only 16 kByte of Memory per voice, and only eight voices but expanded to several megabytes and double the polyphony by the Fairlight III. The IIx was the first Fairlight to offer MIDI. The Series III added aftertouch capability to the keyboard. They all had pitch/mod wheels, an 82-key alphanumeric keyboard, 15 function keys, a Graphics Tablet for drawing sounds and a Video Monitor for seeing what you're doing while editing.
The sampler is the heart of the Fairlight. It's a 16-bit resolution digital sampler with variable sample-rates up to 100kHz! Original Fairlight models used two standard 8 bit 6800 processors, updated to the more powerful 16 bit 68000 chips in later versions (the IIx had updated 6809 processors, which is what designated it a IIx over a II, and raised the sampling resolution to 32kHz, from the I & II's 24kHz). In the Fairlight III, sample memory (RAM) comes in 28MB chunks per 16 voices of polyphony – wow! That's plenty of room for creating stereo or mono samples. Edit them using various hi-tech functions and at a 'microscopic' level using the large Monitor screen. Samples can be looped, mixed and re-sampled with processing for sweetening. As for synthesis, create your own waveforms by sampling and applying Fast Fourier Transform and Waveform editing functions. Storing samples and synthesized waveforms can be done to Hard Disk or 8″ floppy disks.
As for sequencing, there are three sophisticated methods. There's CAPS (Composer, Arranger, Performer Sequencer), an 80-track polyphonic sequencer. The complicated MCL (Music Composition Language) is like a text-based step time sequencer. And finally the Rhythm Sequencer which functions like a classic drum-machine style sequencer. All sequencer's are SMPTE syncable.
The Fairlight is a horribly expensive Music Production Center and is rivalled only by the NED Synclavier. Although current samplers, sequencers and synths can blow away the Fairlight at a fraction of the cost – the Fairlight is an historical, prized piece of Vintage Digital Synthesizer and Sampler technology. It still holds up today, over twenty years later and is still a high quality and professional instrument. The facilities provided by it benefit hardcore synth programmers, wealthy musicians, sound designers, film composers and wealthy Vintage Synth collectors.
September 23, 2011 · Posted in
Uncategorized
·
Comments Off

on Fairlight Instruments: iGrowUP App for iPhone, iPad, iPod touch
Have you ever wondered what your children will sound like when they grow up? This fun, easy-to-use iPhone, iPad and iPod* App lets you explore the possibilities.
So easy to use:
• Record speaking or singing (tap mic to start, tap again to stop)
• Adjust for bigger or smaller (swipe or pinch)
• Listen to how it sounds (tap speaker)
• Send the adjusted voice with a message to friends via E-Mail.
Once you have a sound you like, you can send it to your friends. Swap recordings, and see who sounds the most grown-up or the most awesome.
You can also hear what grown-ups might have sounded like a few years ago. Just remember that having fun is half the fun!
NOTE:
• iGrowUP requires an Internet connection and E-Mail account to send your recordings to others.
* iPod Touch 2G and 3G require an external microphone, such as an Apple headset with mic. iPod Touch 1G does not support microphone input and cannot be used with iGrowUP.
September 14, 2011 · Posted in
Uncategorized
·
Comments Off

on fairlight xxl: one track to two tracks
demo music for the fairlight xxl reason refill
driving by night in sweden
music and refill by bitley
About the Refill:
Around 3,000 individual patches for Reason 5 and upwards. Everything from Fairlight II+ including additional edits, new patches, new samples and Kong drum sets. This refill sets an exceptional standard, delivering all of the sounds you always dreamed of right into your Reason rack. Machines costing several thousand dollars are sort of melted into this refill. Install it and compete instantly with the finest synthesizers available today, yesterday and tomorrow.
September 5, 2011 · Posted in
Uncategorized
·
Comments Off

on Stereoklang talks to Welle:Erdball on gear, radio stations and the release of their new album "Der Kalte Krieg"
"Der Kalte Krieg" is the name of Welle:Erdball new album featuring covers of songs during the Cold War era. We wanted to know more of what has happened with the band since the DVD Zeitsturm was released and really understand what this Homo Futura project is all about. Honey and Freuline Plastique took some time to chat with us and transmit the latest buzz from the Funkhausstudio.
Why did you start Homo Futura and what is it that you can do there that you cannot do in Welle:Erdball?
In the begining it was "Das Präparat" that started as an official Welle:Erdball side project. However, when we split up there were still some shows to do, so we did them anyway with a different set up (F.Nstein & Plastique). This worked out really fine and was a lot of fun. So we decided to keep going and it was really fun to create a new band, new image, new stage show etc.
Official video of "homo~futura – Links-Rechts"
The Zeitmaschine played an important role in the DVD you released last year. Do you see yourself as time travellers when it comes to your music and the band image?
We're traveling through time constantly – just take a look at your watch! Apart from that, music is definately a good way to travel through time with your mind.
You once said (some 10 years ago) that Welle:Erdball had a long way to go before reaching the goal of Welle:Erdball – The goal was to sound like Welle:Erdball. Have you reached that goal now and how is it shown in your music and visuals?
I think we are really close with the new album "Der Kalte Krieg". But we haven't really reached our goal yet. It might sound hard to believe, but since the start of Welle: Erdball, all the concepts and partly the names of the broadcasts and songs were already set. And we still have to accomplish a couple of things on this list.
So it won't be over for a long time.
Could we expect a radio show by Welle:Erdball including only Gainsbourg song? We feel that the work of Serge matches the Welle concept very well. We're sure he would approve of you bringing his work to a younger generation.
Probably not. We're not a "cover band" although we appreciate Gainsbourg's work a lot.
But actually the upcoming release "Der Kalte Krieg" will contain only cover versions of favorite songs from different artists about the cold war and others.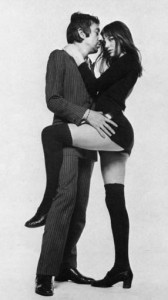 Serge Gainsbourg was a French singer-songwriter, actor and director. Gainsbourg's extremely varied musical style and individuality make him difficult to categorize. His legacy has been firmly established, and he is often regarded as one of the world's most influential popular musicians.
You have a lot of political and social ambitions with your songs, ranging from the criticism of gaming consoles to the man-machine integration. What areas are your main concerns today and why, and would you agree on the theories of a technological Singularity that has been put forward by e.g Kurzweil?
It is hard to comment on this. Since the opinion of Welle: Erdball not always is the personal opinion. I find it important that you first have an opinion at all and that there is a message in the music and in the lyrics. Not: "Come on, let's have a party tonight!" :). And we see it as our duty to have a social commitment but we are no judges, who tell the audience what to think.It is only important that you form your own opinion or that there is a chance to do so."
What is it that you like about the 50's sound?
Well we're using 50s asthetics since the beginning and we're all big fans of this aera. The sound of the 50s and the subculture behind it was one of the first "punk" movements in music history.
Probably the most charming way of going against the mainstream.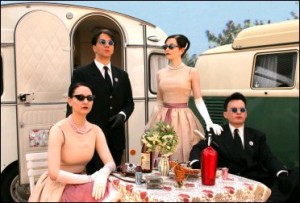 You describe yourself as hard working, keeping you self busy 28 hours a day. Is that just the German spirit and work morale showing or do you have an artistic fire burning inside?
I don't know if it is the German mentality, maybe a little…But under any circumstances is it the Welle: Erdball-mentality.
Read the full interview here >>
August 17, 2011 · Posted in
Uncategorized
·
Comments Off

on Sampling with the Fairlight App
Sampling is now part of the Fairlight app for iPhone and iPad. In this video Peter Vogel, who pioneered sampling technology in the late seventies, demonstrates sampling with the app with the assistance of some kitchen utensils.