Fairlight Releases Dream v4, New EVO Editions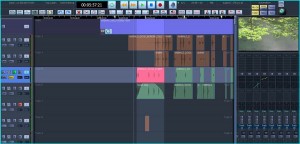 NAB is on next week in Las Vegas, and Fairlight will be showing the new versions of both its Dream software range and EVO post/production consoles.
Solo – the new mouse-based editing software for Fairlight's Dream platform
Dream v4 will be shipped with all new Fairlight systems from June this year and provided to existing customers covered by Fairlight's software support contract.
Version 4 reportedly contains many new features, options, and enhancements along with over 100 improvements suggested by Fairlight customers. Key features include:
•    Sound Design Software (SDS) – an integrated sampler designed for Post Production
•    Mouse-based editing enhancements
•    Dedicated single-screen GUI design for compact installations
•    Speed increase and new features; for the Audiobase sound FX database
•    Improved dynamics attack range, plus side-chains and MaxLinking across groups
•    Customizable Surround Formats including AudioWorks-3D
•    More VCA groups with more features
•    Audition sound from Windows Explorer, directly on the project timeline
•    In context replacement of audio in P2 files
•    Mixer UI updates
•    Import of selected mix automation data from other projects
•    Support for remote control via tablet apps.
Fairlight's Version 4 Dream software will be on view at NAB 2012 on a 5-bay EVO console at the Fairlight booth, SL14305. Fairlight also announced today they will be releasing a range of new options for the flagship EVO series of post production consoles.
The most significant addition here is a music keyboard bay "harking back to the roots of Fairlight in sound sampling," explains Fairlight CTO, Tino Fibaek.
Mechanically, the EVO changes are ergonomic improvements and modifications to allow a greater degree of user installation customization, including:
•    A chassis-less configuration, for mounting in customer's own furniture.
•    Variable monitor viewing angles – screens can moved in a 20 degree range
•    Speaker and utility shelves mounted at the rear of the console
•    Multiple variations in console raking and elevation
The mechanical changes now support a range of new electronic options including:
•    A music keyboard bay accommodating either 25 or 61 notes integrated with the new Dream II v4 Sound Design and Sampling software.
•    An optional video sub-panel for use in applications such as metering and monitoring
•    A sophisticated Ethernet based GPI/O system, either in-console or externally mounted.
For more information on the Dream software and EVO post-production systems, visit au.fairlight.com.
Comments