http://youtu.be/uhXrk_5Wua0
Boog Minotaur Analog Modeling Bass Synthesizer VSTi
Made by SynthEdit
Now Available!
and
Free!! (Donation ware)
http://www3.kcn.ne.jp/~kaitop/
Get ready for some real old school sample nostalgia as Russ takes a look at the UVI Emulator and Drumulator sound libraries.
This is an extended review which should hopefully help those considering making the investment/
"Icebreaker Audio have recently released HandySynth – a sample based emulation of a custom circuit-bent Yamaha HandySound.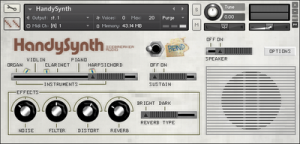 Key Features include:
All original instrument sounds chromatically sampled at 24-bit 48kHz
8 circuit-bent sound variations
Convolution based emulation of the original speaker at various microphone positions
Authentic emulation of the HandySound volume envelopes and tuning via custom scripts
Additional Effects: Distortion, Filter and Spring Reverb
Download also includes a copy of C-Bent Kit for Battery
Available now from the Icebreaker Audio website for £5 (€6/$8 approx.)"
Rhythmic Robot have released three new instruments for Kontakt 4.2.3 and later:
Doctor 55: a sampled recreation of the Boss DR55 analogue drum machine.
Magnus: a reed organ emulating a 1950s Bakelite Magnus organ and a 1970s plastic version.
StyloDrum: a glitchy drum machine with four kits sampling scratches, crackles, pops and squeals from vintage Stylophones which have been pitched, looped and trimmed to form electronic drum sounds.
Doctor 55 costs £4.95. Magnus and StyloDrum cost £3.95.
Doctor 55 is a Kontakt version of the Boss DR55 analogue drum machine. It samples the original with great precision at 24-bit. Each of the four original kit pieces (kick, snare, hats and rimshot) are covered, plus an additional "hidden" snare sound that only showed up on the original during programming. This additional snare has been given its own Attack and Decay parameters, hidden on the rear panel, which allow the user to create brushed snare sounds or snares with long decay tails.
Additionally, as usual with Rhythmic Robot drum machines, multiple samples have been taken through the entire travel of the DR55's "Accent" control. These differently-accented samples can then be accessed either by tweaking the "Accent" control on the GUI panel, or by velocity from a MIDI keyboard (or by drawing velocity automation straight into a DAW lane). Accent amounts change the tonality of the kit pieces considerably, and can be dialed in on a per-kit-piece basis, which of course was not possible on the original instrument (where Accent functioned globally).
The Doctor 55 rounds things out with a Tone control, plus effects control over tube saturation, bit-crushing effects, Drive distortion and an output compressor / limiter for "gluing" and pumping effects.
Features:
All the sounds of the DR55 captured through the entire travel of the Accent control.
Kit pieces individually adjustable for level, pan and Accent.
New "hidden" snare sound sampled, and adjustable for attack and decay.
Velocity Retrofit button allows incoming velocity to vary the Accent level dynamically (for humanised beats).
Bitcrusher, tube saturation, distortion and compression / limiting on the outputs.
Magnus is a reed organ instrument sampled from two vintage Magnus reed organs: a Bakelite model from the 1950s, and a red plastic model from the 1970s. The Bakelite model was Magnus Organs' first ever model and is extremely rare.
Magnus allows the user to blend the "Bakelite" and "Plastic" samples to taste via the front panel controls, and adds Tone and "Electrify" — which brings in tube harmonic distortion to the sound. Attack and Release controls are available for the amplitude envelope, and longer release times invoke a slight pitch drop-off as the sound decays, which mimics the behaviour of a real reed organ having its keys very slowly let up (air pressure through the reeds drops, and the pitch falls as a result). Stereo spread, chorus and phaser effects are available on the rear panel.
Magnus is designed for unusual organ sounds and breathy pad textures.
Features:
Bakelite 1950s and Plastic 1970s samples can be blended to taste.
"Electrify" control for adding harmonic distortion; Tone control for high-end roll-off.
Attack and Decay parameters.
Original pitch drop-off emulated on long ADSR release settings.
Stereo spread, chorus and phaser controls on rear panel.
StyloDrum is an analogue drum machine built from sampled scratches, bleeps, bloops, fizzes, noises, crackles, thumps and glitches — all taken from vintage Stylophones. These have been pitch-shifted, looped, trimmed and fiddled with as necessary to turn them into old-school-style analogue hits. StyloDrum incorporates four kits spread over four octaves, each with at least two kicks and two snares. Most have hats, some have crashes, toms, claps or other "classic" sounds. Interspersed are a lot of random scratches, glitches and other Stylophone-based weirdnesses.
Kit pieces can be adjusted in level and pan position, and there's a comprehensive effects section with Saturation, Drive and "Pump" compression to really kick things into gear. StyloDrum is a unique source of left-field electronic sounds for any genre, with a glitchy, grainy edge.
Features:
Four kits built entirely of Stylophone scratches, glitches, squeaks and squeals.
Pan and level controls.
Tube saturation, Drive distortion and "Pump" compression.
Unique and unusual electronic elements for any genre.
Sean Weitzman from Arturia goes over the Oberheim SEM V soft-synth, which delivers the sound and the feel of the original Oberheim SEM Synthesizer Expansion Module. It's a dual-oscillator synth, and adds new features that weren't present on the original Oberheim unit, like a sub oscillator and a noise generator. SEM V includes many of Arturia's special touches, such as polyphony and 8-voice multitimbrality, effects, extensive modulation capabilities and much more. Enjoy the overview, then learn all about the SEM V right here: http://bit.ly/sw_SEMV
Audio demo of the new Emulation II VST, providing 80's sounds with real time control and effects. Features many sounds from the original Emulator II sampler. Sounds were recorded and carefully selected from the authentic restored instrument, with the very best analog and digital gear, suiting UVI quality standard. This process allows preserving the original sounds' lo-fi charm.
Besides, hundreds of sounds and instruments among the best are included: drums, bass, bells, choir-voices, fretted instruments, FXs, keyboards, mallets, percussion, synths, strings, orchestral hits and a lot more.
A simple, yet complete, user interface reproduces the looks and feeling of the most famous and essential machine from the eighties. With 250+ best sounds and primary editing tools, Emulation II enables you to create authentic spin-offs with infinite options of sounds and tones.
Full info at:
http://www.uvisoundsource.com/product_info.php?currency=EUR&products_id=66
More including audio track demo's here:
http://blog.uvi.net/sounds-instruments/emulation-ii-launch-new/
Joe checks out the Kontrol Surface from SmithsonMartin.
Connect the KS-1974 to your laptop, desktop or any computer to transform them into a powerful and comfortable 22 inch surface with 4 simultaneous touch points. This is perfect for your studio or live performances. KS-1974 is a state-of-the-art DJ, VJ, and Studio Production tool. KS-1974 is the perfect size for any DJ booth or studio desk.
KS-1974 is the newest product from SmithsonMartin, winners of the 2011 DJ Mag Tech Awards: "Most Innovative Product".  Emulator for Traktor and Emulator Modular come bundled with the KS-1974.
Emulator Modular includes a complete set of objects so you can completely custom design your own multi-touch interface with buttons, sliders, circular knobs, jog wheels and even your own custom graphics.
With Emulator Modular you can build your customized multi-touch interface in just minutes. Imagine a custom layout for Traktor, Ableton, Virtual DJ, Mixvibes, Torq, Deckadance, Arkaos, Resolume, and any other MIDI based software. You can share your creations with Emulator community, benefit from the experience and collaboration of other users from our forum. Sharing templates is easy and free, with Emulator Modular, the game has officially changed.
KS-1974 is manufactured with a highly accurate and extremely responsive 4 touch sensor, running at ultra low latency (less 4ms) and completely compatible with Windows 7 & 8 and OSX.
S-1974 is an ultra durable MIDI controller, glass used in the sensors is chemically strengthened to withstand high-volume user interaction and repetitive motion. The system allows continuous usage and will never wear out the faders and of course no more missing buttons.
Virtual DJ control in an analog synth's body. In November Smithson Martin accounced the Kontrol Surface, it's the same kind of deal as their Emulator, but in an analog synth style packaging. Essentially if you're a DJ and you want to look like a complete renegade maverick mofo, then you should purchase this and pretend that you can play synth.
The design of the interface is flexible, meaning you can have custom interfaces for software such as Traktor, or Ableton.
Alan Smithson takes you through the product in the video above.
Via Sonic State
http://youtu.be/dcpiY1Rske8
Emulator Modular Intro
Emulator Modular is the most flexible multi-touch software available to music producers and professional DJ's.
– Convert your multi-touch device into a powerful MIDI controller.
– Build your dream interface in just minutes
– Emulator includes a complete list of objects so you can custom design your own multi-touch interface with buttons, sliders, circular knobs, jog wheels and many more.
– Share your custom templates with the Emulator community and benefit from templates and experience of our other users.
– Work at any resolution!
– Add multi-touch capability to your preferred DJ, VJ or Music Production software.
Enjoy

http://youtu.be/VDdEMezZxek
And here's the background info:
SmithsonMartin Inc. has done it again. This time it's called Kontrol Surface 1974.
Launching at NAMM 2012, combine this amazing new controller with the Emulator Modular software and you have the most powerful midi controller on the planet!
Create your own custom multi-touch layouts for ANY midi software;
DJ
Traktor, Virtual DJ, Torq, Mixvibes, Ableton, Serato (with external mixer), ProDJ, MixMeister
Music Production
ProTools, Ableton, Reason, Kore, FL Studio, Sonar, Logic, Acid
Video
Resolume, Arkaos, Grand VJ, PCDJ, Virtual DJ, Serato, Modul8, Mixvibes VFX
Pro Audio
iLive, Cakewalk, ADK, Soundforge, Yamaha PM5D, Digidesign
Lighting
GrandMA, Lightjockey, ShowXpress, Venue Magic