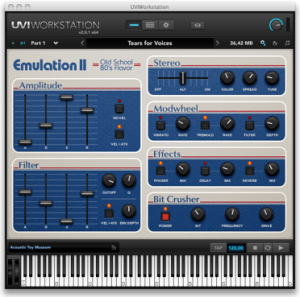 UVI has announced Emulation II, it's simulation of the fabled E-mu Emulator II sampler. Here's what they have to say:
"Emulation II features a set of unique instruments to reproduce that typical music from the 80s: from warm digital sounds to the most analog-ish textures.
UVI adopted a hybrid approach to create these sounds, combining deep multi-sampling and powerful modeling tools (analog filters, LFO, envelopes, etc.), inspired by the original machine and enhanced with today most modern audio processing and script technology.
Sounds were recorded and carefully selected from the authentic restored instrument, with the very best analog and digital gear, suiting UVI quality standard. This process allows preserving the original sounds' lo-fi charm.
Besides, hundreds of sounds and instruments among the best are included: drums, bass, bells, choir-voices, fretted instruments, FXs, keyboards, mallets, percussion, synths, strings, orchestral hits and a lot more.
A simple, yet complete, user interface reproduces the looks and feeling of the most famous and essential machine from the eighties. With 250+ best sounds and primary editing tools, Emulation II enables you to create authentic spin-offs with infinite options of sounds and tones.
This is definitely the ultimate digital version of the long standing professional sampler of the mid-80s, that has been used by Depeche Mode, Peter Gabriel, Pet Shop Boys, New Order, Jean-Michel Jarre, Stevie Wonder, Genesis, Paul McCartney, Enya, Vangelis, in John Carpenter's soundtracks, etc.
Discover also Drumulation: an utter beatbox with step sequencer from the eighties, loaded with 500+ drums and percussion sounds. Make your beats sound 12 bits!"
Emulation II is available for Mac and PC in Standalone, VST, AU, RTAS, and MAS formats. Requires an iLok dongle.
Price is $199
Prophanity – http://www.vstplanet.com/News/2012/Prophanity
Developer: robersonaudio.tk
Chris Roberson (a.k.a. Blu Gruv) has released Prophanity, a freeware VST instrument which aims to clone the Prophet 5.
Oscillator A: Frequency, Osc Waveform (Saw/Square), Pulse Width, Sync
Oscillator B: Frequency, Fine, Osc Waveform (Saw/Triangle/Square), Pulse Width, Low Freq, Keyboard
Mixer: Osc A, Osc B, Noise
Poly-Mod: Sources – Filter envelope, Osc B; Desinations – Freq A, PW A, Filter
Wheel-Mod: Source mix (LFO/Noise)
LFO: Frequency, Waveform (Saw/Triangle/Square)
Filter: Cutoff, Resonance, Envelope Amount, Keyboard, ADSR
Amplifier: ADSR
Volume, Velocity, Master Tune, A440, Glide
Download Prophanity here or here! 1.41 mb
http://youtu.be/2cWN9Pl02ww
Alright, got a quick demo of the Minimogue free vst synth, one of the best as far as emulating the original Moog synthesizer.
"Let me know if you have any questions or would like to see more demos, thanks and enjoy!!"
Based on the most popular analog monosynth of all time! This amazing softsynth sounds very close to the original Minimoog, yet has tons of additional features not present on the original Mini (as well as the Minimoog Voyager!), including 5-note polyphony, an Arpeggiator and 16-note Step Sequencer, dedicated Release knobs for the two Contour Generators (envelopes), Tuning of Osc 1, Fine Tuning sliders for Osc2 and Osc3, Aftertouch control, adjustable filter Velocity curve, 3 independent Overdrive sliders (one per oscillator), Global Overdrive with hi and lowpass cutoff, Oscillator Sync, Chorus, an independent LFO that includes oscillator drift and stereo panning, and a fully programmable Digital Delay! Like the original Mini, you can turn Osc3 into an LFO with dedicated modulation for the Osc Pitch and the Filter. There is no dedicated Noise Generator as on the original Mini, but pink and white noise are selectable on Osc 3. All controls are mapped to MIDI CC#'s, and you can override the default settings by using the MIDI Learn feature. Use as a simple stand-alone synth (.exe file included), or copy the DLL into your favorite DAW or sequencer's plugin folder.
By the way you can also find an emulation of the ARP 2600 on the same page: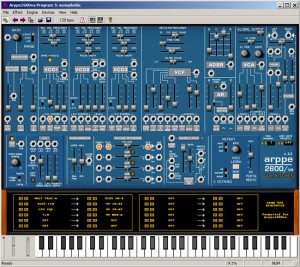 Based on ARP's legendary semi-modular analog monosynth! This amazing softsynth sounds very close to the original ARP 2600. Like the original, it's a monosynth (no polyphony). But, also like the original, it has a multitude of Frequency Modulation options which enable it to create some truly awesome sound effects. PWM, Sample & Hold, virtual Spring Reverb, Ring Modulation, and a dedicated Noise Generator are all there! Also, there are some things even the original Arp 2600 didn't have, like Oscillator Sync and Filter Color (to adjust between LowPass and HiPass filter types). Most important of all, beginning with version 2.0 the Arppe2600va is now completely patchable via a cleverly designed Mod Matrix! You can have up to 12 patch routings with a very user-friendly (and visible!) drop-down menu interface, instead of messy virtual patch cables cluttering up the screen. All controls are mapped to MIDI CC#'s, and you can override the default settings by using the MIDI Learn feature. Use as a simple stand-alone synth (.exe file included), or copy the DLL into your favorite DAW or sequencer's plugin folder.
Luke explains the basics of Audiotool Sketch in this video.
Out now in the Android Market: https://market.android.com/details?id=de.despudelskern.application.audiotools…
Audiotool Sketch allows you to sequence sounds using emulations of three different classic devices. Make some beats with one of the drum machines and then move onto the bassline. Once you have finished building your sequences navigate to the overview and start switching up the patterns, add some delay or change the tempo, all in real time.
Each device includes the full range of parameters which would have been found on the original machines, this coupled with the multi-touch functionality makes it possible for the user to really control each device's output signal. Audiotool Sketch is built around the same audio engine as Audiotool and outputs full power audio.
DXi is a FM synthesizer application inspired by 80's most popular synthesizer. Enjoy making music and creating sound by FM synthesis engine easily.
The movie show you the new great features about DXi version 3.1.0.
Please visit the URL for more information: http://itunes.apple.com/app/dxi-fm-synthesizer/id370138065?mt=8
FM synthesizer is still popular among many people by its unique tone. We carefully selected parameters from original synthesizer so you will be enjoy editing tone with them easily. You need to know some technique to tweak the tone, but you will be able to get DXi's special tone and effects while having some fun!
Creating sound effects is another idea to enjoy DXi.
We loaded 16 step loop sequencer as a bonus feature!
If you remember the days of FM synthesizers, try creating the tone you remember from them.
If you have no experience with any FM synthesizer, we are sure you will be enjoying the unique tone world!
* 4 operators FM synthesizer
* Anti-ailiased oscillator
* 8 algorithms
* Envelope, frequency (Ratio or Fixed) can be set each operators.
* Feedback control on operator number 4.
* 2 master effects (LPF with Resonance and Delay)
* Import/Export function to save the tone you created. (URL schema text string format)
* Audio recording function. And you can transport recorded audio file, .wav, onto Mac/PC via iTunes file sharing.
* Clipboard audio sharing support. You can export recorded waveform to other application via clipboard. It's compatible with Intua's clipboard.
* Supports external MIDI keyboards via Core MIDI USB adapters. iPad users can use Camera Connection Kit. And iPhone/iPod touch users can use Yamaha i-MX1.
About the original – Yamaha DX7:

One of the most popular digital synths ever was the DX7 from Yamaha, released in 1983. It featured a whole new type of synthesis called FM (Frequency Modulation). It certainly is not analog and it is difficult to program but can result in some excellent sounds! It is difficult because it is non-analog and thus, a whole new set of parameters are available for tweaking, many of which seemed counter-intuitive and unfamiliar. And programming had to be accomplished via membrane buttons, one data slider and a small LCD screen.
Still the sounds it shipped with and that many users did manage to create were more complex and unique than anything before it. Percussive and metallic but thick as analog at times, the DX-7 was known for generating unique sounds still popular to this day. The DX-7 was also a truly affordable programmable synth when it was first released. Almost every keyboardist bought one at the time making the DX-7 one of the best selling synths of all time! It also came with MIDI which was brand new at the time – Sequential had already released the first MIDI synth, the Prophet 600. Roland had just released the JX-3P with very basic MIDI implementation, and wouldn't get around to adding full MIDI for another year with the Juno-106, and it would be three years before Roland can counter the popularity of the DX7 with a digital synth of their own, the D-50.
A giant has returned to life. Oberheim's legendary SEM – Synthesizer Expander Module – is back for the first time as a high-end software emulation powered by Arturia's exclusive TAE® technology.
Description:
A giant has returned to life. Oberheim's legendary SEM – Synthesizer Expander Module – is back for the first time as a high-end software emulation powered by Arturia's exclusive TAE® technology.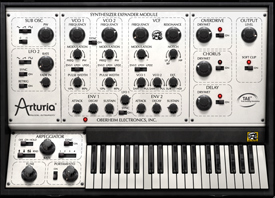 Faithfully reproducing the warm Oberheim SEM tone, the Oberheim SEM V is also polyphonic, with a full array of innovative sonic features.
Favored by top artists and producers such as Goldfrapp, Herbie Hancock and even John Carpenter for its fatness and unique harmonic spectrum, the Oberheim sound is an absolute must have for your studio.
MAIN FEATURES:

All the original parameters of the Oberheim SEM : two oscillators, each offering sawtooth wave and variable-width pulse wave with PWM, sine wave LFO, 12dB/oct multi-mode Filter with low-pass, high-pass, band-pass and notch, two ADS envelopes.
Added functionalities : New LFO, Noise, Sub oscillator, on board effects (overdrive, chorus and delay), Arpeggiator, Portamento.
Polyphony and 8 Voice Multitimbrality
New 8-voice Programmer module
Advanced Keyboard follow module
Modulation Matrix module
Works in Standalone, VST 2.4 & 3, 64 bit & 32 bit, RTAS and AU 32 & 64 bit formats
Compatible with Windows (XP/Vista/Seven 32 bit and 64 bit), Mac OS X (Mac OS X 10.5 or higher, Intel only)
"Demo of this old fashioned styled synth. It's an interesting sounding app but the dials are difficult to use. Hopefully a future version will clear up a few of the issues that will make this synth a must have. Will not work with a keyboard controller."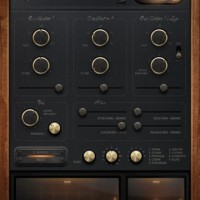 76 Synthesizer is a virtual analog monophonic synth for the iPad. Inspired by synthesizers from the 70's, the 76 Synthesizer combines playability with style.
For a limited time only, get 76 Synthesizer for 50% off!
Features:
• Three Oscillators with sine, sawtooth, triangle, square waves and switchable filter LFO.
• Voltage controlled filter
• ADSR
• Glide
• Pitch bend/modulation touch pad
• Three octave touch pad for note input with nine different scales
• Eight different effects: reverb, phaser, flanger, chorus, overdrive, delay, tremolo and vocoder— tap the outputs to patch into two effects simultaneously
• Eight different writable presets
• Stunning retro interface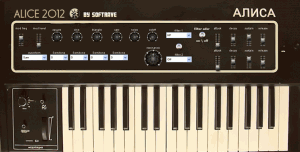 Softrave has released Alice 2012, a new synth VSTi for Windows.
Alice 2012 is based on waveform samples from an Alice 1387 vintage analog soviet synth produced in the '80s. The idea was to recreate deep the low sounds of Alice 1387 as close as possible to the original. This synth is intended for electro, techno, IDM ambient and other electronica styles.
Price: €10 / $15.
At beggining you can hear real analog Alice 1387 , from 35 sec – its VSTI emulation purchase at http://www.tikov.com/softrave/alice2012.htm Softrave presents Alice 2012 Vsti. This instrument is based on waveform samples from Alice 1387 vintage analog soviet synth produced in 80 `s. The idea was to recreate deep low sounds of Alice 1387 as close as possible to original. This synth is good for electro, techno, idm ambient and other electronica styles. This synth will be developed further, i have some ideas how to improve it. Upgrade to next versions will be free for all customers.
Manx has released Destiny, a new synth VSTi for Windows. Here are some sounds from the Manx Destiny, an Arp Odyssey clone from Manx Synthesizers which runs as a VST plugin on PC computers. "The emphasis here, as always with Manx products, is on authenticity; we're fans of the original classic and we didn't consider it to be in need of much updating other than full midi implementation and one or two minor tweeks."
Destiny is the latest product from Manx Synthesizers, who specialize in the implementation of classic analog synthesizers in software; in this case, an Arp Odyssey clone. It is designed to emphasize sound authenticity so the Destiny feature set closely matches that of the original, although the user can select between monophonic and duophonic functionality.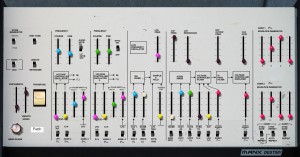 Features:
Monophonic & duophonic modes.
Oscillator sync, PWM, sample & hold.
2 LFOs.
MIDI learn for all parameters.
Price: $59.
Demo of the i505 app that emulates the Roland TR-505 drum machine.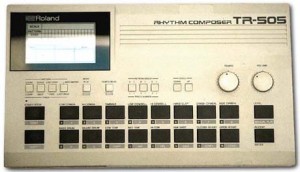 A cheap (budget) drum machine. It features 16 drum tones which unfortunately, are only mediocre samples. Its memory contains 48 patterns and 6 songs. Unlike its TR cousins it does not have individual drum tone outputs. There is no drum tone editing capability either. It does however feature extensive MIDI implementation, even the pads will transmit MIDI data. The 505 works well with a computer and sequencer or as a stand alone drum machine. It is extremely basic and unexciting but does make a good starter or play-along drum machine.