DXi is a FM synthesizer application inspired by 80′s most popular synthesizer. Enjoy making music and creating sound by FM synthesis engine easily.
The movie show you the new great features about DXi version 3.1.0.
Please visit the URL for more information: http://itunes.apple.com/app/dxi-fm-synthesizer/id370138065?mt=8
FM synthesizer is still popular among many people by its unique tone. We carefully selected parameters from original synthesizer so you will be enjoy editing tone with them easily. You need to know some technique to tweak the tone, but you will be able to get DXi's special tone and effects while having some fun!
Creating sound effects is another idea to enjoy DXi.
We loaded 16 step loop sequencer as a bonus feature!
If you remember the days of FM synthesizers, try creating the tone you remember from them.
If you have no experience with any FM synthesizer, we are sure you will be enjoying the unique tone world!
* 4 operators FM synthesizer
* Anti-ailiased oscillator
* 8 algorithms
* Envelope, frequency (Ratio or Fixed) can be set each operators.
* Feedback control on operator number 4.
* 2 master effects (LPF with Resonance and Delay)
* Import/Export function to save the tone you created. (URL schema text string format)
* Audio recording function. And you can transport recorded audio file, .wav, onto Mac/PC via iTunes file sharing.
* Clipboard audio sharing support. You can export recorded waveform to other application via clipboard. It's compatible with Intua's clipboard.
* Supports external MIDI keyboards via Core MIDI USB adapters. iPad users can use Camera Connection Kit. And iPhone/iPod touch users can use Yamaha i-MX1.
About the original – Yamaha DX7:

One of the most popular digital synths ever was the DX7 from Yamaha, released in 1983. It featured a whole new type of synthesis called FM (Frequency Modulation). It certainly is not analog and it is difficult to program but can result in some excellent sounds! It is difficult because it is non-analog and thus, a whole new set of parameters are available for tweaking, many of which seemed counter-intuitive and unfamiliar. And programming had to be accomplished via membrane buttons, one data slider and a small LCD screen.
Still the sounds it shipped with and that many users did manage to create were more complex and unique than anything before it. Percussive and metallic but thick as analog at times, the DX-7 was known for generating unique sounds still popular to this day. The DX-7 was also a truly affordable programmable synth when it was first released. Almost every keyboardist bought one at the time making the DX-7 one of the best selling synths of all time! It also came with MIDI which was brand new at the time – Sequential had already released the first MIDI synth, the Prophet 600. Roland had just released the JX-3P with very basic MIDI implementation, and wouldn't get around to adding full MIDI for another year with the Juno-106, and it would be three years before Roland can counter the popularity of the DX7 with a digital synth of their own, the D-50.
A giant has returned to life. Oberheim's legendary SEM – Synthesizer Expander Module – is back for the first time as a high-end software emulation powered by Arturia's exclusive TAE® technology.
Description:
A giant has returned to life. Oberheim's legendary SEM – Synthesizer Expander Module – is back for the first time as a high-end software emulation powered by Arturia's exclusive TAE® technology.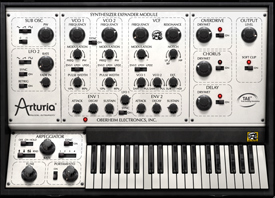 Faithfully reproducing the warm Oberheim SEM tone, the Oberheim SEM V is also polyphonic, with a full array of innovative sonic features.
Favored by top artists and producers such as Goldfrapp, Herbie Hancock and even John Carpenter for its fatness and unique harmonic spectrum, the Oberheim sound is an absolute must have for your studio.
MAIN FEATURES:

All the original parameters of the Oberheim SEM : two oscillators, each offering sawtooth wave and variable-width pulse wave with PWM, sine wave LFO, 12dB/oct multi-mode Filter with low-pass, high-pass, band-pass and notch, two ADS envelopes.
Added functionalities : New LFO, Noise, Sub oscillator, on board effects (overdrive, chorus and delay), Arpeggiator, Portamento.
Polyphony and 8 Voice Multitimbrality
New 8-voice Programmer module
Advanced Keyboard follow module
Modulation Matrix module
Works in Standalone, VST 2.4 & 3, 64 bit & 32 bit, RTAS and AU 32 & 64 bit formats
Compatible with Windows (XP/Vista/Seven 32 bit and 64 bit), Mac OS X (Mac OS X 10.5 or higher, Intel only)
"Demo of this old fashioned styled synth. It's an interesting sounding app but the dials are difficult to use. Hopefully a future version will clear up a few of the issues that will make this synth a must have. Will not work with a keyboard controller."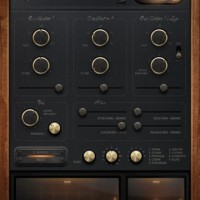 76 Synthesizer is a virtual analog monophonic synth for the iPad. Inspired by synthesizers from the 70′s, the 76 Synthesizer combines playability with style.
For a limited time only, get 76 Synthesizer for 50% off!
Features:
• Three Oscillators with sine, sawtooth, triangle, square waves and switchable filter LFO.
• Voltage controlled filter
• ADSR
• Glide
• Pitch bend/modulation touch pad
• Three octave touch pad for note input with nine different scales
• Eight different effects: reverb, phaser, flanger, chorus, overdrive, delay, tremolo and vocoder— tap the outputs to patch into two effects simultaneously
• Eight different writable presets
• Stunning retro interface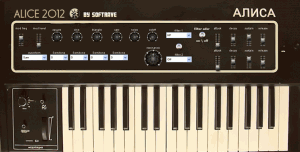 Softrave has released Alice 2012, a new synth VSTi for Windows.
Alice 2012 is based on waveform samples from an Alice 1387 vintage analog soviet synth produced in the '80s. The idea was to recreate deep the low sounds of Alice 1387 as close as possible to the original. This synth is intended for electro, techno, IDM ambient and other electronica styles.
Price: €10 / $15.
At beggining you can hear real analog Alice 1387 , from 35 sec – its VSTI emulation purchase at http://www.tikov.com/softrave/alice2012.htm Softrave presents Alice 2012 Vsti. This instrument is based on waveform samples from Alice 1387 vintage analog soviet synth produced in 80 `s. The idea was to recreate deep low sounds of Alice 1387 as close as possible to original. This synth is good for electro, techno, idm ambient and other electronica styles. This synth will be developed further, i have some ideas how to improve it. Upgrade to next versions will be free for all customers.
Manx has released Destiny, a new synth VSTi for Windows. Here are some sounds from the Manx Destiny, an Arp Odyssey clone from Manx Synthesizers which runs as a VST plugin on PC computers. "The emphasis here, as always with Manx products, is on authenticity; we're fans of the original classic and we didn't consider it to be in need of much updating other than full midi implementation and one or two minor tweeks."
Destiny is the latest product from Manx Synthesizers, who specialize in the implementation of classic analog synthesizers in software; in this case, an Arp Odyssey clone. It is designed to emphasize sound authenticity so the Destiny feature set closely matches that of the original, although the user can select between monophonic and duophonic functionality.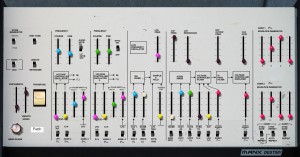 Features:
Monophonic & duophonic modes.
Oscillator sync, PWM, sample & hold.
2 LFOs.
MIDI learn for all parameters.
Price: $59.
Demo of the i505 app that emulates the Roland TR-505 drum machine.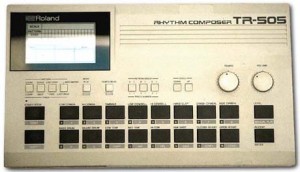 A cheap (budget) drum machine. It features 16 drum tones which unfortunately, are only mediocre samples. Its memory contains 48 patterns and 6 songs. Unlike its TR cousins it does not have individual drum tone outputs. There is no drum tone editing capability either. It does however feature extensive MIDI implementation, even the pads will transmit MIDI data. The 505 works well with a computer and sequencer or as a stand alone drum machine. It is extremely basic and unexciting but does make a good starter or play-along drum machine.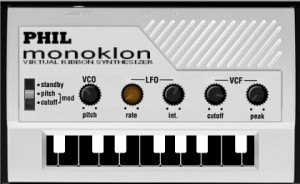 PhilterPlugs has released Monoklon, a free synthesizer plug-in that emulation the Korg Monotron.
Can´t copy the Original Monotron Sound but hey…
Monoklon features
Virtual Ribbon Controller.
Sawtooth Osc.
Sawtooth Lfo.
LP Filter.
Monoklon is available to download as a freeware VST instrument plug-in for Windows.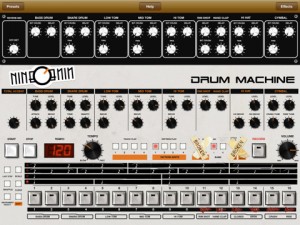 nineOnine is intended to emulate not only the sound of the classic TR-909, but also the logic of programming and saving rhythm patterns."The TR-909 is an awesome analog drum machine! THE standard House and Techno beatbox. Sounds include kick, snare, hand clap, open and closed hi hats, low mid and hi toms, rim shot, ride and crash cymbals. Sounds are tweakable – attack, tone, tuning, decay, snap and accent. This machine does not sound like true acoustic drums, and we don't want it to. It has a unique and very loveable analog sound that's all its own!" And now it is here for the iPad:
Features:
16 step drum sequencer
10 user defined presets
9 drum instruments
8 drum patterns (4 x 2 banks)
4 preset tracks
Knob zoom for easier handling
Effects rack (Reverb, Delay, BitCrush and Pan)
Record and export loops in 16bit/44.1kHz stereo WAV format
However, nineOnine needs some additional features in order to become a no-brainer. MIDI features are missing in action and "Track Play is preset and can not be user defined."
Developer Mirko Trkulja promises some significant enhancements with the next update, though, including:
Knob automation
Wi-Fi MIDI sync
Full sound synthesis
Step or Tap pattern write mode
More patterns and presets
User defined Track Play