A little of FUN from NAMM 2011 : )
Casio VL1 – http://www.vstplanet.com/Instruments/…
Developer: http://www.polyvalens.com/vl1/index.html
SH-009 Monosynth is an unofficial emulated Roland SH-09 synth.
According to the developer:
It is is pretty close in functionality and sound to the hardware version. Highlights include a LFO modulator with random / sample-and-hold step voltage that can be used to modulate the oscillator, the filter, and the pulse width. It also includes an invert switch for the envelope, which can modulate the filter and pulse width, as well as the amplifier.
Two versions are included: a VST instrument and a VST effect. The effect version can be used as an insert or in a modular host to process external audio through the filter and to control the filter envelope.
Close only counts in horseshoes and hand grenades – but if "pretty close" does it for you, you can download SH-009 Monosynth at Postdawn Nurseries.
Demo via myVST.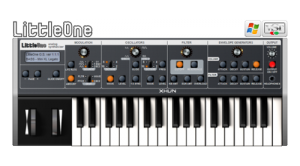 Xhun Audio is proud to present LittleOne, a faithful emulation of a new classic: the Moog Little Phatty analog synthesizer. To produce a rich and warm sound, LittleOne emulates the analog signal path of the Little Phatty and every single component of it (oscillators, filter, envelopes, LFO …), have the original frequency responses and frequency ranges. The result is an analog-sounding instrument – all in the digital domain.
Updated/Fixed/Features:
Improved Oscillators algorithm
The new bandlimited oscillators produce waveforms with a strong brilliance (improving frequencies response, specially in the 4kHz-20kHz range). This allows a better simulation of a real analogue oscillator, without digital artifacts (aliasing).
Analogue Components Emulation
One of the main (and more exciting) features of version 2.0 is the emulation of the analogue components inside the synth. Oscillators, Filters, Lfos (,…) simulates the micro-instability and imperfections of the analogue technology. This feature brings richness, genuineness and depth to the sound.
New Sound Banks
Together with an improved factory sound bank, LittleOne comes with additional presets (300+ in total) covering all styles, from classic analog to FM, to contemporary cutting-edge dance. All the patches of the original Moog Little Phatty (Tribute Edition and Stage Edition) are included.
Improved GUI and minor bug fixes
The Graphical User Interface is improved, as well as some bugs of version 1.x are fixed.
LittleOne version 2.0 full features:
# The Moog Little Phatty Physical Modeling emulation
# Analogue Components Emulation
# Two aliasing-free analog modeled oscillators with continuous selection mode ( like the original ) between Triangle, Saw, Square, Pulse
# A 4-Pole resonant Low Pass filter modeled on the classic Moog Ladder, featuring the original frequency responses, self-oscillation and overload control
# Two 4-Stage ( ADSR ) envelope generators
# Modulation LFO with the original waveforms and frequency ranges ( 0.2~500 Hz )
# Monophonic/polyphonic mode , pitch bend ranges and more – all accessible from LittleOne LED display
# 300+ ready-to-use presets from classic analog to contemporary cutting-edge dance to psychoacoustic sounds and SFX. Original Little Phatty Stage Edition and Tribute Edition patches are included.
# XSQ16M, a build-in 16-step MIDI sequencer
# GATED!, a build-in 16-step trancegate effect
# Two master effects slots with the possibility to choose between delay, reverb, tube distortion, flanger, chorus
# Full MIDI CC#s mapping (according to the original Little Phatty CC#s specs)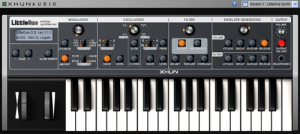 Xhun Audio faithful emulators of the Moog Little Phatty VSTi have officially announced the Worldwide release of Little One 2.0. The new version will be available December 13, 2010. The new version is free for registered users. The main improvements are are mostly within the DSP modeling side of things, GUI, and some new sound banks.
Using the Emu to recreate a DM classic
http://www.youtube.com/watch?v=JVLGompOEFk&feature=player_embedded
Emu Emulator II Sampler re-creating parts of Blasphemous Rumours by Depeche Mode. Two voices key-split in one soundbank.
Audio recorded via DAW to improve quality but means it doesn't match up exactly to the video…
Presenting the new UAD-2 Powered Plug-Ins platform trailer. This video overview features the included Analog Classics plug-in bundle, as well as testimonials from UA artists and partners.
Universal Audio today announced the release of the new UAD-2 QUAD Omni (v5.7) DSP Accelerator Package. Specifically, the UAD-2 QUAD Omni (v5.7) gives producers and engineers 50 award-winning UAD Powered Plug-Ins on Mac or PC — saving thousands of dollars versus buying the plug-ins individually. The PCIe card features four Analog Devices SHARC chips to "power" the world's finest analog emulation plug-ins, including classics from Manley, Neve, Roland, BOSS, dbx, Empirical Labs, EMT, Fairchild, Harrison, Helios, Little Labs, Pultec, SPL, Teletronix and more.
Legendary designer and Cranesong founder Dave Hill explains what's missing from the digital realm that many pros yearn for, and how HEAT gives your mixes the analog warmth you crave.
Generating HEAT: Dave Hill and the Art of Analog Emulation is a promo for AVID's HEAT (Harmonically Enhanced Algorithm Technology), analog console effect software.
It's not a promo that wows you, but it does let you understand the thought process that went into the software's design and also Hill's thoughts on how to use the it.
Plogue has released version 1.5 of Chipsounds, a virtual synthesizer which authentically emulates vintage 8bit-era sound chips.
The most advanced 8-bit sound chip emulator is doing even more to save endangered sound chip species!

In addition to having a totally new Interface and improved sound authenticity, Plogue is saving 3 new sound chips from extinction and adds many additional features.
Changes in Chipsounds v1.5
Totally different skin (fits on all monitors and ebooks).
Current mixer strip is always available.
You can now enter some values using keyboard.
New Amplitude LFO added.
Two asignable drawable user LFOS.
New: uPD1771C (as used in the Super Cassette Vision).
New: uPD65010G (as used in the PV-1000).
New: M5232 (as used in the Poly-800).
DMG-01′s wave channel now has extra phase modulation (Pmode) and vertical offset (VPOS) settings.
Added new MIDI Delay Module.
Added Swing to Arpeggiator.
Chipsounds is available to purchase an instrument plug-in for PC and Mac (VST/AU/RTAS) for $95 USD.
More information: Plogue / Chipsounds
Large multitouch plataform using "emulator" software.
töken is very stable, versatile, very low latency and 100% functional. more info in:
tokenexperience.com