Emulator Modular, add multitouch capability to your preferred software!! (coming soon)
Track ID: "Dusty" by David Jones (Starlight Unlimited), courtesy of Plus 39 Group.
Emulator Modular, www.smithsonmartin.com
Here is a background based on the existing version:
Emulator is the most revolutionary experience for DJ's in the last 30 years!, is the first REAL and USABLE Multi-Touch DJ System that allows the crowd to see exactly what the DJ is doing on a huge transparent touch screen.
The art of DJ'ing is now part of the clubs lightshow, this is the next level in DJ performance!
Emulator is the first native multi-touch software for windows 7, this makes it possible to convert even a simple Tablet PC  into a powerful multi-touch midi controller.
A version specifically for Mac OSX is currently under development.
Is ready to use and does not require any special programming or configuration, follow the basic set up instructions and you are ready to play within 5 minutes.
Emulator is the only MIDI controller that can show all the information needed on one single screen.
Our patented technology gives the user a "heads-up" display of all tracks and information.
Supports multiple controller layouts, covering the most important DJ'ing software on the market.
Versions for Ableton, Serato and Virtual DJ are in development.
The Traktor Pro version is available now.
Is a complete multi-touch MIDI controller, for example, the Traktor version  has more than 130 MIDI buttons, knobs and sliders covering all common features of Traktor Pro and more!!!
Emulator Multi-Touch System has an extreme low latency, with our touchscreen units the latency is only 7ms, this results in fast real time touch points, without the fear of false touchs or ghost points.
Is fully upgradable,  buying the Emulator software or any of our multi-touch packages, you receive lifetime product software upgrades with direct support from our private support forum.
Software use  low CPU resources, all graphics in Emulator are accelerated by hardware, our graphical engine guarantees low cpu usage.
Emulator is the most durable midi controller available, touch screens support extremely hard usage, the continuous usage will never deteriorate the sliders, knobs or buttons.
Alesis vs Kraftwerk is an A/B composition showing how you can emulate the Kraftwerk track Boing Boom Tschak using LM-1 Bass Drum pitched down, LinnDrum Snare 23, Linn LM-1 hand clap pitched down and Linn LM-1 tambourine pitch high and normal. I think you can work out the transition points!
www.strellis.com/alesis.shtml
Info below:
A demo of new Emu Emulator II soundbanks set to various pictures of the EII, its parts and a well known user from the 80′s.
Soundbanks are available in SD4E2 format, if you're an EII owner feel free to get in touch.
Touchscreens are all the rage – usually the small Apple ones though. Smithson Martin however want you to have the fullest DJ experience possible and bring you EMULATOR – a projected touchscreen. We got the lowdown at NAMM 2011. The Emulator is immediately impressive as a visual platform for electronic music performance – but is limited to Traktor running on Windows
Shared by skratchworx
A little of FUN from NAMM 2011 : )
Casio VL1 – http://www.vstplanet.com/Instruments/…
Developer: http://www.polyvalens.com/vl1/index.html
SH-009 Monosynth is an unofficial emulated Roland SH-09 synth.
According to the developer:
It is is pretty close in functionality and sound to the hardware version. Highlights include a LFO modulator with random / sample-and-hold step voltage that can be used to modulate the oscillator, the filter, and the pulse width. It also includes an invert switch for the envelope, which can modulate the filter and pulse width, as well as the amplifier.
Two versions are included: a VST instrument and a VST effect. The effect version can be used as an insert or in a modular host to process external audio through the filter and to control the filter envelope.
Close only counts in horseshoes and hand grenades – but if "pretty close" does it for you, you can download SH-009 Monosynth at Postdawn Nurseries.
Demo via myVST.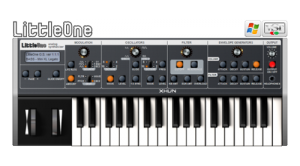 Xhun Audio is proud to present LittleOne, a faithful emulation of a new classic: the Moog Little Phatty analog synthesizer. To produce a rich and warm sound, LittleOne emulates the analog signal path of the Little Phatty and every single component of it (oscillators, filter, envelopes, LFO …), have the original frequency responses and frequency ranges. The result is an analog-sounding instrument – all in the digital domain.
Updated/Fixed/Features:
Improved Oscillators algorithm
The new bandlimited oscillators produce waveforms with a strong brilliance (improving frequencies response, specially in the 4kHz-20kHz range). This allows a better simulation of a real analogue oscillator, without digital artifacts (aliasing).
Analogue Components Emulation
One of the main (and more exciting) features of version 2.0 is the emulation of the analogue components inside the synth. Oscillators, Filters, Lfos (,…) simulates the micro-instability and imperfections of the analogue technology. This feature brings richness, genuineness and depth to the sound.
New Sound Banks
Together with an improved factory sound bank, LittleOne comes with additional presets (300+ in total) covering all styles, from classic analog to FM, to contemporary cutting-edge dance. All the patches of the original Moog Little Phatty (Tribute Edition and Stage Edition) are included.
Improved GUI and minor bug fixes
The Graphical User Interface is improved, as well as some bugs of version 1.x are fixed.
LittleOne version 2.0 full features:
# The Moog Little Phatty Physical Modeling emulation
# Analogue Components Emulation
# Two aliasing-free analog modeled oscillators with continuous selection mode ( like the original ) between Triangle, Saw, Square, Pulse
# A 4-Pole resonant Low Pass filter modeled on the classic Moog Ladder, featuring the original frequency responses, self-oscillation and overload control
# Two 4-Stage ( ADSR ) envelope generators
# Modulation LFO with the original waveforms and frequency ranges ( 0.2~500 Hz )
# Monophonic/polyphonic mode , pitch bend ranges and more – all accessible from LittleOne LED display
# 300+ ready-to-use presets from classic analog to contemporary cutting-edge dance to psychoacoustic sounds and SFX. Original Little Phatty Stage Edition and Tribute Edition patches are included.
# XSQ16M, a build-in 16-step MIDI sequencer
# GATED!, a build-in 16-step trancegate effect
# Two master effects slots with the possibility to choose between delay, reverb, tube distortion, flanger, chorus
# Full MIDI CC#s mapping (according to the original Little Phatty CC#s specs)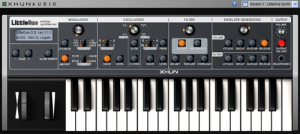 Xhun Audio faithful emulators of the Moog Little Phatty VSTi have officially announced the Worldwide release of Little One 2.0. The new version will be available December 13, 2010. The new version is free for registered users. The main improvements are are mostly within the DSP modeling side of things, GUI, and some new sound banks.
Using the Emu to recreate a DM classic
http://www.youtube.com/watch?v=JVLGompOEFk&feature=player_embedded
Emu Emulator II Sampler re-creating parts of Blasphemous Rumours by Depeche Mode. Two voices key-split in one soundbank.
Audio recorded via DAW to improve quality but means it doesn't match up exactly to the video…