New free KORG minitron emulation for Windows
Almost start to wish I had a PC as well back home, although it would not be a massive investment to get the real one.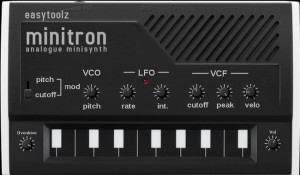 easytoolz has released minitron, a freeware virtual analog synthesizer instrument for Windows. A new toy for the masses, a "Emu" of the Korg Monotron, it is not a real Emulation, more a Adaption of the simple but effective.
Structure of the Korg Minisynth with a little "moogysh" Sound…
One Osc (saw) – one LFO (pulse) one "moogysh" LP-filter
Overdrive and Mastervolume – monophon – 16 Patches
minitron is available as a freeware VST instrument plugin for Windows.
Visit: easytoolz.de/news
By the way easyTools has a lot of other goodies, check out the video below:
Create your own video slideshow at animoto.com.
Comments