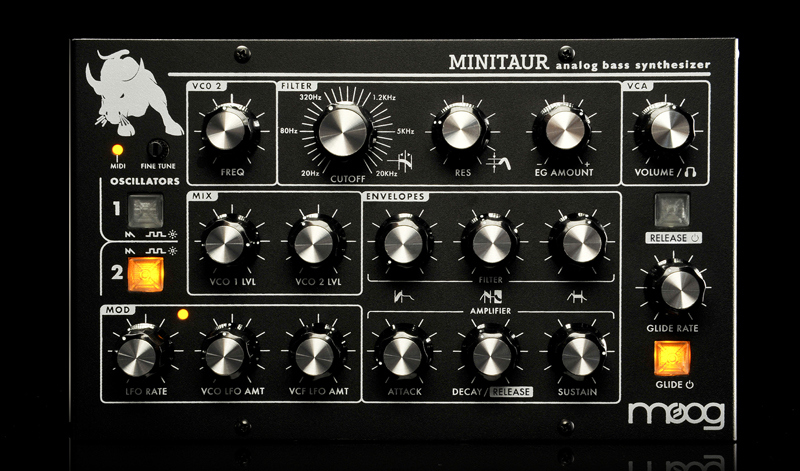 Moog Music has announced a big update to Minitaur Editor:
"The Minitaur Editor has been rebuilt from the ground up and is now available free to all registered Minitaur owners.
In addition to the new standalone editor – VST, AU, RTAS, and AAX plugin compatibility have been added for improved DAW integration. Every feature on and under the hood of your Minitaur can now be easily accessed, automated, and recalled from within your favorite DAW."
The new firmware, version 2.1, also adds new features to Minitaur, including:
Ability to save presets from the panel
Polychain capability
Support for custom tuning scales
Change presets with program changes
MIDI note transposition
Load mod wheel position w/ preset
Load volume knob position w/ preset
For additional information about the updated Minitaur Editor 3.0, or to download the new editor (Mac or Windows versions available), visit the Moog Music website.
Note: Moog Music says that the Minitaur Editor 3.0 requires the installation of firmware version 2.1 onto your Minitaur in order to function properly. If you own Minitaur serial number 6247 or below, you must install this included update. Back up your presets before installing the new firmware.
Nika Roza Danilova, aka Zola Jesus, is best known for her dark moody ballads, but with the 2011 release Conatus, Nika moved forward creating her most dynamic album to date. Not content to rest Zola Jesus ventured into the Moog Sound Lab and further evolved her single "In Your Nature." In its original incarnation "In Your Nature" existed as an epic operatic with dance floor sensibilities, but here Nika imbues the song with analog warmth that contrasts her cold, snowy upbringing. A Minitaur Analog Bass synthesizer controlled by a Minimoog Voyager replaces much of the stringed arrangement found in the original version of the song. The Little Phatty played by keyboardist Nick Turco does double duty, further expanding what would have been a bowed arrangement and providing the arpeggiation featured in the second half of the song. The live violin played by Kim Free was routed through a MF-104 analog delay to thicken the sound and serves as the last trace of the rich strings that carry the original. Synthesist Alex De Groot provides the song's rhythm, expanding on the song's original percussive track with live drumming generated by three Voyager RMEs and controlled with a MIDI drum pad. Zola Jesus's Moog Soundlab session not only captures the energy and emotion of the original, but reshapes "In Your Nature" with a richness and gravity unique to this version.
Watch Moog Sound Lab Season 3 as it debuts at: http://www.brooklynvegan.com/
See more of the Moog Sound Lab series at: http://www.moogsoundlab.com
More information:
http://www.kraftmusic.com/digital-pia…
Jake Widgeon from Moog Music demonstrates the Moog Minitaur analog bass synthesizer at Kraft Music.
CV guru Dan Deacon dropped by the Moog Sound Lab where he grabbed a mountain of gear wired it up, and piloted his drones through an ever evolving soundscape anchored by 2 Minitaurs and 2 MF-107 Freq-Boxes. To further expand his sound, Dan also incorporated dueling MF-103 Phasers and a pair of CP-251 Control Processors.
Learn more about the entire family of Moogerfooger Anaolg Effect Pedals at:
http://moogmusic.com/products/Moogerf…
Moog Product Development Specialist, Amos Gaynes, introduces Minitaur Revolution 2. REV 2 adds localy stored presets, assignable CV, CV to Midi conversion as well as an update to the Minitaur editor/librarian.
Minitaur REV 2 owners can now create up to 100 presets and store them directly within their Minitaur. Presets are managed from within the free Editor/Librarian software and can be conveniently recalled from the Minitaur's front panel controls.
Also in REV 2, a new operational mode for the Decay/Release knob provides users independent control of Decay and Release times from Minitaur's front panel. Users can easily switch between this new mode and Minitaur's legacy mode from the front panel.
In addition, Minitaur's CV and Gate inputs are now assignable from the Minitaur Editor/Librarian software. The Pitch and Mod CV inputs can be routed to any function, while the Gate input can be routed to functions with on/off behavior. REV 2 also enables Minitaur to effectively function as an intuitive CV to MIDI converter.
Learn more about Minitaur here:
http://www.moogmusic.com/products/taurus/minitaur
Jimmy Myhrman provides an nice encounter of the Minitaur and the Octatrack, here are the details:
Having fun with Minitaur and Octatrack. Minitaur is MIDI sequenced by Octatrack, and the Octatrack also records the Minitaur audio and plays it back while preparing and fading in new sounds on the Minitaur (headphones are used to cue the live minitaur audio, while recorded minitaur audio is played to main output).
The Minitaur (left channel) is controlled by the Little Phatty's arpeggio. The Shruthi-1 (right channel) is being sequenced by the MIDIpal and sending clock to both the Little Phatty and Shruthi-1.
Switched On Music Electronics demonstrates the Moog's new desktop bass synth the Minitaur interacting with a 303 clone, The x0xb0x. The x0xb0x is sequencing the Minitaur via midi, and also sending its audio through the filter of the Minitaur for a stack of thick textural bass.
Moog Minitaur available here:
http://www.switchedonaustin.com/products/moog-minitaur
Visuals are produced by our modified Atari Video Musics available here…
http://www.switchedonaustin.com/products/atari-video-music-modified
In the final part of this three part series, Moog Product Development Specialist, Amos Gaynes shows you how to use the under the hood features of the Minitaur Editor Librarian. Learn how to utilize even more features of your Minitaur for a totally custom experience.
Learn more about the Minitaur at:
www.moogmusic.com/products/taurus/minitaur
Be sure to register your Minitaur to receive your free copy of the Minitaur Editor Librarian at:
www.moogmusic.com/register
DJ GhostDad discusses the layout and features of Moog's Minitaur Analog Bass Synthesizer Module.
Thanks to The Cutting Room Studios for hosting