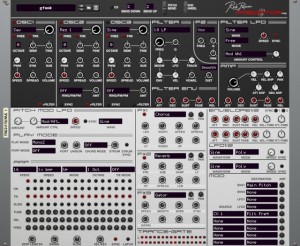 Rob Papen has announced that he is bringing RP Predator synthesizer to Propellerhead Reason as a Rack Extension, Predator RE.
Predator is a "phat sounding" killer synthesizer that combines inspiring presets and first-class features to make this your 'go-to' synth for contemporary music production.
The user interface has been designed so that almost all controls are visible on screen, making it fun and incredibly easy-to-use. And if you're unsure about a particular synth function, simply right click your mouse to access the help screen.

Predator is packed with powerful features such as Preset Quick Browser, Preset bank mananger, Preset Morphing, Intelligent Preset Variation, MIDI and Synth Controllable FX, Unison Detune, Chord Memory and an extremely versatile Arpeggiator.

Included preset banks: HipHop (NY, Club, DirtySouth and Gfunk) banks. Jump, hardcore, breakbeat, various Trance styles, DnB banks. Hardcore dance, House, SFX banks and much more…

Last but not least …Predator also includes PredatorFX, allowing you to use the incredible filters, modulations, effects and vocoder as an FX plug-in within your music host.

Predator 1.6 is out now with even more presets included klangMedium "Ambient bank/Downbeat bank" and JoMal bank.
Details are to be announced for Predator RE, but Papen says it will be available soon.
Re-Tron by GForce Software is the new Rack Extension Tron for Propellerheads' Reason. This video highlights the lineage of its sounds directly from the Streetly Tapes and several of the instrument's features.
Two Great Sounds in One Rack at Last! KORG's Legendary Polysix is recreated in software as a "Rack Extension" available for Reason 6.5
FXpansion Etch Red: an exciting and great-sounding filtering effect based on DCAM circuit-modelled technology and now available as a Reason Rack Extension.
Etch Red features dual filters with 38 available filter responses, realistic audio-rate FM, flexible routing, additional drive & compression stages, and our unique TransMod modulation system with 2 LFOs, envelopes and more.
Availability & Pricing
Etch Red is available as a download-only product from the Propellerhead Online Shop
Pricing is USD $49.00, EUR €39.00 inc VAT where applicable.
Korg Polysix for Reason is the latest addition to Propellerhead's Reason Rack Extensions store. As mentioned before I still feel that the Reason Rack Extensions are pretty hefty in price, ranging from 30-60€ each, personally and before this beauty came along I was most eager to get the Bitspeek, but now I guess that has to wait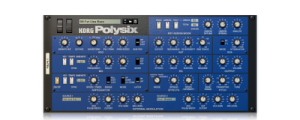 The instrument uses Korg's Component Modeling Technology to model the company's classic '80s six-voice analogue synth of the same name.
Along with the features of the original, the Reason version adds 32-voice polyphony, 16-voice unison (with detune/spread function), flexible external modulation settings, MIDI clock synchronization, and a spread function to the features list.
Polysix for Reason is available now from the Rack Extensions Store priced €39.
Original press release below:
Korg USA Announces Polysix for Propellerhead's Rack Extension Plugin Format
MELVILLE, NY, June 21, 2012 – Korg's original Polysix programmable six-voice polyphonic analog synthesizer was introduced in 1981. With a full-sounding voice structure, classic effects and performance functions, the Polysix became a world-wide hit. Its distinctive string and pad sounds are still often heard to this day.
Now Korg announces the Polysix for Reason, a software version developed for Propellerhead's new Rack Extension Plugin format for Reason. In addition to faithfully replicating the original sounds, the Polysix for Reason also adds enhancements such as 32-voice polyphony (max), up to 16-voice unison (with detune/spread function), flexible external modulation settings, MIDI clock synchronization, and a spread function that adjusts the spaciousness of the effects. This new functionality brings the classic Polysix up to date for use in modern music production.
The software interface provides reorganized knobs and switches that resurrect the Polysix in a contemporary "rack-mountable" form for intuitive operation and sound-creating versatility.
Polysix for Reason will be available for download at Propellerhead's web-shop shop.propellerheads.se on June 21st for U.S. $49.00 (additional product information can be found at: www.korg.com/polysixforreason)."
Learn more about the new Pulsar synth from Propellerheads:
Given Reason 6.5′s recent unveiling, the new Rack Extensions were, inevitably, a big topic for the event.

In the first of a series of tutorial videos from the event, resident Reason expert James Bernard shows us how to use one of those Rack Extensions – Propellerhead's own dual-LFO unit Pulsar – as a playable synth. See how he uses it to make a classic Reese-style bass sound above.

Incidentally, Pulsar is free to all Reason 6.5 and Reason Essentials 1.5 owners until 1 October – so go download it from the Rack Extensions store now.
Synapse Audio has released three new Rack Extension effects for Propellerhead Reason:
RM-1, above, is a virtual-analog ring modulator with a unique soft-saturation characteristic. Both an internal oscillator as well as mono and stereo side chains are available as a modulation source.

The AF-4 is a virtual-analog lowpass filter module, based on the well-known transistor ladder design. The filter can be driven into a warm, musical saturation, as well as into self-oscillation. Additionally, the resonant tuning is correct across the entire frequency range. The filter can be toggled between a 12dB/oct and 24dB/oct lowpass response, and supports both mono and stereo processing.
Full integration into the Reason enviroment and workflow is provided by the CV Inputs on the backside, allowing to control all front panel parameters.

The Synapse DC-2 dual chorus offers a warm, sweeping stereo chorus effect based on a classic two-stage design with matched delay times. Sound parameters include the delay time, modulation rate, depth and a bipolar feedback control.
The delay time, modulation rate and feedback parameters can be controlled via CV Inputs on the backside.