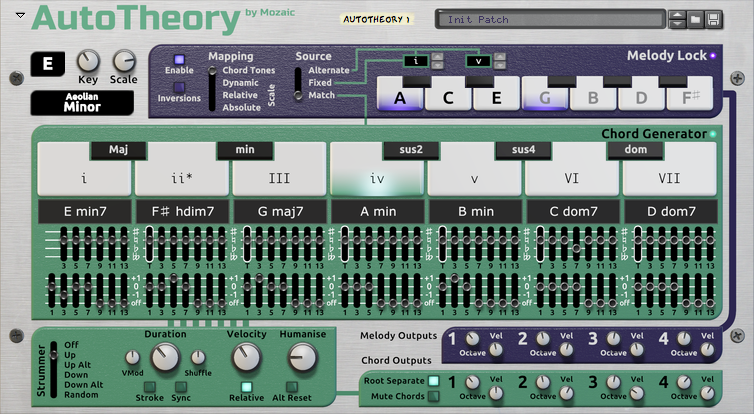 The AutoTheory Harmonic Engine enables anyone, regardless of musical theory or keyboard training, to easily create professional-sounding melodies and harmonies.
AutoTheory makes it easy to play in harmony. Simply choose a key and a scale and AutoTheory will map all relevant chords and notes to the keys of your keyboard. Connect it to one or more Reason instruments and it will transform the way you play.  Play full chords with just one finger. Experiment by modifying chords with the chord sliders and modifier keys. Adjust individual chord note voicings and transpose or remove any note to create a customised chord. Create your own scales or select one from the many provided. Use what sounds good to you.
AutoTheory automatically remaps notes to match your chords. Now you can easily improvise melodies that sound good. Maintain your hand in the same position while composing melodies over different keys, scales and chord configurations. Optionally lock specific chord tones to fixed white keys. Four mapping modes accommodate different levels of user experience.  All controls in AutoTheory can be automated for easy transitions anywhere in a song. This means you can change the key or scale in the middle of a song without moving your hands.
AutoTheory also provides a Strum effect that can be used to add drama to any chord. Subtle and extreme timing changes are easily applied and fully CV-controllable.  AutoTheory can control multiple instruments at once. One option sends the root note of chords to a dedicated bass instrument. Four chord and four melody channels provide independent control of velocity and octave for each connected instrument. This allows you to create a rich soundscape – all from a single sequencer lane or just your own hands.  CV inputs are provided, which are useful for driving AutoTheory with Arpeggiators and Pattern sequencers.
Check out the included Demo Songs that demonstrate how to use AutoTheory. A set of useful Combinators is also provided.
This guide shows how Mozaic's AutoTheory Rack Extension applies to music theory.
For a free demo of AutoTheory please visit http://shop.propellerheads.se/product…
For the main tutorial, please watch http://youtu.be/hQVnfd3WGyM.
Silent Way Voice Controller, part of the Silent Way plug-in suite, will soon be available as a Rack Extension for Propellerhead Reason. Silent Way offers deep control over analog synthesizers direct from your DAW.
For more information on Silent Way, see
http://www.expert-sleepers.co.uk/sile…
Silent Way is a suite of plug-ins designed for use with analogue synthesisers, and especially as part of a modular analogue synthesiser system. The plug-ins produce no sound themselves, nor do they process sound – rather, they generate signals to be used as control voltages (CVs), which can be patched into the control inputs of oscillators, filters, VCAs etc. of an analogue system. Also, with the addition of the CV Input plug-in, it is possible to bring CVs from the synth into the computer, for recording or processing.
There are currently eighteen plug-ins in the Silent Way suite – Silent Way AC Encoder, Silent Way CV Input, Silent Way CV To MIDI, Silent Way CV To OSC , Silent Way DC, Silent Way ES-4 Controller, Silent Way ES-5 Controller, Silent Way ESX-4CV Combiner, Silent Way Follower, Silent Way Learner, Silent Way LFO, Silent Way Quantizer, Silent Way SMUX, Silent Way Soundplane, Silent Way Step LFO, Silent Way Sync , Silent Way Trigger and Silent Way Voice Controller. These are described in more detail below. It is anticipated that more plug-ins will be added to the suite in the future – watch the website for product announcements.

Numerical Sound has announced the release of ReBass Narrow, a Rack Extension for the Reason music production software by Propellerhead Software.
ReBass uses convolution to target bass frequencies with extreme precision, emphasizing just a perfect fifth while leaving the surrounding material untouched.

This means no messing around with endless sweeping and tweaking – just target the range you want from C0-G0 (31-46Hz) to B3-F#4 (233-394Hz) by picking one of the 36 impulses. Each impulse is one semitone higher than the last, so you don't have to think like an engineer to get a great sound – it's quick, clear and free of the phasing artifacts and imprecision EQ can introduce.
ReBass Narrow features
Extreme precision bandpass, rolling off 110 dB within 1.5 semitones from the target range, only possible through convolution and something that traditional EQs cannot match.
36 impulse organized by starting pitch cover 3 octaves from C0-G0 (31-46Hz) to B3-F#4 (233-394Hz).
Audiophile Design: Supports 44.1, 48, 88.2, 96 and 192 KHz sample rates, with accurate detail, ultra-low noise floor and utmost transparency.
Easy to Use Controls: Impulse List, Stereo Width, Gain, Pan and Dry/Wet controls make it easy to mix and shape the bass.
Smooth CV based automation can be used Stereo.
Width, Gain, Pan and Dry/Wet to creatively change your sound.
ReBass Narrow is available to purchase for 55 EUR.
More info on Reason: https://www.propellerheads.se/product…
The Audiomatic Retro Transformer is a new Rack Extension that comes free with Reason 7. Audiomatic is for your music what those insta-hipsta-analogififcation apps are for your cellphone pics. It's about taking your sounds and making them a little bit wrong in the right way. Color your sounds, add extra grit, or indulge in the lo-fi goodness.
In this microtutorial, we'll show you how Audiomatic was deployed across an entire mix to bring authenticity to the retro vibe. A little retro here… a little retro there… and it adds up to a dramatically awesomized mix.
Here's a walk-through of all the functionality in Repeat, a 4-channel, real-time, live-looper for Reason. If you'd like to see Repeat in action, check out this video: https://www.youtube.com/watch?v=EQUOS…
Repeat is available for purchase here: http://shop.propellerheads.se/product…
Demo of the Repeat Looper Rack Extension for Reason. Live-looping cover of such Great Heights by The Postal Service.
New video merely stating the obvious I guess

Try Reason: http://www.propellerheads.se/tryreason
Reason is Propellerhead Software's flagship music production platform; a virtual studio rack full of synths, drum machines, samplers, and effects like reverb, delay, distortion, and much more. Add that all together with unlimited audio recording, legendary audio slicing/stretching, a professional mixer modelled after a big-studio classic… and you've got a powerhouse of a program with one central focus: making your music better than ever.
Whatever your music needs, Reason has a rack for that.
Music in this video: Syndrome by Mikkas: http://www.mikkasmusic.com/
Appearances by:
Jakwob – http://twitter.com/jakwob
Felix Cartal – http://www.felixcartal.com
Lucky Date – http://luckydateofficial.com
This is a demo and beta call for a new Reason Rack Extension called Repeat. It's a real-time, 4 channel, first-loop enabled looper.
You've spent hours on your track? Working and reworking every part to bring your musical vision to life. And you know that the quality of your reverb can be the difference between the rich sounding mix you're after and one that comes off as flat and artificial.

Face it: When it comes to pristine, authentic reverb, it's the algorithm that counts. RP-Verb is the fruit of Rob Papen's decades-long study of reverb and endless hours of exploring, testing, and tweaking by Rob and Jon Ayres. The result is exactly what you would expect: a stunning, musical reverb that brings unmatched dimension and fullness to your mixes.

RP-Verb is the reverb you've waited years to have in your Reason setup. Try it out for yourself and see why pros describe it with one word: amazing.

Introduction price until 30 April: Euro 49 / USD 59 (normal price Euro 65 / USD 79)
Buffre Beat Repeater is an audio looping device that repeats and scrubs audio in sync with song tempo. Buffre is a performance effect, playable from a MIDI keyboard or control surface, and supports Reason control voltage routings for automated looping, stutter and glitch effects.
When you download a full license, please opt-in for special promotional offers by clicking the check box and REGISTER button.
http://shop.propellerheads.se/product…
Introducing Rotor, a rotary speaker Rack Extension from Propellerhead. Meticulously modeled on the Leslie 122, Rotor brings the sound of the classic rotary speaker design to Reason—perfect for adding a vintage flavor to organs, guitars, vocals and keys.
The Leslie speaker is a specially constructed amplifier/loudspeaker used to create special audio effects using the Doppler effect by rotating the speakers or a sound-directing duct. Named after its inventor, Donald Leslie, it is particularly associated with the Hammond organ but is used with a variety of instruments as well as vocals. The Hammond/Leslie combination has become an element in many genres of music. The Leslie Speaker and the Hammond Organ brands are currently owned by Suzuki Musical Instrument Corporation.
A rotary speaker simulator also known as a Leslie speaker simulator, is a device that attempts to recreate the sound of a Leslie speaker used extensively to amplify and modulate the raw organ tones produced by (though not exclusively) the tonewheel organs made by the Hammond Organ Company, and invented by Don Leslie.
While many analog devices have been touted as rotary speaker simulators, including but not limited to the Mini-Deja Vibe, Mojo Vibe, Rotosphere, Rotovibe, and Uni-Vibe, it was often only capable of simulating vibrato and at most chorus, despite the fact that a rotary speaker can also accomplish flanging, phase shifting, and even tremolo. This is because, instead of actually mimicking the way the sound wave is manipulated by the baffles of a Leslie Speaker cabinet (i.e. rotary speaker cabinet) and bounced around the cabinet, all the analog devices actually do is manipulate the signals themselves. Thus, the result is one that, though pleasant and interesting, is by no means similar to the sound produced by a Leslie.