Quadelectra has launched CV Suite Parametrix, a Rack Extension for Propellerhead Reason that lets you control any CV Input signal as if it was a parameter.
CV Suite Parametrix is the third "child" of our CV Suite Line series…

This is a simple straightforward and very handy device that will turn any CV Input in an automatable parameter.
CV Suite Parametrix features
Four individual parameter to CV converters can be controlled per device.
You can select whether each parameter will expand across bipolar or unipolar range…
All parameters can be named by clicking to the label tapes next to the headings.
An additional dedicated CV Modulation Input is provided per parameter, the range (trim knob) and the appliance of which you can set and automate too from the front panel.
The Rack Extension is available to purchase for 7.50 EUR.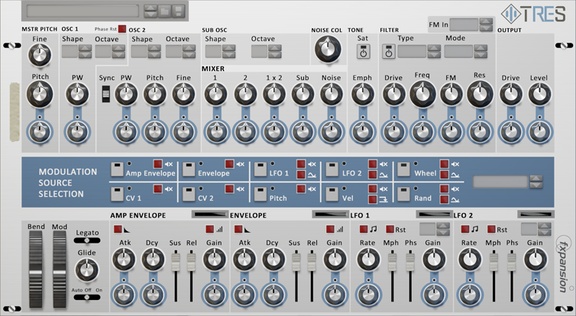 FXpansion has announced the release of Tres, a monosynth Rack Extension for Reason powered by DCAM analogue circuit-modelling technology.
Tres features our powerful TransMod modulation system and a wide variety of timbral flexibility and tone sculpting – a deep two-oscillator synth capable of deep basses, biting leads, strange drones, warped percussion and twisted SFX.

Tres' modelled VCOs can interact at audio rate to produce complex tones; a filtered noise generator and sub-oscillator round out the oscillator section. A keytracking, time-variant shelf-EQ allows you to emphasize or cut higher harmonics before a switchable multimode filter with huge resonance, self-oscillation, FM, adjustable drive and 3 distinct classic synth filter models. Tres' final output VCA provides a non-linear analogue drive stage for a variety of tonal colours from warm and smooth to gritty and aggressive.

Most of Tres' parameters can be modulated simultaneously by any of 10 available modulation sources including Tres' built-in dual envelopes and LFOs and external CV sources from elsewhere in your Reason project. You can also route external sources for audio-rate filter FM and use Tres' built-in envelopes and LFOs to modulate other devices within your session.

Tres comes with a comprehensive library of over 200 unprocessed and Combinator patches, developed in conjunction with Nucleus Sound Lab.
Tres is available to purchase for $49 USD / 39 EUR inc. VAT where applicable.
Introduction to AS-16 Analog Sequencer for Reason
Features:
16 CV channels with separate CV outputs
Skip, Jump and Pad features for each channel
Unipolar, Bipolar and Note output modes
Common musical scales, with selectable root note via UI or MIDI
Octave and range controls when in Note mode
Normal, One Shot and Random modes
Selectable slide
Pattern reverse and bounce modes
Synchronise with sequencer, external clock or free run
Swing control
Audio envelope and chopping facility
CV add and multiply
Chaining of devices for unlimited channels
Pricing and Availability:
€ 25.00
Available in the Propellerhead shop.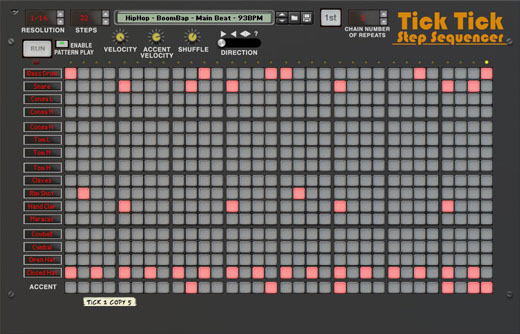 Josh Levy has released the Tick Tick Step Sequencer, a pattern sequencer Rack Extension for Reason.
Tick Tick is a polyphonic button-style step sequencer designed to control your BOOM 808 Percussion Synth as well as other Reason drum machines, and monophonically send notes to other Reason synthesizers and devices.

Chain multiple Tick Tick units together, each with its own pattern, to create complex combinations, and even entire songs.

Tick Tick includes a full beat pack by Reason Refill maker -008′. Also included are contributed demo beats, combis, and over 1,500 scales and modes.
Tick Tick Step Sequencer features
16 note polyphonic step sequencer, with editable names and assignable midi notes.
Up to 32 steps per pattern, from whole notes to 1/128th notes.
Shuffle control.
Forward, reverse, pendulum and random repeat modes.
Two velocity levels.
Chain multiple units together to create whole songs or complex patterns.
Automation and cv control for starting and stopping.
Individual cv outs for each instrument.
Massive beat pack by -oo8'.
More than 1,500 scale and mode patches for use as a note sequencer or arpeggiator.
Run and stop controls for previewing Tick Tick patterns.
The Tick Tick Step Sequencer is available to purchase at the Propellerhead Shop for 32 EUR.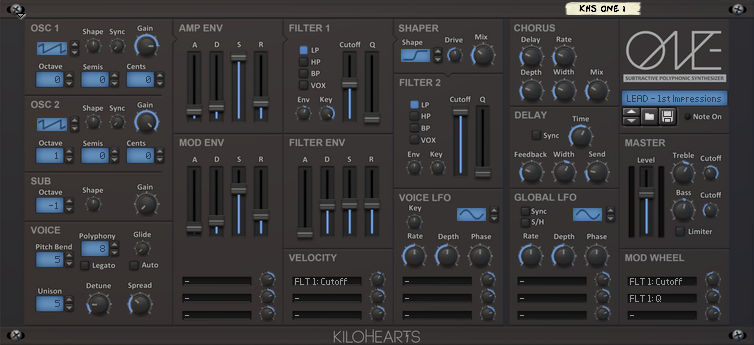 kiloHearts has released a Rack Extension version of the kHs ONE virtual synthesizer instrument.
Whether you want a thumping bass, squelching lead or a smooth pad, kHs ONE stands ready to serve! But don't worry, it won't get sad if you just throw it in for a simple sine sub. Not visibly, at least.

With highly morphable oscillators and a vast array of modulation options all fit into an easy to understand GUI, kHs ONE is the perfect synth for both users new to subtractive synthesis as well as hardened veterans.
kHs ONE RE features
2 Main oscillators (saw/square/noise).
Sub oscillator.
2 multi mode filters (including vowel filter).
Per voice wave shaper.
2 LFOs.
3 Envelopes (amp/filter/mod).
8 voice unison.
24 voice polyphony.
Env/LFO legato on/off.
Portamento/Glide.
Onboard FX: Chorus, Delay, Equalizer and Limiter.
The kHs ONE Rack Extension is available to purchase from the Propellerhead shop for 79 EUR.
Kilohearts' acclaimed synthesizer plugin "kHs ONE" is now also available as a Rack Extension for Reason!
http://shop.propellerheads.se/product…
http://kilohearts.com/products/one
Put the "sproing" in your mix with Softube's Spring Reverb. Spring Reverb is now avaialbe for Reason Rack Extensions, as well as VST, AAX, AU and RTAS formats.
More information on Spring Reverb and Softube's other products at http://www.softube.com.

Softube has announced that its Spring Reverb is now available in the Rack Extensions format for Propellerheads Reason.
Spring Reverb is an authentic spring reverb recreation that will add vintage character and grit to any audio track.

It also includes novel features such as a fully automatable Shake control that will shake the virtual springs around for those thunderous spring effects.

Get some recognizable character in your mix with the Spring Reverb!
Spring Reverb RE is available to purchase for $79 USD / 65 EUR.
Numerical Sound has announced Tone Mutation: Vocals, a Rack Extension for Reason and Reason Essentials.
Numerical Sound Tone Mutation: Vocals (TMV) contains 36 human vowels and animal resonances designed to greatly expand the range of your synthesizer and audio tracks by transforming them into vocal sounds.
High precision resonances dramatically enhance vibrato – giving accurate vibrato tone from any synth. Elevated high frequencies allow TMV to work with maintain clarity and impact on any percussion sound. Dramatically changes the sound of your existing patches, especially pads and full-frequency sounds. The available combinator patch allows smooth morphing through 8 different selectable vocal sounds on any Reason instrument.
Tone Mutation: Vocals features
36 Timbral Impulses cover a wide range of vowels and semi-vowels as well as a selection of Walrus, Whale, Alligator, Leopard and Panther vocalizations snapshots.
The Convolution approach enables capabilities and precision sound that is impossible with parametric and multiband EQ's.
Stereo Width, Gain, Pan and Dry/Wet controls make it easy to mix and shape the sounds.
Audiophile design supports 44.1, 48, 88.2, 96 and 192 KHz sample rates, with processing transparently optimized for each sample rate.
Bonus: Find different ways to use TMV instantly with the free combinator instrument patches. Some patches are available to trial users to get started quickly, but registered users get even more, including intermittent e-mailed updates from Numerical Sound
The Rack Extension is available from the Propellerhead Shop for 55 EUR.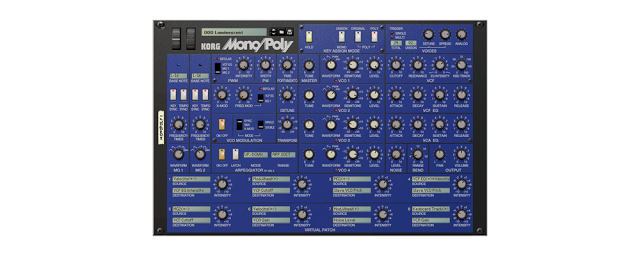 Korg's original Mono/Poly, released in 1981, was a monophonic/polyphonic behemoth that was popular worldwide. It provided four oscillators, a resonant filter, dual EGs and Modulation Generators, plus 4-way Synchro and Cross Modulation capability for creating aggressive and signature tonal effects. Mono/Poly was reborn as software as part of Korg's Legacy Collection – Analog Edition 2007.
The new Mono/Poly for Reason is a software version specially developed for Propellerhead's Rack Extension Plugin format for Reason. In addition to faithfully replicating the original sounds, the Mono/Poly for Reason also adds enhancements such as 128-voice polyphony (max), up to 16-voice unison, Mono/Poly up to date for use in modern music production.
Beyond perfectly reproducing the original, this version of Mono/Poly also greatly extends its sound-creating potential. An eight virtual patch matrix lets users route 159 modulation sources to modulate 35 destinations for creating complex, diverse sounds. Two integrated multi-effects and an arpeggiator deliver modern performance power and flexibility.
The software interface provides reorganized knobs and switches that resurrect the MonoPoly in a contemporary "rack-mountable" form for intuitive operation and sound-creating versatility.
Mono/Poly for Reason will be available for download at Propellerhead's web-shop shop.propellerheads.se on June 20th for U.S $49.00. Additional product information can be found at: www.korg.com/MonoPolyforReason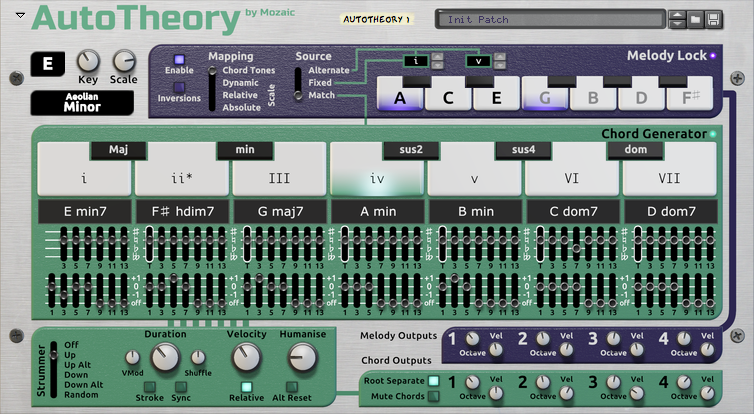 The AutoTheory Harmonic Engine enables anyone, regardless of musical theory or keyboard training, to easily create professional-sounding melodies and harmonies.
AutoTheory makes it easy to play in harmony. Simply choose a key and a scale and AutoTheory will map all relevant chords and notes to the keys of your keyboard. Connect it to one or more Reason instruments and it will transform the way you play.  Play full chords with just one finger. Experiment by modifying chords with the chord sliders and modifier keys. Adjust individual chord note voicings and transpose or remove any note to create a customised chord. Create your own scales or select one from the many provided. Use what sounds good to you.
AutoTheory automatically remaps notes to match your chords. Now you can easily improvise melodies that sound good. Maintain your hand in the same position while composing melodies over different keys, scales and chord configurations. Optionally lock specific chord tones to fixed white keys. Four mapping modes accommodate different levels of user experience.  All controls in AutoTheory can be automated for easy transitions anywhere in a song. This means you can change the key or scale in the middle of a song without moving your hands.
AutoTheory also provides a Strum effect that can be used to add drama to any chord. Subtle and extreme timing changes are easily applied and fully CV-controllable.  AutoTheory can control multiple instruments at once. One option sends the root note of chords to a dedicated bass instrument. Four chord and four melody channels provide independent control of velocity and octave for each connected instrument. This allows you to create a rich soundscape – all from a single sequencer lane or just your own hands.  CV inputs are provided, which are useful for driving AutoTheory with Arpeggiators and Pattern sequencers.
Check out the included Demo Songs that demonstrate how to use AutoTheory. A set of useful Combinators is also provided.
This guide shows how Mozaic's AutoTheory Rack Extension applies to music theory.
For a free demo of AutoTheory please visit http://shop.propellerheads.se/product…
For the main tutorial, please watch http://youtu.be/hQVnfd3WGyM.
Silent Way Voice Controller, part of the Silent Way plug-in suite, will soon be available as a Rack Extension for Propellerhead Reason. Silent Way offers deep control over analog synthesizers direct from your DAW.
For more information on Silent Way, see
http://www.expert-sleepers.co.uk/sile…
Silent Way is a suite of plug-ins designed for use with analogue synthesisers, and especially as part of a modular analogue synthesiser system. The plug-ins produce no sound themselves, nor do they process sound – rather, they generate signals to be used as control voltages (CVs), which can be patched into the control inputs of oscillators, filters, VCAs etc. of an analogue system. Also, with the addition of the CV Input plug-in, it is possible to bring CVs from the synth into the computer, for recording or processing.
There are currently eighteen plug-ins in the Silent Way suite – Silent Way AC Encoder, Silent Way CV Input, Silent Way CV To MIDI, Silent Way CV To OSC , Silent Way DC, Silent Way ES-4 Controller, Silent Way ES-5 Controller, Silent Way ESX-4CV Combiner, Silent Way Follower, Silent Way Learner, Silent Way LFO, Silent Way Quantizer, Silent Way SMUX, Silent Way Soundplane, Silent Way Step LFO, Silent Way Sync , Silent Way Trigger and Silent Way Voice Controller. These are described in more detail below. It is anticipated that more plug-ins will be added to the suite in the future – watch the website for product announcements.