Introduction to the A-Series Modular Synth Rack Extensions for Reason
The A-Series Modular Synth is the first fully modular synth for Reason, where you can design your synths however you want for whatever sound you can imagine. And because all the modules are mix-and-match, all those Reason effects and devices that you already have can go right inside your custom synth.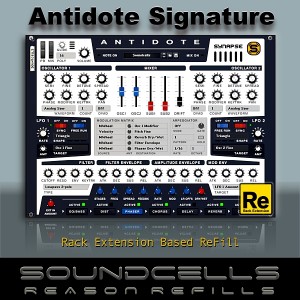 Soundcells has announced Antidote Signature, a ReFill for the Antidote Rack Extension by Synapse Audio.
Antidote Signature for Reason 6.5 and up is based on the Antidote Rack Extension from Synapse Audio – a synthesizer that offers a powerful architecture to produce more than mere 'bread and butter' sounds, combined with a clear and logical user interface. Thanks to its high quality oscillators and the zero-latency filter design – among some other great features -, the user can be sure always to get a very clear and powerful sound out of Antidote.

The Antidote Signature ReFill is an impressive proof of this, and it brings highly playable and great sounding patches to the user´s hand. It´s not genre-specific, so Wurlitzer-like pianos, modern screaming but also classic hardware-like leads, punching basses, warm & rich pads and surprising textures emphasize why this little gem should be part of everybody´s portfolio…
Antidote Signature features
70 Combinator patches.
100 Antidote patches: Atmos & Textures, Bass, Keys, Leads, Pads, Rhythmic, SFX.
Well programmed mod matrix assignments.
Well balanced volume settings & carefully assigned modwheel and combinator buttons and knobs.
The ReFill is available to purchase for 8.90 EUR (requires Synapse-Audio Antidote RE, not included).
James Bernard, master of all things Propellerhead Reason, is BACK! In this video James demonstrates using Buffre Rack Extension for Reason 6.5 as a performance tool to create stutter and pitch fade effects in real time using the Livid Instruments OHM64.
25% Holiday Discount Code: buffreholiday
http://shop.propellerheads.se/product/buffre-beat-repeater/
For more information: http://shop.propellerheads.se/product/px7-fm-synthesizer/
The PX7 FM Synthesizer is a six operator FM synth for the Reason rack. As a faithful recreation of the popular DX series keyboards, it provides a wealth of new sounds, ranging from classic 80′s bass and brass to modern textures, leads and growls.
Propellerhead has announced the immediate availability of PX7 FM Synthesizer, a new six operator FM synth for Propellerhead's Rack Extension format. As a recreation of the popular DX series keyboards, PX7 provides a wealth of new sounds to the Reason rack, ranging from classic 80′s bass and brass to modern textures, leads and growls.
Propellerhead has improved on the original too, with macro controls for easy tweaking of sounds and stereo panning as notable new introductions. PX7 is fully integrated with the Reason rack, allowing users to create layered sounds, combining it with effects, and even control operator levels through CV.
Included with the Rack Extension is a set of new patches for PX7 and Reason's Combinator, from "talking" bass sounds to evolving pads. Additionally, the PX7 FM Synthesizer is patch-compatible with the Yamaha DX7, and includes hundreds of patches originally created for the DX7. Propellerhead also provides an online patch converter that takes patches in Yamaha DX7 format and converts them to PX7 patches, giving users immediate access to tens of thousands of presets for PX7 covering all styles of music.
Features:
Six operator classic FM synthesis for the Reason rack
32 selectable algorithms
Advanced envelope generator
Includes tons of classic and vintage presets, ranging from 80′s bass to keys and brass
Comes with a set of new, exclusive patches for modern music productions
PX7 does not require a full understanding of FM synthesis–the macro controls make tweaking sounds fast, easy and fun.
Propellerhead's online patch converter lets you convert any Yamaha DX7 patch to PX7 format.
CV control of operator levels lets you apply modulation from any device in the Reason rack.
Combine two PX7 synths with the Combinator to easily create layered sounds that never was possible with the hardware it's based on
Pricing and Availability:
PX7 FM Synthesizer is available for immediate purchase in the Propellerhead Shop, at a price of USD $99/EUR €79. Reason and Reason Essentials users can download a free, fully functional trial version for 30 days to try PX7 FM Synthesizer in their music.
More information
For more information: http://shop.propellerheads.se/product/radical-keys/
Introducing Radical Keys, a new Rack Extension instrument for Reason that faithfully recreates three classic electromechanical keyboards—Rhodes, Pianet and Wurlitzer. Based on the same 'Radical' technology as our Radical Piano instrument, Radical Keys goes beyond flawless emulation, by enabling you to sculpt your own instruments from the originals.
Disclaimer: All product names used are trademarks of their respective owners, and in no way constitutes an association or affiliation with Propellerhead Software. All trademarks are solely used to identify the products whose sound was sampled and studied during the development of Radical Keys.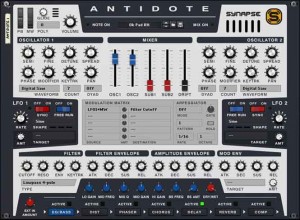 Synapse Audio has released Antidote, a new Rack Extension for Propellerhead Reason. Here's how they describe it in their own words:
Antidote is an exclusive virtual-analog synthesizer, which combines highest audio quality, flexibility and a fast work flow in an easy-to-use plug in. Antidote has been specifically developed to complement Reason, and to integrate well into its environment. It can be used both as an instrument, and as a powerful multi-effect unit.
Antidote comes with two stereo oscillator banks, each emitting a stack of high quality oscillator waveforms. The oscillators pass through the filter stage, which employ the latest zero-delay feedback designs. Envelopes and LFOs further shape the sound, and the powerful modulation matrix, which can modulate almost any sound parameter, adds the necessary depth to realize complex sounds.
The output of the synthesis stage finally passes through a big effect chain with Distortion, EQ, Phaser, Chorus, Delay, Reverb, Compressor and a unique Bass enhancement effect, which models the bass frequency response of some vintage analog gear.
Antidote ships with 300 Presets and 10 Combinator patches, covering a wide range of music genres.
Pricing and Availability:
Antidote is available at an introductory price of €79 until December 31st, 2012 (the regular price will be €119).
More information: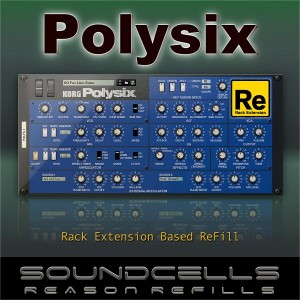 The original Polysix, introduced in 1981, was a big success because of its warm sound character (as well as other features, of course) – and the same applies to the Polysix Rack Extension. Despite this synth`s quite simple architecture, the Polysix is capable of producing wonderful warm sounding pads, very responsive keys, but also super-dry and fat basses. This Polysix-based ReFill is a proof of this, and it is pure fun to use the 70+ combinators. These combinators, based on 40+ new Polysix patches (and a handful others for Reason´s own synths) are sitting extremly well in any mix. Using all the modularity Reason has to offer, this ReFill will please you with really nice retro but also many modern sounds. No matter your preference – the patches will always do a great job in your tracks.
Further the modwheel & the combinator buttons and knobs are carefully assigned to allow dramatic and effective changes to the default sounds you´ll be hearing initially.
PolysixRE ReFill Contents:
• 72 combinator patches – from retro to modern.
• 45 new Polysix patches containing the basic patches which were used to build combinators.
• Carefully assigned modwheel & combinator button and knobs.
• CPU-friendly and fast loading patches.
Price per Unit is 7,90 ,- EUR
Listen and download it here >>
Soundcells is a long time provider of high quality refills for the Propellerhead Reason DAW, to know more about Soundcells you may want to check out our previous interview with the guy behnd it all – right here >>
Fun with control voltage routings in Propellerhead Reason!

u-he has announced the release of the Uhbik-F Rack Extension flanger effect unit for Propellerhead Reason.
Our flanger, from through-zero tape flanging (dramatic jet-effect!) to classic stomp-box type chorus, with LFO modulation and feedback / resonance.

Uhbik-F simulates two tape machines per audio channel, with recording and playback heads that can even occupy the same position if you want – impossible in the real world! Bass frequencies can bypass the effect ('bass sanctuary') to ensure LF-stability while the rest of the sound is swept around. Turn up the drive (2nd harmonic distortion), and your lead line will scorch its way through any mix!
The Uhbik-F Rack Extension is available to purchase for the introductory price of $19 USD until November 12th 2012 (regular $39 USD).
More info on Polar: https://www.propellerheads.se/products/reason/index.cfm?fuseaction=get_articl…
"The Polar Dual Pitch Shifter is more than meets the eye and who better to explain it than our product specialist Mattias! Learn how you can experiment with locking the buffer and do glittering delay effects with the feedback part of the pitch shifter."
Polar is an old school harmonizing and pitch-shifter effect with a host of modern tricks up its sleeves. Use it for classic harmonizing, stereo-widening, and realtime pitch-shifting, or experiment with buffer looping and audio freezing to create otherworldly effects.