Here's a walk-through of all the functionality in Repeat, a 4-channel, real-time, live-looper for Reason. If you'd like to see Repeat in action, check out this video: https://www.youtube.com/watch?v=EQUOS…
Repeat is available for purchase here: http://shop.propellerheads.se/product…
Demo of the Repeat Looper Rack Extension for Reason. Live-looping cover of such Great Heights by The Postal Service.
New video merely stating the obvious I guess 😀
Try Reason: http://www.propellerheads.se/tryreason
Reason is Propellerhead Software's flagship music production platform; a virtual studio rack full of synths, drum machines, samplers, and effects like reverb, delay, distortion, and much more. Add that all together with unlimited audio recording, legendary audio slicing/stretching, a professional mixer modelled after a big-studio classic… and you've got a powerhouse of a program with one central focus: making your music better than ever.
Whatever your music needs, Reason has a rack for that.
Music in this video: Syndrome by Mikkas: http://www.mikkasmusic.com/
Appearances by:
Jakwob – http://twitter.com/jakwob
Felix Cartal – http://www.felixcartal.com
Lucky Date – http://luckydateofficial.com
This is a demo and beta call for a new Reason Rack Extension called Repeat. It's a real-time, 4 channel, first-loop enabled looper.
You've spent hours on your track? Working and reworking every part to bring your musical vision to life. And you know that the quality of your reverb can be the difference between the rich sounding mix you're after and one that comes off as flat and artificial.

Face it: When it comes to pristine, authentic reverb, it's the algorithm that counts. RP-Verb is the fruit of Rob Papen's decades-long study of reverb and endless hours of exploring, testing, and tweaking by Rob and Jon Ayres. The result is exactly what you would expect: a stunning, musical reverb that brings unmatched dimension and fullness to your mixes.

RP-Verb is the reverb you've waited years to have in your Reason setup. Try it out for yourself and see why pros describe it with one word: amazing.

Introduction price until 30 April: Euro 49 / USD 59 (normal price Euro 65 / USD 79)
Buffre Beat Repeater is an audio looping device that repeats and scrubs audio in sync with song tempo. Buffre is a performance effect, playable from a MIDI keyboard or control surface, and supports Reason control voltage routings for automated looping, stutter and glitch effects.
When you download a full license, please opt-in for special promotional offers by clicking the check box and REGISTER button.
http://shop.propellerheads.se/product…
Introducing Rotor, a rotary speaker Rack Extension from Propellerhead. Meticulously modeled on the Leslie 122, Rotor brings the sound of the classic rotary speaker design to Reason—perfect for adding a vintage flavor to organs, guitars, vocals and keys.
The Leslie speaker is a specially constructed amplifier/loudspeaker used to create special audio effects using the Doppler effect by rotating the speakers or a sound-directing duct. Named after its inventor, Donald Leslie, it is particularly associated with the Hammond organ but is used with a variety of instruments as well as vocals. The Hammond/Leslie combination has become an element in many genres of music. The Leslie Speaker and the Hammond Organ brands are currently owned by Suzuki Musical Instrument Corporation.
A rotary speaker simulator also known as a Leslie speaker simulator, is a device that attempts to recreate the sound of a Leslie speaker used extensively to amplify and modulate the raw organ tones produced by (though not exclusively) the tonewheel organs made by the Hammond Organ Company, and invented by Don Leslie.
While many analog devices have been touted as rotary speaker simulators, including but not limited to the Mini-Deja Vibe, Mojo Vibe, Rotosphere, Rotovibe, and Uni-Vibe, it was often only capable of simulating vibrato and at most chorus, despite the fact that a rotary speaker can also accomplish flanging, phase shifting, and even tremolo. This is because, instead of actually mimicking the way the sound wave is manipulated by the baffles of a Leslie Speaker cabinet (i.e. rotary speaker cabinet) and bounced around the cabinet, all the analog devices actually do is manipulate the signals themselves. Thus, the result is one that, though pleasant and interesting, is by no means similar to the sound produced by a Leslie.
Introduction to the A-Series Modular Synth Rack Extensions for Reason
The A-Series Modular Synth is the first fully modular synth for Reason, where you can design your synths however you want for whatever sound you can imagine. And because all the modules are mix-and-match, all those Reason effects and devices that you already have can go right inside your custom synth.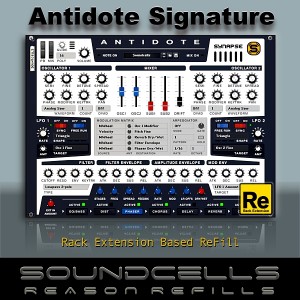 Soundcells has announced Antidote Signature, a ReFill for the Antidote Rack Extension by Synapse Audio.
Antidote Signature for Reason 6.5 and up is based on the Antidote Rack Extension from Synapse Audio – a synthesizer that offers a powerful architecture to produce more than mere 'bread and butter' sounds, combined with a clear and logical user interface. Thanks to its high quality oscillators and the zero-latency filter design – among some other great features -, the user can be sure always to get a very clear and powerful sound out of Antidote.

The Antidote Signature ReFill is an impressive proof of this, and it brings highly playable and great sounding patches to the user´s hand. It´s not genre-specific, so Wurlitzer-like pianos, modern screaming but also classic hardware-like leads, punching basses, warm & rich pads and surprising textures emphasize why this little gem should be part of everybody´s portfolio…
Antidote Signature features
70 Combinator patches.
100 Antidote patches: Atmos & Textures, Bass, Keys, Leads, Pads, Rhythmic, SFX.
Well programmed mod matrix assignments.
Well balanced volume settings & carefully assigned modwheel and combinator buttons and knobs.
The ReFill is available to purchase for 8.90 EUR (requires Synapse-Audio Antidote RE, not included).
James Bernard, master of all things Propellerhead Reason, is BACK! In this video James demonstrates using Buffre Rack Extension for Reason 6.5 as a performance tool to create stutter and pitch fade effects in real time using the Livid Instruments OHM64.
25% Holiday Discount Code: buffreholiday
http://shop.propellerheads.se/product/buffre-beat-repeater/
For more information: http://shop.propellerheads.se/product/px7-fm-synthesizer/
The PX7 FM Synthesizer is a six operator FM synth for the Reason rack. As a faithful recreation of the popular DX series keyboards, it provides a wealth of new sounds, ranging from classic 80's bass and brass to modern textures, leads and growls.
Propellerhead has announced the immediate availability of PX7 FM Synthesizer, a new six operator FM synth for Propellerhead's Rack Extension format. As a recreation of the popular DX series keyboards, PX7 provides a wealth of new sounds to the Reason rack, ranging from classic 80's bass and brass to modern textures, leads and growls.
Propellerhead has improved on the original too, with macro controls for easy tweaking of sounds and stereo panning as notable new introductions. PX7 is fully integrated with the Reason rack, allowing users to create layered sounds, combining it with effects, and even control operator levels through CV.
Included with the Rack Extension is a set of new patches for PX7 and Reason's Combinator, from "talking" bass sounds to evolving pads. Additionally, the PX7 FM Synthesizer is patch-compatible with the Yamaha DX7, and includes hundreds of patches originally created for the DX7. Propellerhead also provides an online patch converter that takes patches in Yamaha DX7 format and converts them to PX7 patches, giving users immediate access to tens of thousands of presets for PX7 covering all styles of music.
Features:
Six operator classic FM synthesis for the Reason rack
32 selectable algorithms
Advanced envelope generator
Includes tons of classic and vintage presets, ranging from 80's bass to keys and brass
Comes with a set of new, exclusive patches for modern music productions
PX7 does not require a full understanding of FM synthesis–the macro controls make tweaking sounds fast, easy and fun.
Propellerhead's online patch converter lets you convert any Yamaha DX7 patch to PX7 format.
CV control of operator levels lets you apply modulation from any device in the Reason rack.
Combine two PX7 synths with the Combinator to easily create layered sounds that never was possible with the hardware it's based on
Pricing and Availability:
PX7 FM Synthesizer is available for immediate purchase in the Propellerhead Shop, at a price of USD $99/EUR €79. Reason and Reason Essentials users can download a free, fully functional trial version for 30 days to try PX7 FM Synthesizer in their music.
More information