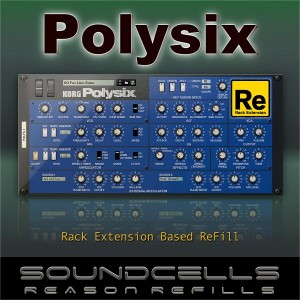 The original Polysix, introduced in 1981, was a big success because of its warm sound character (as well as other features, of course) – and the same applies to the Polysix Rack Extension. Despite this synth`s quite simple architecture, the Polysix is capable of producing wonderful warm sounding pads, very responsive keys, but also super-dry and fat basses. This Polysix-based ReFill is a proof of this, and it is pure fun to use the 70+ combinators. These combinators, based on 40+ new Polysix patches (and a handful others for Reason´s own synths) are sitting extremly well in any mix. Using all the modularity Reason has to offer, this ReFill will please you with really nice retro but also many modern sounds. No matter your preference – the patches will always do a great job in your tracks.
Further the modwheel & the combinator buttons and knobs are carefully assigned to allow dramatic and effective changes to the default sounds you´ll be hearing initially.
PolysixRE ReFill Contents:
• 72 combinator patches – from retro to modern.
• 45 new Polysix patches containing the basic patches which were used to build combinators.
• Carefully assigned modwheel & combinator button and knobs.
• CPU-friendly and fast loading patches.
Price per Unit is 7,90 ,- EUR
Listen and download it here >>
Soundcells is a long time provider of high quality refills for the Propellerhead Reason DAW, to know more about Soundcells you may want to check out our previous interview with the guy behnd it all – right here >>
Fun with control voltage routings in Propellerhead Reason!

u-he has announced the release of the Uhbik-F Rack Extension flanger effect unit for Propellerhead Reason.
Our flanger, from through-zero tape flanging (dramatic jet-effect!) to classic stomp-box type chorus, with LFO modulation and feedback / resonance.

Uhbik-F simulates two tape machines per audio channel, with recording and playback heads that can even occupy the same position if you want – impossible in the real world! Bass frequencies can bypass the effect ('bass sanctuary') to ensure LF-stability while the rest of the sound is swept around. Turn up the drive (2nd harmonic distortion), and your lead line will scorch its way through any mix!
The Uhbik-F Rack Extension is available to purchase for the introductory price of $19 USD until November 12th 2012 (regular $39 USD).
More info on Polar: https://www.propellerheads.se/products/reason/index.cfm?fuseaction=get_articl…
"The Polar Dual Pitch Shifter is more than meets the eye and who better to explain it than our product specialist Mattias! Learn how you can experiment with locking the buffer and do glittering delay effects with the feedback part of the pitch shifter."
Polar is an old school harmonizing and pitch-shifter effect with a host of modern tricks up its sleeves. Use it for classic harmonizing, stereo-widening, and realtime pitch-shifting, or experiment with buffer looping and audio freezing to create otherworldly effects.

u-he has announced the release of Uhbik-Q, the "uhbiquitous equalizer" for Propellerhead's Rack Extensions.
Equalizer, the perfect balance between simplicity and flexibility required a unique approach… Uhbik-Q is a revelation!

Maximum flexibility from a minimum of controls, low CPU without compromising transparency. Uhbik-Q combines freely tunable frequency bands (4-pole filters, not the usual 2-pole!) with presets for other options. Q-factors automatically adjust to gain, an optional 'mid' bell curve filter adjusts to the two main bands… judging by the simple GUI, you would never guess just how much this EQ can do!
Uhbik-Q is available to purchase for the introductory price of $19 USD until November 5th, 2012 (regular $39 USD).

Jiggery-Pokery has announced the release of its Shelob Audio Bypass Splitter, ""Super-Spider" audio/CV routers Rack Extension for Propellerhead's Reason.
Not your typical, common-or-garden Spider, "Shelob" is the first super-arachnid for Reason: a 4-in/20-out audio splitter. Each channel features one stereo in and five stereo outs: a pass-through, plus four independent splits. All outputs feature an off/on toggle switch and visual feedback of channel activity.
Shelob Audio Bypass Splitter features
Three-mode fade-time adjustment—Instant, Linear fade (1-100ms), Analogue-modelled CF fade (100ms-20s).
Stripe input mirroring—Auto-route an incoming signal to the next available channel/s.
Four separate stereo audio splitter channels—Four input channels each with four alphabetically-named splitter sub-channels; All the sub-channels are independently switchable.
Passthrough/Group On-Off switch—Use a channels Pass output jacks as an additional "dry" output, and the Pass switch to select between either the split signals or the dry signal. Leave the pass jacks unconnected and use the Pass switch itself to turn the whole channel on and off.
Grouped splits—Use multiple "Shelob" channels to create groups of effects.
The Shelob Rack Extension is available from Propllerhead Software for 7.50 EUR.

In this video, Line 6′s Propellerhead Product Specialist Matt Piper shows you how to use Propellerhead's new Radical Piano Rack Extension as a Send Effect for processing audio. Although the example in the video shows the effect being used on drums, this effect can also sound great on vocals or solo instruments.
Vintage Space Chorus VST Demo by Softrave:
Vintage Space Chorus is intended to create unusual stereo chorus space effects good for rock, electronica, disco and experimental styles of music
Price is 11 Eu \ 15 usd
you can purchase plugin here
http://www.tikov.com/softrave/vschorus.htm
New Reason rack extensions – DR-1, AP-12 and VE-3:

Synapse Audio has announced the release of its DR-1, AP-12 and VE-3 Rack Extensions Propellerhead's Reason.
Synapse Audio Software introduces three high quality Rack Extension effect plugins for Propellerhead's Reason: DR-1 Deep Reverb, AP-12 Analog Phaser, and VE-3 Vintage Equalizer.
New Synapse Audio Rack Extensions
DR-1—Inspired by a high-end 1980s outboard reverb, the Synapse Deep Reverb DR-1 delivers a deep, lush sound not found in modern software reverbs. Rather than trying to imitate real spaces, the DR-1 gives an uncolored and pleasant reverb sound that is especially well suited for synthetic material and lead sounds.
AP-12—The Synapse AP-12 emulates vintage analog phasers, which are composed of a series of phase shifting stages with a feedback path wrapped around them. The phase shifting stages (switchable between 6 and 12 stages) are modulated by a LFO, which can be synchronized to the current song tempo.
VE-3—he Synapse Vintage EQ-3 is a precise model of a 3-band analog tone stack, as found in late 50s guitar amplifiers. The unique sound of these devices is due to the coupled, passive circuits employed, where changing any parameter affects the entire network in a complex way. This is different from a digital parametric EQ, which operates on just one isolated region of interest.
The DR-1 and AP-12 are available to purchase at 32 EUR each, VE-3 is 25 EUR.
Twin Bass free bass synth plugin: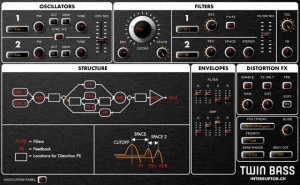 The Interruptor has released version 1.1 of the Twin Bass bass synthesizer instrument for Windows.
VSTi Bass Synthesizer with a double filter architecture allowing to create rich mid-range bass textures together with a solid sub bass foundation. Also vocal-like timbres can be easily created. Features an extensive modulation matrix and individual outs for the filters.
Twin Bass features
2 Oscillators: Sine, Saw, Ramp, Triangle, Pulse, Noise.
2 Filters operating in parallel (connection in series is also possible).

Filter 1: 2 x Low pass, 2 x High pass, Bandpass.
Filter 2: stereo filter with separate cut-off for left and right side (2 x Low pass, 2 x High pass, Bandpass).

Feedback loop for the entire filter section.
Distortion effect with two modes

hard: metallic distortion sound.
soft: tube-like warm distortion.

Modulation

3 x LFO, synchronized to host application.
3 x ADSR Envelope.
Matrix: 5 modulation slots connect 12 modulation sources to 26 modulation destinations. Pitch bend, amplifier envelope and filter envelope are pre-wired.

Process external signals: In Oscillator 2 an external signal can be selected as the waveform.
MIDI learn: Right-click any control to assign a midi control and automate the parameter from your DAW.
Monophonic modes with glide.
Polyphonic modes with max. 8 simultaneous notes.
Individual Outs are available for the two Filters.
Structure display shows the signal flow of the synth as it results from your settings of the filter and FX routings.
Pop-up hints: While the mouse hovers over a control a hint appears explaining the function of the control.
The Twin Bass is available to download as a freeware VST plug-in for Windows.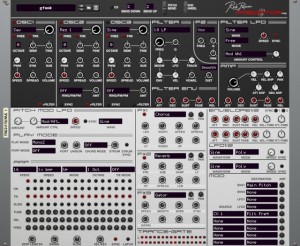 Rob Papen has announced that he is bringing RP Predator synthesizer to Propellerhead Reason as a Rack Extension, Predator RE.
Predator is a "phat sounding" killer synthesizer that combines inspiring presets and first-class features to make this your 'go-to' synth for contemporary music production.
The user interface has been designed so that almost all controls are visible on screen, making it fun and incredibly easy-to-use. And if you're unsure about a particular synth function, simply right click your mouse to access the help screen.

Predator is packed with powerful features such as Preset Quick Browser, Preset bank mananger, Preset Morphing, Intelligent Preset Variation, MIDI and Synth Controllable FX, Unison Detune, Chord Memory and an extremely versatile Arpeggiator.

Included preset banks: HipHop (NY, Club, DirtySouth and Gfunk) banks. Jump, hardcore, breakbeat, various Trance styles, DnB banks. Hardcore dance, House, SFX banks and much more…

Last but not least …Predator also includes PredatorFX, allowing you to use the incredible filters, modulations, effects and vocoder as an FX plug-in within your music host.

Predator 1.6 is out now with even more presets included klangMedium "Ambient bank/Downbeat bank" and JoMal bank.
Details are to be announced for Predator RE, but Papen says it will be available soon.