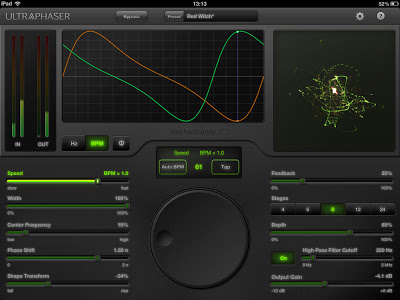 UltraPhaser is an extremely flexible phaser effect, with a unique user interface. With very low latency and stereo input, the wide range of phasing effects can be applied to all kinds of input sounds, from guitar, bass and keyboard to full mixes and electronic setups. Full Audiobus compatibility allows for the interconnection with other iPad apps.
UltraPhaser gives you total control. You can precisely adjust the stereo LFO's speed, width, center frequency, phase shift and shape. Choose between 4, 6, 8, 12 or even 24 stages. Ultraphaser also includes an optional High Pass Filter.
UltraPhaser's unique user interface includes an LFO Control view, through which the stereo LFO can be evaluated and edited. You can see the speed, width, phase shift and shape of the LFO in this view.
The Vectorscope shows a plot of the output's left versus right audio channels, to give you an idea of the 'spatiousness' of the sound.
UltraPhaser comes packed with presets various classic and more unusual phasers, but of course you can also make your own.
UltraPhaser supports very low latency. This low latency is ideal when processing live audio or an instrument, as hardly any delay is introduced.
UltraPhaser is priced at $5.99.
Vintage Double Phaser VST by Softrave
Softrave says that their new Vintage Double Phaser VST plug-in for Windows provides a classic phase shift effect and some extended possibilities. They tell us that you can create phase shift effect on left and right channel separately for a strange unique sound. This plug-in was apparently inspired by The Worm guitar pedal by Electro-Harmonix.
http://www.tikov.com/softrave/vdphaser.htm
Vintage Double Phaser Vst is providing classical phase shift effect and some extended possibilities. You can create phase shift effect on left and right channel separately that makes strange unique sound. Or just enjoy classic phaser sound. Its good for guitars, pads, drums and percussion lines. This plugin was inspired by The Worm guitar pedal by Electroharmonix.
Price is 11 EU – 15 USD
Music in this demo is some stems from the album of the band Green Dragonfly
taken by permission of band members
http://www.greendragonfly.net

Adam Szabo has released Phazor, a is a free phaser effect plugin for Windows.
Phazor is a free effect plugin, which emulates the phaser effect found in the Virus synthesizers, which helped make its characteristic sound. A lot of time was devoted to make it sound very close to the original and every control has been carefully adjusted to behave just like the phaser from the Virus.

It has selectable 1 to 6 stage all-pass filters controlled by an LFO, with spread and feedback controls. The plugin is highly optimized and its CPU usage is minimal, allowing for multiple instances to be used in a project.
Phazor is avaialble to download as a freeware VST effect plugin for Windows.
This is a comparison video of the phaser from the Virus and Phazor. Phazor is made with SynthMaker and it does not support Mac or 64-bit. SO PLEASE DO NOT ASK FOR A MAC AND 64-BIT VERSION! Download: www.adamszabo.com
Soundhack has released +phasor, a free phaser shifter effect for Mac.
Tom Erbe writes:
not a big deal – but i wrote a little phase shifter last year, and thought it would be nice to share it. it is only vst macintosh now. once i port it to au/rtas/vst mac/win i'll probably add it to one of my freeware bundles.
Soundhack +phasor is available as a free download for Mac (VST) here.
More information: Soundhack