Synapse Audio has announced the release of Ninety, a Rack Extension software emulation of a legendary 1970s phaser.
What makes this phaser unique is the feedback path, which gives the sound a very distinctive character, unlike any other analog phaser. Our emulation employs a zero-delay feedback network, a technique popularized by recent synthesizers, and particularly well suited to emulate analog feedback loops.

The original unit is a mono-in mono-out device with only a Rate knob and a Color switch. The Ninety phaser adds stereo processing, a stereo LFO with adjustable spread and a dry/wet control. The color switch is replaced with a knob for increased versatility. The "Ultra" switch upgrades the network to a 6-stage phaser, allowing to create entirely new sounds not possible with the vintage original.
Ninety for Reason is available for purchase for 35 EUR.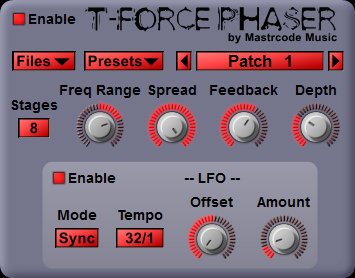 Mastrcode Music tells us that T-Force Phaser is an effects device for adding phase cancellations as a creative effect to your sounds. They say that it results in a sound with a spacey feeling.

Specifications:
Phase cancellation up to 16 stages – means how many points in the frequency range will be cancelled by a serially connected chain of allpass filters).
Frequency Range control – determines the center frequency where the stages will be aligned.
Spread control – controls how far the single stages are apart from each other.
Feedback amount control – controls how strong the signal will be fed back to the audio input (stronger amounts result in a more metallic sound).
Depth control – determines how strong the phase cancellation will be added to the original sound.
BPM syncable LFO with phase offset for modulating the Frequency Range (lets the stages sweep up and down in the frequency spectrum).
MIDI Learn (by right clicking a control)
All functions fully automatable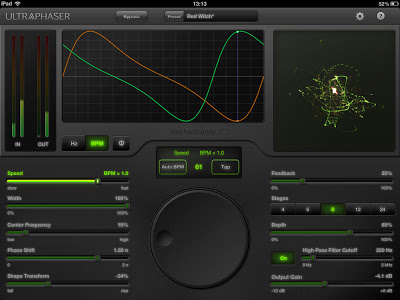 UltraPhaser is an extremely flexible phaser effect, with a unique user interface. With very low latency and stereo input, the wide range of phasing effects can be applied to all kinds of input sounds, from guitar, bass and keyboard to full mixes and electronic setups. Full Audiobus compatibility allows for the interconnection with other iPad apps.
UltraPhaser gives you total control. You can precisely adjust the stereo LFO's speed, width, center frequency, phase shift and shape. Choose between 4, 6, 8, 12 or even 24 stages. Ultraphaser also includes an optional High Pass Filter.
UltraPhaser's unique user interface includes an LFO Control view, through which the stereo LFO can be evaluated and edited. You can see the speed, width, phase shift and shape of the LFO in this view.
The Vectorscope shows a plot of the output's left versus right audio channels, to give you an idea of the 'spatiousness' of the sound.
UltraPhaser comes packed with presets various classic and more unusual phasers, but of course you can also make your own.
UltraPhaser supports very low latency. This low latency is ideal when processing live audio or an instrument, as hardly any delay is introduced.
UltraPhaser is priced at $5.99.
Vintage Double Phaser VST by Softrave
Softrave says that their new Vintage Double Phaser VST plug-in for Windows provides a classic phase shift effect and some extended possibilities. They tell us that you can create phase shift effect on left and right channel separately for a strange unique sound. This plug-in was apparently inspired by The Worm guitar pedal by Electro-Harmonix.
http://www.tikov.com/softrave/vdphaser.htm
Vintage Double Phaser Vst is providing classical phase shift effect and some extended possibilities. You can create phase shift effect on left and right channel separately that makes strange unique sound. Or just enjoy classic phaser sound. Its good for guitars, pads, drums and percussion lines. This plugin was inspired by The Worm guitar pedal by Electroharmonix.
Price is 11 EU – 15 USD
Music in this demo is some stems from the album of the band Green Dragonfly
taken by permission of band members
http://www.greendragonfly.net

Adam Szabo has released Phazor, a is a free phaser effect plugin for Windows.
Phazor is a free effect plugin, which emulates the phaser effect found in the Virus synthesizers, which helped make its characteristic sound. A lot of time was devoted to make it sound very close to the original and every control has been carefully adjusted to behave just like the phaser from the Virus.

It has selectable 1 to 6 stage all-pass filters controlled by an LFO, with spread and feedback controls. The plugin is highly optimized and its CPU usage is minimal, allowing for multiple instances to be used in a project.
Phazor is avaialble to download as a freeware VST effect plugin for Windows.
This is a comparison video of the phaser from the Virus and Phazor. Phazor is made with SynthMaker and it does not support Mac or 64-bit. SO PLEASE DO NOT ASK FOR A MAC AND 64-BIT VERSION! Download: www.adamszabo.com
Soundhack has released +phasor, a free phaser shifter effect for Mac.
Tom Erbe writes:
not a big deal – but i wrote a little phase shifter last year, and thought it would be nice to share it. it is only vst macintosh now. once i port it to au/rtas/vst mac/win i'll probably add it to one of my freeware bundles.
Soundhack +phasor is available as a free download for Mac (VST) here.
More information: Soundhack