HG Fortune has released Ghost Machine – a multipart algorithmic composing machine for Windows.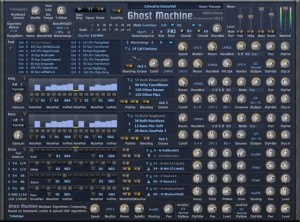 Ghost Machine features:
a Pad part with Long Wave Sequencing
a HiSq part with a 16 step sequencer and customizable note pattern
a bass part with a 16 step sequencer and customizable note pattern, and
a drum part with 4 instruments parts each with a 16 step sequencer.
Here's what they have to say about Ghost Machine:
These 16 step sequencers are pattern driven which are changing due to an internal algorithm to create music. In AutoPlay mode you can let the machine do all the composing work for you, or you can transpose manually at realtime to change the current rootnote. As the system is based on scales (97 heptatonic) you need not worry about getting some 'wrong' notes in between. For a more advanced usage i.e. not just playback of a patch, it is recommended to fade in/out and/or mute a part at realtime, or, even more, 'hold' some pattern for a certain time in disabling algorithmic pattern change. In fact the spirit of this machine is more about flowing pattern changes and arranging a track or performance at realtime.
There are three different sequencers driving one the other. The main sequencer with 16 beats drives HiSq, Bass and Drum part, and after several loops triggers the Note Sequencer to change the root note which then triggers the third sequencer to advance the count for the Wave Sequencer at the Pad part til its end count is reached to change to next wave. The step count at the Note Sequnecer for the root note is also incremented, and the one at the Wave Sequencer respectively, if transposed manually via MIDI keyboard. Thus the algorithmic system does work in manual transpose mode too. Along with the fairly slow progressing of Note and Wave Sequencer certain algorithmic rules have been applied to change pattern and waves at the HiSq, Bass and Drum part.
GhostMachine Pro Suite is available now for 49 Euro til June., 21st. After that, it will be priced at 79 Euro. See the HG Fortune site for details.
ScoreCleaner is a live scoring tool that notates your music automatically. Just plug in your MIDI instrument/keyboard, play and let ScoreCleaner render.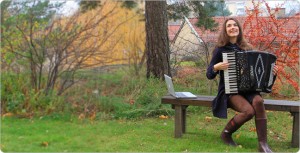 ScoreCleaner changes the paradigm of notation softwares. Where earlier formats forced users to have a large pre knowledge of a piece of music to be able to notate properly ScoreCleaner allows the user so simply plug a MIDI based keyboard into their computer and play to render a notation. ScoreCleaner will automatically detect time signature, key, clef, tempo, note values etc. and simply notate the playing it receives. Virtually live. The user doesn't have to rely on click tracks or other guiding tools in order for the software to understand the music and interpret it for notation.
"ScoreCleaner is unique in that will allow a user to play freely and end up seconds later with a useful score for a wide variety of musical styles" says Sven Ahlback. "ScoreCleaner will even notate non-metrical music, composite time signatures, rubato, something that has been quite unthinkable in decades past".
Because ScoreCleaner notates on the fly rather than being designed for manually feeding the software with note values it becomes open to a number of uses.
ScoreCleaner can offer scoring and editing possibilities to become the main notation format for a user or it can work as a complement to other notation and sequencer formats. ScoreCleaner exports its notations and its interpretations to MIDI as well as MusicXML.
In Sven Ahlbacks words,
"ScoreCleaner is a wonderful teaching tool for students and teachers alike. It saves huge amounts of time and offers high accuracy compared to what has been available so far. But we also want to underline that ScoreCleaner is a great tool for any musician or composer who needs to quickly convey a piece of music to other musicians in the universal musical language of notes."
For access to a time limited trial version of ScoreCleaner please visit
"A Demo of my University Final Year Project titled "An Investigation Into Realtime Aleatoric Composition and Performance""
Aleatoric music (also aleatory music or chance music; from the Latin word alea, meaning "dice") is music in which some element of the composition is left to chance, and/or some primary element of a composed work's realization is left to the determination of its performer(s). The term is most often associated with procedures in which the chance element involves a relatively limited number of possibilities.
The term became known to European composers through lectures by acoustician Werner Meyer-Eppler at the Darmstadt International Summer Courses for New Music in the beginning of the 1950s. According to his definition, "a process is said to be aleatoric … if its course is determined in general but depends on chance in detail". Meyer-Eppler's German terms Aleatorik and aleatorisch, however, both mean "aleatory". By mistakenly rendering them, his translator inadvertently created a new English word, "aleatoric", which quickly became fashionable.
Avid has just announced its first app for the Apple iPad — Avid Scorch, available now at the App Store.
With Scorch, a sheet music app powered by Avid's Sibelius music notation software engine, musicians, producers and arrangers can now purchase sheet music and access their Sibelius files on the go. Scorch transforms the iPad into an interactive score library, music stand and sheet music store.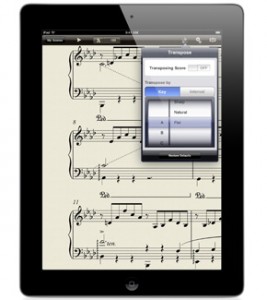 Avid Scorch reportedly offers a rich, interactive experience designed to make scores easy to learn and play. Musicians and music students can learn songs or adapt them to their instrument by transposing a score, changing instruments, or converting to and from guitar tab — then perform them using Music Stand mode, which offers a full display of the sheet music on the iPad. Users can also see the score played on the Keyboard display, hear music played back and speed it up or slow it down.
Scorch offers access to popular sheet music through an in-app store with more than 150,000 premium titles available from world-class publishers. Composers and arrangers should find the app useful as well. Says Scorch user and producer/composer Doug LeBow:
"Having access to all of my Sibelius files as well as being able to manipulate them on my iPad is simply fantastic. Who needs a laptop when Scorch's great sound set and playback capabilities have made my Sibelius library truly portable and useful on the go."
Another Scorch user, Spotlight Music Inc owner John Wales, offered his impressions: "I have found Scorch to be an excellent companion to Sibelius. With Scorch, I no longer have to worry about dragging out my laptop to view scores. I have even used Scorch while performing live with various ensembles. Who needs to drag out a pile of paper? I turn on my tablet and it's all there — no digging required."
O-Generator Music Maker is an App that can be used as a musical sketchpad to compose, learn, create and develop ideas in different styles whatever your musical level.
O-Generator's simple interface achieves sophisticated results. You can create and combine chords, choose individual notes and develop unique rhythmic patterns for your music compositions using an array of real instruments from drumkits to guitars. The beauty about O-Generator is that YOU compose the music.
What is Nodal?
Nodal is a generative software application for composing music.
It uses a novel method for the notation and playing of MIDI based music.
How does it work?
This method is based around the concept of a user-defined graph. The graph consists of nodes (musical events) and edges (connections between events). You interactively define the graph, which is then traversed by any number of voices. These voices play the musical events as they encounter them on the graph. The time taken to travel from one node to another is based on the length of the edges that connect the nodes. Nodal allows you to create complex, changing sequences using just a few simple elements. Its unique visual representation shows a structural representation for generative systems that you can edit and interact with in real-time as the composition plays.