Sibelius goes iPad
Avid has just announced its first app for the Apple iPad — Avid Scorch, available now at the App Store.
With Scorch, a sheet music app powered by Avid's Sibelius music notation software engine, musicians, producers and arrangers can now purchase sheet music and access their Sibelius files on the go. Scorch transforms the iPad into an interactive score library, music stand and sheet music store.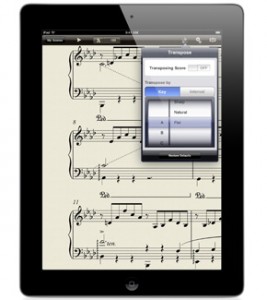 Avid Scorch reportedly offers a rich, interactive experience designed to make scores easy to learn and play. Musicians and music students can learn songs or adapt them to their instrument by transposing a score, changing instruments, or converting to and from guitar tab — then perform them using Music Stand mode, which offers a full display of the sheet music on the iPad. Users can also see the score played on the Keyboard display, hear music played back and speed it up or slow it down.
Scorch offers access to popular sheet music through an in-app store with more than 150,000 premium titles available from world-class publishers. Composers and arrangers should find the app useful as well. Says Scorch user and producer/composer Doug LeBow:
"Having access to all of my Sibelius files as well as being able to manipulate them on my iPad is simply fantastic. Who needs a laptop when Scorch's great sound set and playback capabilities have made my Sibelius library truly portable and useful on the go."
Another Scorch user, Spotlight Music Inc owner John Wales, offered his impressions: "I have found Scorch to be an excellent companion to Sibelius. With Scorch, I no longer have to worry about dragging out my laptop to view scores. I have even used Scorch while performing live with various ensembles. Who needs to drag out a pile of paper? I turn on my tablet and it's all there — no digging required."
Comments