Pioneer's new DJM-750 four-channel digital mixer takes FX manipulation and software synergy to new levels, thanks to the new Boost Colour FX and a built-in 24-bit/96 kHz USB sound card.
Available in classic black and sleek silver, the DJM-750 is loaded with features to inspire creativity. The new Boost Colour FX adds a second effect to the Sound Colour FX in play, and lets DJs control the parameters of both FX with just one knob. The mixer boasts 13 Beat FX — including the new VINYL BRAKE — with a dedicated Level/Depth knob for tactile control of the wet/dry mix.
For more information visit, www.pioneerdj.com
Track used,
Artist : Si Begg
Title : bangON nuttersGROOVE
http://www.sibegg.com/
Full Details and Performances with Kissy Sellout, Laidback Luke and Eats Everything on 06 September 2012.
More news on Traktor integration with Pioneer. It's never been easier to set up Traktor in the club. The latest 2.5.1 software update provides plug and play usability with Pioneer's CDJ Series (2000/900/400) and DJM-900 Nexus Mixer, thanks to advanced HID support. Use the CDJ to access tracks, cue points, loops and more in Traktor, with all relevant information on the CDJ's display – from track artwork to detailed waveform displays.
This integration gives CDJ users access to powerful features such as Traktor's Remix Decks, sync, superior cueing and looping, intuitive browsing and world class effects. Traktor memorizes your settings, so every DJ booth becomes your DJ booth, no matter what equipment is installed.
More information:
http://www.native-instruments.com/traktor
Music by:
Technasia – Heart Of Flesh (Cadenza 78)
http://www.facebook.com/Technasia.Official
Ian Tricus – Your Love (Unreleased)
http://www.facebook.com/iantricus
At the Musikmesse 2012, Pioneer is introducing the RMX-1000 Remix Station, a three-in-one system made up of editing software, a hardware controller and VST and AU plug-ins. The RMX-1000 is designed to deliver the possibilities of studio effects and beatboxes, with the added physicality of pro-DJ equipment. Pioneer's remixbox editing software lets you customize the RMX-1000 hardware to your own performance style and load it up with your own banks of samples. The RMX-1000 VST and AU plug-ins lets you use the Remix Station with your current digital audio workstation software.
The RMX-1000 is expected be available in May 2012 for 699 Euro, including VAT.
Pioneer is setting a new benchmark in pro-DJ equipment, with the awe-inspiring RMX-1000 remix station. Taking a totally new direction to effectors and samplers, the RMX-1000 is a three-in-one system comprising editing software, innovative performance hardware and VST and AU plug-ins.
For more detail visit, http://pioneerdj.com
Features:
Customizable remix station unit

The RMX-1000 can be used with mixers, CDJs and laptops in the booth, or with a PC in the studio for recording and producing.
The control parameters can be completely modified using the remixbox software included.
The hardware offers three ways to access settings. Default activates Pioneer's intuitive factory settings. And User settings can be stored on the unit, or on an SD card to be taken along to the booth – DJs simply plug their SD card in to get immediate access to their personalised controls.
Pioneer plans to make settings from internationally renowned DJs such as Chuckie, Kissy Sell Out, Kutski, James Zabiela, Doorly and Laidback Luke available for DJs to download.
The unit's controls are divided into four categories:
Scene FX

The Scene FX wheel allows DJs to build up and break down tracks by combining ten types of effects.
Use the top section to build up, adding effects like Noise, Echo and Spiral Up and the bottom section to break down, cutting sounds with effects like Crush Echo, Spiral Down and Reverb Down.
Twist the central knob to move from Wet to Dry to add pitch and intensity to the effect that's in play.
Plus, two sub-parameter dials allow DJs to manipulate the Time and Resonance parameters for even more character.

Isolator FX

Inherited from Pioneer's high-end DJM-1000 mixer, the RMX-1000′s isolators allow DJs to change the main audio input's rhythm and timbre using hi-, mid- and low-frequency bands.
Plus, three effects are loaded into the dials for more flexibility: Cut/Add, Trans/Roll and Gate/Drive.

X-Pad – with Pitch control

DJs can instantly get involved with the unit's drum samples by tapping the individual sample buttons (Kick, Snare, Clap and Hi-Hat), or by using the X-Pad to roll (repeat) the samples at different speeds.
DJs can record their own beats and patterns on the fly by switching on Overdub, then use Roll and Mute to manipulate each sample in a variety of impressive combinations.
The Quantize button snaps each tap of the sample pads to the nearest beat, so DJs always sound on time.
DJs can add up to 16 samples across the four sample banks, which they can trigger and manipulate during live performance.
DJs can edit the sample banks through remixbox and even alter them during play.
The RMX-1000′s Pitch knob alters the pitch to add even more character to each repeated beat.

Release FX

The Release FX allows DJs to exit complex effect combinations and return to the original track.
Three modes with three customisable speeds – Spin Back, Echo and Break ­­­– allow DJs to choose exactly how they want to return to normal play.
For even more flexibility, DJs don't have to exit totally from the engaged effect; they can come partially out and go back in by manipulating the highly sensitive Release switch. Or they can cut the original track out completely so just the engaged effects are heard.

Fully customizable with specially designed remixboxsoftware

Designed by Pioneer exclusively for the RMX-1000, the remixbox software allows DJs to prepare sets – while the hardware leaves plenty of room for spontaneity.
And DJs can use the software to modify the unit's features and change its parameters. By hovering their mouse over the remixbox's virtual RMX-1000, DJs can edit features, change parameters or adjust effects on the hardware itself.

First DJ-dedicated controller for Virtual Studio Technology/Audio Units

As the first VST/AU controller dedicated to the DJ industry, the RMX-1000 brings the operability of hardware into the recording studio.
By just plugging the unit into a laptop, DJs and producers can use the RMX-1000′s dedicated controls to manipulate the VST/AU's features.
There's no need to fiddle around with the mouse and keyboard: just hit a button, twist a dial, or turn a knob – the RMX-1000 literally puts every effect right at producers' fingertips.

Other features

High-quality sound design reduces noise for clear and pristine sound.
The Quantize function can be applied at any stage during play or production for real-time music analysis and automatic synchronisation of the beat.
Auto BPM function automatically measures and follows the tempo of the music.
USB-MIDI connection means the RMX-1000 can be used as a MIDI controller.
Compact and sleek design makes the RMX-1000 highly portable – and it looks good as part of any DJ set-up.
http://youtu.be/KDW_pL52Y-Y
In this video:
The perfect home or mobile DJ set-up, the DDJ-S1 features balanced XLR input/output for connection direct to professional PA equipment, and a microphone talk-over feature to make MC'ing a breeze.
Add to this the simple Plug and Play connection, amazing software features and superior hardware control, and the Pioneer DDJ-S1 is a major force to be reckoned with.
The Pioneer DDJS1 has been designed in conjunction with Serato to empower users of Serato ITCH DJ software.The DDJ S1 offers a high level of familiarity, innovation and controllerism to maximize the performance potential with Serato software.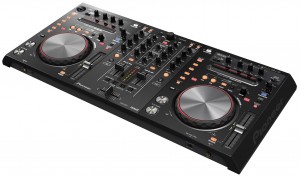 Pioneer DDJ-S1 Overview:
The DDJ S1 layout inherits the familiar Pioneer layout,this tried and tested Pioneer funtionality offers unrivalled operability. With Needle Search the user can skip through tracks and perform a quick alphabetic search through the entire music library.The effect control area allows DJs to add Serato ITCH effects to their mixes, while the master and channel level meters are located centrally on the unit, allowing DJs to monitor the level of the master and each channel while adjusting the volume.
Unlike most controllers on the market, the DDJS-1 controller is equipped with various inputs and outputs, including a balanced XLR inout/output (1 of each) for connecting direct to professional PA equipment.Both microphone inputs are equipped with a talk-over function to lower the music volume when receiving input from the microphone.
Pioneer have once again innovated with the unique design of the S1 with a space for the laptop keyboard underneath the unit,keeping the laptop screen in full view of the DJ whilst saving precious space within the DJ booth.
The Pioneer DDJ-S1 Controller Main Features:
Designed specifically for Serato ITCH software
Controls: Alphabetic search function for quick song selection, Hot Cue Fader Start, and a slip mode for looping, reversing and scratching without changing the song tempo.
Various inputs and outputs, including a balanced XLR inout/output (1 of each) for connecting direct to professional PA equipment.
Optimized audio circuitry in the master output area
Audio characteristics optimized for Serato ITCH software, ensure superior sound delivery.
A Playing Address feature displays track progression on an LED display
All buttons are pre-assigned to the software functions, and the controller can be connected to the computer via USB cable, meaning DJs can truly "Plug and Play".
The industry's first lock mechanism, "P-LOCK Fader Cap", is equipped on the cross-fader and each channel fader to prevent fader caps from slipping during performance.
Built-in audio interface
Included software: Serato ITCH
Input terminals: MIC x 2 (top XLR / 1/4 inch PHONE x 1, front 1/4 inch PHONE x 1) AUX x 1 (RCA)
Output terminals: MASTER OUT x 2 (XLR x 1, RCA x 1) HEADPHONE MONITOR OUT x 2 (front 1/4 inch PHONE, Mini Pin)
Other terminals: USB B connector x 1
Frequency range: 20 Hz to 20 kHz
Total harmonic distortion: 0.01% or less
Included AC adapter: Power 220-240v, rated output 5 V DC
External dimensions: 680 mm (W) x 95.2 mm (H) x 317.7 mm (D)
Weight: 5.0 kg
Here´s what Pioneer has to say about this teaser:
In this exclusive preview, catch a glimpse of what's to come from our latest in a new range of 'nexus' professional club products, which take the Pioneer ProDJ Link and rekordbox concept to the next level.
Our full introduction video will be available on the global press launch on the 17th February 2011. Subscribe to our channel or join the conversation at:
www.pioneerdj.com