Have you seen Aeroplane using the new Pioneer DJ controller – impressive stuff
http://youtu.be/KDW_pL52Y-Y
In this video:
The perfect home or mobile DJ set-up, the DDJ-S1 features balanced XLR input/output for connection direct to professional PA equipment, and a microphone talk-over feature to make MC'ing a breeze.
Add to this the simple Plug and Play connection, amazing software features and superior hardware control, and the Pioneer DDJ-S1 is a major force to be reckoned with.
The Pioneer DDJS1 has been designed in conjunction with Serato to empower users of Serato ITCH DJ software.The DDJ S1 offers a high level of familiarity, innovation and controllerism to maximize the performance potential with Serato software.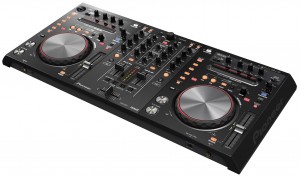 Pioneer DDJ-S1 Overview:
The DDJ S1 layout inherits the familiar Pioneer layout,this tried and tested Pioneer funtionality offers unrivalled operability. With Needle Search the user can skip through tracks and perform a quick alphabetic search through the entire music library.The effect control area allows DJs to add Serato ITCH effects to their mixes, while the master and channel level meters are located centrally on the unit, allowing DJs to monitor the level of the master and each channel while adjusting the volume.
Unlike most controllers on the market, the DDJS-1 controller is equipped with various inputs and outputs, including a balanced XLR inout/output (1 of each) for connecting direct to professional PA equipment.Both microphone inputs are equipped with a talk-over function to lower the music volume when receiving input from the microphone.
Pioneer have once again innovated with the unique design of the S1 with a space for the laptop keyboard underneath the unit,keeping the laptop screen in full view of the DJ whilst saving precious space within the DJ booth.
The Pioneer DDJ-S1 Controller Main Features:
Designed specifically for Serato ITCH software
Controls: Alphabetic search function for quick song selection, Hot Cue Fader Start, and a slip mode for looping, reversing and scratching without changing the song tempo.
Various inputs and outputs, including a balanced XLR inout/output (1 of each) for connecting direct to professional PA equipment.
Optimized audio circuitry in the master output area
Audio characteristics optimized for Serato ITCH software, ensure superior sound delivery.
A Playing Address feature displays track progression on an LED display
All buttons are pre-assigned to the software functions, and the controller can be connected to the computer via USB cable, meaning DJs can truly "Plug and Play".
The industry's first lock mechanism, "P-LOCK Fader Cap", is equipped on the cross-fader and each channel fader to prevent fader caps from slipping during performance.
Built-in audio interface
Included software: Serato ITCH
Input terminals: MIC x 2 (top XLR / 1/4 inch PHONE x 1, front 1/4 inch PHONE x 1) AUX x 1 (RCA)
Output terminals: MASTER OUT x 2 (XLR x 1, RCA x 1) HEADPHONE MONITOR OUT x 2 (front 1/4 inch PHONE, Mini Pin)
Other terminals: USB B connector x 1
Frequency range: 20 Hz to 20 kHz
Total harmonic distortion: 0.01% or less
Included AC adapter: Power 220-240v, rated output 5 V DC
External dimensions: 680 mm (W) x 95.2 mm (H) x 317.7 mm (D)
Weight: 5.0 kg
Comments