Grain Science — Quick Overview
A quick tour of our new iPad synthesiser, in which I make a lot of strange loud noises.
The intro tune was created in Grain Science itself by using the built in performance recorder on each track, and sending them to our Hokusai Audio Editor for mixing and mastering.
Grain Science is out now in the App Store: http://itunes.apple.com/app/id487233637
For more info: http://www.wooji-juice.com/products/grain-science/index.html
Grain Science is based on the principles of granular synthesis: taking audio (a waveform/sample), tearing it into tiny pieces (the "grains"), and then putting them back together.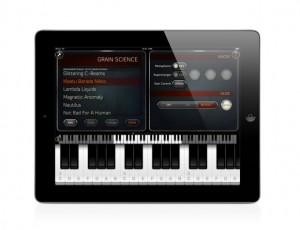 You can use it like a traditional sampler, by telling it to put the pieces back together exactly how it found them. You can use it like a traditional analogue synthesiser, by using sawtooth, sine or other basic waveforms as the source material — after the grain synthesis is done, you still have a variety of sophisticated tools to pass your sound through, before it hits the speakers or recording.
Of course, you can also go to places that neither a sampler nor an analogue synth can dream of going! With grain synthesis, the sound can be exactly as it started, or completely unrecognisable, or anywhere in between. The ability to create entirely new sounds that still, somehow, retain some of the essential qualities of the original, is one of the things that makes granular synthesis so interesting.
Not only that, but Grain Science offers two grain units per voice. Because you can control the mix between them — either manually, or programmed to change over time according to your needs — you can create layered, morphing or rich, complex modulated sounds (as you can also use the second grain unit to amplitude-modulate the first). You can also get direct control of the grain unit scrubbing, allowing you to "grainbend" live to create truly wild audio!
Comments