It's not the official soundtrack of that great game, but something I composed and recorded with the Novation MiniNova synthesizer.
Novation has introduced the Launch Control XL – a new MIDI controller that they call 'the ultimate controller for Ableton Live'.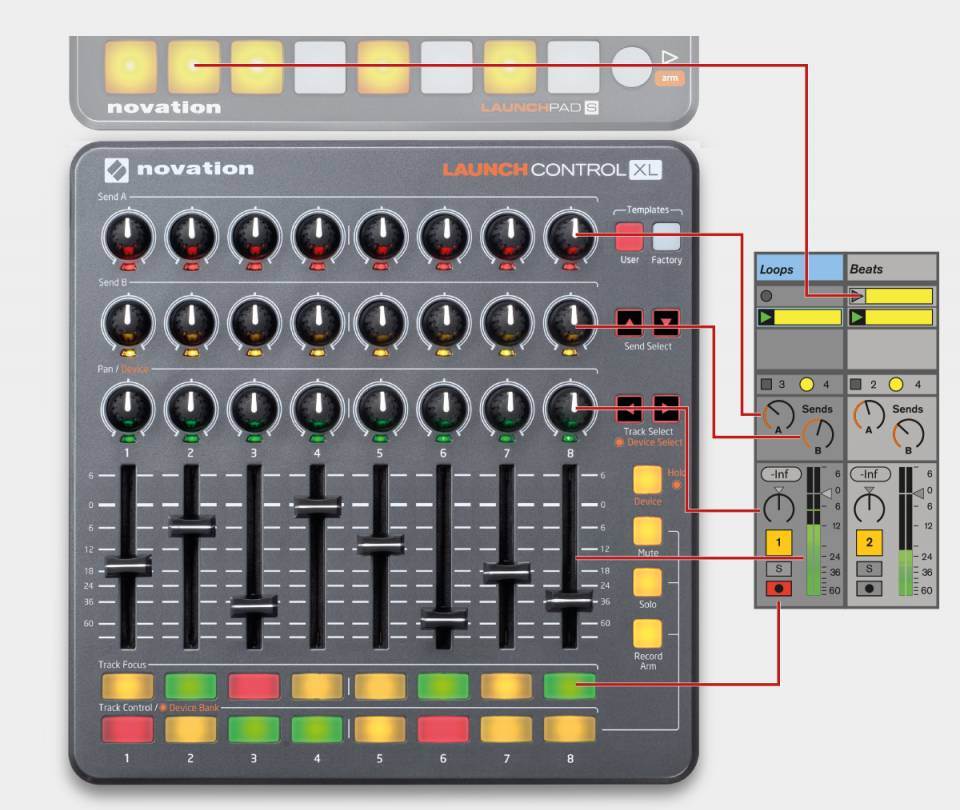 According to Novation, the Launch Control XL helps you focus more on your music and less on your laptop, by providing 16 buttons, 24 knobs and eight faders, all of which integrate seamlessly with Live.
Features:
Hands-on control over Ableton Live
Tweak your sound using 24 knobs with multicoloured indicators
Precise control over levels with eight rugged faders
Create your own control layouts, by freely assigning any control to any function in Ableton
Plug straight into Mac, PC or iPad and start performing
16 multi-colour buttons for immediate track focus and key mixer controls
Includes Ableton Live Lite software and Loopmasters sample collection
Control MIDI-compatible iOS software via Camera Connection Kit
Launch Control is powered via USB bus power
This is the original demo for the tune ' Digital Heart', also used on the Novation 'Ultranova' ad.
https://soundcloud.com/thesecondwall/…
Minimoog Voager
Moog Little Phatty
DSI Prophet 08
DSI Evolver
Novation Bass Station 2
Roland Alpha Juno 2
Lexicon MX 300
TC Electronic M 300
EHX Small Stone
Digitech Digidelay
First jam using the Yamaha Tenori-on as a MIDI sequencer. The iPad (running Cubasis) and the iRig MIDI are working only as MIDI router and interface.
Primeira jam usando o Yamaha Tenori-on como sequenciador MIDI. O iPad (rodando o Cubasis) e a iRig MIDI estão funcionando somente como roteador e interface MIDI.
Alba Ecstasy has released a new sound library for theNovation Bass Station II, details below:
87 presets for Novation Bass Station. Demo: all sounds are coming from Novation – The New Vintage pack.
Click here: http://www.albaecstasy.ro/novation/
Delay & Reverb from Ableton.
Alba Ecstasy
'INHALT' explores the Bass Station 2, video details below:
We recently bought the Novation Bass Station 2 and have been in a sort of love affair with this little wonder. It does so much of the old Roland SH sound but it provides so many features from the modern era. Everything from patch recall to automation is present. But really, what it comes down to, is the pure sound quality and variety. Here the Bass Station 2 is unmatched. It just sounds amazing.
We multi tracked everything and recorded it into Pro Tools HD. Every sound you hear is the produced by the Novation Bass Station 2.
Reviewer, EDM producer, and DJ Francis Preve takes a look at Novation's latest pad/clip controller for Ableton Live and Image-Line FL Studio. Read the full review in our February 2014 issue.
Reviewer, EDM producer, and DJ Francis Preve takes a look at Novation's latest keys-meet-pads MIDI controllers for Ableton Live and Image-Line FL Studio. Read the full review in our February 2014 issue.
This is how you set up the Novation Ultranova to be used inside of Maschine 2.o or really any DAW
John Keston explores the Bass Station II, below his report:
I have recently been trying out a Novation Bass Station II monophonic analogue synthesizer. I am quite impressed with this big sounding synth in a small package. While digitally controlled, Novation have focused on packing in proper synthesis features rather than trying to gloss over the sound with onboard effects. For example, as I have illustrated in the video, the filter self oscillates nicely with a clean sine wave that can be modulated in unique ways especially with distinct features like oscillator slew.
The video starts with the self oscillating filter getting modulated by LFO 2 using the triangle wave. After that I switch to using the sample and hold setting creating the well-known 60s computer sound of random notes. Here's where it gets interesting though. Once I switch the LFO to sample and hold I start turning up the oscillator slew I mentioned earlier. What this does is variably smooth the wave shapes created by the LFO. You'll hear this come in at 0:28. It sounds like portamento. At 0:35 I switch the LFO to the square wave, but with the slew on it sounds more like a sine. As I reduce the amount of slew the square wave regains its recognizable character. Next I switch it to the saw tooth wave. The nice thing here is that the LFO amount can go into negative values allowing the saw to be reversed.
Another distinctive feature is the oscillator filter mod setting. This modulates the filter with oscillator 2. Since the oscillators range from subsonic to almost supersonic this feature offers modulation effects that are not possible with the LFOs. At 1:29 you will start to hear the oscillator filter mod come in using a pulse waveform. What makes this interesting is that while oscillator 2 is modulating the filter it can also have the pulse width modulated by LFO 1. This can cause bit-reduction-like effects that can be heard between 1:49 and 2:19. At 2:20 I start tapping the octave and waveform buttons on oscillator 2 illustrating what happens when the modulation source is instantly shifted an octave at a time. After a bit more messing around I added a final, manual filter sweep at 3:20.
http://audiocookbook.org/novation-bas…