Download the AfroDJMac Glitched Piano Rack @ http://bit.ly/freesynth25
This Ableton Live Rack was created by sampling my piano with the Singing Fingers iPad app and then sampling that into Ableton Live. The result is a glitchy piano pad type sound. Enjoy!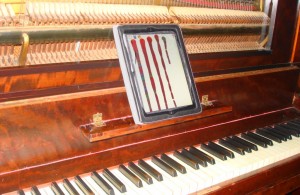 I've been experimenting with various apps on the iPad, and one of my favorite ones is a sampling app called Singing Fingers.   This app records sound as you draw on the iPad with your finger.  You then play the sounds back by tracing over what you have drawn.  The sound changes depending on how fast and which direct you move your finger.  It's very easy to use, creates interesting sounds, and is fun.  So, I decided to record some notes from my piano (the same piano from my reverse piano rack) into the app, and then I sampled the result into Ableton.  By nature, the app has a granular-glitch type sound to it, and this is pretty evident in the sound of the rack I have created, "AfroDJMac's Glitched Piano."  Have fun with it!

Click to Download the AfroDJMac Glitched Piano
Glitch up your sounds in Ableton and resample them to create new sounds. AfroDJMac shows you how to use his glitch effects rack to create interesting glitchy sounds for use in your tracks. This video discusses sampling/resampling, slice to midi track, glitch effects, and even how to get your Novation LaunchPad to light up when you use it to trigger drum rack samples.
Download the Live Set which includes the glitch effects racks, the slice to midi preset, a track you can use to get your LaunchPad lighting up, and a free song by AfroDJMac and SuperKid @ http://bit.ly/freesynth24
Free Weekly Ableton Live Rack #23: Super Glitch Machine (Part 1). This week AfroDJMac brings you not one, not two, but three Ableton Effect Racks, all designed to mangle, twist, and mutilate your audio. Get your Glitch on people!
Download @ http://bit.ly/freesynth23
Greetings boys and girls, this week I have part one of a two part series on creating glitchy music.  As fun as it is to create things, there's a whole other sense of satisfaction in destroying them.  For your downloading pleasure, I've constructed three different Ableton Live Effect Racks that are designed to mutilate, mangle, destroy, and crush your tracks up.  I built up groups of effects that will take your sounds and twist them into oblivion so that you wind up with something totally new and down right nasty.  These are great for individual tracks or entire mixes, experiment with them and take the music you have worked so hard to create and destroy it to your hearts content!  Follow the destruction in the video below. Next week in part two, we will take these very racks and go through the steps to take just about any sound and mangle it into a large group of glitchy noises that can then be reused again and again.
…and by the looks of the cover we might expect some glitch and chip tunes in there, hehe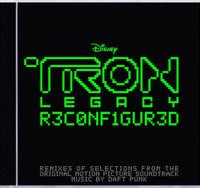 It's been announced that an album of remixes of Daft Punk's Tron: Legacy soundtrack is to be released on 4 April. Tron: Legacy R3CONFIGUR3D features contributions from the likes of Moby, Photek, Paul Oakenfold and The Glitch Mob.
The full tracklisting is as follows:
01. The Glitch Mob – Derezzed
02. M83 vs. Big Black Delta – Fall
03. The Crystal Method – The Grid/Game Has Changed
04. Teddybears – Adagio for Tron
05. Ki:Theory – The Son of Flynn
06. Paul Oakenfold – C.L.U.
07. Moby – The Son of Flynn
08. Boys Noize – End of Line (Boys Noize Remix)
09. Kaskade – Rinzler
10. Com Truise – Enron Part II
11. Photek – End of Line
12. The Japanese Popstars – Arena
13. Avicii – Derezzed
14. Pretty Lights – Solar Sailor
15 Sander Kleinenberg – Tron Legacy (End Titles)
This is a cellular automaton sequencer in Reaktor based on the original "Life" sequencer, but simplified. It's now available in the Reaktor user library. By Bret Truchan, the original GlitchDS author.
Credits:
- Co-author: Justice Emge
- Drum sounds from rhythm-lab.com
- Some samples from sampleswap.org
- Based on the original Life cellular automaton engine
Demos Preset Bank Glitchmania for Stutter Edit by Sampleconstruct
Glitchmania is a preset Bank for iZotope's Stutter Edit. It features 15 thematic snapshot-sets with +40 (3-4 octaves) snapshots each ranging from temposynced madness for glitching up loops and beats to otherworldy electronic textures for processing instruments, vocals and synths.
The price for Glitchmania is 15.95 Euros.
To purchase Glitchmania go to http://www.patchpool.de/izot…
Please allow me a few hours to process to your order, you will receive an Email with a zip-file to the address stated in your paypal-account.
This takes the glitch concept also to the video. I get at mixed feeling between The Matrix and a C64 game.
Hassler/Butcher – ConSec (EC: 34X 'OTHER PICTURE NOISE PROBLEM') from Jason R. Butcher on Vimeo.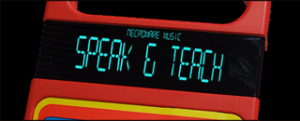 Necromare has released some bizarre new free VST's for Windows.
The include:
Free VST Turntable – is a sample-based instrument featuring sounds of an old turntable
The Audience - A VST full of foley-type laughter, boos, stomps and cheering
Bent Furby – glitch effects and bent phrases based on a bent Furby
Speak & Teach – 8 octaves of samples based on 80′s Speak & Spell toys
See the developer's site for details.
Link: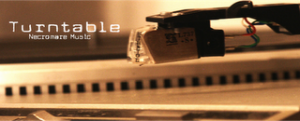 An example:
Sample Based instrument. So I was sitting in my studio when my eye caught an old turntable in the corner. I thought…what the hell. I hooked it up to my mixed and started recording whatever sounds I could get off of it and that is what is presented here for you. Please enjoy and I hope you can find a use for this VST. Included in the zip file is keyboard map to let you know what sound is where.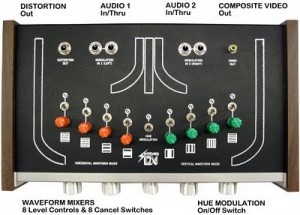 A demonstration of our set of custom modifications for the Atari Video Music video synthesizer/audiovisualizer. The modifications involve controls to glitch out and morph the output shape/pattern, a composite video output, operation as a static image synthesizer, upgraded 1/4″ input and thru jacks for both audio inputs, and a distortion output (in which the guitar is run through in some of these clips.) For more information on purchasing a modified video music, or getting yours modified, please visit http://switchedonaustin.com/other-ins…"
Be sure to see the rest of Switched On for more. "We specialize in vintage synths, drum machines, effects, full service repair & modifications as well as computer music tools & accessories. Not to mention workshops & classes!