A few sounds from the Emulator II sound libraries. Some of these sounds were popular in the '80s and have become classic.
An affordable classic early eighties sampler/workstation synthesizer. It's a sampler that sounds like an analog synth because it has analog filters! It samples at a low 8-bits (up to 17.6 seconds) so it's got that lo-fi sound which is great for some types of electronic music. Especially nice is its ability to create warm analog-ish pads and sounds. It uses those giant 5″ floppy disks for storage. Also on-board is a useful 8-track sequencer. It can be hooked up to a Mac for easier editing using software such as Digidesign's Sound Designer.
The Emulator II had many new features for its time. MIDI, SMPTE and computer control. Editing samples includes truncating, manual/auto looping, reverse, velocity switch cross-fading and splicing samples together. A great feature is the 24 dB/oct analog 4-pole low pass filter. There are eight separate LFO's and eight extra individual outputs for each voice. Make no mistake, the Emulator II was a long standing professional sampler of the mid-eighties for musicians and sound designers.
The Emulator II received numerous upgrades during its four year production run from 1984 to 1988. These included the Emulator II+ with double the sample memory and the Emulator II+HD which adds a 20MB internal hard drive.
The KORG M01D is a music workstation based on the KORG M1 the world's first widely known music workstation. The M1 was released in 1988 by KORG Inc., one of the most famous and leading electronic musical instrument companies. The KORG M01D reproduces the M1's unforgettable digital sounds of the 80s such as the "M1 piano", still heard on many songs today.
With 24 voice-polyphony, over 300 sounds and an easy to operate sequencer, the KORG M01D helps you play and create your music at any place, and at any time, in a palm-size package!
Furthermore, the KORG M01D maximizes the range of music making possibilities with the excellent functionality of the Nintendo 3DS dual screens and performs sensuous note input with the sound control mode of the touch screen. This brings the "fun" experience beyond the music workstation, for everyone from beginners to professionals.
The song data and MIDI data can be saved to an SD card so the KORG M01D can be used as a sketchpad. You can preserve all of your musical ideas which can be later converted to your DAW system for more serious music production. In addition, anyone can exchange song data using Nintendo 3DS Wi-Fi via the Internet.
Studio1111 is an all-in-one workstation and composing environment offering a wide selection of tools and modes to effortlessly build awesome acid bass lines and drum patterns. This one goes up to 1111!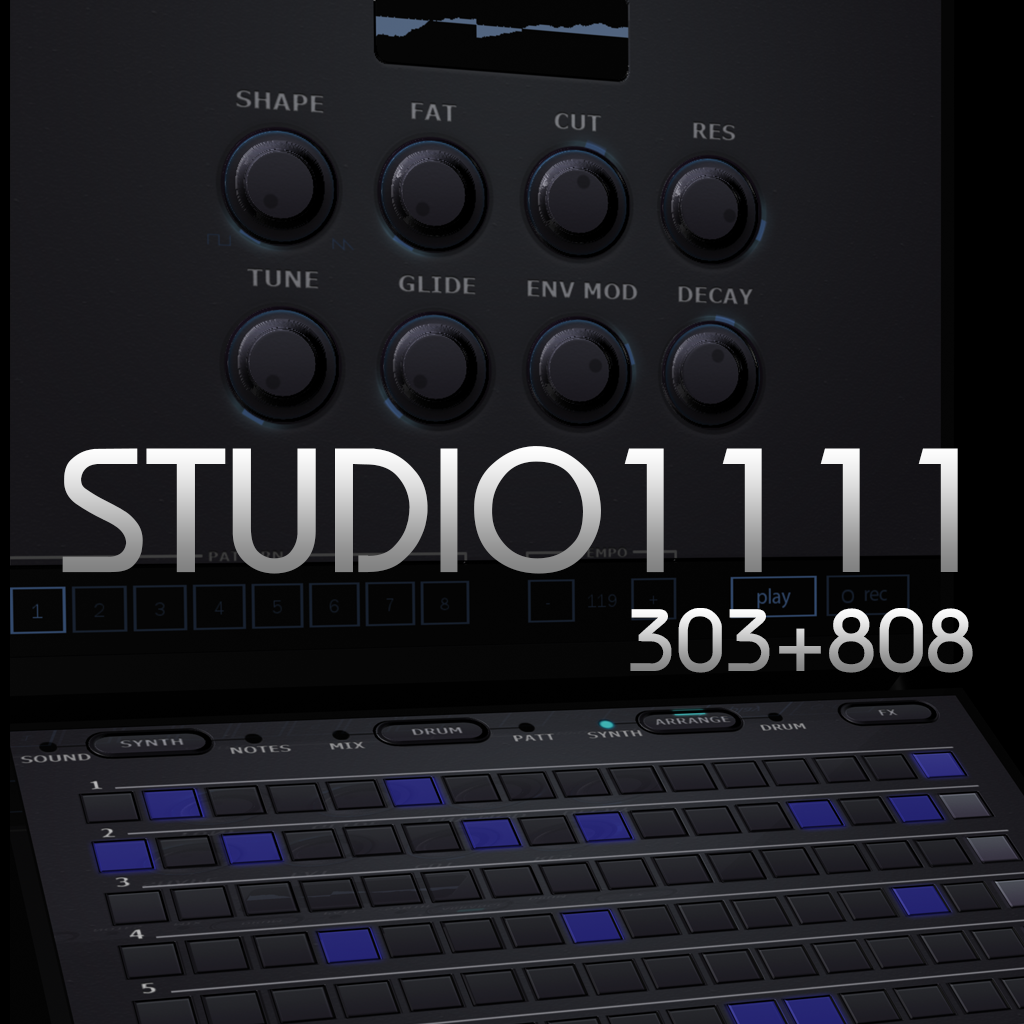 FEATURES:
303 BASS SYNTH:
-De-tuneable to 3 voices (FAT)
-Waveform mix between Square/Saw
-Resonant Acid Low Pass filter with envelope and decay that 303 fans will love.
-sequence up to 16 patterns per song
DRUM MACHINE:
up to 15 kits available including:
-808
-909
-8 BIT
-505
-KASIO
-DUBSTEP
-DISCO
-iHANG
-606
-BEATBOX
-MPC2000
-707
-ELECTRO
-HIPHOP
-SPEAKSPELL
You Have full control over the mix of the drum kit to get the balance perfect!
XY FX PAD:
The effects pad enables you to ad cool FX to both drum and synth channels. Effects include:
-Vowel formant filter
-Low Pass filter
-Hi Pass filter
-Bitcrushing distortion
LOAD/SAVE:
You also have the ability to load and save up to 8 songs n the fly
AUDIO EXPORT:
Record your performances to WAV, downloadable via the iTunes sharing page
MIDI IN/OUT
Trigger your drum kit and synth with an external keyboard or sequencer!
You can also you Studio1111 pattern sequencer to trigger external midi modules – both drums and synth sequencer have midi out!
For more information and download:
https://itunes.apple.com/us/app/studi…
twisted-electrons.com/studio1111
All sounds & instruments are from WaveRunner, which will be released on August 1st. Additional drums from PlugSound Pro.
A multitude of synths, drum machines and rare prototypes of esteemed German heritage come together in this massive and unparalleled retrospective. WaveRunner presents you with a wondrous collection of authentic and fascinating sounds from over 30 years of wavetable synthesis. Everything from the raw and strident origins to the wild evolving tones of more modern, full-featured machines. Each system addressed was serviced, meticulously multi-sampled and artfully designed into 7 unique hybrid instruments driven by over 30,000 samples. Both a historical archive of sound and a collection of new and unique instruments with hundreds of presets and limitless sound design potential, WaveRunner is a suite not to be missed.
WaveRunner includes 7 instruments:
WaveRunner 360
Based on a very old and quite rare machine, WaveRunner 360 delivers a raw and lo-fi sound. Explore the origins of wavetable synthesis and let loose with ripping vintage timbres.
WaveRunner Terminal D
Including sounds from vintage prototype drum modules, synths and modern rack drum synths, Terminal D is an uncompromising drum machine with an impressive range of sounds and easy to use interface.
WaveRunner Terminal U
Built on a generous collection of sounds from the entire range, Terminal U is a powerful and dynamic multitrack phrase sequencer capable of generating everything from tight rhythmic chains to wild and evolving passages.
WaveRunner 2.0
Based on the original German blue, WaveRunner 2.0 delivers an uncommonly warm and vintage tone from an often overlooked classic known for its amazing analog filter.
WaveRunner 2.3
Similar to the 2.0 but with a distinctly different flavor, WaveRunner 2.3 is built on the upgraded German classic and its loquacious programming pal.
WaveRunner Orange
Based on the modern flagship wavetable synthesizers famed in the '90's and '00s, WaveRunner Orange delivers the modern sound of wavetable synthesis covering the gamut from lush bells to violent and evolving tones.
WaveRunner X
An extraordinary collection of raw waves harvested from the entire range of machines come together in this fresh and powerful dual-layer subtractive synth; capable of deep, modulating ambiances, brutal basses and uncanny leads.
*PPG and Waldorf are trademarks of their respective owners and are not affiliated, endorsed, connected or sponsored in any way to this website or any of our affiliate sites ; therefore do not be confused between UVI and PPG or Waldorf.
The latest version of Steinberg's HALion VST sampler adds new features that extend the boundaries of virtual sampling and sound design software. New instruments and sound sources, new effects, and much more combine to form a powerfully inspirational instrument that forms the heart of modern sound creation or production environments.
For more information please visit www.steinberg.net/halion
HALion Sonic 2 is a unique software workstation that breaks new ground in terms of instrument quality, versatility and ease of use. Comprising 2,500 first-class instruments in almost every conceivable style, this multi-faceted instrument has the power to captivate and inspire you, and become the heart of your creative process.
All sounds, instruments (except the vocals) and FX processing used in the music featured in this clip are made only with the Pa900. (written and performed by Marco Parisi).
Korg debuts the new High Performance Arranger in the acclaimed PA-Series, the Pa900. The Pa900 has plenty of new sounds (featuring Defined Nuance Control for extra realism) which will impress any audience, as well as an enormous range of styles covering music genres from all over the world. Combine this with powerful functionality, an intuitive user interface and rich, powerful sound and you have an Arranger for the most demanding performer.
For more information on the Pa900, head over to http://www.korg.com/pa900.
More KORG PA900 videos right here >>
Pa900 Highlights
Enhanced RX (Real eXperience) sound engine offers improved realism and expressiveness
Massive internal ROM; can accommodate up to 192 MB of user PCM data; provides a powerful wave memory, delivering incredible sound quality
Three assignable switches and a four-way joystick ensure total control for the sound articulation levels (DNC – Defined Nuance Control)
61 key semi–weighted keyboard action with velocity and aftertouch
Slim and compact lightweight design
Large TouchView™ 7" TFT display
Easy layout and intuitive graphical interface with new Search function for quickly locating musical resources
2-way speaker system provides powerful, clear sound
Improved Style and Performance selection; over 400 factory Styles, each with 4 variations and 4 Fill Ins + Break, plus 15 user banks for nearly-unlimited storage of your favorite customized or user-created Styles and settings
Enhanced Guitar Mode 2 for even more realistic guitar parts
Chord Sequencer function records any chord progression on-the-fly
4 Stereo Master Effects (125 FX Types) + 2 Global Effects (Limiter, EQ)
TC Helicon 3-voice Vocal Processor with 4 dedicated effects
Double MP3/MIDI file players with recording capability, X-Fader and Vocal Remover
Enhanced compatibility with lyrics in graphical format (+G) for MP3
Enhanced sound compatibility for GM and GS songs
Fully-programmable SongBook database based on Styles, SMF, Karaoke, MP3 with instant recall of any song setting. User-definable custom lists. Filtering and ordering options.
Multi-language extended character set. Lyrics can be showed in their original languages (except the Oriental and the Arabic Languages*).
New SoundFont import function
Mass Storage with Micro SD
Korg Kronos Tutorial: 13 MS-20 Patch Panel Programming (use the 1080p quality to read the screens)
This tutorial shows how to use the MS-20 Patch Panel, the common input and output connectors will be explained. The following patch sections are in the tutorial:
– AMS Source Output Connector
– Total Input Connector
– Frequency Input Connector
– High Pass Filter Input Connector
– Low Pass Filter Input Connector
– Noise Output Connector
– VCA Area
– Mixer Area
– Modulation Generator Area
– S&H area (with Clock source)
– Feedback routings
At the end of the video there are several examples of common patch panel routings to get you started.
Stupid clown jamming away on the KROSS
Video information (Googlish from Japanese):
Proud of the performance techniques transcendence H ZETT M "genius piano magician mystery" is, run down the latest workstation KORG, the KROSS!
H ZETT M, who was in charge of composer / music demo song 4th track mounted on KROSS body to be released in late June of "PLAY and GO!" Is, attack the head office showroom of Korg what. By the hand of H ZETT ISM (H. Georgette ism), pattern of performance there was recorded in "PLAY and GO!" Was sublimated to the wonderful video work this time following the promotion video of PS60. By H ZETT M is and also considering KROSS use in the stage of their own, it might co-star both be seen in front of in the near future.
KORG KROSS
http://www.korg.co.jp/Product/Synthes…
H ZETT M Official Site
http://www.worldapart.co.jp/hzettm/
Rich Formidoni from Korg demonstrates the Kronos X
Product description:
With the X Korg have kept the same physical design (with the addition of an X next to Kronos logo) but under the bonnet you have 2GB of available sampling RAM (3GB total) and a doubled SSD capacity of 62 GB for massive sound library expansions. Of course the Korg Kronos X also comes preloaded with the latest operating system, Kronos OS v2.0.
In addition to these extras taking it to the next level everything that made the original such an incredibly powerful live performance and production synthesiser is still in place with the Korg Kronos X.
Each of the nine sound engines that have been crammed into the Korg Kronos X could actually be a standalone product. Everything is there from classic instruments to unique sounds; each with their own set of parameters and functions.
Here's what you're getting: SGX-1 Premium Piano, EP-1 MDS Electric Piano, CX-3 Tonewheel Organ, HD-1 High Definition Synthesizer, AL-1 Analog Synthesizer, MS-20EX Legacy Analog Collection, PolysixEX Legacy Analog Collection, MOD-7 Waveshaping VPM Synthesizer, STR-1 Plucked String Synthesizer.
Korg's new Kross Music Workstation is the go-anywhere, do-anything keyboard that lets you make music wherever you are. There's a huge collection of sounds and effects at your fingertips, plus a 16-track sequencer that lets you instantly record your ideas. Quickly make beats with drum-machine-style editing, and lay down vocals with a built-in stereo audio recorder. When it's time to move, toss in 6 AA batteries, grab the carrying handle, and Kross goes where you do. Affordable and versatile, Kross is available with either 61 full-size semi-weighted keys or 88 fully-weighted piano keys.
For more information, including audio demos, visit
http://www.korg.com/Kross
http://www.korg.co.jp/Product/Synthes…
MESSE13: Korg Kross First Look We managed to get walk through of the new workstation
In this first part of our five-part video manual, you'll learn all about the controls and connections on Korg's Kross Music Workstation. If you're new to Kross, or just want to know how it's laid out, start here.
For more information, please visit korg.com/kross