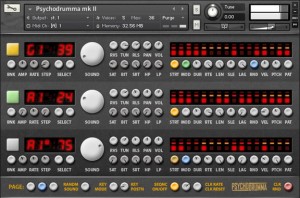 Fairly Confusing Waveforms has launched Psychodrumma mk II, an updated version of the "chaos management workstation" instrument for Native Instruments Kontakt.
Psychodrumma mark II is reworked and expanded version of Psychodrumma, fantasy, neo-retro drum machine/music generator for Kontakt 4 sampler. It can act as a drum machine and generate random rhythmic, ambient or melody patterns.

It is based on matrix of nine synchronized step sequencers, and a meta-sequecer. Most of settings can be programmed automatically by randomizers, creating strange machine music. It has plenty of knobs and a lot of flashing lights.
Changes in Psychodrumma mk II
Algorithmic mode, makes it possible to playback or loop sequences of random events.
Music box, tunes melodic samples to defined pattern, to create melody sequences.
Reworked and expanded sound banks, including third tonal bank to use for generating melodies.
Saving and loading presets, presets can then be sequenced in meta-sequencer, to create tracks inside the machine, preset-set can be then saved to file.
Automated effects rack.
Psychodrumma mk II is available with the purchase of The Sounds of SzcZ, vol​.​2, Psychodrumma, available from Bandcamp (name your price).
all synth sounds: E-MU Emax SE Sampling Synthesizer (1986)
drums: LinnDrum (1982)
recording: multi-tracking including the Emax internal sequencer
fx: reverb and delay
The Emax is a classic sampler workstation from E-mu. It is sort of a next generation Emulator II, it's not as good as an Emulator III but it's more powerful than previous EII's. The Emax can be found in several forms: the Emax, the Emax Rack, the Emax HD (built-in 20MB hard disk), the Emax HD Rack and the Emax SE (Synthesis Enhanced) with a built-in synthesizer section. The Emax's editing system will be familiar to users of E-mu's excellent ESI series.
The Emax has an extensive library collection of samples that can be loaded via the built-in 3.5″ hard drive. Or you can sample your own sounds. The Sampler is powerful, but lo-fi. It samples at 12-bit resolution with variable sample-rates up to 42kHz. The built-in memory is 512K which only gives you a few good seconds really. Sampling and editing is easy, complete and intuitive with auto sample placement, auto-looping, truncating, reversing, velocity cross-fade, etc. The Emax also features individual channel outputs and stereo outputs and extensive MIDI implementation.
The Emax features many common analog synth-type controls for easily shaping your samples. Tune, filter and shape the envelope or use LFO's and chorus to liven up your samples. There's also an on-board sequencer section. A real-time only 16-track, non-quantizable sequencer for basic scratch-pad use or simple arpeggios or patterns. The SE and SE Plus models, the most advanced of the 12-bit Emax's, add a synthesizer section, newer advanced digital signal processors for sample editing and a SCSI port (standard on the SE Plus). The Emax instruments were the most advanced of the classic keyboard samplers of the late 1980's.
The Emax II which was released in 1989 brought the Emax series up to modern specs with 16-bit sampling, 16-voice polyphony, 16 MIDI channels, stereo samples, 1MB RAM expandable to 8MB, SCSI, 8 assignable outputs and the SE's synthesis functions. And finally, the Emax II Turbo came with 4MB RAM standard and a 4MB hard disk. Whichever Emax you choose, they're all classic machines still capable of professional quality results when used in making the music of today.
Here's a presentation of the new Roland FA-08 at the NAMM Show 2014.
Dave Bryce checks out Roland's first new workstation since the Fantom-G, the FA series.
Roland has announced two new workstation keyboards, the FA-08 and FA-06, which it says meet the needs of anyone who wants an instrument that they can use both on stage and in the studio.
Featuring a built-in audio interface, DAW integration, more than 2000 sounds from the Integra-7 sound module and an 88-note weighted action keyboard, the FA-08 weighs in at 16kg. It comes with a 16-track sequencer, and each of the 16 available parts can access its own effects engine, which sports 67 effect types. The UK price is £1529.
Full specs are below. The FA-06 boasts very similar specs but comes with a 61-note velocity-sensitive keyboard. It retails for £975. You can find out more about both models on the Roland website.
Featuring a huge selection of Roland's best sounds, a 16-track sequencer, seamless DAW integration, an easy-to-use sampler, and much more, the new FA series completely reimagines the music workstation for effortless real-time power, ultra-fast workflow, and maximum versatility.
FA-06 (61-Key)
http://www.rolandconnect.com/product….
FA-08 (88-Key)
http://www.rolandconnect.com/product….
A few Kawai K5000S pads from the ASL4 library
About the synth:
The K5000 was Kawai's top of the line music workstation digital synthesizer when it was released back in 1996. It's a bold and elegantly designed synth with a large LCD display, realtime controls and incredible sounds! The look and functionality is rivals the competition from the time…the Korg Trinity and Kurzweil K2500
Programming sounds with the K5000 can be a breeze (once you learn how) although it has over 1,000 parameters per patch! That's plenty to play with. It combines additive synthesis and PCM sampled waveforms for you to layer and combine to design a whole range of sounds. Plenty of LFO modulation, filters and envelope controls allow you to shape and morph your sounds further. On-board multi-effects add the final touch of life to your sounds.
Once you've created some sounds, there's the on-board sequencer (K5000W only) for creating songs or loading Standard Midi File sequences (via disk-drive). It has a 40,000 note capacity and 40 tracks. Real-time record and step-edit modes are available and the sequencer is pretty straight forward.
The K5000S (pictured above) adds 12 dedicated knobs for hands-on control of filter, LFO and envelope parameters. There are 4 user-definable knobs and 2 assignable switches. The K5000S also has a 40-pattern arpeggiator on-board with 8 user-definable patterns too! K5000's have been used by Kraftwerk.
.
A few sounds from the Emulator II sound libraries. Some of these sounds were popular in the '80s and have become classic.
An affordable classic early eighties sampler/workstation synthesizer. It's a sampler that sounds like an analog synth because it has analog filters! It samples at a low 8-bits (up to 17.6 seconds) so it's got that lo-fi sound which is great for some types of electronic music. Especially nice is its ability to create warm analog-ish pads and sounds. It uses those giant 5″ floppy disks for storage. Also on-board is a useful 8-track sequencer. It can be hooked up to a Mac for easier editing using software such as Digidesign's Sound Designer.
The Emulator II had many new features for its time. MIDI, SMPTE and computer control. Editing samples includes truncating, manual/auto looping, reverse, velocity switch cross-fading and splicing samples together. A great feature is the 24 dB/oct analog 4-pole low pass filter. There are eight separate LFO's and eight extra individual outputs for each voice. Make no mistake, the Emulator II was a long standing professional sampler of the mid-eighties for musicians and sound designers.
The Emulator II received numerous upgrades during its four year production run from 1984 to 1988. These included the Emulator II+ with double the sample memory and the Emulator II+HD which adds a 20MB internal hard drive.
The KORG M01D is a music workstation based on the KORG M1 the world's first widely known music workstation. The M1 was released in 1988 by KORG Inc., one of the most famous and leading electronic musical instrument companies. The KORG M01D reproduces the M1's unforgettable digital sounds of the 80s such as the "M1 piano", still heard on many songs today.
With 24 voice-polyphony, over 300 sounds and an easy to operate sequencer, the KORG M01D helps you play and create your music at any place, and at any time, in a palm-size package!
Furthermore, the KORG M01D maximizes the range of music making possibilities with the excellent functionality of the Nintendo 3DS dual screens and performs sensuous note input with the sound control mode of the touch screen. This brings the "fun" experience beyond the music workstation, for everyone from beginners to professionals.
The song data and MIDI data can be saved to an SD card so the KORG M01D can be used as a sketchpad. You can preserve all of your musical ideas which can be later converted to your DAW system for more serious music production. In addition, anyone can exchange song data using Nintendo 3DS Wi-Fi via the Internet.
Studio1111 is an all-in-one workstation and composing environment offering a wide selection of tools and modes to effortlessly build awesome acid bass lines and drum patterns. This one goes up to 1111!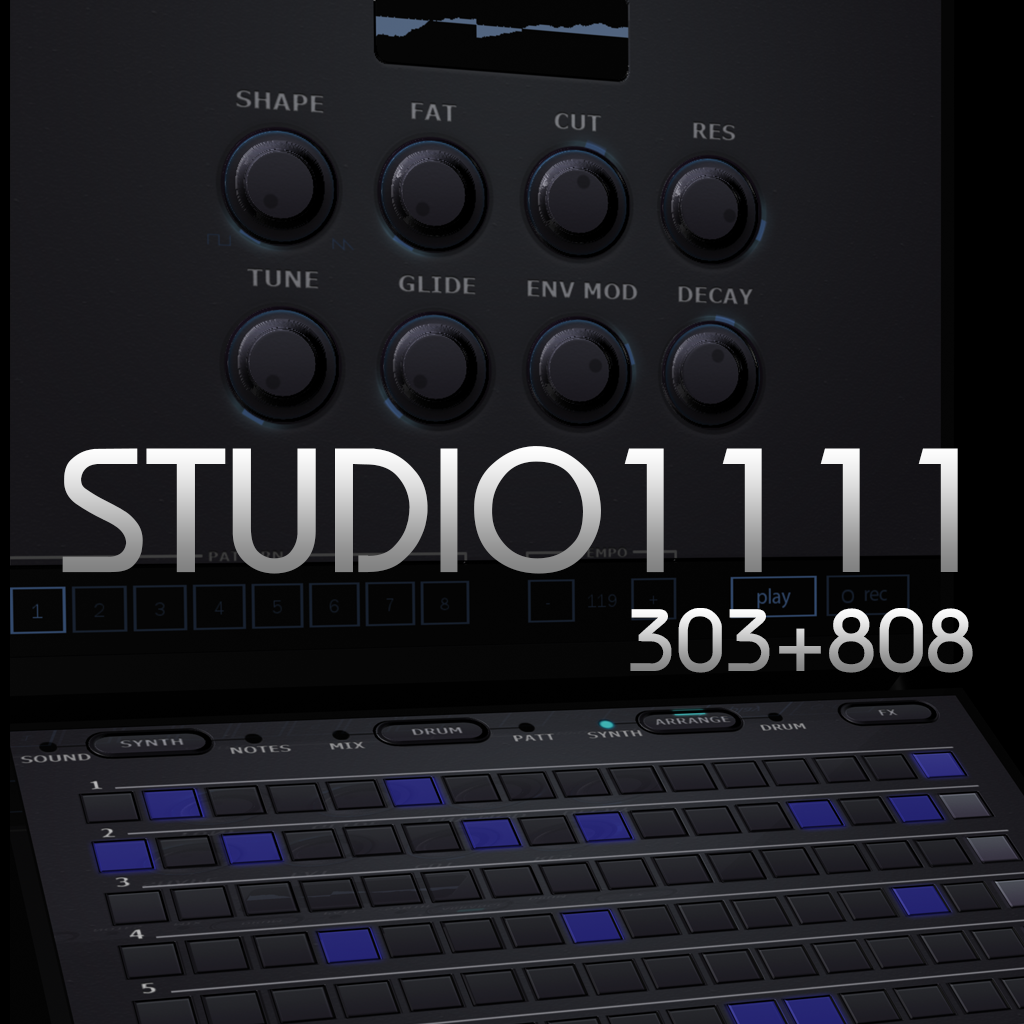 FEATURES:
303 BASS SYNTH:
-De-tuneable to 3 voices (FAT)
-Waveform mix between Square/Saw
-Resonant Acid Low Pass filter with envelope and decay that 303 fans will love.
-sequence up to 16 patterns per song
DRUM MACHINE:
up to 15 kits available including:
-808
-909
-8 BIT
-505
-KASIO
-DUBSTEP
-DISCO
-iHANG
-606
-BEATBOX
-MPC2000
-707
-ELECTRO
-HIPHOP
-SPEAKSPELL
You Have full control over the mix of the drum kit to get the balance perfect!
XY FX PAD:
The effects pad enables you to ad cool FX to both drum and synth channels. Effects include:
-Vowel formant filter
-Low Pass filter
-Hi Pass filter
-Bitcrushing distortion
LOAD/SAVE:
You also have the ability to load and save up to 8 songs n the fly
AUDIO EXPORT:
Record your performances to WAV, downloadable via the iTunes sharing page
MIDI IN/OUT
Trigger your drum kit and synth with an external keyboard or sequencer!
You can also you Studio1111 pattern sequencer to trigger external midi modules – both drums and synth sequencer have midi out!
For more information and download:
https://itunes.apple.com/us/app/studi…
twisted-electrons.com/studio1111
All sounds & instruments are from WaveRunner, which will be released on August 1st. Additional drums from PlugSound Pro.
A multitude of synths, drum machines and rare prototypes of esteemed German heritage come together in this massive and unparalleled retrospective. WaveRunner presents you with a wondrous collection of authentic and fascinating sounds from over 30 years of wavetable synthesis. Everything from the raw and strident origins to the wild evolving tones of more modern, full-featured machines. Each system addressed was serviced, meticulously multi-sampled and artfully designed into 7 unique hybrid instruments driven by over 30,000 samples. Both a historical archive of sound and a collection of new and unique instruments with hundreds of presets and limitless sound design potential, WaveRunner is a suite not to be missed.
WaveRunner includes 7 instruments:
WaveRunner 360
Based on a very old and quite rare machine, WaveRunner 360 delivers a raw and lo-fi sound. Explore the origins of wavetable synthesis and let loose with ripping vintage timbres.
WaveRunner Terminal D
Including sounds from vintage prototype drum modules, synths and modern rack drum synths, Terminal D is an uncompromising drum machine with an impressive range of sounds and easy to use interface.
WaveRunner Terminal U
Built on a generous collection of sounds from the entire range, Terminal U is a powerful and dynamic multitrack phrase sequencer capable of generating everything from tight rhythmic chains to wild and evolving passages.
WaveRunner 2.0
Based on the original German blue, WaveRunner 2.0 delivers an uncommonly warm and vintage tone from an often overlooked classic known for its amazing analog filter.
WaveRunner 2.3
Similar to the 2.0 but with a distinctly different flavor, WaveRunner 2.3 is built on the upgraded German classic and its loquacious programming pal.
WaveRunner Orange
Based on the modern flagship wavetable synthesizers famed in the '90's and '00s, WaveRunner Orange delivers the modern sound of wavetable synthesis covering the gamut from lush bells to violent and evolving tones.
WaveRunner X
An extraordinary collection of raw waves harvested from the entire range of machines come together in this fresh and powerful dual-layer subtractive synth; capable of deep, modulating ambiances, brutal basses and uncanny leads.
*PPG and Waldorf are trademarks of their respective owners and are not affiliated, endorsed, connected or sponsored in any way to this website or any of our affiliate sites ; therefore do not be confused between UVI and PPG or Waldorf.
The latest version of Steinberg's HALion VST sampler adds new features that extend the boundaries of virtual sampling and sound design software. New instruments and sound sources, new effects, and much more combine to form a powerfully inspirational instrument that forms the heart of modern sound creation or production environments.
For more information please visit www.steinberg.net/halion
HALion Sonic 2 is a unique software workstation that breaks new ground in terms of instrument quality, versatility and ease of use. Comprising 2,500 first-class instruments in almost every conceivable style, this multi-faceted instrument has the power to captivate and inspire you, and become the heart of your creative process.