And speaking of Roland, as in the previous post, here's a vintage version:
Vintage synthesizer demo track by RetroSound
"Monoton"
synthesizer sounds: Roland Juno-60 Analog Synthesizer from the year 1982
drums: Roland TR-707
recording: multi-track without midi
fx: a little bit delay and reverb
this track is including in the new vintage synth album:
http://www.youtube.com/watch?v=huM0t1…
The Juno-60 synthesizer is a six-voice polyphonic synthesizer. The single digitally controlled oscillator (or DCO for short) per voice gave the Juno-60 a high degree of stability in maintaining tune; most analogue voltage-controlled oscillators (VCOs) of the time would tend to drift in pitch and require re-tuning of the oscillator. The DCO provides sawtooth and square/pulse waveforms as a sound source, in addition to white noise and a square-wave suboscillator pitched one octave beneath the key played. Both of these additional sources can be mixed in with dedicated sliders.
The filters and envelope on the Juno-60 rely on control voltages sent by depressing the keys on the keyboard and were thus analogue. The Juno-60 features a rather distinctive-sounding 24 dB/octave lowpass filter with resonance. Unlike other VCF's of the day, the Juno-60′s is capable of self-oscillation and thus could be used to some degree as a tone generator in and of itself. The filter section also features controls for envelope amount and polarity, LFO modulation, and keyboard tracking. In addition, a three-position non-resonant highpass filter is provided to thin out lower frequencies.
The signal is then sent through a voltage-controlled amplifier (or VCA) and a simple four-stage ADSR filter envelope.
The Juno-60 provides limited options for modulating the audio signal. A single triangle-wave variable-rate LFO is provided as a modulation source; this can be mixed into the DCO to create vibrato or into the lowpass filter to generate a tremolo effect. The LFO can either be triggered manually by the left hand using a large button above the pitch bend lever or set to engage automatically whenever a key was pressed.
Synthesizer Demo of the analog synthesizer/string machine YAMAHA SK-10.
The SK-10 was introduced 1979 by Yamaha, Japan. It is the smallest instrument of the Yamaha SK-series.

Yamaha's SK-series are combo-keyboards with synthesizer, organ, brass and string sections. The SK-10 was the first of the SK-series, released in 1979 – the SK-20, 30 and 50D followed in 1980, and the SK-15 in 1981, possibly as a replacement for the SK-10. The SK-10 is the only one in the series that does not incorporate a synth section, but has organ, brass and string sections that can all be played together for more interesting combinations. Very sturdy casing, 4-octave and fully polyphonic the features also include a leslie simulator, vibrato, attack and sustain rocker switches, a slider for 'brilliance' and a one-octave transpose switch. Not exactly feature-laden, but a lovely string synth sound. Interestingly, they are often referred to as 'analog', but in fact do have a digital section. Its organ has one of the early implementations of Yamaha's FM technology in a very limited form, concurrent with the GS-1/2 development platforms which eventually led to the DX series.
The ORGAN SECTION is available in all the SK series synthesizers. It offers a full range of stop levers from 1′ to 16′, percussion levers with adjustable decay, and controls for overall sustain, brilliance and decay. This gives you quite a lot to work with in the way of synthesis. The organ's sound is FM based and it sounds very B3 like. You can add a Vibrato and a noisy but good Tremolo to it. Its sound is all about the 70′s era rock organ, especially with the Ensemble chorus effect in use. It also has a Leslie-speaker output around back.
The PRESET STRINGS section isn't very sophisticated and offers very limited editing capabilities. It is the string section though, that is worth aquiring this keyboard for.
All the different sections of the SK synths can be layered and stacked via the slider bars. You use the slider bars as a mixer to set the individual volume for each section. All sections have their own separate audio outs (though a mix out is also available). A great thing for live performances is the split keyboard mode. That way you can have, for example, a very nice, punchy bass sound from the synth section and a lead sound coming from the organ or solo sections. Although it has no patch memory, there are push buttons for instantaneous selection of organ, poly-synth and string preset sounds; there are three presets in each section. It also, has no arpeggiator or sequencer, and lacks MIDI. But it's cheap, easy to use, has a nice sound, full 61-note keyboard, and classic wooden panels.
Created in the wake of the Emulator sampler-synths, E-mu unleashed the Drumulator sample-based drum-machines. The Drumulator was E-mu's attempt at creating a rhythm machine like the Linn LM-1 that was better and cheaper. What they made wound up becoming a huge hit for E-mu. The Drumulator had eight drum sounds on a ROM microchip which were gritty, lo-fi 12-bit samples of basic drum sounds…but they were some classic sounds! The Drumulator II added sampling so you could bring in your own sounds. Samples could be truncated, looped, etc.
The Drumulator was primarily a drum machine, however, and offered sequencing that could be accomplished in real-time for a live feel. Or it could be meticulously programmed via step entry and edit modes. Up to 36 sequenced patterns can be stored, chained and mixed to create up to 8 songs. Your sequences and sample data can be stored to floppy diskettes. The Drumulator can be connected to an old computer (like an Apple II) for better visual sequencing and editing too. The Drumulator II went on to become the even better SP-12 drum machine.
The Minimoog was designed in response to the use of synthesizers in rock and pop music. Large modular synthesizers were expensive, cumbersome, and delicate, and not ideal for live performance; the Minimoog was designed to include the most important parts of a modular synthesizer in a compact package, without the need for patch cords. It later surpassed this original purpose, however, and became a distinctive and popular instrument in its own right. It remains in demand today, nearly four decades after its introduction, for its intuitive design and powerful bass and lead sounds.
The Minimoog is monophonic (only one note can be played at a time) and its three-oscillator design gave it its famous fat sound. Four prototypes were made over the years before a final design was decided upon to release as a commercial product. The Minimoog Model D adapted some of the circuitry (such as the filter section) from earlier modular instruments, but designed other circuitry (such as the oscillators and contour generators) from scratch. To produce a sound, the musician would first choose a sound shape to be generated from the VCO(s) and/or the type of Noise (White or Pink).
The Sanyo DP 10 is a card player synthesizer from the early 80s. Yamaha released a series of keyboards around the same time and Sanyo appears to have taken that technology into their unit. Like the Yamaha keyboards they accept cards that have a magnetic strip the reader recognizes and plays a pre-programmed song. The cards features songs such as Dancing Queen, Londonderry Air, etc and a head cleaning card. The DP 10 can also mix signals into the unit via the 2 mic inputs and an auxiliary input to play along with another instrument or sing through a mic. You can also adjust the tone or change the tempo of he song. There is also a rhythm section for 10 different styles of music, such as march and disco, jazz and bossa nova.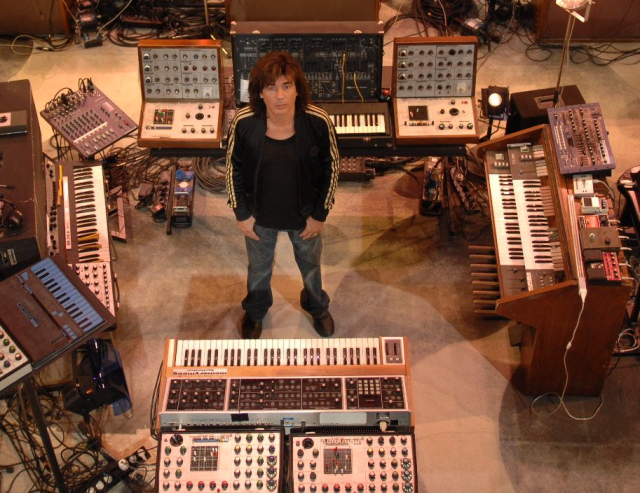 In a new interview, synth music pioneer Jean Michel Jarre explains why, despite all the advances in electronic music technology, he still has a love for vintage gear:
Jean Michel Jarre is reeling off some of the music he's been listening to lately: Actress, Fuck Buttons, Zomby… It's not the average 64-year-old's playlist, but Jarre has never really done average. His presence has loomed over electronic music for some four decades. The Frenchman studied under musique concrète progenitor Pierre Schaeffer—one of electronic music's earliest pioneers—and released the seminal Oxygene LP in 1976, which proved the catalyst to a sustained period of commercial and artistic success throughout the '80s and '90s. His career has been defined not just by his achievements themselves, but also the scale of them: on Bastille Day in 1979 he played to a live audience of one million in Paris, while a further 100 million tuned in on TV; nearly two decades later in Moscow he performed to a crowd of 3.5 million. He's also sold around 80 million albums (Oxygene alone has sold more than 18 million copies).

Jarre now exceeds the French pension age by four years, but he's not showing any signs of slowing down. He talks excitedly of two new albums he has on the boil. His most recent project, InFiné by JMJ, saw him delve into the French label's back-catalogue and pick out his 12 favourite tracks for a compilation. It was a low-key affair—by Jarre's standards at least. In conversation, he's clearly enthused by the project, earnestly discussing the merits of each inclusion and explaining his shared roots with the label—both he and former label boss Agoria hail from Lyon in southern France—with pride. We called up Jarre at his studio to discuss the compilation's origins, his current musical interests and his ambitious plans for an electronic music academy in East London.

Can you tell me about how the InFiné compilation came about?

It's a concept that started in my hometown. Like me, InFiné has its roots in Lyon, and lots of the label's artists are also from that part of France. I collaborated with some of the InFiné artists at the Nuits Sonores festival in Lyon last year, and we had a special evening where some of them revisited my work on stage. When InFiné decided to celebrate their tenth anniversary with a compilation, they asked if I would look into their catalogue and make some selections for a compilation.

How did you go about compiling it?

I went through lots of different tracks, and tried to build a kind of journey, using songs and artists that fit well together. As the music on InFiné is quite varied—there are artists from all kinds of different musical worlds—it was important to have some sense of direction on the compilation. A selection like this is always subjective; [the final selection] doesn't come down to which track is better than the other, it's just more reflective of my own tastes.

How did that sense of direction develop?

One of the reasons why InFiné is so important to me is that lots of artists on the label have been influenced by my own music. For the compilation I chose tracks that I felt were close to my own music in some way. The first track [Oxia's "Exaila"] could almost be a kind of introduction to one of my own albums; it's a short piece and I think it opens the door to the compilation nicely. Then there's Murcof's "Como Quisiera Decirte." I've admired this guy's work for a while, at times it's very close to the kind of stuff I was doing when I studying with Pierre Schaeffer at the musique concrète studio in Paris, when we were experimenting with sound design in pretty abstract ways. Murcof has an approach to music that I really enjoy—he mixes an experimental approach with Latin flavour. I've always been interested in trying to mix the Spanish or Italian soundtrack ambience of people like Pedro Almodóvar or Fellini into music. I find "Como Quisiera Decirte" quite haunting. It has a Mexican feel but it's still definitely electro. I love that mix, that hybrid feeling between two different worlds.

Which other artists on the compilation did you find yourself drawn to?

Rone is a good one—he has a very interesting sound. The problem with so much electronic music now is that more often than not, you hear a track, and it's interesting, but you don't feel it belongs to somebody in particular, or has a particular style, even if it's OK and you like it. In the case of Rone, for instance, or Agoria, and some of the other artists on this compilation, they have a definite sound world of their own. That's rare these days

Talking more broadly, which other contemporary artists do you listen to?

I'm listening to lots of different music. I really love Zomby's work, I've listened to a lot of his tracks over the past two years. And there's Actress—I've been appreciating his style of music recently. Then there are more established electronic artists in France like Air, Vitalic, M83, Justice or Sébastien Tellier—actually in fact I've just finishing a recording session with Sébastien today, we are working on a track together. I also really like Fuck Buttons. The first time I listened to their music I thought, "Wow, they've got such a special and unique type of sound." I mean, those guys build a kind of wall of sound in front of you, a fog of audio, with a kind of techno beat lost in smoke. It's a vaporized sound. I really love their direction and their Olympians EP was very nice.

How much time do you find yourself spending in the studio each week?

I try to spend as much time as possible in the studio, but it's never enough. There are always other things to do. My dream is to be like a writer, and spend four or five hours every day locked in the studio, but I can't really do that, I don't know why. I'm a workaholic in short spurts—I'll go into the studio and work for three or four days and nights, then I'll stop, take a break, and go back to the studio a week or so later. So for me, it's three or four days on, then three or four days off.

I read in an interview that you said when you're in the studio you feel more like a "painter than a producer, mixing with colour and light, and experimenting with textures." Do you still feel that way even when you're not in the studio as much?

Yes, more than ever. I think that's the beauty of electronic music. I used to do a lot of painting when I was a student, and I even hesitated between pursuing a career in painting or music. Over the years, when I've been faced with electronic instruments, oscillators and all these kind of strange machines, it occurred to me that mixing colours and mixing audio frequencies is actually the same thing. You are a craftsman, you are a painter, mixing colours and textures. For me, electronic music is very close to abstract painting, which is all about textures, shapes, colours and contrasts. These days, I like mixing analogue synthesizers with pure digital elements. I think this combination is actually reflective of society itself, because we aren't analogue anymore, but we're also struggling to deal with being in a virtual, digital world. I think it's quite nice when you can mix both worlds.
Full interview can be found here >>
The Roland Juno-60 is a popular analogue 61-key polyphonic synthesizer introduced by Roland Corporation in 1982 and a successor to the slightly earlier Juno-6. Like its predecessor, the Juno-60 has some digital enhancements, used only for clocking the oscillators and for saving and loading patches. This instrument was succeeded by the Roland Juno-106 in 1984.
Roland was losing market share with the Juno-6 in competition against the Korg Polysix. Related in features and price-class, the Polysix featured external control and patch memory, which the Juno-6 lacked. These features were quickly added to the Juno-6′s design, which sonically and architecturally did not change notably between the two versions, and then released as the Juno-60.
A lot of nice old retro gear in this video

four tape recorder techniques for minimal techno:
1) a tape loop system (1 recorder, top right)
2) long delay (2 recorders: top left and middle right)
3) reverse delay (bottom middle)
4) tape feedback/tape saturation on system 1, 2 and 3
The tascam 8 track is not doing anything here.. except being a rather expensive table for two other recorders,
"btw. the video in the second part doesn't really match the music, the camera fell so I couldn't use the original.. I wasn't doing all that much except for letting the long tape delay saturate on itself for a very very long time…"
A voyage into the heart of the Oberheim Matrix-1000 analog synthesizer from the year 1987.
Exploration by Marko Ettlich (RetroSound)
6 voices
2 oscillators per voice saw, triangle, square variable pulse width, fm
resonant filter 24dB/oct lowpass filter
2 LFOs
1000 sounds
used by Apollo 440, Moby, Fatboy Slim, Depeche Mode, Pet Shop Boys, Faithless and many more

The analog Matrix 1000 is essentially 1,000 Matrix 6 patches in a single-space compact rackmount MIDI module. It has the same synth architecture as the Matrix 6. Each of its 6 voices have two DCO's (digitally controlled analog oscillator), a low pass filter, 2 VCA's, 3 envelope gens, 2 LFO's, and 2 ramp gens. The sounds are plentiful and good enough, however sounds can only be edited via MIDI, so you'll need an external MIDI editor (such as MOTU's Unisyn) or Access' Matrix Programmer to edit parameters. You can also load sounds from the Matrix 6 via SysEx or software.
The Matrix 1000 provides an excellent source of pads, textures and ambient sounds. It has 195 "keyboard" sounds, 118 "strings", 130 "woodwinds & perc", 239 "synthesizer", 119 "bass", 74 "lead" and 125 "effects". For the price, there is no better way to find genuine analog Oberheim Matrix sounds in a compact and very in-expensive rack module that is loaded with more sounds than you'll ever need! The older versions of the Matrix 1000 have a black front-panel. The newer models in the '90′s have a cream colored face-plate.
Yamaha RX8 drum machine. Yamaha launched the RX8 in 1989 as a replacement for the RX7 and to be Yamaha's first drum machine using 16 bit PCM samples. In the late eighties there were several successful 16 bit drum machines available, the Alesis HR16 and HR16B as well as the Roland R8 and R5 to name a few, but the RX8 was still able to carve out a niche in the market of the time.
"Shaped like a plastic doorstop. Not one of the best drum machines ever but still has its charms. Not as boring as the RX17 and RX21. Clearly a budget drum machine, it boasted 16 bit samples and it would have gone head to head with the Alesis HR16, which had better samples."