Yamaha RX8 drum machine. Yamaha launched the RX8 in 1989 as a replacement for the RX7 and to be Yamaha's first drum machine using 16 bit PCM samples. In the late eighties there were several successful 16 bit drum machines available, the Alesis HR16 and HR16B as well as the Roland R8 and R5 to name a few, but the RX8 was still able to carve out a niche in the market of the time.
"Shaped like a plastic doorstop. Not one of the best drum machines ever but still has its charms. Not as boring as the RX17 and RX21. Clearly a budget drum machine, it boasted 16 bit samples and it would have gone head to head with the Alesis HR16, which had better samples."
Crumar Nerve Centre 15 is an analogue drum machine that was build into a number of Crumar's organs from the mid 1970′s.
"I took this particular specimen out of an old defective organ some years ago (and made a video of it) and now the time has come to find out how it works so that I can use it for something.
One very special thing with this drum machine is that there is a separate row of selector switches for the auto-accompaniment so that you can pick and chose independantly – in other words it is possible to combine for instance the samba rhythm with waltz bass and arpeggio (not that it would sound very good but it is possible). I wonder why so few organ companies came up with that idea. It makes the auto-band much more flexible and it only costs an extra row of switches.
The music in something I made on Yamaha HE-8 and Technics SX-C600 organs, Roland SH-2000 synthesizer and TR-66 Rhythm Arranger drum machine, and the little Casio CZ-101 phase distortion synthesizer."
http://youtu.be/Y_K9RQKVUG0
Info on the OB-XA:
The OB-Xa is a massive analog synthesizer with a very familiar and classic Oberheim sound. Its sound, size and power are very similar to the Prophet 5 from Sequential. However this one has up to 8 voices which can be split, layered and stored!
The OB-Xa was available in four, six or eight voice polyphonic models. They all featured patch memories, also in varying degrees. A minimum of 32 patches were available on early models (4 banks of 8). The maximum amount of patch memory storage found on many OB-Xa's is 120 patch memories. All models of OB-Xa, however, featured the new Curtis chips which offered great stability for an analog synth and they are attributed to its great filters and sounds.
The OB-X was very similar to the OB-Xa except that its voices could not be split or layered and, more significantly, the OB-X had a lowpass-only discrete SEM 12dB/oct state variable filter, which had a great and classic Oberheim sound. The OB-Xa changed that in an attempt to economize manufacturing and increase stability by switching to CEM3320 Curtis chips for its filters. The Xa offered two switchable filter modes: 12 dB/oct (2-pole) or 24 dB/oct (4-pole). This hardware change resulted in a more agressive sound, not quite as creamy as the OBX original, but what still became a "bread and butter" sound of the Oberheim line.
Splitting the keyboard mode separates the OB-Xa into two 4-voice synths with two available patches. The Layer mode plays the two patches simultaneously. There are also some added effect sources, perfect for any analog polysynth, including portamento, unison, sample & hold, chord memory and three LFO's!
Yamaha SY20 Sounddemo (springreverb effect)
Copyrights Volker Hein – 2013
More information visit www.tastronauten.de
The SY20 was Yamaha's last analog synthesizer model before committing to digital FM synthesis with products like the DX-series. It is an all-analog mono-synth that came out in 1982 but was never commercially sold outside of Japan, making it very rare. In fact, it was originally intended to be an "educational" synth to help students learn about synthesis. However, as most of the controls are labeled in Japanese characters, you will already need to be familiar with analog synthesizers (or Japanese) to grasp the SY20.
Despite being a rather simplistic looking mono-synth, the SY20 is a surprisingly refined and expressive synth. There are 20 preset sounds, arranged in two banks of ten. They include all the customary attempts at emulating the acoustic sounds of piano, woodwinds, stringed and brass instruments. The presets can be combined with the manual synthesizer control sections, which are very simply and logically laid out: VCO, VCF, and VCA, and each section can be individually switched on or off. There is an LFO to modulate each of these three sections for pitch, filter and tremolo effects. There is also Portamento and a one-octave Transpose knob that is notched in half-tone steps (it can be used to quickly transpose what you are playing to different keys).
The VCO section offers one oscillator with Square and Saw waveforms. A slider is used to mix between the two waveforms. The oscillator pitch can be set from 2′ to 32′. There is also Pulse-Width modulation and White Noise. The VCF offers three filter modes: low pass, and two band pass modes. The filter sounds really good, though it is not self-oscillating. The typical cutoff and resonance controls are accompanied by ADSR envelope controls for a nice contoured filter effect. The VCA section offers the standard ADSR controls as well.
While the main synthesis sections are all nicely laid out and straight forward, the real expressive potential comes from a few other simple but effective features. The 44-note keyboard supports after touch, which can be sent to the VCF, the VCA and the LFO for adding filter, volume and modulation effects using keyboard pressure. They can be combined in any way and with as much (or little) depth as needed for the desired effect. There are also three global effects: Portamento, Sustain and Brilliance.
The SY20 has a mono audio output, headphone jacks in the front and rear, and a built-in speaker! Unfortunately there is no CV/Gate and the MIDI specification was still a year away from being published, so it can not be hooked up to any sequencing equipment—you're gonna have to play this one the old-fashioned way.
The SY20 has a lot to offer. It sounds really good—warm, pure, expressive and wholly analog. It is incredibly rare. It is the last analog synthesizer Yamaha designed before going digital. And it is covered mostly in Japanese characters. All these qualities combine to make it an historic and unique piece in any collection and it will definitely get used often, it may even become the "go-to" mono-synth for anybody lucky enough to own one!
Vintage synthesizer demo track by RetroSound
"Games"
bass and sequencer sounds: ARP Odyssey Mk III Analog Synthesizer from the year 1980, sequenced by the SCI Pro-One internal step sequencer
all other sounds: Oberheim OB-Xa Analog Synthesizer from the year 1981
drums: Roland TR-707
recording: multi-track without midi
fx: a little bit delay and reverb
more info: http://www.retrosound.de
"I bought my 909 in the '90s when it was at the peak of its popularity in Techno, House and Rave music. This old faithful has been to many raves and house parties back in the day, yet, amazingly, still works and more importantly, grooves like a fox on rollerblades."
The Roland TR-909 Rhythm Composer is a partially analog, partially sample-based, drum machine introduced by the Japanese Roland Corporation in 1983. The brainchild of Tadao Kikumoto, the engineer behind the Roland TB-303, it features a 16-step step sequencer and a drum kit that aimed for realism and cost-effectiveness. It is fully programmable, and like its predecessor, the TR-808, it can store entire songs with multiple sections, as opposed to simply storing patterns. It was the first MIDI-equipped drum machine. Around 10,000 units were produced.
This is an analog synthesizer/sequencer. It sounds very much like the TB-303 and SH-101 bass synths. Sometimes considered the "poor man's 303″. It has a very evolved form of TB-303 like programming (more like the MC-4) and SH-101 like controls of the VCO, VCF, VCA, LFO, Envelope and Mixer sections. The LCD display is a great feature too.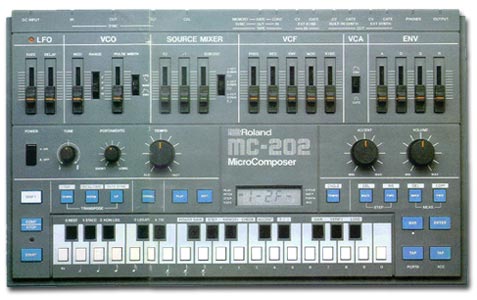 The MC-202 was sort of a next-generation TB-303. So the idea was to program sequence/patterns into it internally which would give you those 303 basslines that we've come to love. But programming the MC-202 is a bit too intense and over done for the simple monophonic bass line. However you can control it externally by hooking up a MID-CV/Gate converter. Then you basically have yourself an SH-101!
The sequencer is actually a 2-channel CV/gate sequencer, with both channels being capable of driving a separate external synth. It's a very useful unit, also, for its DINsync capabilities; it can receive on one port, and send over two, and also can 'split' DINsync to branch a sync signal out to multiple devices.
Time for a new time machine session:
A voyage into the heart of the Yamaha AN1x virtual analog synthesizer from the year 1997.
Exploration by Marko Ettlich (RetroSound)
10 voices
2 oscillators per voice saw, square variable pulse width, fm, sync, edge
resonant filter 12/18/24dB/oct low/band/hi pass filter, notch
61 keys (velocity and aftertouch), ribbon controller
arpeggiator, step-sequencer
In my opinion the virtual analog synth with the most analogue sound.
used by Yes, Depeche Mode and many more
The LinnDrum was the second machine from Linn Electronics. It's basically an upgraded version of the original LM-1 with added crash and ride cymbals to the kit. The LinnDrum uses samples of acoustic drum sounds. At the time, they sounded great and much more realistic and they were a fresh alternative to the analog drum sounds of the '80′s drum machines. The LinnDrum also had a handy upgrade option, a well designed layout and interface, and live drum trigger inputs.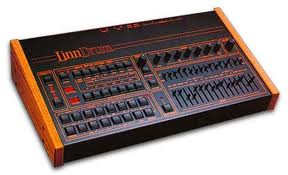 The LinnDrum had beefed up the sampled sounds from 28 to a 35kHz sample rate. It features 15 sounds including bass, snare, rimshot, hihat, crash, ride, three toms, cabasa, tambourine, high and low congas, cowbell, and clap. Up to 12 sounds are available simultaneously. Individual controls are available to tune, pan, and mix each drum sound via dedicated knobs and sliders. An Accent is available for the kick, snare and hats. The handy upgrade options involve inserting new chips containing new sets of sampled drum sounds created by many session drummers of the time.
The sequencer had some innovative features (for the time) such as swing, quantizing and memory storage! Two-bar patterns can be recorded in real or step time, with or without quantizing. There are 56 user patterns for storing your drum patterns. There are also 42 preset drum patterns. Patterns can be arranged into Songs for which there are 49 memory locations. Old songs and patterns can be off-loaded to cassette tape for storage. Designed for the studio, there are 15 individual outputs for each sound around the back as well as external sync and trigger but no MIDI (unless modified by a 3rd party). The LinnDrum's features made it the most professional drum machine of its time.
A quick demo of programming the TB303, then some random tune tweaking.
The Roland TB303 is a monophonic analog bass synthesizer married to a pattern-based step sequencer released in 1982. It features a single analog oscillator with two waveforms (ramp or square) and has a simple but excellent VCF (filter) with resonance, cut-off, and envelope controls. There are also knobs to adjust tuning, envelope decay, tempo and accent amount.
It's not a performance synthesizer because you have to program a pattern of notes and timing info into it (sort of like a drum machine). Patterns can then be linked into songs. It was originally made to accompany a drum machine, the TR-606 specifically, and provide bass-line accompaniment to guitarists, keyboard players, etc. It was not a successful product in its time. As a result, creative DJs and aspiring electronic musicians found them for next to no money and began using them for techno and acid music. Usually a single pattern is continuously played while the performer tweaks the knobs creating an exciting and expressive musical event.
The TB-303 has become one of the most sought after vintage synths ever! It has helped develop and stylize many forms of electronic music including House, Acid, Trance and Ambient. If ever there was a need for a repetitive bassline/groove or an extremely resonant and bubbly sound, the 303 is KING. Truly a unique machine with a very identifiable sound! It has spun off several imitators as well: Novation Bass Station, ReBirth, Doepfer MS-404, MAM MB-33, Syntecno TeeBee, and more (see Related & Alternative Gear sidebar).
A short sequence showing how a TR606 sounds when distorted.