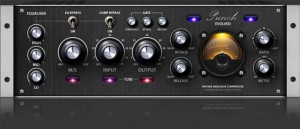 Minimal System Instruments releases Punch Evolved compressor VST for Windows
The original Punch compressor is one of Minimal System's most popular and respected plug-ins and is an up-to-date version of one of the all time classic analogue compression and limiting processors, the 1176AE. They say that the new Punch Evolved plug-in takes this even further with a completely redesigned engine and the addition of new sound shaping features such as Mid/Side processing, EQ, and Gate sections.
Features:
Ultra-fast attack time.
Unique Analogue Modelled characteristics.
FET Gain Reduction Emulation.
Input & Output Gain Adjustment Knobs with adjustable Attack and Release Settings.
An array of ratio's including 2:1, 4:1, and 8:1 perfect for compression duties – but there is also the 20:1 ratio designed for full limiting applications.
Mid/Side Processing.
Gate with controls for Threshold, Attack, and Release.
EQ with controls for Low/Mid/High.
Custom Output Transformer Emulation design.
Full automation capabilities.
Flexible VU metering options.
LED Visual Feedback.
Professionally designed GUI.
Fantastic Presets produced by Movie Iga and Kendal Osborne.
Based on the 1176AE Limiting Amplifier Compressor.
Fantastic on drums!
Pricing and Availability:
£19.99
FXpansion DCAM Dynamics offers a variety of different flavours of high-quality circuit-modelled dynamics processing. The included plugins are perfect for everything from taming tricky transients to heavy, creative sculpting effects and everything in between. Classic console bus compression and channel limiting amp processors are provided alongside a transient shaper and frequency-selective compressor making DCAM Dynamics a great all-purpose dynamics toolbox.
Availability & Pricing
DCAM Dynamics is available as a download-only product from the FXpansion web shop!
Pricing is USD $99.00, EUR €79.00, GBP £69.00 inc VAT where applicable.
http://www.fxpansion.com/dcamdynamics
http://www.fxpansion.com/dcamfreecomp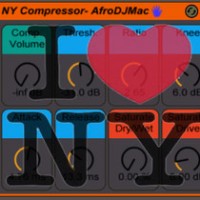 AfroDJMac has released a free New York Style Compressor for Ableton Live.
I have built a super handy Ableton Live audio effect rack for New York Style or Parallel Compression, and offer it to you as my newest Free Ableton Live Pack!

It works by compressing the audio (usually squashing the daylights out of it!) and mixing that processed signal with the original. The compressed signal has the fullness that a compressor offers, but the original maintains the dynamic range that the compressor can destroy. The end result is you get to have your cake and eat it too, the best of both worlds.

To achieve this effect in Ableton Live, I have built an Audio Effect Rack that has two chains: one with a Compressor (plus a Saturator for a little extra flavor), and one chain that allows the audio to pass through unaffected. The download link is below. The eight macro knobs allow for control over the most commonly used parameters (Threshold, Ratio, Attack, Release…) as well as an overall volume that allows you to mix in as much of the compressed signal as you like. I particularly like this effect on drum tracks, because it beefs them up while preserving their impact. Feel free to get creative an use it on all kinds of tracks (I've had a lot of success with vocals and acoustic guitars).
The Ableton Rack is a free download.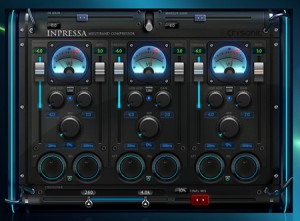 According to Crysonic, the upcoming Inpressa multiband compressor effect plugin provides zero latency plus stereo and mono compatibility combined with the company's unique new proprietary technology in order to deliver a one of a kind type of effect.
Crysonic notes that Inpressa offers full double precision processing natively, which employs very steep 24 dB / Oct crossover filters — virtually eliminating leakage into adjacent compression bands. All available parameters are variable supporting full automation with extreme precision control. The plugin automatically chooses the most appropriate peak detection circuit depending on the audio material being worked on, which was previously impossible to do unless you had a countless number of expensive compressors.
About the effect, the manufacturer comments, "Transcending other similar plugins of its type, Inpressa is set to achieve vintage and modern sounding professional results on individual busses and the final master mix."
At this time, not much else is known about Inpressa; however, Crysonic does say this: "The most noteworthy part of Inpressa is expressed not only by employing a new state of the art technology but understanding and providing incredibly efficient workflow without crowding the interface with 'most of the time unnecessary' options. Inpressa will be available soon to increase depth, definition, and loudness of all music productions."
More details will be revealed as we get closer to Inpressa's release (TBD).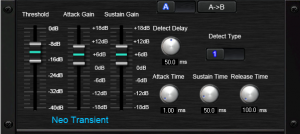 Sound Magic has introduced Neo Transient:
Unlike common compressors and limiters, Neo Transient reacts on Transients – those short peaks in the audio signal – rather than the overall signal loudness level. In this way, Neo Transient creates an entirely new way to process your tracks.
Neo Transient allows you to completely reshape the attack and sustain characteristics of a sound. You can shorten or lengthen the attack of all kinds of percussive signals, such as the bass drum, snare drums, toms, congas and so on, to give them more impact, change them to a punchier sound. Or go the other direction and make those sounds gentler than before.By boosting the attack period of a sound, such as a bass drum, the mix can be made to sound more transparent. Instruments can be mixed at lower volume while still maintaining their positions in the mix without costing needed headroom. By boosting the sustain stage of the sound, you can emphasize the ambiences and reverb-tails of the sound.
Neo Transient offers two entirely different sets of detection algorithms.These two algorithms have different sounds and will provide you more choices on the final sound it shapes. Parametric controls in Neo Transient are arranged in a easy to understand, musical manner. Neo Transient is a "must have" for processing your percussive signals while recording, mixing or mastering.
Features:
Two Innovative algorithms, One for level independent dynamic processing , One for peak dependent processing.
Parametric controls are arranged in a easy to understand, musical manner.
Adjustable Delay for look forward processing
Built-in A/B Compare function enables you to compare different settings
Up to 32Bit/384KHz resolution
Neo Transient is available now for €49.00.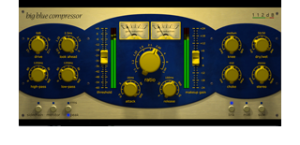 112dB has announced that Big Blue Compressor, a tube-modeling compressor, is now available in native RTAS, VST and AU formats for Windows and Mac OS X for the retail price of €149 / $149.
Big Blue Compressor is a modern compressor with vintage qualities. Although it can sound transparent whenever necessary, it was designed to give character and warmth to your sound. Some interesting features greatly expand the sonic arsenal of this plug-in. Not only more traditional goodies such as variable hard/soft knee, and dry/wet mix, but also novel additions such as stereo narrowing or widening, mid/side operation, adjustable latency, and a separate preamp section (for that extra oomph).
112dB says there's one unique feature they guarantee you won't find in any other plug-in: "the choke". This knob enables you to "choke" your sound the same way it's done in tube compressors. Without delving too much into the scientific details: analog compressors don't have the look-ahead function that is common in digital compressors, but they do have another way to smooth out transients that have become too loud. In tube compressors, this is done by saturating (choking) the sound during the attack time. And that's precisely what gives them their highly desirable sonic character. 112dB applied this principle to their choke function. In other words: instead of emulating a specific vintage tube compressor, they've tried to capture the essence of what makes tube compressors in general sound so great.
Features:
Tube-compressor-style dynamic saturation.
Separate preamp section for extra overdrive.
Variable-knee limiting with proprietary tube modeling.
Dry/wet control for parallel compression.
Stereo imaging: stereo narrowing or widening, mid/side mode.
Auto makeup gain, in addition to user-adjustable makeup gain.
Adjustable look ahead from 0 to 5 ms.
Peak/RMS compression mode.
Sidechain monitor option.
User-adjustable latency from 0.01 to 5 ms (6 to 440 samples @ 44.1kHz).
Low- and high-pass filters on input and side chain with unique scaling, allowing for high-precision adjustments at critical frequencies.
Availability
Big Blue Compressor is available immediately in RTAS/AS/VST/AU format for Windows XP/Vista/Windows 7 and Mac OS X 10.4 (Tiger), 10.5 (Leopard), 10.6 (Snow Leopard), and 10.7 (Lion).
The introductory price of €99 (Europe) / $99 (worldwide) is valid through August 15, 2012, after which the regular price becomes €149 / $149.
An unrestricted 60-day evaluation version is available from 112dB.com/ bigblue/compressor/?demo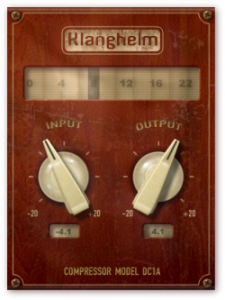 Klanghelm has released a free audio compressor for Mac & WIndows, DC1A.
Here's what the developer has to say about it:
DC1A is the little brother of the compression monster DC8C. I've taken one of my favourite settings from DC8C and tried to make it work in a two control context. Soundwise it's comparable to the PUNCH mode in DC8C. It's kind of a mixture of classic opto and FET designs.
I've always wanted to do a compressor with just an input and output knob, a compressor that just works: gentle, faithful, from almost invisible, smooth leveling to heavy pumping with a nice crunchy saturation and punchy enough to treat drums with.
DC1A looks like a one trick pony. But don't get fooled by lack of further controls. You may be suprised on how many different material this little thing works. DC1A is heavily program dependent, so is the saturation.
DC1A is available now as a free download for both Mac & WIndows (VST/AU).
Russ checks out the McDSP 6030 Ulitmate Compressor and reviews it.

Using the popular module format, the 6030 Ultimate Compressor offers ten different compressors. All of these designs are by McDSP – some completely from the ground up, while others are emulations of existing gear with unique variations created by McDSP. Each 6030 Ultimate Compressor module is easy to operate, and yet has enough sophistication for the most discerning professional.
Whatever your style, from smooth tube emulations to aggressive solid-state designs, the 6030 Ultimate Compressor has a custom-made dynamic range control module that is just right for you.
For more information, check out the Colin's Corner article about this product.
6030 Ultimate Compressor YouTube Video
Features:
Unique twists to classic designs in addition to several completely new designs
Multiple compression algorithms in a single compressor
Side chain support
Analog Saturation modeling
Double precision processing
Ultra low latency
Mono and stereo versions
In this series, Berkleemusic.com facilitator Loudon Stearns covers five ways tracks can interact with audio effects using Ableton Live. The first installment, Sidechain Compression, shows how a compressor can be used to create an interaction between a synth and an acoustic bass part. The Post FX and Post mixer routing points are examined as well as compressor specifics.
The Second installment, Sidechain Autofilter, shows how Autofilter can be used to give an automatic interaction between two tracks.
More info here:
http://www.berkleemusic.com/school/course/advanced-music-production-with-able…