New stuff: Punch Evolved compressor VST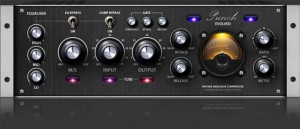 Minimal System Instruments releases Punch Evolved compressor VST for Windows
The original Punch compressor is one of Minimal System's most popular and respected plug-ins and is an up-to-date version of one of the all time classic analogue compression and limiting processors, the 1176AE. They say that the new Punch Evolved plug-in takes this even further with a completely redesigned engine and the addition of new sound shaping features such as Mid/Side processing, EQ, and Gate sections.
Features:
Ultra-fast attack time.
Unique Analogue Modelled characteristics.
FET Gain Reduction Emulation.
Input & Output Gain Adjustment Knobs with adjustable Attack and Release Settings.
An array of ratio's including 2:1, 4:1, and 8:1 perfect for compression duties – but there is also the 20:1 ratio designed for full limiting applications.
Mid/Side Processing.
Gate with controls for Threshold, Attack, and Release.
EQ with controls for Low/Mid/High.
Custom Output Transformer Emulation design.
Full automation capabilities.
Flexible VU metering options.
LED Visual Feedback.
Professionally designed GUI.
Fantastic Presets produced by Movie Iga and Kendal Osborne.
Based on the 1176AE Limiting Amplifier Compressor.
Fantastic on drums!
Pricing and Availability:
£19.99
Comments