Native Instruments – Vintage Compressors
Three studio legends return: The VC 76, VC 2A and VC 160 recall three of the most heavily-used compressors in studio history, each with its own unmistakable sound. Find out more at: http://www.native-instruments.com/vintagecompressors
NATIVE INSTRUMENTS and Softube present VINTAGE COMPRESSORS —painstakingly accurate emulations of three of the most heavily-used compressors in studio history. The VC 76, VC 2A, and VC 160 feature a modern, clean design for intuitive usability while each maintains its own unmistakable sound. Thanks to added sidechaining and parallel compression, these VINTAGE COMPRESSORS actually improve on the originals.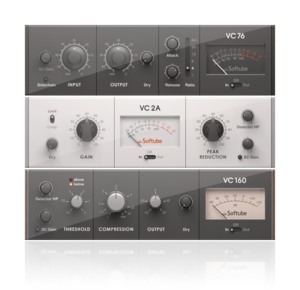 The VINTAGE COMPRESSORS collection includes all three devices. Each compressor is also available separately. All effects run as native plug-ins in your host DAW.
THREE'S COMPANY
Each of the three compressors has its own unique character and specific advantages:
VC 76: Workhorse compressor with a fast attack. Great presence, punchy, clear high end. Good for drums, vocals or stereo limiting.
VC 2A: Smooth compressor with a silky, natural sound. Great on vocals, bass, pads and guitar.
VC 160: Classic compressor for added attack and a subtle drive. Especially good on kickdrum, snare, bass or guitar.
Comments