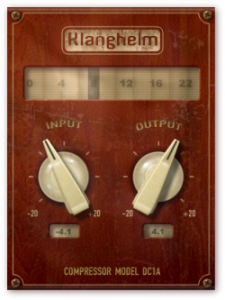 Klanghelm has released a free audio compressor for Mac & WIndows, DC1A.
Here's what the developer has to say about it:
DC1A is the little brother of the compression monster DC8C. I've taken one of my favourite settings from DC8C and tried to make it work in a two control context. Soundwise it's comparable to the PUNCH mode in DC8C. It's kind of a mixture of classic opto and FET designs.
I've always wanted to do a compressor with just an input and output knob, a compressor that just works: gentle, faithful, from almost invisible, smooth leveling to heavy pumping with a nice crunchy saturation and punchy enough to treat drums with.
DC1A looks like a one trick pony. But don't get fooled by lack of further controls. You may be suprised on how many different material this little thing works. DC1A is heavily program dependent, so is the saturation.
DC1A is available now as a free download for both Mac & WIndows (VST/AU).
Russ checks out the McDSP 6030 Ulitmate Compressor and reviews it.

Using the popular module format, the 6030 Ultimate Compressor offers ten different compressors. All of these designs are by McDSP – some completely from the ground up, while others are emulations of existing gear with unique variations created by McDSP. Each 6030 Ultimate Compressor module is easy to operate, and yet has enough sophistication for the most discerning professional.
Whatever your style, from smooth tube emulations to aggressive solid-state designs, the 6030 Ultimate Compressor has a custom-made dynamic range control module that is just right for you.
For more information, check out the Colin's Corner article about this product.
6030 Ultimate Compressor YouTube Video
Features:
Unique twists to classic designs in addition to several completely new designs
Multiple compression algorithms in a single compressor
Side chain support
Analog Saturation modeling
Double precision processing
Ultra low latency
Mono and stereo versions
In this series, Berkleemusic.com facilitator Loudon Stearns covers five ways tracks can interact with audio effects using Ableton Live. The first installment, Sidechain Compression, shows how a compressor can be used to create an interaction between a synth and an acoustic bass part. The Post FX and Post mixer routing points are examined as well as compressor specifics.
The Second installment, Sidechain Autofilter, shows how Autofilter can be used to give an automatic interaction between two tracks.
More info here:
http://www.berkleemusic.com/school/course/advanced-music-production-with-able…

The Lower Rhythm has released Thresher, a compressor effect plug-in for Windows.
Purely intended as an effect tool, Thresher is the compressor your mother warned you about. Capable of obnoxious sustain extension as well as distorted crushing, Thresher offers itself up as a diverse toneshaping tool for those who are into heavier or experimental music-making. Features a vintage style compressor along with a clean output and a variable 'Power' control that introduces tube style saturation and old school filter fatness. Gently polish or obliterate: your choice!
Thresher features
Vintage style compressor.
Dedicated Clean channel.
Variable 'Tube' control for saturation or heavy distortion.
Thresher for Windows (VST) is available to purchase for $11.99 USD.
More information: The Lower Rhythm
DDMF has released LinComp, a new linear phase multiband mastering compressor plug-in for 32- and 64-bit Windows and Mac OS X in VST and AU effect plug-in formats. It costs $29.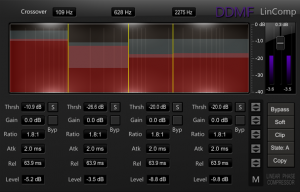 LinComp is a linear phase multiband compressor, a tool that belongs in every mastering chain. Multiband compression allows you to take care of the levels and response times of four frequency bands independently, and the linear phase crossover guarantee that all this happens with no damage done to the audio whatsoever.
Independent threshold, attack, release, ratio and gain controls as well as master faders for simultaneous control let you sculpt the dynamics of your tracks in any way imaginable. Select the compression type by switching between hard and soft knee, use LinComp as a brickwall limiter with the built-in clipping function, and do A/B tests to find out the optimal setting.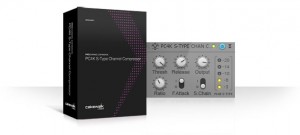 Cakewalk has announced the PC4K S-Type Channel Compressor Module for SONAR X1 Producer Expanded customers. Here's how Cakewalk describes the new module in their own words…
The PC4K S-Type Channel Compressor Module, like all the SONAR X1 Producer ProChannel modules, is expertly-crafted by the Cakewalk DSP team to provide the sound and experience of using the legendary hardware it's based on. The PC4K S-Type Channel Compressor, with its gentle, soft-knee characteristics is well suited for compressing and leveling sustained material on any backing track. Flexible drag and drop routing and manual output gain control lends a modern twist to an old classic. The PC4K S-Type Channel Compressor is a complimentary addition to the well thought out collection of ProChannel module effects designed to elevate any music production.
When coupled with the included PC4K S-Type Bus Compressor, the included ProChannel EQ (set to Vintage), and the optional PC4K S-Type Expander/Gate, the new PC4K S-Type Channel Compressor provides full emulation of classic, large-format, mixing consoles used by professional engineers to make hit records for over a quarter century.
SONAR X1 Producer Expanded
SONAR X1 Producer Expanded delivers fully modular capability to the ProChannel and is required to use PC4K S-Type Channel Compressor module.
SONAR X1 Producer's ProChannel console strip already provides a number of options to get pro-studio sound in the box with its highly musical EQ, PC76 U-Type/classic FET and PC4K S-Type bus compressors, tube saturation, and flexible drag & drop routing. ProChannel strips can be customized to have any combination of installed modules available on any channel and favorite combinations can be set as default for tracks and busses.
Pricing and Availability:
SONAR X1 Producer Expanded customers can purchase PC4K S-Type Compressor download for $49/£35 /€39 (vat inclusive) from the Cakewalk store. SONAR X1 Producer customers can purchase the PC4K S-Type Compressor with SONAR X1 Producer Expanded update downloads together for $79/€69/£59 (vat inclusive) on the Cakewalk store.
More information: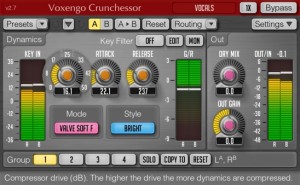 Voxengo has released version 2.7 of Crunchessor, a general-purpose track compressor for Windows and Mac.
One of Crunchessor's main advantages is the ease of tuning, which at the same time instantly delivers an excellent sonic performance. Another remarkable feature of Crunchessor is its valve-type processing, which is applied in parallel to compression. This makes Crunchessor an ideal choice for musicians and producers who are fond of analog compression sound and its warmness.
Changes in Crunchessor v2.7
Additional automation parameters added for channel group 2.
Key signal gain parameter added.
Plug-in's popup-windows now recover last position after reopening.
Mouse backward and forward buttons can be used for parameter value selection.
The "Min Infrastructure" user interface display mode added.
The "Flat Level Meters" level meter display mode added.
Version change history information window added.
Crunchessor is available to purchase as an effect plug-in for Windows and Mac (VST/AU), priced at $44.95 USD (10% off the regular $49.95 USD).
Parallel compression is also known as New York compression, and is a very popular technique for getting drums louder whilst retaining most of the energy of the original envelope.
Basically, what you do is mix two versions of the drum track together – one track being treated with quite severe compression, and the other being uncompressed. The compressed track brings up the 'oomph' whilst the original ensures that the dynamic interest of the beat is maintained.
Of course, this technique is not exclusively for drums – it can be very effective on vocals too, or any other instrument that needs to be tightly controlled.
Here is an example of parallel compression that I have used:
Put a compressor on a return track in Ableton (or any other DAW)
Make sure you use a compressor that can be set to 100% wet and has a 'look ahead' feature
put the threshold deep, like -50 db
Ratio about 2:1 – 2.5:1
Attack as fast as possible 1ms or faster
Release set to 250ms-350ms
Now you can mix in your compression on any track you want to beef up using your sends without affecting the original signal. It's like the best of both worlds, a combination of compressed and uncompressed signal. This way you get the transients of your uncompressed sounds (the peak you see on a snare or kick drum for example).
The transients give your sound bite and helps things stick out better in your mix. The compression gives your sounds more body and more punch and brings out hidden frequencies for a fuller sound. If you don't want to use a return track, you can simply copy your track and apply these compression settings on the copy and then mix to taste. Give it a shot and let me know how it goes for you.
http://youtu.be/vXFjivNt50k
In addition to the lgendary vintage character sound, the Vintage Compressors have been updated with a sidechain input, for the well-known 'pumping' sound of modern club music. The VC 76, VC 2A and VC 160 are painstakingly accurate emulations of three of the most heavily-used compressors in studio history. Each has its own unmistakable sound, and thanks to added sidechaining and parallel compression.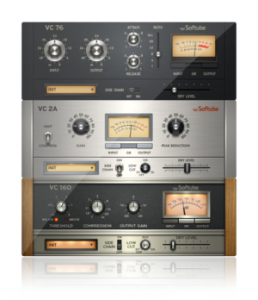 More info:
Each of the three compressors has its own unique character and specific advantages:
VC 76: Workhorse compressor with a fast attack. Great presence, punchy, clear high end. Good for drums, vocals or stereo limiting.
Find out more…
VC 2A: Smooth compressor with a silky, natural sound. Great on vocals, bass, pads and guitar.
Find out more…
VC 160: Classic compressor for added attack and a subtle drive. Especially good on kickdrum, snare, bass or guitar.
Find out more…
PSP oldTimer is a vintage-style compressor designed for track and program compression and limiting. Our goal in developing this plug-in is to provide a simple compressor that offers an exceptionally musical sound while requiring a minimum of tweaking. This plug-in is not based on any specific hardware, rather it is inspired by vintage circuits and is designed to emulate some favorite characteristics of such compressors.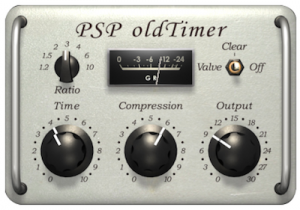 PSP oldTimer is so simple and so easy to use, that it's difficult to make it sound bad even at extreme settings!
This compressor offers soft and smooth compression in most applications, however it may slightly color the sound with its tube emulation on transients when heavily driven internally by high Compression values.
Features:
High quality signal processing algorithms
All internal processing done with 64 bit double precision floats.
32 and 64 bit floating point audio streams supported
ZERO samples OF latency
Up to 192kHz sample rates supported
X64 support for Windows systems
Library of presets